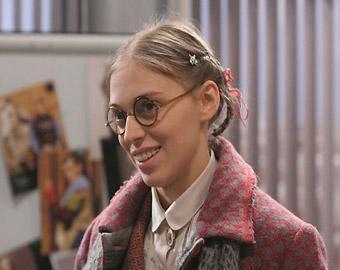 Father baby - Uvarova husband and concurrently one of the directors, who shot a saga about the "ugly" Katya Pushkareva, Sergei Pikalov.
Sergei Pikalov native of Yaroslavl. There he graduated from the local theater school, but then went to work in the Russian Academic Youth Theatre in Moscow, where they met with Uvarova. No love at first sight was not, and the young man had to seek the hand and heart of his lady.
Lovers married in November 2005. And the wedding was not quite normal. The fact is that prevailing when the contract Nellie did not have the right to appear in public without his glasses and braces on the teeth until the end of the filming of the popular series. Therefore I come out from the house of the bride in her wedding dress, but with a cape on his head. The bride was surrounded by security guards, who hid her from prying eyes.
At the wedding Nelly and Sergei invited only the closest friends and generally tried not to advertise the event.
Nelly Uvarova was born March 14, 1980. She graduated from the VGIK workshop George Taratorkina. Since 2001 he has worked at the Russian Academic Youth Theatre. The most famous film role Uvarova is her work in the TV series "Not Born Beautiful."