Trehkilogrammovuyu fish underwater shot hunter.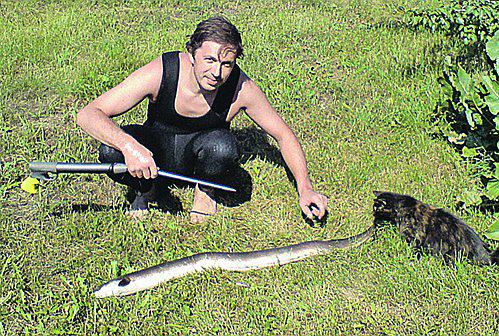 Seeing prey Alexei Laushkin I shuddered: God forbid, I would have faced such a monster while swimming. I would go to the bottom of fear!
Alex profession - Car painter. But when there is free time, sent to the underwater fishing. He goes to the upper reaches of the Moscow River in search of a serious trophy. The water here is much cleaner than in the capital.
 - I was swimming at the bottom of the river near the village of Uspenskoye, - says Alexei. - That's between Moscow and Zvenigorod. And suddenly I noticed algae huge tail. He came closer and fired. For more than 30 years of fishing in these areas, but I have not seen such a miracle! To anyone caught polutorametrovogo eel in the Moscow River, not heard. In the country I weighed prey. It was found three kilos!
Alex suggested that acne could get into the Moscow River from Mozhaisk Reservoir, where it artificially launched in 1960 - 1980 years. After heavy rains, the water from the overflowing reservoir dropped, and "Runaway", apparently fell into the river and tried to swim away in the Sargasso Sea - eels reproduce only there.
 - I've read that this fish is not bad moves on the earth - continues Alex. - And in an effort to spawn can crawl on land up to 500 meters. A local fisherman told that acne, crawling out of the water, regaled the young pea pods, which were seeded at the Mozhaisk Reservoir ...
Incidentally, in the capital's shops 150 grams of eel smoked cost about 100 rubles. It turns out that a kilogram of pulling about 660 rubles.
 - Eel we ate all his relatives, - says Alexei. - And the insides gave the cat beads.
Comment specialist
Deputy Chief Yuri Mosrybvoda GREEK:
 - The fact that such a large eel became prey to your reader - a great success! Last time we ran in Mozhaisk Reservoir Canadian eel fry ten years ago. Probably, eel escape from the reservoir.