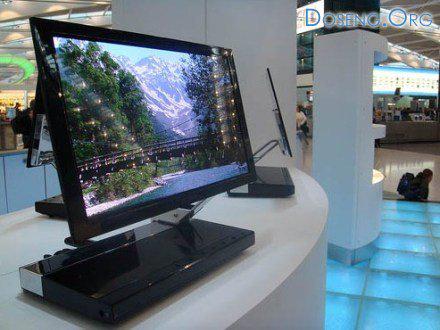 During the six months of your stay in the markets of Japan and the United States a fantastic price Sony XEL-1 has not dropped
Sony has plans next year to begin selling the first and only in the world of LED TV Sony XEL-1 in the European market. While it can be bought only in Japan and the US, and its price is relatively high.
Sony has plans to 2009 to begin selling the first and so far the world's only commercial LED TV in the European market, reports Reuters referring to the Japanese publication Nikkei.
Currently SonyDrive XEL-1 is sold only in two countries: Japan, where it became available late last year and early this year - in the US. The cost of this TV with a screen diagonal of just 11 inches of 200 thousand. Yen or $ 1820 in Japan and $ 2,500 - in the United States. Value TV is not reduced for most consumers still too high. For comparison, in the US for $ 2,500 you can buy a Bravia LCD TV 46 inches and supports Full HD-resolution (panel Sony XEL-1 has a resolution of 960 x 540 pixels).
Europe and North America for Sony are major markets for flat-panel TVs, however, sales of the world's first OLED-TV started with the corporation for the native market - Japan. The initial batch comprised only 2,000 units of the product. That's how much TV can produce Sony's within one month. However, the increase in production capacity in the event of new regions is hardly necessary, since the demand for TV is low.
A spokesman for Sony said the company is considering selling OLED-TV in the European region, as in Japan, the model met positively, but refused to announce dates.
According to DisplaySearch, in the period from 2009 to 2012. global demand for LED TVs increased 14-fold - from 200 thousand. 2, 8 million. devices. For comparison, the market for LCD TVs (most rapidly evolving technology of today) for the period will grow by 40% - in 2012, the world will be sold 178, 9 million liquid crystal TV. Thus, despite the rapid growth, the share of OLED still remain for the next four years negligible.
Perhaps the announcement of Sony XEL-1 in the European market will take place at Europe's largest consumer electronics fair IFA in Berlin, which will be held from August 29 to September 3.