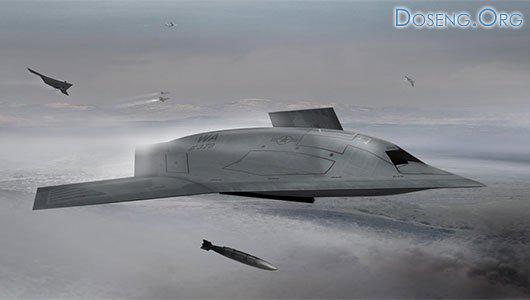 Concern Northrop Grumman completes the construction of one of the two samples X-47B - experienced shock carrier-based UAV. But it will rise into the air until next year.
Fighting machine created under the program NUCAS (Naval Unmanned Combat Air Strike - Marine Unmanned attack aircraft). The fact that the company Northrop Grumman vygral tender for the construction of the aircraft we told here.
First flight deck shock drone to be held in November 2009. And working out off and landing on the deck of an aircraft carrier will begin in November 2011. But Northrop Grumman is working on the creation of this unique combat vehicle ahead of schedule - readiness of the first plane of the sample is much higher than fifty percent.
New UAV technology created by "stealth" - it will be barely visible on the radar screens. It will be installed and intelligence equipment, and electronic warfare. In addition to guided missiles and bombs corrected, on the X-47B will be installed weapons systems that are currently under development - laser and microwave. The total mass of the payload will reach two thousand pounds. In-flight refueling system will allow the UAV conducted combat missions over the past two-three days.