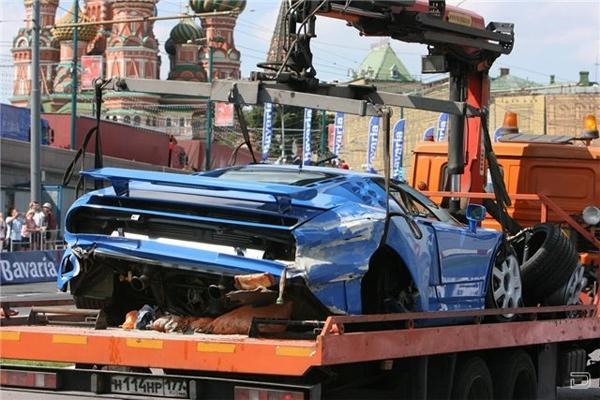 10th place: Behind the wheel an exclusive Bugatti EB110 for $ 500,000 was an auto mechanic, which was entrusted to perform a test check in the annual MOT. Alas, he could not see time on the road a puddle of oil ...
9th place: Pagani Zonda C12 S was released only 15. One of them, for $ 650,000, was turned into a pile of scrap metal one morning in Hong Kong.
8th place: Specialists consider Mercedes Benz SL 300 "gull wing" for $ 750,000 one of the best Mercedes in the history of this company. One of these machines accidentally crushed a huge pickup, owned by the State of gardening and landscaping Seattle.
7th place: Jaguar XJ220 was worth $ 1,000,000. These machines are able to develop a speed of up to 350 km / h (217 miles / h)
6th place: McLaren F1 for $ 1,250,000 was actor split tion Atkinson, better known as "Mr. Bean". By the way, Atkinson has managed to destroy it a few more luxury cars, including Aston Martin.
5th place: the champion in the number of accidents is a Ferrari. It recorded at least 14 accidents in which the Ferrari smashed almost pieces. One of the cars, worth $ 1,300,000 had an accident at a speed of 315 km / h.
4th place: Bugatti Veyron $ 1,600,000 for was defeated in a week after the purchase at a speed of 160 km / h in wet weather.
3rd place: Ferrari 250 GT «Tour de France» from 1959 was worth $ 1,650,000. She's at full speed into the wall during the race Shell Ferrari-Maserati Historic Challenge in 2003.
2nd place: Ferrari 250 GT SPYDER 1961 issue was worth $ 10,000,000. Unfortunately the owner, a parked car near the beach, suddenly blew the hurricane ...
1st place: The most expensive accident occurred worldwide with the most expensive at the moment car in the world - Ferrari 250 GTO 1962-1964 years of manufacture. In 2008, one of these cars was purchased at auction an anonymous buyer from England for $ 28,500,000, which exceeds the value of all the described above had an accident Ferrari. What is most annoying: the collision happened in front car going after his driver braked sharply.