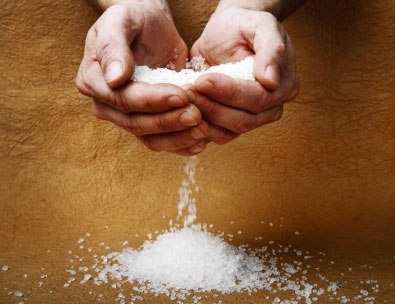 (Follow them or not, every man for himself decides for himself)
• Never take and do not let the salt loan, as in this case, you will inevitably took away the negative energy of another person, giving the same - give their own positive energy particle.
• Avoid buying salt on Monday and Saturday, as with it you can buy emotionally disturbed.  
• At the table, do not pass the salt shaker from hand to hand, and put on the table, as a man to pass the salt, deprives himself of wealth, attracts poverty, and the person taking the salt shaker, risk of loss, perhaps as a result of theft.
• Before leaving a loved one put on the table salt shaker with salt, so that the road was smooth and not anything bad happened.
• Be careful not to spill salt, as even minor conflict can then develop into a serious scandal in the house for a long time and will continue heavy atmosphere. If the salt is still scattered quickly collect her broom and wash the area with water.
• Keep salt in wooden or better birch salt cellars, as in this case, it is energetically clean and perfectly protects the individual against any energonapadeny outside. Storage in a metal shaker foster energy refined salt, and thanks to a glass or porcelain bowl salt is better absorbed energy information. But any salt shakers, from whatever material they were made, it should always be kept closed. Then no "infection" will not stick.
• Castor is not necessary to give and receive as a gift, as a gift may adversely affect the health and financial position to bestow, and attract to it the evil eye and spoilage.
• At night, leave the salt on the dinner table in a shaker with lid closed. This will help you to attract success over the coming days and to expel evil spirits, save tenants from accumulated bad and disturbing emotions of the past day.
• If you pour salt into the pan and slowly roast it over the fire, stirring occasionally, you will clear negative energies from your home. Salt may darken, then it absorbs all the "dirt". Throw it into the toilet and rinse with the words:
Get out there, where you came from!
Corruption and whammy - not for us!