Muammar Gaddafi - a very advanced Muslim. He opposes discrimination against women, admires the Internet holds beauty contests and advocating monogamy.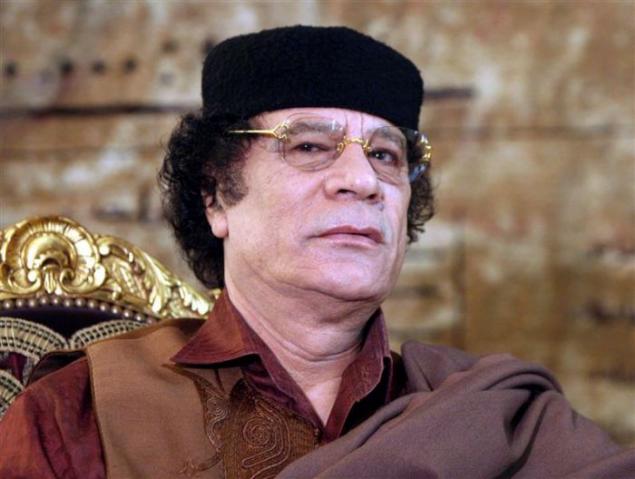 This photo 1970 - Libyan leader, 27-year-old Colonel Muammar Gaddafi in military uniform. He directs Libya since he came to power in a bloodless military coup in 1969.
1. Full name: Muammar Muhammad bin Abdel Salam Abu Menyar bin Hamid al-Gaddafi.
2. Nobody in the world knows how to write his name. There are more than thirty Latin transliteration of the name of Gaddafi. In particular - Gaddafi, Gathafi, Gathafi, Gadafy, Qaddafi, and so on.
3. The exact date of his birth is unknown. Many of his biographers claim that Gaddafi was born in 1940. Gaddafi himself says that was born on June 19, 1942 in a Bedouin tent, 30 kilometers south of the city of Sirte.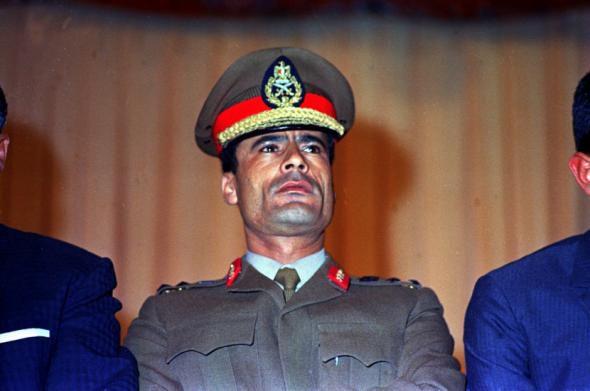 Gaddafi was seen on worship after a speech in the city of Benghazi February 25, 2010.
4. His father - a native of the tribe of al-Gaddafi. Gaddafi senior wandered, pass the camels and goats. Mother with three older daughters, was a housewife.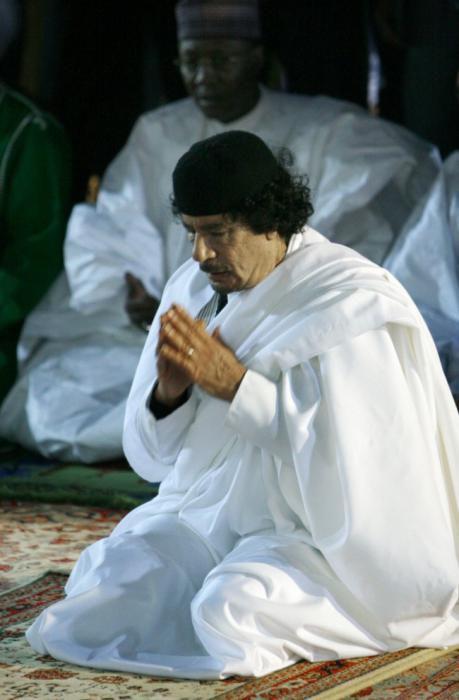 In this photo from October 10, 1976, President Muammar Gaddafi welcomed the crowd, riding on a horse during a ceremony in Ajdabiya, Libya. The celebration in 1976 marks the anniversary of the expulsion of Italians 6 from Libya. (AP)
5. According to another hypothesis, Gaddafi - son of an Air Force officer Corsican "Free French» (FAFL) Captain Albert Preziosi, which in 1941 crashed in the Libyan desert. French military dictator and incredibly similar.
6. Gaddafi invented and coined the word "Isratine" (for the Palestinian-Israeli state) and "Jamahiriya».
7. Muammar Gaddafi in Libya does not take any public office in 1979, did not prevent him from being the head of state.
8. Libyans call it "al-ah al-Qaeda assaura" ("brother leader of the revolution") and "Al-ah al-aqida" ("Brother Colonel»).
9. While in January 1976, Gaddafi was promoted to major general, he was retained and the rank of colonel.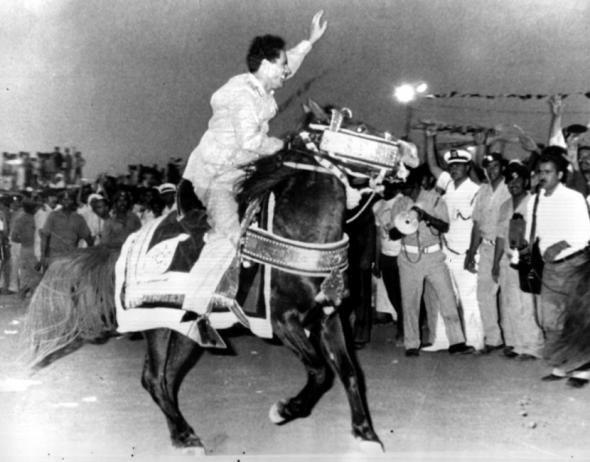 10. Bodyguard Gaddafi - 40 female virgins with Kalashnikovs, all with bright nail polish.
11. In international travel Gaddafi is trying to take the camels to drink their milk.
12. Gaddafi admired Abraham Lincoln and Mahatma Gandhi. It is not known whether the Libyan leader said that after the death of heroes he had no one to talk to.
13. Gaddafi was rumored to have an enormous capacity for work. He supposedly working for 16-18 hours a day.
14. One of the first steps after Gadhafi came to power, was the reform of the calendar. Chronology was conducted from the year of death of the Muslim prophet Muhammad. Change the name of months and years.
15. During his visit to the Apennines in November 2009. Muammar Gaddafi called several hundred attractive Italians at his residence in Rome, and tried to persuade them to convert to Islam.