At the mention of the cognac with the sonorous name Monte Choco, the imagination involuntarily draws France with its luxury, refinement and sophistication. It is hard to imagine that the drink, whose name is translated from French as "Chocolate Mountain", is a primordially domestic product produced at the Dmitrov Brandy Factory since 1992.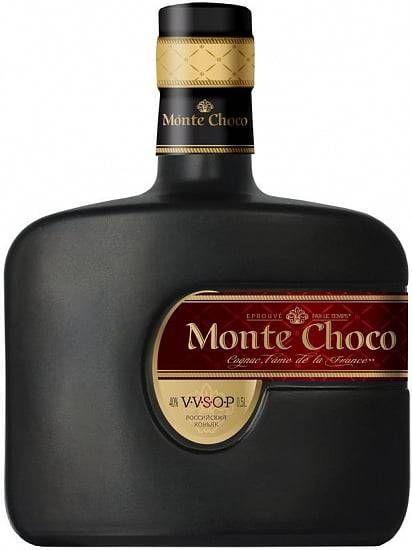 However, from France, the drink got not only the name. Their French colleagues took an active part in the creation of the blend, along with Russian specialists. The cognac spirits used to create "Monte Choco" are also of Russian origin, but they are distilled in compliance with French methods.
The result of this interaction was cognac, the taste characteristics of which make it possible to put it on a par with the worthy representatives of "amber alcohol" produced in France, Georgia, Armenia and Russia.
Tasting characteristics
As you might guess from the name of the cognac, the taste and aroma palette of Monte Choco has a chocolate base. The rich, multifaceted bouquet, in addition to the aromas of cocoa and chocolate, includes fruity notes. The taste clearly shows shades of spices, dried fruits, almonds and dark chocolate. All this ends with a long and warming aftertaste.
Types of cognac Monte Choco
For the production of the drink, only selected grapes of the best varieties are used, grown on the farms of Stavropol and Krasnodar Territories. The brand's lineup includes samples of various aging, and the age of cognac can be determined not only by the inscriptions on the label. The bottle itself, made in the form of an original cognac flask, can serve as a hint - samples of a shorter aging are produced in transparent containers, more mature blends - in darkened matte vessels.
Monte Choco VS is a drink of golden-amber color with a rich fruity-chocolate aroma, complemented by hints of vanilla.
According to the traditional classification adopted in France, cognac belongs to the category of Very Special, corresponding to three stars more familiar to domestic consumers. The blend consists of cognac spirits aged for at least three years. It is characterized by a mild taste with hints of dark chocolate and vanilla, as well as a warming, but not long-lasting almond aftertaste.
Monte Choco VVSOP - This cognac is based on six-year-old alcohols.
The drink is distinguished by a rich deep amber color and a complex bouquet, in which, in addition to the classic chocolate-vanilla combination, notes of patchouli are guessed. The taste is soft, harmonious, complemented by fruity splashes, the aftertaste is colored with sweetish shades of oak bark.
Connoisseurs recommend using Monte Choco as a digestif. It will perfectly emphasize the aroma of freshly brewed coffee and good tobacco. Often this cognac, which has a mild and balanced taste, is included in cocktails. Best of all, cognac goes well with vermouths and liqueurs. Variations with Amaretto and Irish Cream are especially popular.