Seventy one million six hundred forty nine thousand seven hundred eighty six
Flowers – the most exquisite decoration of the garden. Zinnia is consistent with this statement. Straight and slender flower belonging to the Asteraceae family. The authorship of the first scientific description of this plant is disputed, the famous Swede Carl Linnaeus and Director of the göttingen Botanical garden I. Zinn (hence the name of the plant).
Zinnias homeland – Mexico. Flowers were popular for the Aztecs, who used them to decorate temples and homes. Today zinnia won the hearts of gardeners all over the world, spreading across continents.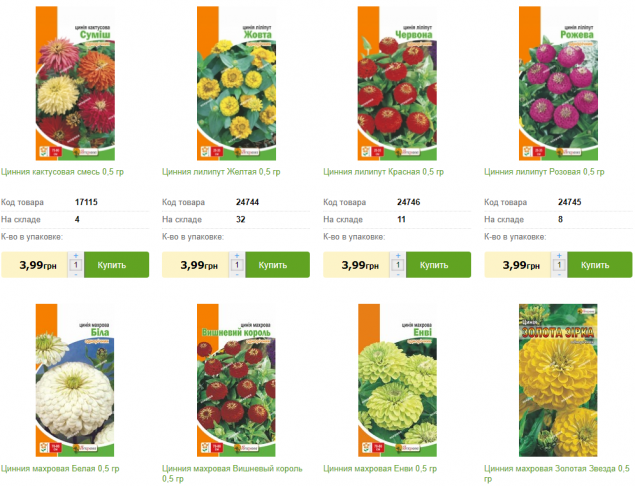 Description
Zinnia has a high, well foliated stem, topped with a flower-basket the same, closely set petals. On side branches are slightly smaller flowers. Colors range from white to purple. Toning the diversity is so great that to meet two of the same flower difficult. But the root system zinnias weak. They do not always withstand strong gusts of wind, so the gardener does not hurt to take care of the props. The plant reaches a height of 1 m.
Zinnias are propagated by seeds, which are harvested before onset of cold weather. You can also buy the seeds of zinnias in https://yaskravaklumba.com.ua/.
Advantages
Here are the facts that might instill in you a love for this plant.
Rich toning range. The only thing any of zinnias doesn't exist is blue. They go perfectly with other plants, herbaceous, flowering and deciduous. Diverse colors and form from simple, to Terry (such zinnias resemble dahlias).
A variety of heights. Among the variety of varieties with high and low, so you can implement different ideas to decorate the part.
Constant bloom. Enjoy the incredible beauty of bouquets each week.
A feast for butterflies and birds. Plant zinnias, and in living creatures, which are so interesting to watch, will not lack.
The popular name of zinnias mayor. Probably due to the slenderness and straightness of the stem, associated with a military bearing. If the rank of General in the garden to give the roses, zinnia is quite "pulls" on the major. Zinnias are planted on the ridges, mixborders, flower beds. Looks good and the plant as an annual flower border. Look beautiful these flowers and vase life, maintaining an attractive appearance for a very long time.