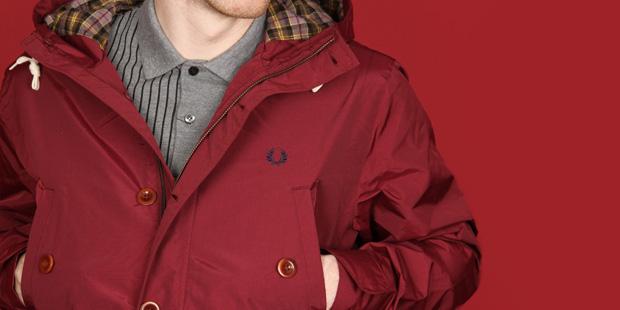 In the manufacture of men's outerwear winter clothing British brand Fred Perry pays special attention to their wind and thermal properties, applying maximum effort to the owner of a winter jacket, it was comfortable and cozy even in the most inclement weather. That's why Fred Perry made a bid for the parks, because for centuries they were considered the top national clothing of Northern peoples.
A distinctive feature of the winter parkas Fred Perry is the insulation which completely quilted all winter options, but that the fillers can be different. Today, as insulation in parks Fred Perry are two of the filler: down/feather and polyester. To choose between them is a thankless task, because each of them has its advantages and its heat-insulating properties, they are not inferior to each other. And in that and in other there are so-called air gaps, which do not give them the accumulated heat to leave the jacket, so the owner parks feels her warm and protected.
Fred Perry quilted Park to ensure that the insulation is not huddled in one place during wear and during washing, so practical and durable also can be called both insulation. Except that the fluff a little easier, so to wear down the Park could be more comfortable in that sense, but the batting is more hypoallergenic material.
However, a comfortable and warm winter men's parkas Fred Perry are not only due to insulation, but also due to its sophisticated design. The fact that the Park has its own special design which is so well thought out and proven for years of use, what to change in it something has no meaning. First, it is the elongated style of jacket that has a drawcord at the waist and bottom in a practical drawstring. It allows you to make the jacket fitted and this is even more warm.
Second, the Park men's fitted hooded slimming accessories, and sometimes fur trim. Additional cuffs and high collar also contribute to greater thermal insulation. A characteristic feature of the style parks is a double closure: with zipper on top, that textile covered button placket. Four large patch pockets make the Park functional.
Despite the proven cut, the manufacturer constantly comes up with various styles that would help to diversify somewhat familiar silhouette, because each year there are an original collection of parkas. Among them, Arctic jackets, mountain parkas, down jackets, technical parkas, model "two in one", parks for fishing, military field jackets, "Alaska" and many others.
Finally, to improve wind and water resistance properties of the Park from Fred Perry is always provided with water-repellent materials, which occupies an important place nylon which prevents the wet jacket even in heavy rain. Sometimes top coat jacket is made from breathable cotton, impregnated, properties closer to nylon.