Hyacinth — flower rain
Hyacinths — these colorful flowers year after year filled our garden with juicy spring colors and unforgettable charming fragrance! The birthplace of this flower is Asia minor, where the hyacinths bloom in the spring with warm rains.
In our gardens, their subtle, gentle and surprisingly persistent aroma we begin to feel the early spring, as soon as the sun becomes thoroughly warm. Their inflorescence is the Sultan, assembled from many small flowers in the shape of stars bloom of Sapele to may and delight us in the next 2-3 weeks.
Usually always the first to bloom blue varieties of hyacinth, and then begin to bloom pink, white, red, purple, and later, all bloom yellow and orange varieties.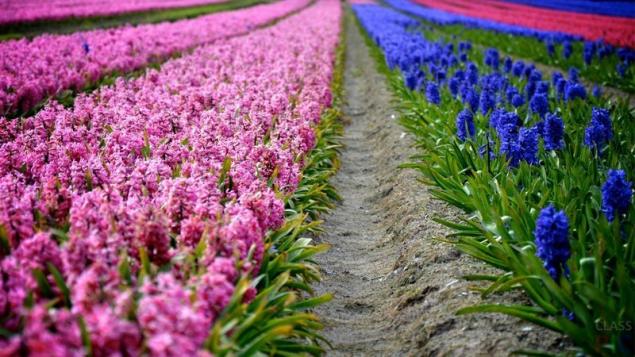 The most vivid and fragrant
There are many large-flowered, small-flowered and double hyacinths in a huge palette of colors.
Here are some of the most fragrant, lush and disease resistant varieties:Aqua -
this is a real flower rain, with shades of blue, lilac and purple flowers reminiscent of a frozen water drop;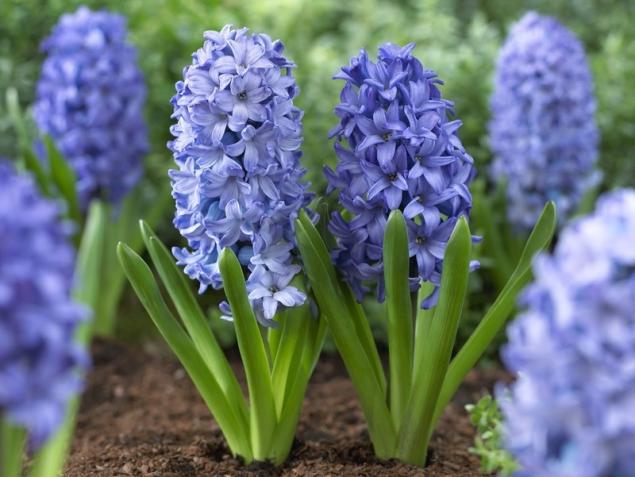 "Red magic"
is hyacinth with an unusual, red-pink with contrasting white eyes at the base of the petals color and flowers with a diameter up to 3.5 cm with a narrow, slightly curved at the ends of the petals;
"Raphael"
— hyacinth has a very refined aroma and original form, in which each flower-bell seems to be cut down to the base of the petals on a narrow strip that does not allow him to fully open up, like other varieties of hyacinth and this unique shape of the blossoms, with petals hanging down (as if slightly frayed, yet the spring wind), makes it unusual and exquisite;
"Pink pearl"
is a very popular hyacinth with dense inflorescence of large pink flowers with long (to 7 cm) private and looking unusual and decorative;
"Aida"
— bright hyacinth blue coloring with very large flowers with a diameter up to 4 cm, with a spherical inflorescence and very resistant to the vagaries of the weather.
What I like and don't like hyacinths?
To start, I love hyacinths:
to grow in warm throughout the summer Solnechnoye;
the soil is loose sandy loam or loamy with neutral or slightly alkaline reaction;
moderately moist soil throughout the growing season, otherwise they will quickly wither;
timely tillage and weeding;
regular feeding is first performed immediately crop emergence (ammonium nitrate); the second — when — budding (ammonium nitrate 20 g/m2 superphosphate 40 g/m2, potassium chloride 30 g/m2); the third — after flowering (superphosphate and potassium chloride at 40 g/m2).
​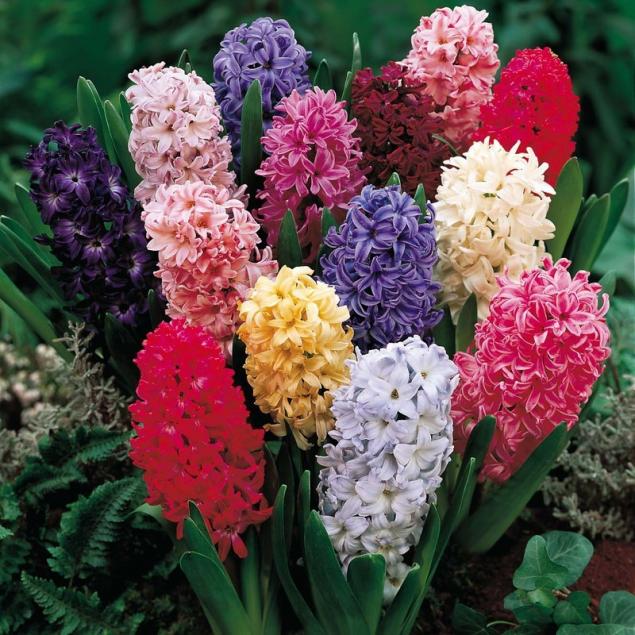 Hyacinthine love:
waterlogged soil, so the bulbs may rot;
to grow in the shade, as in this case, you will have hyacinth bulbs to dig up every year;
storage of bulbs at low temperature;
early stages of planting in the ground;
 
What else you need to know about hyacinths:Cutting flowers is best done in the morning before watering, they should be blossoming.
Faded flowers should be cut off, leaving the escape. If you plant hyacinths correctly, where they like to grow, that is, the solar exalted, then you can manage
them to keep growing without digging in 3-5 years
.Planting hyacinth bulbs need to spend the autumn in late September — early October, when soil temperatures will be from 6 to 100S as hyacinths need to take root before the frost, below normal winter and bring us spring for its lush flowering.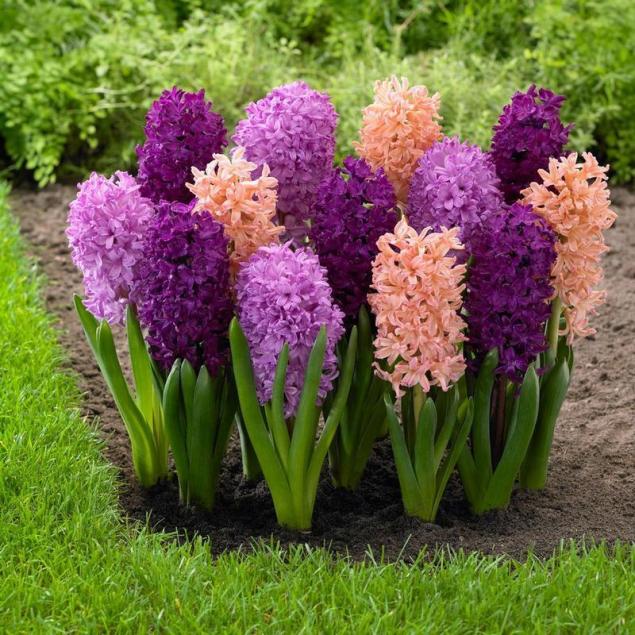 For planting, the soil selected bulbs of medium size, and large is best used for distillation.
Plant hyacinths is recommended in sandy pod. Here's how: in the hole pour a small layer of sand; if the soil is dry, then pour water and when the water is absorbed, put in the hole onion, lightly pushing her; fall asleep on top of the onion first with sand and then soil. After that, a good idea to mulch the planting with a layer of peat (5 cm). And with the onset of sustained cold weather the hyacinths are still needed to cover up the dry leaves with a layer of 20 cm or other insulating materials.
Universal flowers
Hyacinths are universal colors, they can be grown at home in pots and in garden beds and in containers. Hyacinth is one of the most popular crops for distillation.
If you want to get flowers for Christmas (the flowering December — January), plant the bulbs in August — September.
For flowering in March the bulbs are planted in October. For forcing better suited for Eastern and miniature hyacinths.
Diseases and pests of hyacinths
The main causes of diseases of hyacinths in poor quality planting material or in the wrong cultivation is dense planting, heavy waterlogged soil. With yellow bacterial rot plants are stunted, it appears the stripes and spots fabric follicles osliznyayutsya and acquire an unpleasant odor. Affected plants destroyed, and the hole is coated with chloride of lime.
Against root mites gnaw tissue bulbs, hyacinths budding process kolloidnoi gray (40 g /5 l water). Contributes to the appearance of the pest stagnant water, so you need good drainage.
In areas of damage by stem nematode tissues of the leaf are discolored, it formed yellowish spots, diseased leaves turn brown, wither. Struggle is reduced to the destruction of diseased plants, the treatment and disinfection of soil and equipment.published  
P. S. And remember, just changing your mind — together we change the world! ©
Source: vk.com/public47900340?w=wall-47900340_286336