TRANS-European transport network announced the launch of the project Ultra E, which involves the creation and installation of superfast charging stations for electric vehicles in European cities. At the same time, the Netherlands developed a system of "smart" stations, which is expected to spread around the world.Project Ultra E — the result of cooperation TRANS-European transport network and the largest companies in the field service of electric vehicles, such as Allego and also leading car manufacturers, including Audi, BMW and Renault. Only Germany, the Netherlands, Belgium and Austria will be installed 25 new stations to recharge, which will have a capacity of 350 KW — enough to charge an electric car for 300 km in just 20 minutes.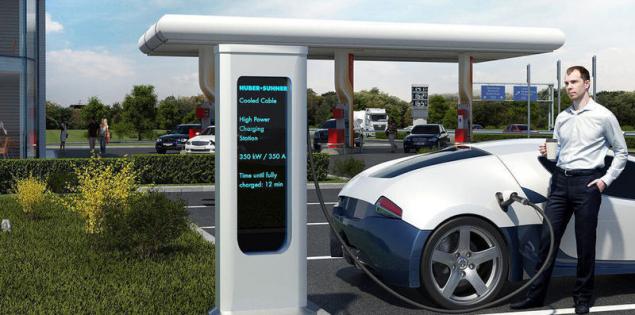 The station will use a mixed charging system (CCS standard), which is twice the power applied to this unidirectional current (DC standard). However, at the moment there is not a single passenger electric vehicle which could be recharged from the power supply exceeding 120 KW. However, the creators of the Ultra E argue that at the time of launch of new stations in 2018, this figure is just close to the claimed 350 KW.
SUBSCRIBE to OUR youtube channel that allows you to watch online, download from YouTube free video about the recovery, the rejuvenation of man. Love for others and ourselves, as the feeling of high vibrations — an important factor for improvement .
Put LIKES and share with your FRIENDS!www.youtube.com/channel/UCXd71u0w04qcwk32c8kY2BA/videos
At the same time, in the Netherlands, with the support of the government start a project of open platform Living Lab Smart Charging, which will make all the stations for recharging electric vehicles "smart". The project idea is quite simple: the platform, which connects the station monitors the consumption peaks of electricity used for recharging electric cars, and then compares them with peaks of production of solar and wind energy.
Using this system, users can save substantially, charging your electric vehicle off-peak electricity consumption, e.g. at night when wind power stations continue to produce electricity in large volumes, but it is not so popular. Living Lab Smart Charging includes both the connection to the platform existing sites and creating new ones. According to the description of the project, it is planned to cover about 3000 stations for recharging.
According to the report of the company Transport & Environment, to the end of 2016 on the roads of Europe will be over 500,000 electric vehicles. Recently, the European Union even adopted a law, according to which every new building in Europe, built after 2019 should be charging for electric vehicles. All it proves is that to date, electric cars have finally ceased to be just an interesting and futuristic concept is now gradually become part of our everyday reality. published  
Source: hightech.fm/2016/10/19/european-electric-vehicle-charging