The coastal waters of the seas and oceans are increasingly being used for the production of clean and green energy. And usually we are talking about wind power, waves or tides. However, the sea is also attractive and the abundance of sunshine.
A world leader in the energy consulting and certification company DNV KEMA presented a draft of the island of floating solar panels that can compete with offshore wind power.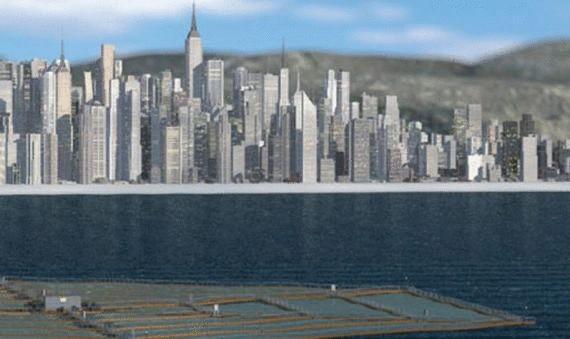 Solar radiation is distributed across the planet. With half the earth's population lives near coastlines of seas, oceans and freshwater bodies. The concept proposed by DNV, makes more real the providing these people with clean energy.
The project is a group of connected hexagonal artificial Islands, 4200 combining solar photovoltaic panels with a total area comparable to the stadium and with a capacity of approximately 2mW. A few of these Islands could form a solar field with a capacity of over 50 MW, capable of supplying power up to 30 thousand people.
The concept, called SUNdy, may be viable through the use of thin-film solar panels with a capacity of 560 watts. Such panels are lighter than traditional glass modules and can be bent, allowing them to float on the water surface. A scalable design of them can come in different versions, as in the base array is a single island and a collection of Islands.

According to DNV KEMA team sectional design will allow you to organise large-scale energy production and facilitate the Assembly in the target site. Cable network panel will provide access for local maintenance. It is planned that the network will be pre-manufactured at the enterprises, making the marine installation works will be kept to a minimum. Ideal places to install solar Islands can be calm waters with depths of 20-100 meters a few miles from the coast and away from navigable waterways.
As noted by the Torah bjørn Markussen (Bjørn Tore Markussen), chief operations officer DNV KEMA, floating Islands SUNdy can be deployed off the coast of the most densely populated countries and grants them access to renewable energy.
"Many countries are turning to solar technologies and renewable sources because of the need of alternatives for energy and environmental protection," said B. T. Markussen. "We firmly believe that the concept of floating solar fields offers a safe and sustainable development prospects, particularly in Asia, to supply the congested coastal megacities where there is limited possibility of installing solar panels on rooftops, and in urban areas where high prices prevent a large-scale solar production."  
Source: /users/104