Charger for mobile phone – an ordinary utilitarian thing. There is nothing neither good nor bad, it is just a necessary addition to the beloved smartphone. However, the inventor Vivien Muller (Vivien Muller) tried to disperse the boredom and looked at the problem from a different perspective. Together with colleagues, he developed and now markets the most unusual solar charging, in the style of bonsai.
Charger electree+, resembling a miniature tree, whose leaves, instead of the photovoltaic panel, looks unusual and attractive in the home environment and on the desktop in the office.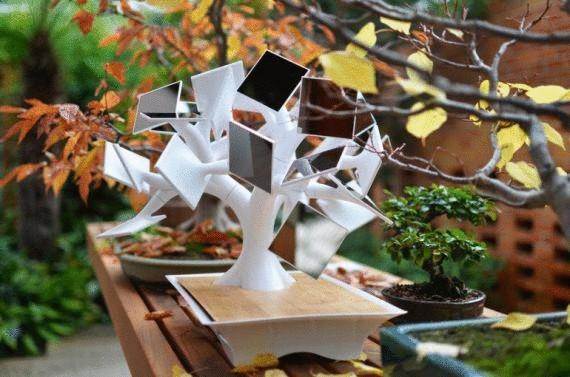 The assurances of the inventor of electricity, which is capable of 36 hours to stock it "tree" in the built-in battery is enough to charge iPhone 5 nine times, a Galaxy S3 seven times, or an iPad 2 twice. Have electronical tree-bonsai turning leaves. They should be deployed accordingly so that the figures match the reality.
Height table "solar tree"– charger electree+ in the highest point reaches 41 inches. The width of the "leaves" — 9 cm. Capacity built-in battery is 14 000 mA/hour. If its full charge need 36 hours of light time, in order to gather the energy necessary for one smartphone is enough for 4 hours.
To share with consumers energy wood using standard USB cables. But this is not the only possibility. It is planned to equip the device interface to connect to a wireless charger as optional equipment.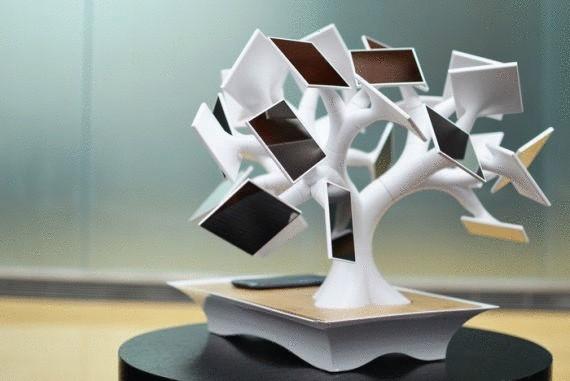 The idea of solar charging bonsai came up with Mueller in 2008. He even made some efforts to transform ideas into reality. However, summed up the Chinese component manufacturers.
According to Mueller, the failed partnership has given him some experience, and this time will be used details of the American production. This will allow us to monitor the quality and expand the range of products of various shapes and colours. About the most preferred appearance of the first devices, the command promises to ask potential clients before starting production.
The emergence of solar charging bonsai in the sale is expected in mid-2013. And while Muller associates are busy looking for funds for promotion. Using the website Kickstarter, the team hopes to raise $200000. Wishing to obtain a tree from the first batch are required to pay a Deposit of $199, if it's about the basic configuration of the charger.  
Source: /users/276