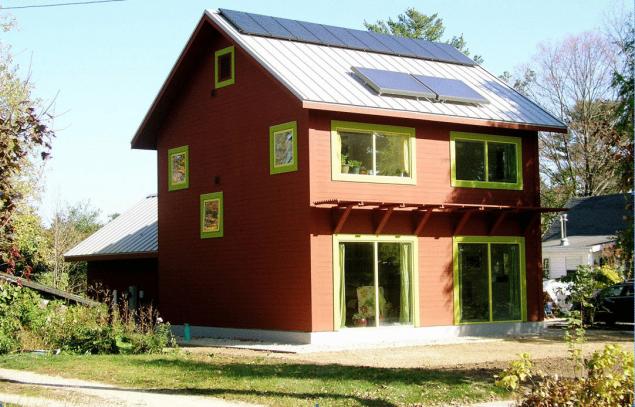 German specialists have developed and successfully tested on the territory of the United States of America Newen energy-efficient house Houses that is in the 30-degree frosts have demonstrated superior performance of heat preservation.
The basis of the two-storey mansion, built in Wisconsin, are insulated with 45 cm walls and large Windows with triple glazing. Thanks to them, maximum daylight enters inside the premises, but the heat loss from the building is actually reduced to zero.
Clearly describes the energy efficiency of this home is the fact that last winter, his heating had four small electric radiators, total capacity is only 1.3 kW.
They ate as led lighting of the mansion, through installed on the roof solar panels and water Newen Houses were provided by the assembled system of accumulation and purification of rainwater.
According to the creators of the project, the actual building does not require connection to communication networks, as even in the climatic conditions of the Northern United States, it provides itself with the necessary resources. The construction of such houses to the South will even reduce the project's cost due to less insulation.
Not to mention a few interesting points in the design of energy efficient house Newen Houses.
First, it is the abundance of natural materials in the interior, dominated by wood and natural stone, the link designs which you can see.
Second, at the mansion, according to the project, to build a beautiful, and, most importantly, functional wood burning stove. During the test period it was used exclusively to create a cozy atmosphere, but if necessary, it can also heat a few rooms.
Architects believe that the test results of the project will open doors for him to world construction market, and soon these houses will begin to appear around the world.published
Source: zeleneet.com