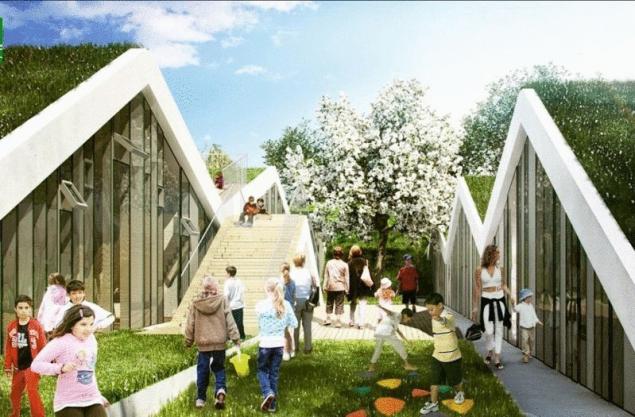 Danish architectural design company Bjarke Ingels Group recently unveiled his vision for the school in Acentered, Denmark, the main difference being a series of "hilly" green roofs, crowning several "strips" of the school building. These bands of greenery create an immersive landscape through which school fits great in the landscape and does not harm the environment.
The building of the school, which has a rather interesting design, characterized by the use in the construction of various "green" technologies that combine cutting edge design and a minimal impact on the environment, including water drainage, preservation of biodiversity, and the minimum area occupied by the structure.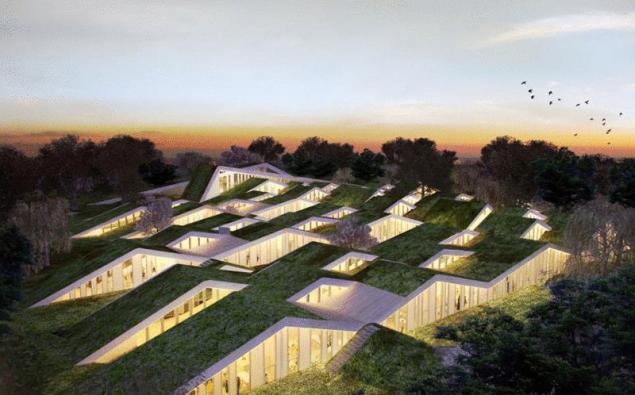 Gabled roofs of each "strip" of the school building shifted relative to each other, thereby creating space for large Windows that saturate the interiors of natural sunlight. The rooms are connected with intersections within each "strip" of the building. The result is a series of small and large interior spaces. Thanks to the displacement of the roofs of each "strip" of the school building is a natural cooling and ventilation – warm air is used up is replaced by fresh air, chilled the natural way.
In recent years, the construction of green roofs on buildings is one of the most popular ways to reduce potential negative impacts on the environment. They perform various functions, such as natural cooling, collecting rainwater, and, of course, add to the picturesqueness of the exterior of buildings. The offer of the company Bjarke Ingels Group – is a "green" roof, which is part of the school grounds and can be considered as additional material for children to learn of nature.
источник:green-dom.info
Source: /users/1077