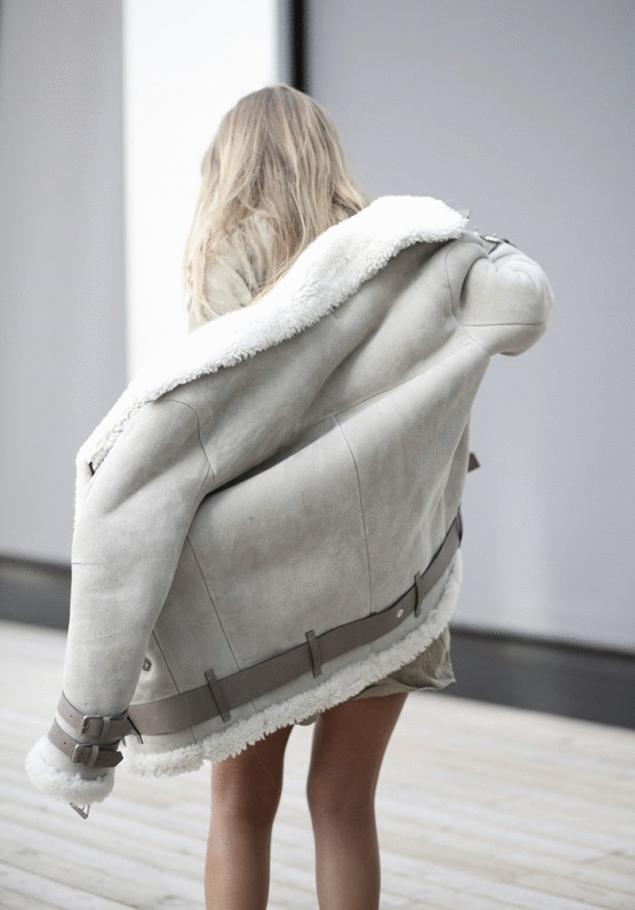 Despite the fact that winter is white and snowy, put on your favorite winter coat a stain, is not difficult. On the roadway, in public transport, in shops, entrances of dirt enough. Imagine the frustration overtakes the man when winter sheepskin scuffs occur dirty or there is grease spot. Do not despair, even heavily soiled items can be returned to its original appearance. Today we will tell you in their own home to clean sheepskin leather and suede.
How to clean a sheepskin coat
Before you begin cleaning your coats at home, you need to know about what are coats. A big part of winter items of this type are made of sheepskin. However, depending on the country of origin, the quality of skins can be different. Thus, the soft and light skin are considered to be Spanish, and the most hard and difficult – skins from the United States.
Quality coats are made of fur velour. This material also is of two types. Velour without coating is a polished skin. Coats made of this material look very expensive. However, this material gets dirty very quickly and salted. Shearling coated are made of high quality skins, which is additionally applied protective layer consisting of natural resin and additional stain-resistant additives. A thing of fur velour coated to keep clean much easier. The most common types of coatings are: silk, Kansas, nappalan, crack.
Before you begin cleaning your coats, you must know all about the material thing. It is best to have a sheepskin coat to the dry cleaners. However, there are pitfalls. If dry-no special equipment designed for this type of clothes, sheepskin may fade, break or sit down. Before you trust sheepskin to professionals, check whether dry cleaning necessary equipment.
At home to clean the sheepskin can be no worse than in dry cleaning. Just need to know how to do it right.
To carry out cleaning should only be done when the thing is fully dried. In this case, the dry dirt can be easily removed stationery tape. For routine cleaning you can purchase a special brush. This tool gently clean the velour. However, you should not clean a sheepskin coat, with a brush designed to care for suede footwear.
It would be good to buy special care products velour skin. You can find them in any large store. The range of available cleaning products for the velour produces the well-known firm Salamander.
Has high performance foam cleaner for suede. This tool perfectly removes greasy stains, drops of rain, wet mud. Foam suitable for products of any color. It is also useful to have a special ground cube, through which removes the stains from the suede. Particularly well this cube removes fresh stains.
For black and brown sheepskin, you can use spray paint for suede. Just need to spray paint on suede product. When the paint dries, the contamination will disappear. Everything else, spray painting fine masks worn on the sleeves. All cleaning products will cost no more than 1000 RUB.
Spots age more than three days, you can clean only at the cleaners.
How to clean a sheepskin coat at home
If the stain on the sheepskin need to get urgently, but you have no time to go in search of the right dry cleaning or universal means to care for the skin, clean the sheepskin can be at home.
You first need to determine the type of contamination. This will depend on the selected method of home cleaning.
How to clean genuine sheepskin leather
, it is Important to know that the methods of cleaning of sheepskin coats of different materials differ. For example, what is suitable for suede, you can't use on the skin.
Before in the home to clean a sheepskin coat, first try the cleaning product on an inconspicuous area of clothing, and only then apply to the pollution.
Attention!
Do not use for cleaning coats salt. This substance is hopelessly spoil the leather item.
Fresh stains is best reduced by using absorbent material, such as starch or semolina. They perfectly absorb moisture, grease, and absorb dirt from the skin surface. In the same way you can clean faux sheepskin.
Spots without the fat from the surface coats can be eliminated with a piece of rubber. For this small rubber block soak in kerosene and RUB the soiled surface. After thing you need to hang on a balcony full ventilation. This method is especially effective for old stains.
If you notice a stain on the coat immediately, but after some time, armed with gasoline and gauze. By mechanical action remove the dirt with gasoline and then thoroughly air it. Important: this method is prohibited for use on light things.
Before applying gasoline or kerosene on sheepskin, first test in an inconspicuous place coats or sample of the skin that usually comes along with winter clothing.
Quite often in the process of operation suffer the collar, cuffs of sleeves and pockets of the coats. In these places there are oily stains and greasy areas. To eliminate this type of pollution is by using tooth powder, mixed with ammonia.
While cleaning a sheepskin at home avoid wetting the skin. But if the coat is still wet, lay it on a flat, horizontal surface and thoroughly dry, and then intensively knead with your hands. After cleaning, the coats should not be stake, otherwise, the product is hopelessly flawed.
The proposed methods are especially good when the marking of the coats have contraindications to chemical cleaning.
How to clean sheepskin and suede
, All suede products quite delicate, as the material gets dirty easily and has a short lifetime. Therefore, for such coats should be cared for carefully.
For routine cleaning of coats you can apply well-proven cleaner "Desams". This drug is well removes any impurities and refreshes the suede.
In the process of wearing suede coats should be sure that the thing was not greasy. But if, nevertheless sheepskin is in areas of high friction (pockets, sleeves, collar) began to Shine, will have to resort to more radical methods of cleansing.
To the NAP of the suede does not wear out, wipe off dirt with a brass or rubber brush. You can also use the brush with stiff hair. In a pinch, you can use fine-grained sandpaper.
Unlike leather shearling suede can be cleaned with table salt. But amazed with the dirt plots, you should not RUB too hard, otherwise the high abrasiveness will lead to abrasion of small pile shearling.
By burlap soaked in gasoline to remove old grease stains. However, this method is only applicable to dark sheepskin.
In addition, it is equally important to know how to clean light sheepskin and suede at home. The main issue in this case is the color coats. It is important that after cleaning, the sheepskin coat was so white, but it was not dirty spots.
Useful advice.
Light the products from dust and other light dirt, try to clean only the hard brushes.
If the coats are long-standing spot, to make things original appearance will help the following recipe: connect the 4 parts ammonia with 1 part water. Shake the mixture, soak in it a sponge and carefully apply coats. You can also clean suede with a solution of ammonia and soap powder in the same ratio of 4:1.
After processing, the contaminated place must be thoroughly rinsed with water and thoroughly dried in a dark place to coat is not faded.
To Refine the old coat will help the following recipe: pour a glass of milk a teaspoon of baking soda. Mix. Then use a brush to remove coats of dust and gradually treat with milk with soda the whole velour. Then wipe the entire coat with a solution of vinegar (a teaspoon of table 9% vinegar to dissolve in a liter of water) and dry the product with a soft, dry cloth.
Worn seats can be masked with dye. To do this, buy a dye of the desired color, designed for woolen clothes. From it is prepared warm solution with vinegar. Then, the coloring composition into the surface of the sheepskin. Paint dries in about 20 minutes. After treat sheepskin 2% solution of vinegar and rinse with clean water.
And finally we will explain how to clean the fur on the sheepskin. It is very simple. Just need to prepare a mixture consisting of equal parts vinegar, alcohol and water. This solution should be applied to the fur with a brush or a foam sponge. After cleaning, blot the fur with a soft cloth and comb.
Source: krugznaniy.ru/article/kak-pochistity-dublenku/