Recently the Yakut village of Batagay was commissioned first solar power plant of 1 MW which is the largest in the Arctic. Its photovoltaic array consists of more than 3 thousands of Suntech polycrystalline panels at 300 watts. The equipment can function in the harsh climate for at least 25 years.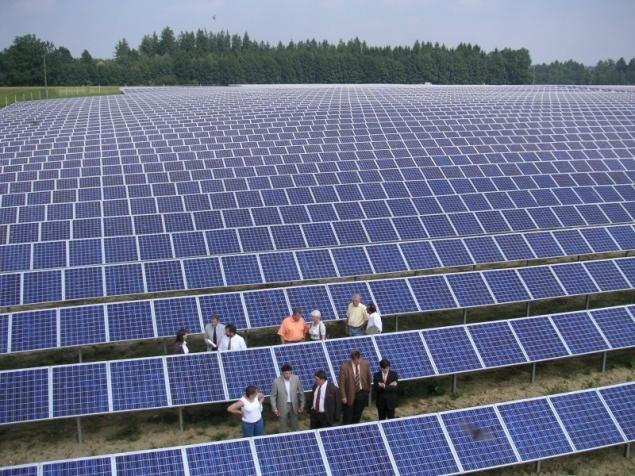 The project was implemented JSC "RAO Energy system of East" (ESV). Station in the Bhagat is able to annually generate 1.2 million kWh of electricity, and it saves 300 tons of diesel fuel a year. So far, the station in Batagay will not be able all year round to ensure all the population of the village with a population of 6000 people electricity, but it will perfectly complement the existing diesel power station. In the future, the company plans to increase the capacity of the plant to 4 MW.
In the future solar thermal power plant can be a real deterrent in electricity tariff in small isolated power district. However, over the next 7-8 years should not expect a decrease in the tariff, as at first the station needs to recoup the cost of construction (184 million).
To date, "RAO ES of the East" operates in the Yakut villages 8 solar power plants of low power (several tens of kW). However, they give benefits. Over the next 2-3 years in the settlements of the region plans to build 6 solar power plants. ESA has already signed with the government of the Republic of the agreement on the reconstruction and building of new diesel power plants and renewable energy plants (wind and solar) in a number of villages. The region and the holding company will invest in the project for 300 million rubles every year.
Experience in the construction and operation of unique Batagayskogo power will be used for implementation of large-scale ESP program to implement RES in the far East. It is planned to build 170 locations of wind and solar generation of different sizes with a total installed capacity of 120 MW. Alas, in the end still unlikely to do entirely without the use of diesel fuel in many localities of the region.
Given the variability of weather conditions in those areas where alternative energy is being introduced, complete replacement of conventional generation by wind or solar is not feasible. The main objective is that to "green" and diesel generation work in pairs, replacing each other when needed. As for the optimal replacement necessary to upgrade equipment and implement intelligent control systems.
At least, in Yakutia there are no problems with shortage of solar radiation. During polar day, whose length can be up to 20 hours, the station is gaining enough solar energy. In addition, there are practically no cloud cover, as, for example, in the Krasnodar region.
Of actual news alternative energy in Yakutia also worth noting is the exhibition of alternative sources of energy, held in the framework of the III International conference "renewable energy Development in the far East of Russia". The exhibition was traditionally collected in Yakutia specialized companies from all over Russia. According to the organizers, some of them are able to provide energy to a small Northern village, and some samples will benefit the farm personnel of hunters or herders who are forced to work in remote areas.published
P. S. And remember, only by changing their consumption — together we change the world! ©
Source: alternativenergy.ru