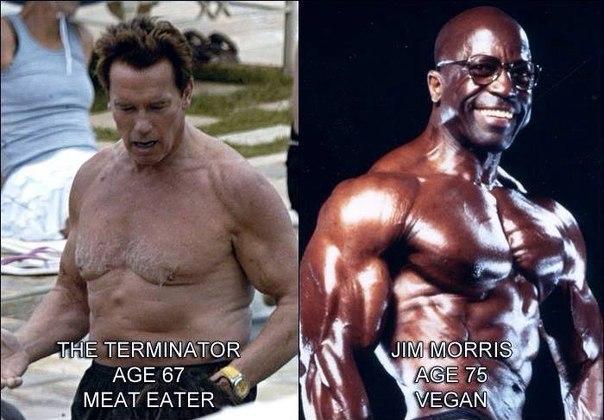 American bodybuilder Jim Morris encourages people to "think before you eat».
Breaking stereotypes about age limits in bodybuilding, 78-year-old vegan Jim Morris dared to undress for the new campaign, PETA (People for the Ethical Treatment of Animals - People for the Ethical Treatment of Animals)
. Morris was once the bodyguard of Elton John, after this work is completely gone in bodybuilding.
Persuading people to switch over to the vegans, namely to exclude from the diet of meat and dairy products, Morris was laid bare last year, at the age of 77 years to recreate the symbolic pose of the famous "The Thinker" by Rodin.
The image has become part of a new campaign of PETA titled "Think before you eat", which encourages people to "pump your health».
Jim Morris, recently celebrated his seventy-eighth birthday. Starting his way in the world of bodybuilding in the 70s, he has ceased to participate in the competition in 1985. He claims that since he was able to improve your health only through vegetarianism, veganism and later.
"Protein is found in animal products are also loaded with fats, chemicals and other such garbage that brings you harm," - said Morris in an exclusive interview for PETA
. "When I was competing, and used all of these supplements, I have always had problems with digestion. Constipation, bloating - all the time I felt miserable »
. He added: "I absolutely know for sure that if I continued to eat so I would not be standing here right now and certainly would not be in such good shape»
. By insisting that veganism "helps to prevent obesity, cardiovascular disease, cancer, diabetes and stroke," says Morris, is now feeling better than ever, and encourages all to eliminate dairy products from the diet.
< br> "Milk is for babies. As far as I know, the man - the only living thing that continues to drink milk after it was weaned. I think a lot of people just do not realize that if they stopped using milk and other dairy products, they would say - "Wow, I never thought I could feel so good"
. Some other celebrities, such as hip-hop icon Russell Simmons, the Oscar-winning actor Forest Whitaker and actress series "Sister, Sister" Tia Mowry also teamed up with PETA to promote a healthy and humane lifestyle.