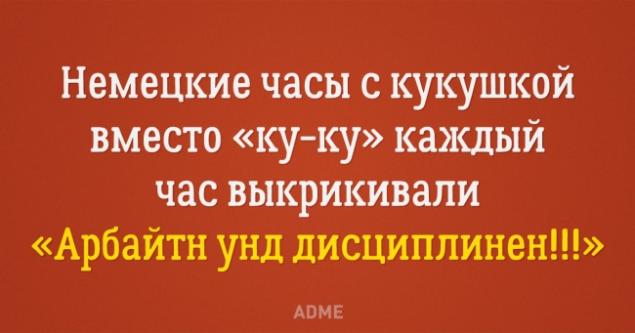 Every language has its own peculiarity, its own soul, catching, to feel that it is much easier to understand the language. And worst enemy in the way of learning the language, this incomprehensible and foreign, is boredom. < Website publish for you some exciting and totally Jolly resources for learning the German language. All of these apps, games and series - bright, funny, and completely free. Good luck in understanding German!
My road to Germany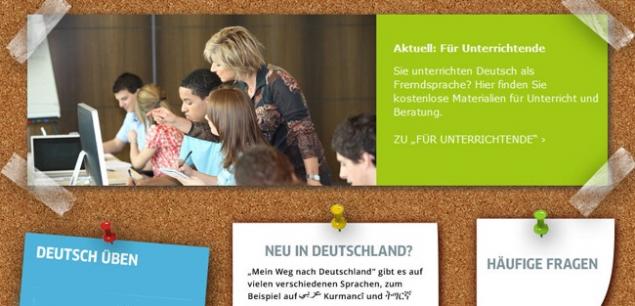 online game "My Road to Germany" - a complex of difficult but interesting jobs and a lot of practical information in 16 languages ​​
. Nevin, the heroine of the game, with your help a lot to learn. Helping Nevin perform tasks, you will learn how to solve many everyday problems. Perfect for beginners with little basic knowledge of the German language.
Mysterious letter

Detective adventure game. In the wake of the mysterious and Jaden prompts journalist in search of his uncle he gets in a German company. And in order to find a solution to the puzzle, Jaden has to join the team. Go interviews, appointments, speak to an audience.
Interactive dialogues and mini-games - a fun way to improve reading and listening comprehension. Instructions and help are available in the game in English, German and Spanish.
German
for you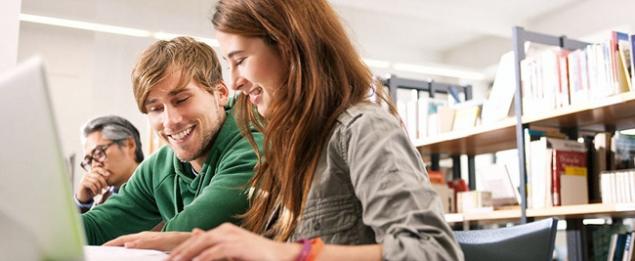 Social Network, an international online community for learners of German at all levels, as well as for teachers and trainers.
Users have free access to educational content. Here you can find friends, join groups and socialize. You can practice communicating in German, to find valuable advice or help others. On the basis of the profile of language proficiency user receives recommendations, links to online resources.
German laboratory

series about life in Germany. Charismatic researchers Nina and David debunk or confirm known clichés about the Germans. From ordinary people on the street and from top experts, researchers will learn amazing things and get surprising answers. Series lasts about five minutes.
After viewing, you can perform a series of interactive exercises and assignments and discuss the topic with other students.
City
words

educational game for beginners "City words»
. Travel around the city, educate yourself with photos, audio clips, and example sentences. You can associate with your friends to solve interesting problems, or to compete in the knowledge of German words with other players.
Appendix learn to navigate the cities of Germany, will show how to order in a German restaurant or find necessary at a local store.
German workplace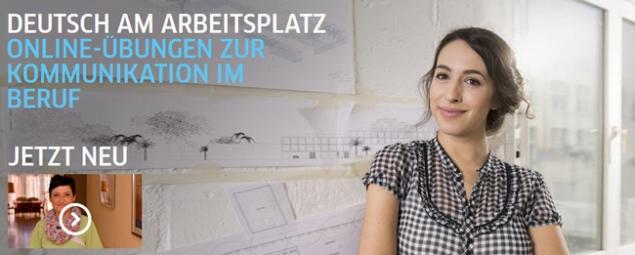 Set online exercises for professional communication in German. The resource allows you to learn about aspects of work in Germany, for example, the number of vacation days, the rules of use of forms of "you" and "you" with colleagues and clients.
Exercise will help to orient in a variety of professional situations, expand vocabulary. Numerous problems, interviews and films you will be able to learn more about job and training opportunities.
Our street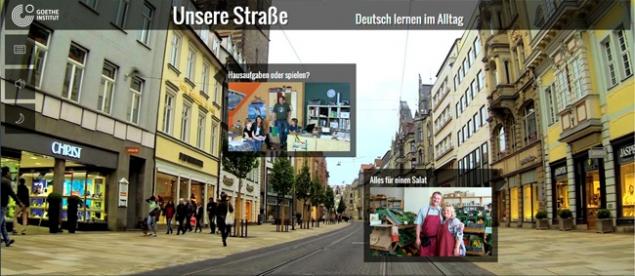 «Our street" Developed for beginners. Virtual walk down the street introduces the ordinary Germans, the inhabitants of the town. Find out who lives or works here, and in practice, check your knowledge of the German language.
"Looking" in the window, you can witness various scenes from everyday life. All this is performed in a audioslayd show. It is also possible to influence the course of the story in every scene, choosing your answer or action.
Celestial disc Mystery

Exciting game, thrilling quest for learning German.
Art critic Vincent Mirano goes in search of 4,000-year-old celestial disc. He is level by level to collect items and clues. In addition, Vincent Mirano as a foreigner has to overcome multiple language barriers. Most of these things apply to real situations of communication.
The player interacts with a variety of characters, and have the opportunity to influence the course of events. You can play on the Internet or install a free application.
Ticket to Berlin

In 2014, two international teams in a two-week adventure in Germany were sent. Young participants from around the world to solve complex problems.
A total of 18 exciting movies that have become educational material. Attached to each video online job, teaching materials and lesson plans that will be useful for teachers of German. The Russians will be particularly interesting to follow the command "South", which included Christina Majidova from Novosibirsk.
German cities and landscapes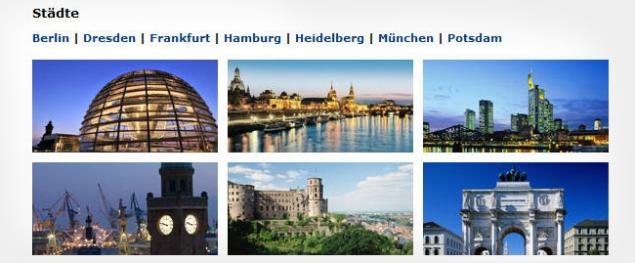 Fascinating architectural and artistic treasures, high technology and nature, sports and culture. In these free exercises you can check online their knowledge about famous places in Europe. Or learn something new. Tasks are broken down by cities and topics with colorful pictures.
German coach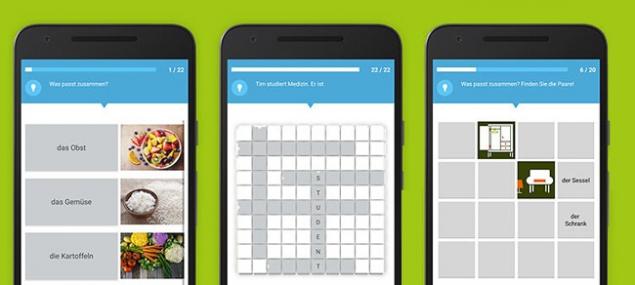 Appendix "German coach" offers practice vocabulary and language structures. You hear dialogue and choose relevant words in the text.
In each chapter, and their 10 topics, you will find 20 exercises. Exercises are very short, you can solve these puzzles on the bus or during a break. The app is free
Dictionary simulator

Convenient and mobile dictionary for learners of German. Choose a topic that interests you, and download vocabulary lists for this topic. Each list contains a brief description. After downloading the training packages is possible without an Internet connection.
The application also has the ability to enter their own words. The dictionary stores frequently used speed and expression. The app "Dictionary-simulator" can be downloaded free of charge.
Based on materials Goethe-Institut website
via www.goethe.de/de/index.html