30 sites on which we hang out in 2015 Bashny.Net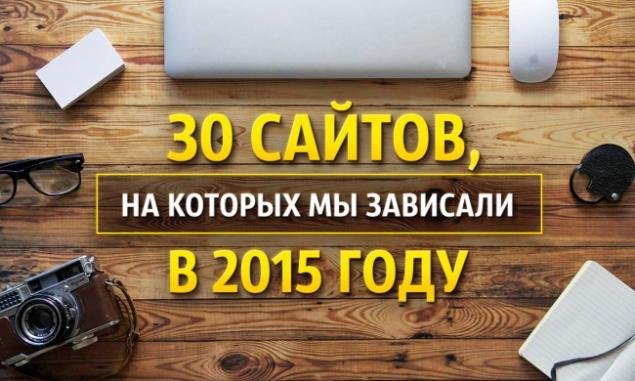 In the past year
Website more than once made a selection the most useful, the most zalipatelnyh and most unusual sites, which can be found in the vast expanses of the Internet.

In this post - the best cream, the same Internet services that the hand itself stretches add to the "Bookmarks". They learn a new way, or helping to create a good time, when you die of boredom.


Sites for those unrealistic boring h3>
Secret door h3>


The door to teleport. Every time you open it, you get a random, real place on earth - it can be a small village by the sea or a building of the old theater in London. And then you can open the door, turn the corners and go aimlessly. Exciting and mysterious.


GeoGuessr h3>


This service using Google Maps throws you into a different part of the world. Can you guess where you are, looking for clues.


The virtual museum of electronic games h3>


It has both foreign and Soviet games (including the company's "Electronics"). The main thing - you can not only admire the first electronic toys, but also to play them!


Risovalka Harmony h3>


Simple mouse movements are converted into a stylish pencil sketch. On that learn how to really draw, can not count, but his friends just get hit. That's what drew one of the users.


Panorama h3>

The most beautiful and large-scale high-resolution panorama from all corners of the world - from the Kremlin to the Bromo volcano on Java island.


To Catch a black cat h3>

Very addictive game! We need to celebrate the yellow circles around the green cat to catch him. But this cat is a clever and smart, you need to try this a lot!


100 000 stars h3>

Almost a real journey in space of detailed, realistic and three-dimensional model. Run and travel.


For those who can not wait to do h3>
Fair masters h3>

A kind of platform for blogs admirers - every user can create his shop, or simply to share achievements. You can not only find new ideas, but also to see workshops and buy your favorite thing is handmade.


Etsy h3>

The world's largest marketplace for sale of finished products by hand. It is possible and to look at others and be seen. And find a lot of new ideas.


The Things We Do h3>

The site with ideas to create clothing, accessories, home decoration, cards, gifts and more. They are all so wonderful, that will certainly want to try to make yourself something similar! Especially since every idea is accompanied by a sufficiently detailed fotoinstruktsiey.


Coloring Antistress h3>

Option for those who belong to the soul to the fine arts - is coloring, anti-stress for adults. It is easy enough, but extremely exciting experience.


Calligraphy h3>

Good handwriting - it's great, but what is this amazing ability - to draw filigree, finely proportioned letters! Look at the lessons that will help you master this delicate art.


Scrapbooking h3>

Here in front of you opens a huge space for the imagination. Create unique greeting cards, albums or even home furnishings with his own hands.


Planet Origami h3>

Remember as a child we did airplanes, ships and cranes? Now you can create even more interesting and complex models with equal pleasure.


DIY h3>

Find a new use things - an exciting experience that perfectly develops creative thinking. It is always interesting to breathe new life into trinkets is old stuff.


Drawing light h3>

Freezelight - is not just an online resource this art project. It is dedicated to Freezelight - drawing with light. His goal - the creation of a full-fledged trend in this modern art combines photos and paintings.


The sea of ​​ideas h3>

On the site you'll find a unique master classes and a collection of ideas and gain inspiration, looking at the work of recognized masters. In addition, you yourself can become one of the authors, and add to the site the results of their labors.


Pinterest h3>

Enter the tag «handmade» and enjoy the selection of beautiful and original products. As a rule, all enclosed instructions or a link to a site where it can be found.


For those who want to learn new h3>
To learn drawing with Web-paint h3>

When drawing lessons at school ever buried your dream to learn to paint - site web-paint exactly return you hope. Step by step lessons for beginners will help to learn the basics of drawing with a pencil, and eventually you can go on to more complex techniques.


Start to run h3>

While running, it is utilized almost all the muscles of the human body. As a result - improved health, increased tone and improved brain function. And most importantly, you can do it yourself and for free. On kakbegat tell you how to do it correctly and with maximum benefit.


Start engaged in fitness with Vfitnesse h3>

On-site sports succinctly made with bodybuilding exercises, street workout, pilates, yoga, CrossFit and other disciplines.


Create cartoons with the site "multatore» h3>

Many childhood drawing pictures in a notebook that at fast scrolling comes to life. Service "multatore" offers to draw a few shots, and then look at your own cartoon. It is not difficult: the outlines of the previous pictures help to correctly draw the following.


Drawing on the sand This is sand h3>

Pacifies the art sand painting recently acquired incredible popularity. Draw on the site - of course, not quite the same as a real sand, but also soothes and promotes a sense of beauty.


Travel back in time to World history map h3>

This site provides detailed information about how to change the map of the world from 3000 BC. You can one-click to get information about the ancient states, empires and countries or historical epochs.


Learning to play the guitar c GuitarProfy h3>

The site guitarprofy collected a lot of information for beginners and for those who simply want to improve their skills. Here you will find the tutorial guitar, songs and chords, as well as plenty of tips for beginners.


Fast typing with "Klavogonkami» h3>

There are many trainers to improve typing speed. But it seems Klavogonki - one of the most fun. Here you and the other participants is given by the text and a limited amount of time: the faster you type, the faster your car goes. Train and win the race with friends or strangers.


Learn how to make a cool SIFCO Buzzfeed h3>

Notopulos Katie (Katie Notopoulos) c Buzzfeed was extensive and easy-to-learn management on how to do SIFCO without using their hands. Oh, that is, without the help of Photoshop. That's all it takes to be king or queen of the toggle switch.


Dancing with DanceDB h3>

Evocation, confident and attractive body - that's what you promise to dance classes. If it is too difficult to decide immediately on the group lessons, prepare yourself at home. The site has dancedb classes for all popular types of dance, from classical to modern.


to learn a foreign language with native h3>

Livemocha - popular social network for all those who study foreign languages. Education is based on the principle of "help you - help you." We offer lessons and exercises, the correctness of which is checked by native speakers. And here you can just communicate with other users in German.


versed in the art and history h3>

The "Arzamas" - a real fount of interesting and unusual cast online courses on the history, literature and art in Russia and abroad.


Learn anything to "Universariume» h3>

The site universarium you will find a huge number of quality online courses on any topic from the best teachers of Russian universities. The choice is limited only by your goals, desires and free time. Mathematics, chemistry, economics, and perhaps even the history of art - you can study many objects as you like. And it is absolutely free.

Photos in the preview: dribbble

See also:

25 sites that are worth visiting when you are bored unrealistic

15 unique sites, of which you have not heard

via www.adme.ru/tvorchestvo-dizajn/15-unikalnyh-sajtov-o-kotoryh-vy-ne-slyshali-954010/
Tags
See also
New and interesting
New and interesting