Procter & Gamble has released a new line of chips Pringles. The main difference between the new chips «Select» and «Mini» - they are packed in bags rather than in traditional producer banks. Promotion of new chips supported by a massive advertising campaign, including both traditional TV commercials and on the Internet.
Commercials by agency Grey NY at this time can be seen on television and online. Print part of an advertising campaign, a new line of chips generally available in women's magazines.
Pringles Select are first foray into a segment producer of premium chips. According to the P & GDzhen Becker, ruler, launched under the slogan «Pleasure. EverySinglePringle », beyond banks. Unlike traditional pressed and folded into the can of potato chips Pringles, Pringles Select vary in shape and texture, created to deliver to the customer's message about the uniqueness and high quality of the product and getting into the adult audience.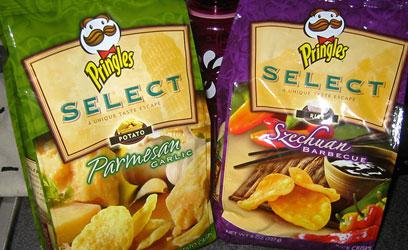 Pringles Minis, in whose production also declined by banks, are the usual chips Pringles, packaged limited. Bags Pringles Minis are sold at 16 and 5 pieces per pack and contain 120 calories. Thus, the user is able to control the use of the product and to follow the calorie eaten.
Along with advertising themselves chips, P & Gzapustili contest «JinglesforPringles» (~ «Ringtones for Pringles»), the winner of which will receive a VIP-trip for two to the final of the competition «American Idol» (Russian version - "People's Artist"). Entrants must write a melody and remove her video and upload it to jinglesforpringles.com. 12 best works will also be marked by digital cameras as prizes. On Friday views of the most popular video reached 27, 500.
In addition, P & G plays a 100 game console Wii. To participate in the lottery do not even have to buy the company's products - you just register for pringles.com.
According NielsenMonitor-Plus, in 2006, P & G spent on advertising Pringles33.7 million, 2.7 million more than in 2005.
Sergey Trifonov
via
ds-online.ru