1. The Republic of Maldives - the state that sits in the equatorial waters of the Indian Ocean. In total there are about 1,200 coral islands, forming a kind of a double chain of 26 atolls whith which are perpendicular to the equator. Only 202 islands are inhabited, the rest are uninhabited.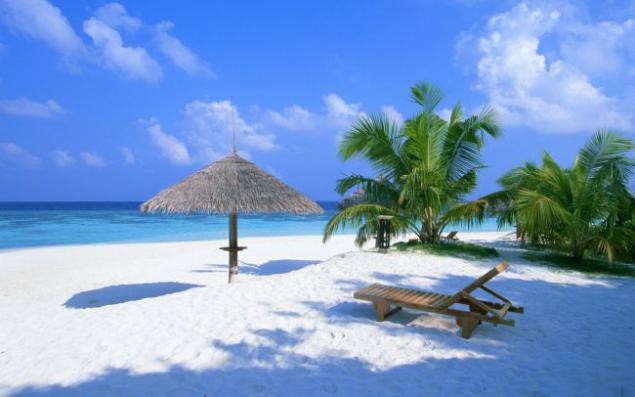 2. Most of the islands you can go on foot in 20-30 minutes, because of their small size. The length of the longest island of the Maldives is only 8 kilometers away.
3. Presumably, the Maldives are of volcanic origin.
4. The Maldives are famous for an amazing record - is the lowest in the world, the highest point. Only 2, 4 meters! Due to the low height of land above sea level, the Maldives seriously threatens flooding.
5. The capital of the Maldives - Malé. Male - the smallest capital in the world (the area of ​​the city, 6 km). And the Republic of Maldives - the smallest Asian country in the world.
6. The only Maldivian Hulhule Airport (also known as Male) is interesting because of its runway starts and ends right on the water.
7. Penalty for damage to corals in the Maldives is 500 dollars. It is forbidden to export corals and turtle shells.
8. The Maldives is prohibited to import alcohol, pork and sausage. For concealing of alcohol brought a fine all the same $ 500.
9. From the high waves and storms of the Indian Ocean Maldives effectively protected by barrier reefs.
10. The Maldives are famous for the amazing variety of marine life forms. Stunning coral, more than 2 thousand species of fish, rare turtles, as well as unique for this region create, such as reefs and whale sharks, moray eels, manta rays, stingrays and many others.