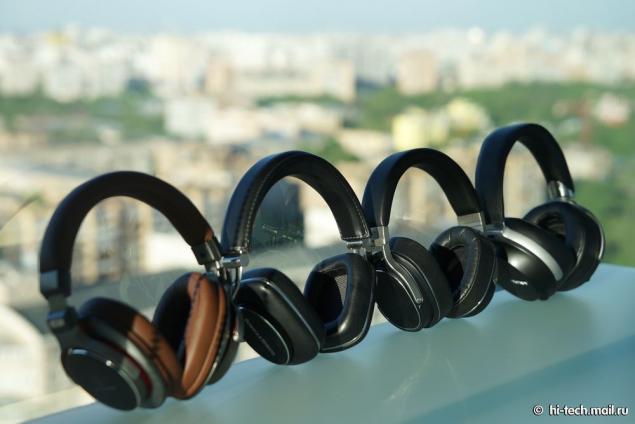 This review covers four models of high-end wired headphones Audio-Technica ATH-MSR7, Bowers & Wilkins P7, OPPO PM-3 and Sony MDR-Z7. All are designed to not only use in the home, but also on the run, with portable devices.
Key Features
As a test, we took the device a compact player that supports high-definition audio (Hi-Res Audio): Sony Walkman NWZ-A15. It is equipped with a digital amplifier S-Master HX, capable of handling wideband audio signal, while reducing noise and distortion.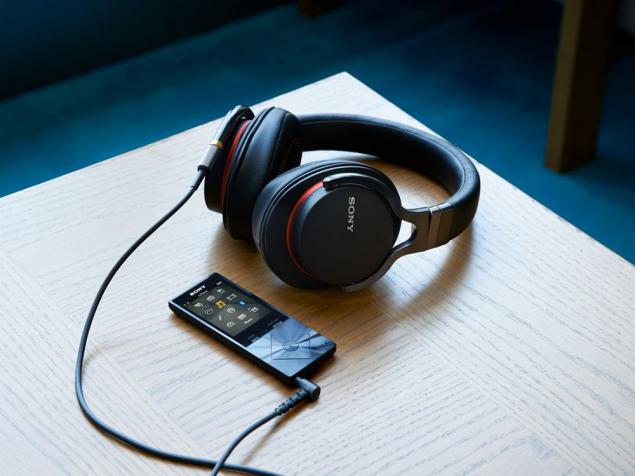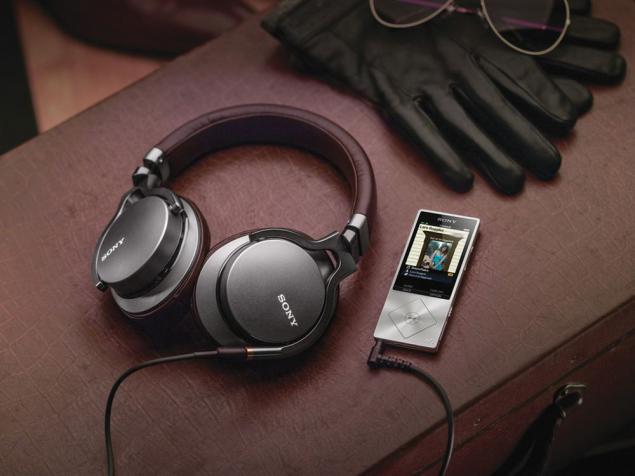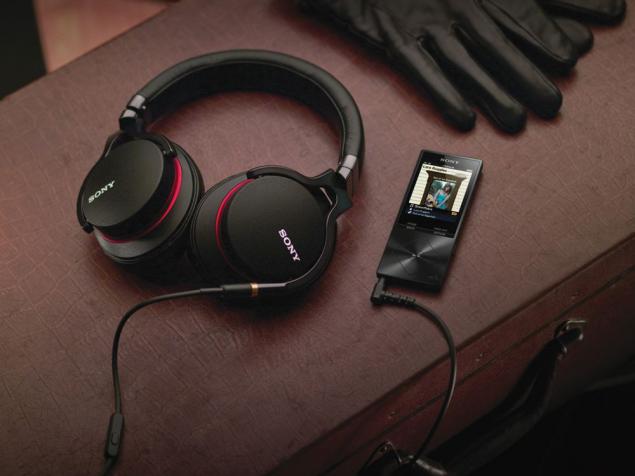 Audio-Technica ATH-MSR7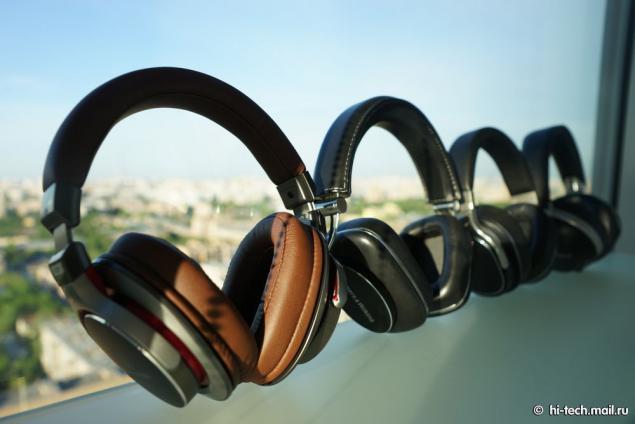 Among the selected models is the most cheap headphones. Nevertheless, it is still a top class with all its attributes: high quality plastic and metal components, excellent workmanship leather, removable cable. Headphones are presented in three colors: black, brown and red.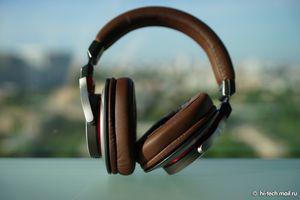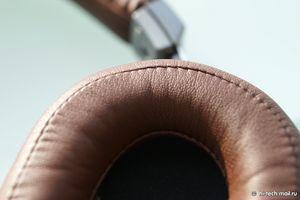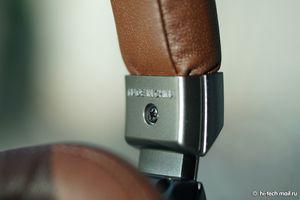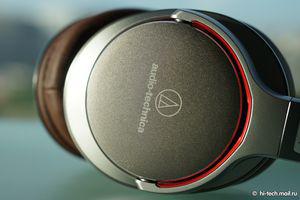 Please note that a number of elements painted in silver and red colors, combines well with dominant brown. Not flashy, but at the same time and not dull. Ear pads and headband covered in leather. Cups made of metal, as well as directing the headband.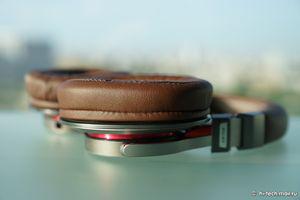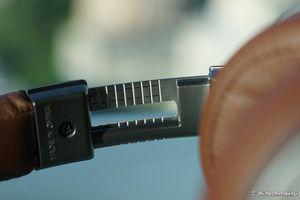 These headphones seemed to us the least comfortable. If you have large ears, then it is possible that after a while you start to get tired of these headphones. Typically, the model in this price range still more comfortable for prolonged wearing. At the same time, sound is good, the outside noises are cut off effectively. Of course, in the subway I had to make the music louder, but do not twist to the maximum needed.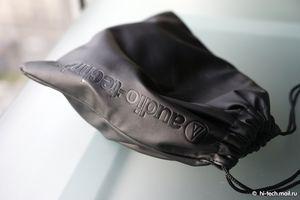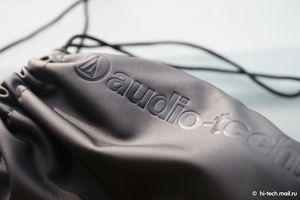 The plates have two degrees of freedom, turning on the horizontal and vertical axis (90 degrees). Positioning by moving the guides clear headband. Headphones do not add up, the bundle includes a soft transport bag. The connector cable is in the left cup. By the way, they come with three different cables, one of which is equipped with a microphone that converts into a headset MSR7.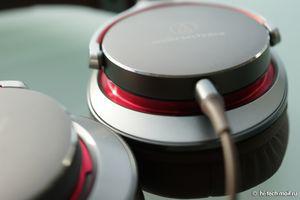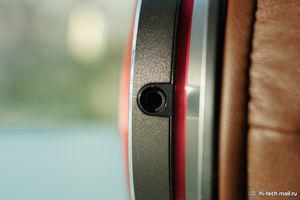 I must say that these headphones by the manufacturer assigned to the lineup Casual, instead of Premium. High-quality playback regardless of the sound source - test player, computer or stereo sound.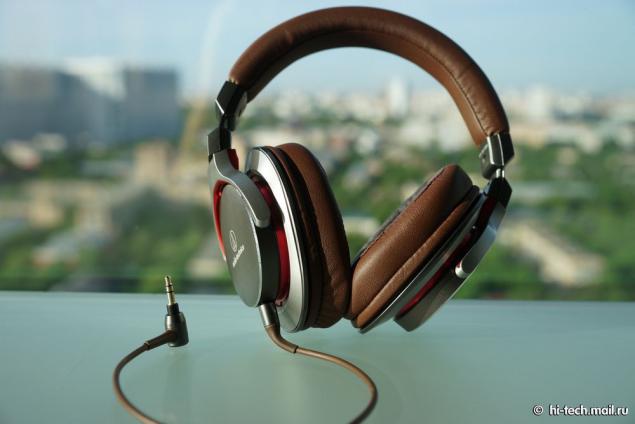 The sound is typical for the production of Audio-Technica: expressionless, unaccented low frequencies, with an emphasis on study of high and medium. The scene is present, although some models of the review, it is better expressed. If you prefer music genres such as Hip-Hop, Black Metal, Drum-n-Bass or Dubstep, it is best to look at the other models.
In spite of the closed design, the headphones sound closer to the open models due to a specific ventilation system. In this review, these headphones sound quality found themselves in last place.
Bowers & Wilkins P7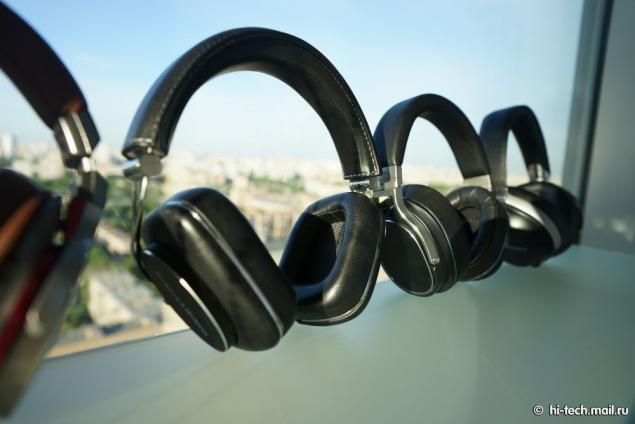 Headphones sort of nostalgic English retro style a la 70s.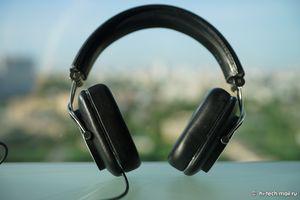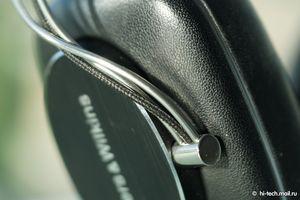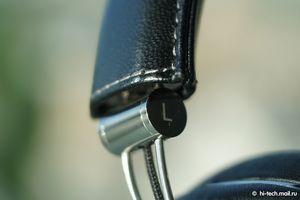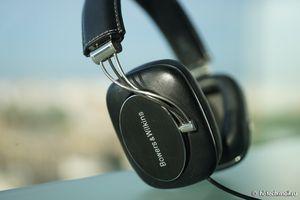 It is the flagship line of consumer headphones from this manufacturer. Most of the surface is covered with patches of skin with metallic elements. Note the elegant shape mounting plates to the headband, like you can hardly anywhere else find. The design of these headphones we liked more than any other.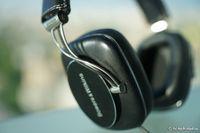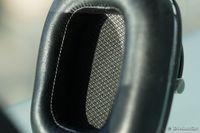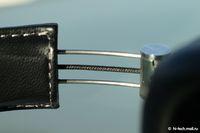 Unfortunately, ergonomics was not up to par. Cup size is not too large, so they can be uncomfortable for the owners of large ears. For sound insulation no complaints, in fact, as all earphones in this review. Guides headband have clearly latched position, with the course of several tugovat.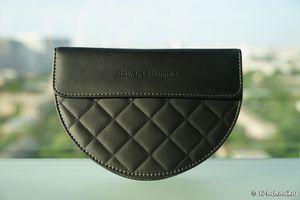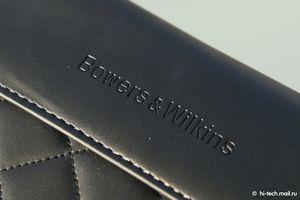 Headphones fold entirely, headband equipped with a hinge. Hard Cover, with a magnetic flap.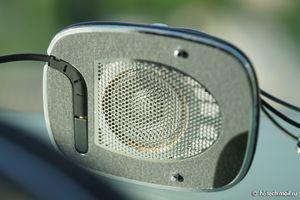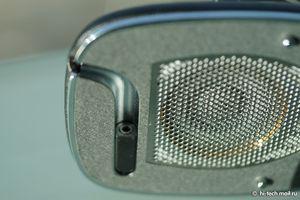 With headphones supplied adapter 6, 3 mm and two cables: normal and with a microphone and a remote control. The connector is hidden inside the left cup.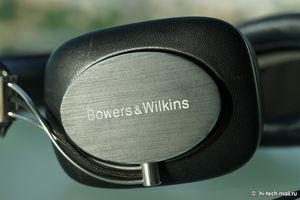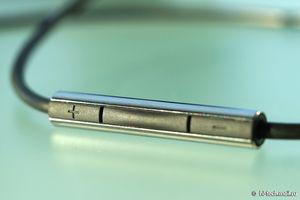 These headphones are more than any other adapted for use with mobile devices that do not have high-power amplifiers. If you're used to listening to music through fixed amplifiers, we recommend that you look at the other models. However, this does not mean that the quality of play is inferior. Excellent work on the entire range of frequencies, normal attack, no particular emphasis, good detail, clearly distinguishable features of a particular recording. The sound is very balanced, suitable for all genres.
OPPO PM-3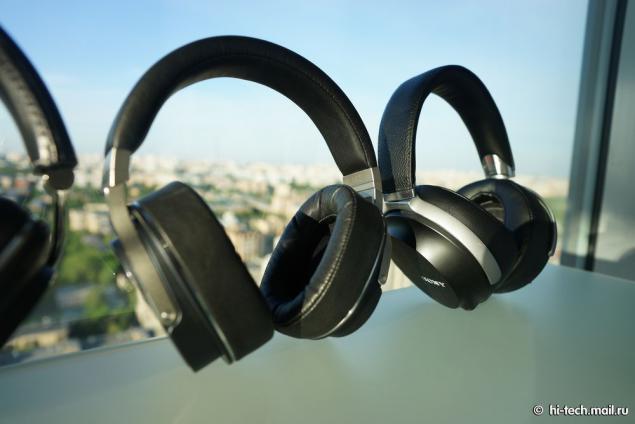 This company has made a small splash in the last year, winning all sorts of awards. Earlier, OPPO has been better known as a manufacturer of very advanced low-cost smartphones. These headphones are the most compact model in the line and, if their small size, are equipped with planar magnetic drivers.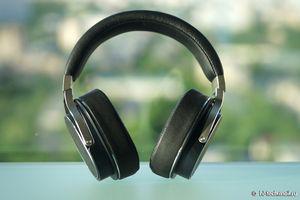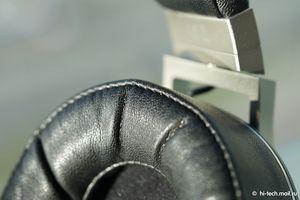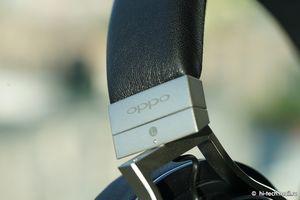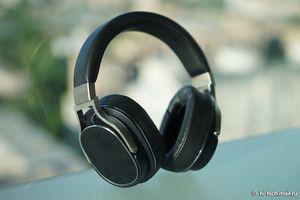 Design restrained, low-key. Headphones are finished high quality plastic, the softest leather and polished metal. They possess the soft ear cushions among other models in this review. In addition to black, there are also on sale the white model.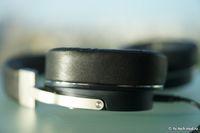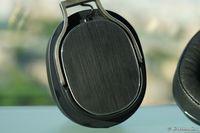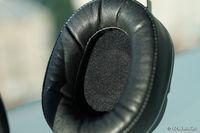 Headphones were very comfortable, head and ears are not tired even after hours of wear. Nothing presses and rubs. The movement of the guide headband clear, with a click. Headphones are not collapsible, but cups rotate in a horizontal plane through 180 degrees. It comes with hard cover.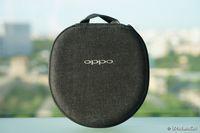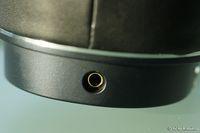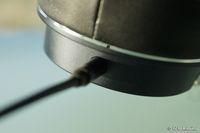 External noises are cut very well. Also included is an adapter 6, 3 mm and a few cables, one of which is equipped with a remote control for Android and iOS. If desired, you can use the headphones as a headset. Cable "default" has a length of as much as 3 meters.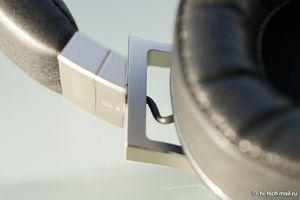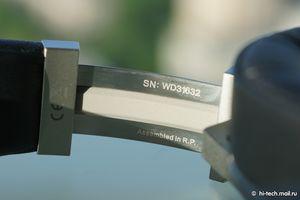 Sonically, OPPO PM-3 differ greatly from other models. Planar magnetic drivers provide excellent clarity and detail of the sound. Sometimes even too much. Balance wonderful, everything worked perfectly frequency. The scene is good. Frankly, we have also become fans of products from this manufacturer.
Sony MDR-Z7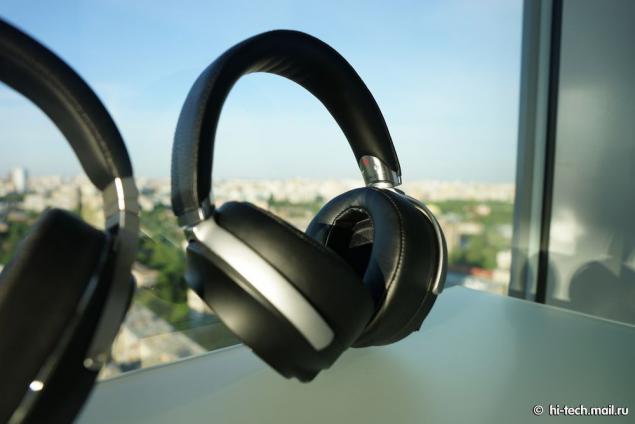 It is the flagship model in the line of Japanese manufacturer of headphones, and at the same time - the best model in this review (and most expensive). The resistance here is only 70 ohms. This is the classic dynamic headphones that do not require an additional amplifier. Included No cover and the cable with microphone.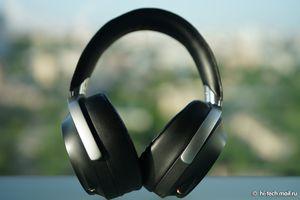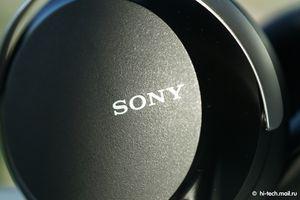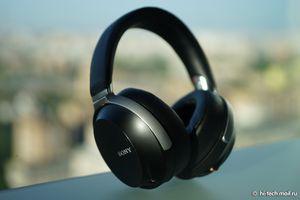 The design is simple, but strict. The dishes are very large and covered with plastic unpretentious. When twisting the whole structure creaked a little, what you do not expect from such an expensive model. Complaints about the quality of metal and leather details no no.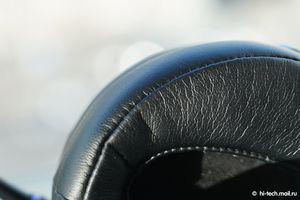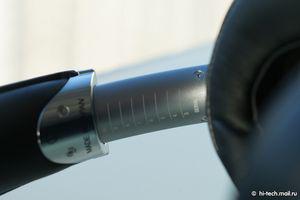 It is not only the largest, but also the heaviest headphone review, weigh 335 grams. However, when wearing it does not cause discomfort. The design is well thought out cups so that the ears tight-fitting, without any pressure and air gaps. This gives excellent sound insulation, even in the subway not need to add volume. In our view, this is a wonderful alternative to active noise cancellation.
Unfortunately, the positioning guides headband is not too clear. But perhaps this is the most comfortable to wear headphones to all considered.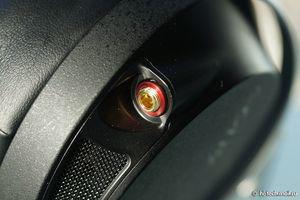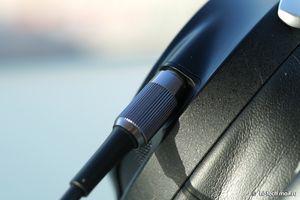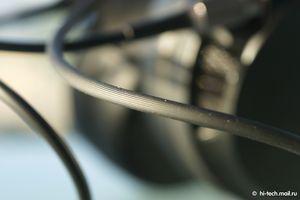 In contrast to other models, the cable is attached to both cups. It comes as two stereo plugs. Surprisingly, the adapter 6, there is 3mm. Cables heavy, thick braid, three-layer.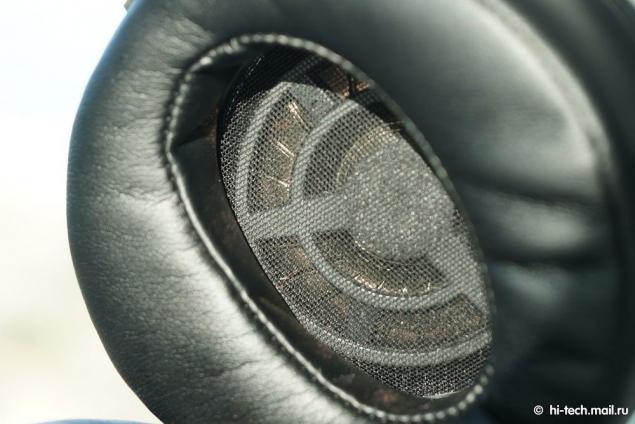 It is a closed headphone design, they feature a dynamic driver of 70 mm. Diffusers covered LCD polymer film designed to more evenly distribute the sound wave. At the sound of flatness comparable to Bowers & Wilkins P7, while at the level of detail OPPO PM-3. Some features of sound or emphasis characteristic of this model, we have not noticed.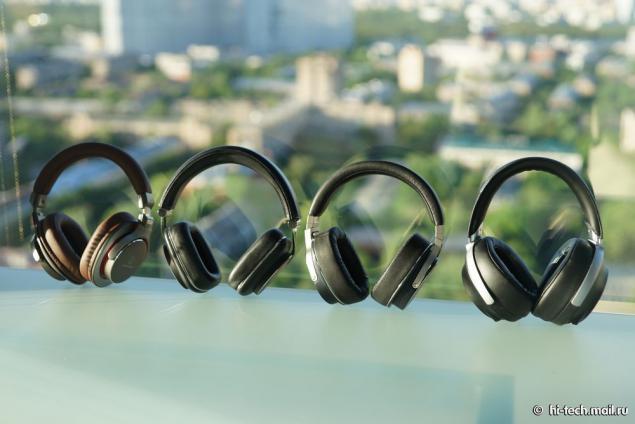 Conclusion
Audio-Technica ATH-MSR7 stand out the most interesting appearance. In a closed design, they sound like the discovery that someone may not like it. At the same time, it is the most inexpensive headphones in our review. True, the sound we liked least of all due to the excessive emphasis of the upper and middle frequencies.
Bowers & Wilkins P7 liked its distinctive design, restrained and noble-British. If you travel a lot, you have to taste fully foldable. The sound of this model did not cause any strong positive or negative emotions.
OPPO PM-3 are of good workmanship and unusual circuit planar magnetic drivers. Detailed sound excellent, it is very clean, but specific. The overall sound is second only to headphones from Sony. This model can award the badge "Optimal purchase».
Sony MDR-Z7 give very high quality sound. Workmanship could be better. Dynamic drivers are enormous, so the sound was very voluminous, detailed and natural. What is reflected in the price, as you know. This model from Sony gets our top award «Hi-Tech.Mail.Ru recommended" for the perfect sound.
Source:
geektimes.ru/company/mailru/blog/251186/