Japan - a country with a rich spiritual culture, rooted in the depths of millennia. Every natural object here is of great religious significance, and fanned by many myths and legends. Beautiful stories, incredible scenery and the hospitality of the Japanese make travel in the country of the Rising Sun is very interesting, and visit local attractions leaves a most vivid impressions. One of the most popular tourist spots in Japan - a fantastically beautiful gorge Takachiho (Takachiho Kyo), located in Miyazaki Prefecture.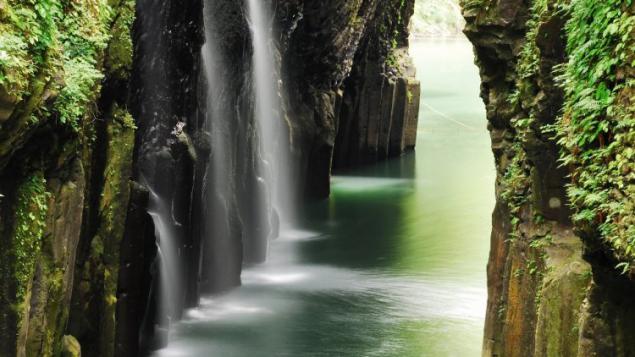 The gorge begins in the south of the town of Takachiho and is a major local landmark. It is situated in the center of the mountain chain of Kyushu, in place of the river Gokasegava (Gokasegawa). Volcanic basalt blocks tower above the river gorge, stretching for a distance of about five kilometers. In conjunction with the emerald green river water and silvery streams waterfalls black sheer walls create a truly fabulous picture, inviting its beauty.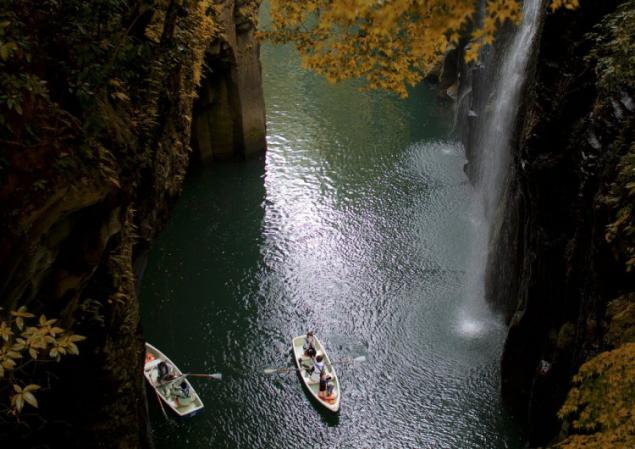 Traditionally in Japan, the gorge has considerable religious significance. According to ancient beliefs of the local people, it is here once hid from the cruel mockery of his brother of the Sun Goddess Amaterasu. Sheltered in a dark cave, she ceased to shine in darkness and the whole world. To lure Amaterasu out of hiding and again illuminate the ground with bright light, the Japanese deities had to make considerable efforts.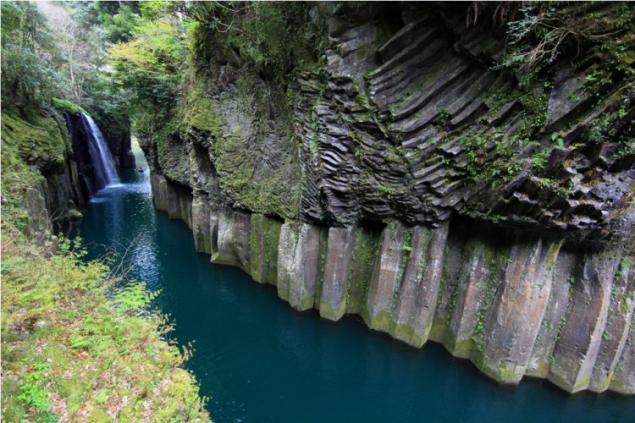 Takachiho Gorge is a sacred place for the Japanese, and the most outcast admirers of ancient pantheon of gods and goddesses will make a pilgrimage here, bringing a gift deities stones from their native lands. Here built several shrines, which are daily ceremonies. Worship ritual dances accompanied by "e-Kagura" - According to legend, this is the dance performed goddess Amaterasu.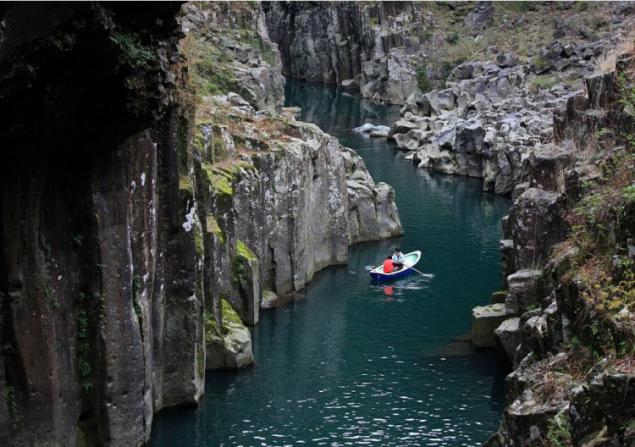 Consider the gorge in two ways: to sail down the river on a boat, or else walk the 600-meter pedestrian path, especially for tourists along the paved steep rocky coast. And the top and bottom of the gorge looks fantastic, so both of these paths are popular.