September 14, 1994 on French cinema screens released film by Luc Besson, "Leon».
7 surprising facts about the movie "Leon" Besson, Mathilda, Leon
Two months later, the picture has reached and the United States - but in truncated at twenty-five minutes version. For peace of mind of the American public, in particular, out of the picture was cut out line how Matilda helped Leon in his "work", as well as all the implications, including the scene where she offered to become her lover Leon.
Whatever it was, it did not stop the film to gain cult status and is now considered by most audiences and critics the best work by Luc Besson. By the 20th anniversary of "Leon," we have decided to recall some facts from the history of one of the most moving tapes 1990s.
"Leon" was created as a filler
It's hard to believe, but the best film of Besson was conceived as a filler (filler). After the release of "Nikita", which was a breakthrough film for Besson, opening the way for him to foreign markets, he finally got a chance to come to grips with the project of his dreams - "Fifth Element". Besson We even had a meeting with Bruce Willis, which is interested in the idea of ​​the film. But investors still were not confident in the success of a highly ambitious paintings, which at that time threatened to become (and eventually became) is not the most expensive film in Hollywood history. The negotiation process is delayed, and in order not to waste time, Besson has decided something to occupy yourself for a quick removing any film. They became "Leon". The script was written in just thirty days, the shooting took ninety days. And the result is still remembered.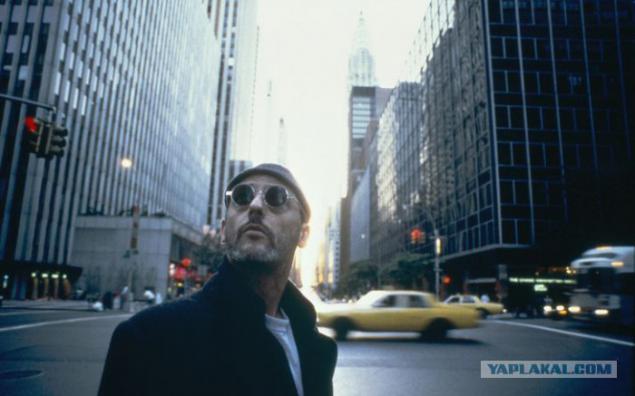 Leon and Victor from "Nikita" - relatives
Who said that only Quentin Tarantino can build your personal kinovselennuyu where the characters of some of his films are the relatives of the other characters? Luc Besson once mentioned that Victor cleaner appearing in the end, "Nikita", may be a distant relative of Leon. It is difficult not to notice the similarities: they both hired assassins, dressed in a similar way, wearing a knitted hat and sunglasses identical. True, Victor much more cruel and ruthless than its American cousin, and unlike it does not have a code of honor, prohibiting him to kill women.
Of course, words Besson can be seen as a kind of Easter egg for fans. But the fact remains - the plot of "Leon" was born just after Luc Besson, realizing the potential of such a character, Victor, set out to explore it in detail. These developments formed the backbone of "Leon».