Actress Freida Pinto took part in a photo shoot for Harper's Bazaar Arabia. 29-year-old Frida tried on news collection Chanel, and also spoke about the love of the brand clothes, shoes and a collection of who considers the beautiful among the stars.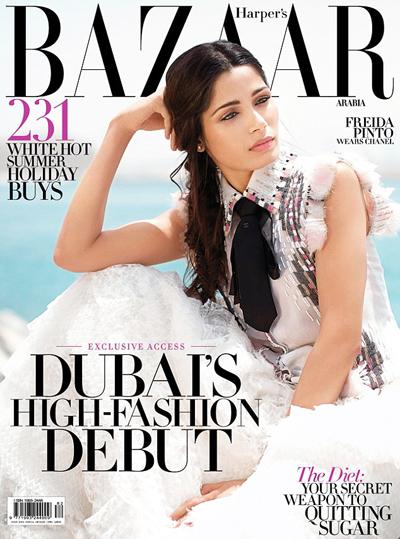 Freida Pinto on the cover of Harper's Bazaar Arabia
Freida Pinto about the friendship with the fashion house Chanel:
"It's amazing, and amazingly, the brand has believed in me and I am very, very lucky. When you dress Chanel, you feel at height ».
Freida Pinto about the love of shoes:
"This is my biggest obsession and I do not even know how many pairs of shoes I have. It's true passion of mine, but I'm still convinced that someone has and more shoes than I do. Strange, but my love for shoes does not mean that I wear them. That is, in the year as many days that I do not have time to try them all. So they just stand in my house, and I admire them ».
But prepare Freida Pinto, is not love. Moreover, the actress believes this occupation a "waste of time". So the star prefers to eat in cafes and restaurants.
What's interesting is the fact that the actress does not feel beautiful. According to her the title of "beauty" deserves model Karlie Kloss. And that's what the actress says about this:
"Last year I was at some event, along with Carly, and it was unbearable to pose for photos next to her. She is a beautiful girl, and with her I felt like an ant ».
Freida Pinto in the pages of Harper's Bazaar Arabia
Freida Pinto in the pages of Harper's Bazaar Arabia