Continuing a series of posts about the prices of products and goods in different countries. This photo review is dedicated to the town of prices in the UK with a population of 70,000 people.
See also:
How much are the products in the Czech Republic
The cost of food and things in America Pound today 1 lb 59.9 rubles.
Prices in London are expensive, but in the rest of the UK prices will be about the same.
Long ogurets- 49 pensov- almost 30 rubles.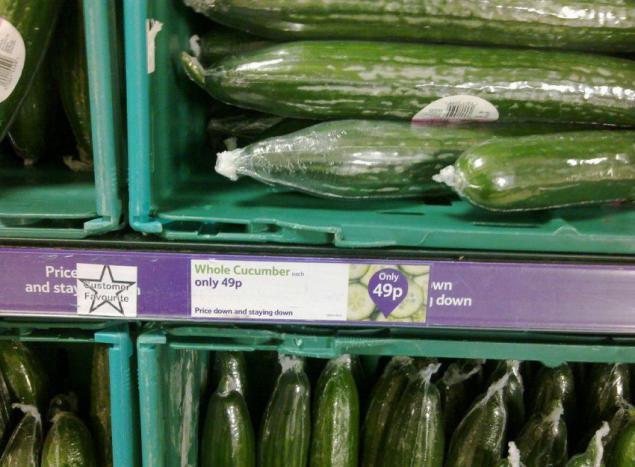 Tomatoes on rubl- sixty per kilogram. (96 rubles)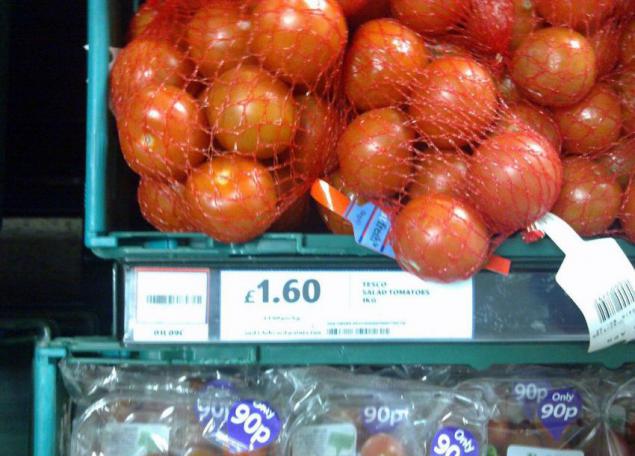 Bananas at 68 pence per kilogram (41 rubles)
Pears to 2 pounds (120 rubles) per kilogram
Gala Apples 2 pounds (120 rubles) per kilogram
Major washed potatoes 1.15 (69 rubles) per kilogram.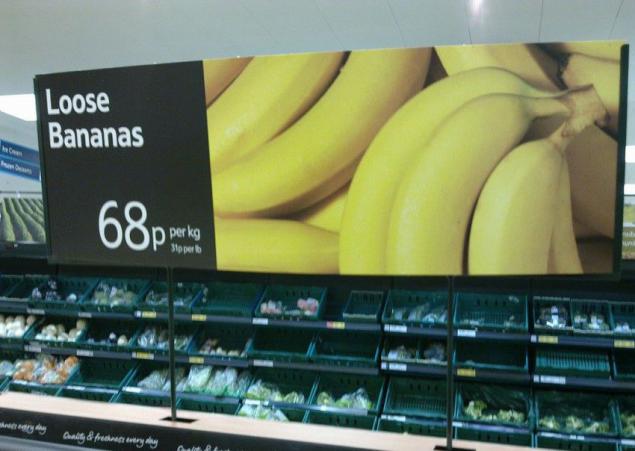 Bread. It's all eat toast and bread sold so chopped, white and usually more packs. Small packs of 400 grams quickly dismantled. "I'm half black" here is not prokanaet (((, firstly there is no black, secondly want some hleba- have to buy it to hell. The regular price of 90 pence (54 rubles) per 800 g of bread cut into square slices of toast.
But just as the bread can cost at 1.50 pounds (about 90 rubles). Differences in taste I did not notice, but it happens that the slices of different sizes, some of them barely fit into the toaster, the other in the opposite hang.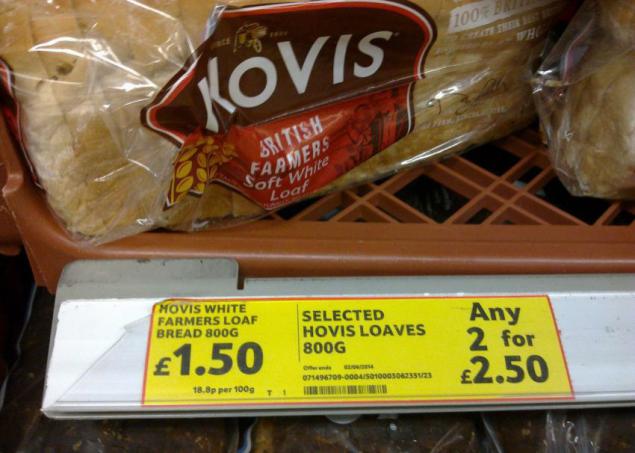 Sugar is usually 94 pence (57 rubles) per kilo. Sugar savory to sweet tea has become necessary to pour a half times more sugar than usual.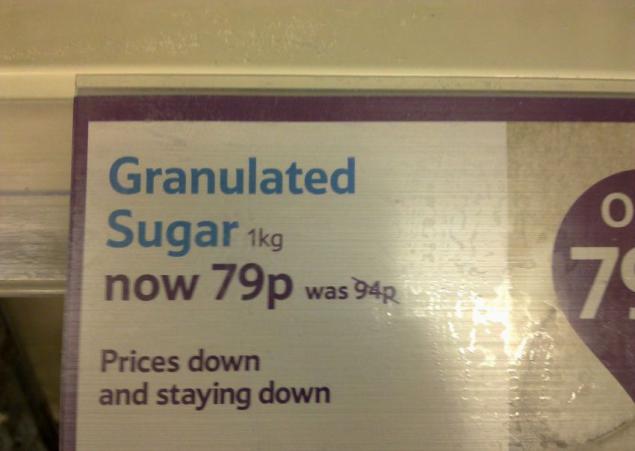 Eggs. Perhaps the most controversial product. Eggs have two tipov- «Free range» ie chicken received Thai massage, listening to the music of Mozart, she read Shakespeare in the original aloud. And if serezno- chicken was not in the cell and walk freely on ferme.Takie eggs stand 93 pence (55 rubles) for 6 pieces. It is the cheapest of the «Free range» but calmly eggs of the same size can cost 2.50 (150 rubles) for 6 pieces. 6 Why? Because it's a half-dozen. Eggs are sold in tens, dozens, and half a dozen.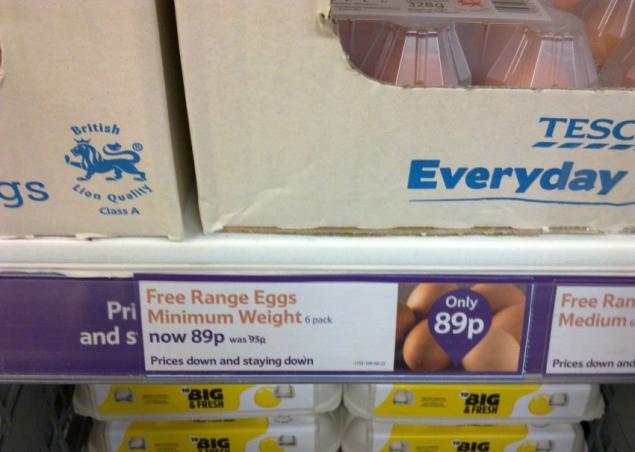 The second type of «From caged hens» which means that the chicken on a poultry farm sit in cages. Differences in taste not, in any case, I did not notice, but there is a difference in price. 10 pieces of chicken sitting in a cell are 1.15 (69 rubles)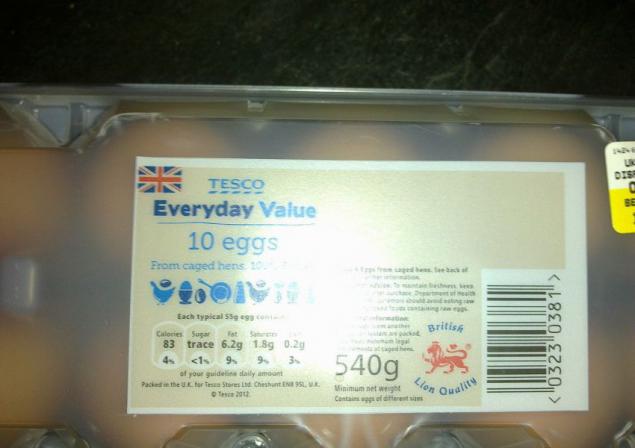 Pork chop at 5.99 (360 rubles) per kilo. Strange, because beef is many times more expensive. Let tenderloin.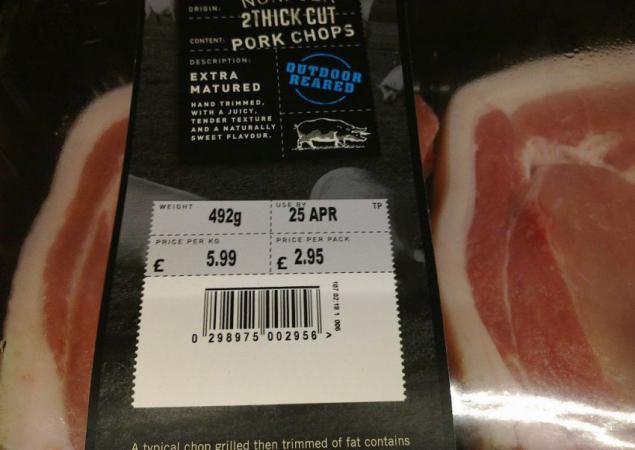 Grilled lamb for £ 18 (1080 rubles) per kilo. Perhaps now I'm beginning to understand why there anywhere pasture and grazing sheep.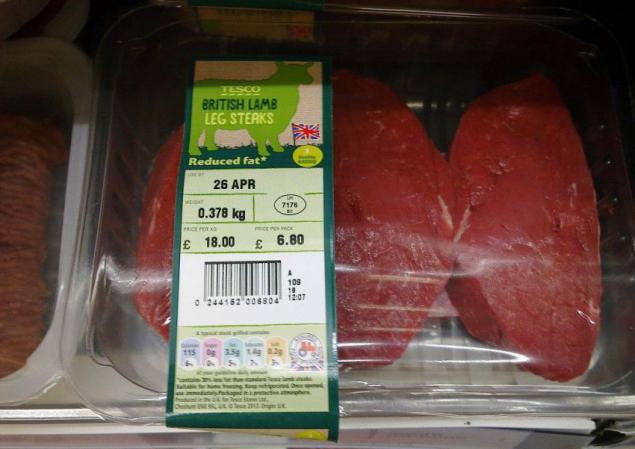 Beef sirloin steak for 14 fucking pounds (840 rubles) per kilogram.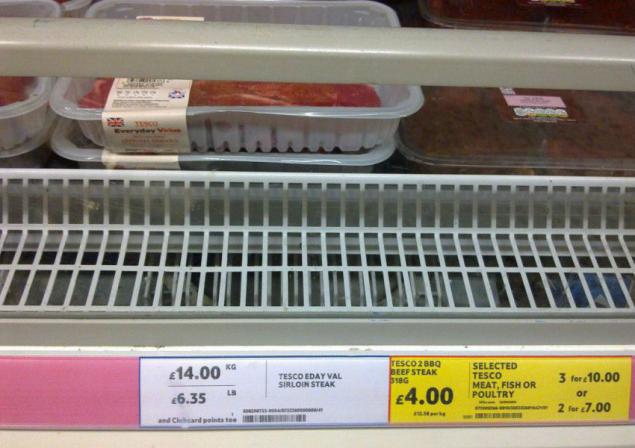 A whole chicken at 3.50 (210 rubles) per kilogram.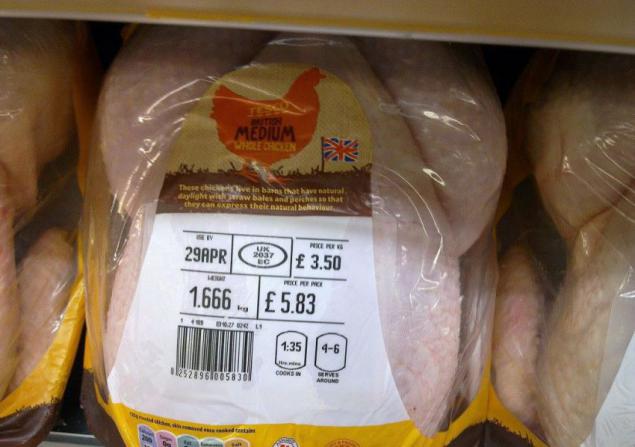 Chicken breast is fantastic for us, 6.90 (420 rubles) per kilogram.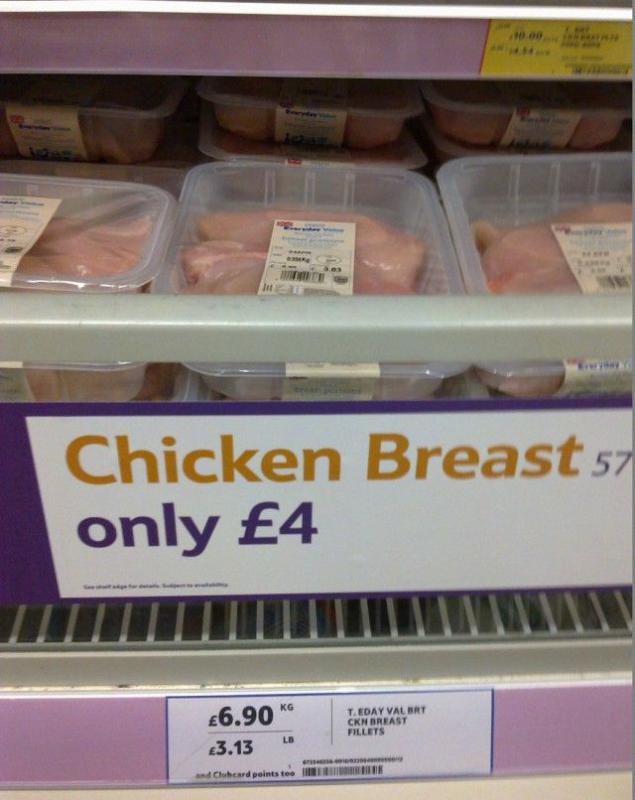 Sunflower oil by 2.25 (135 rubles) per liter.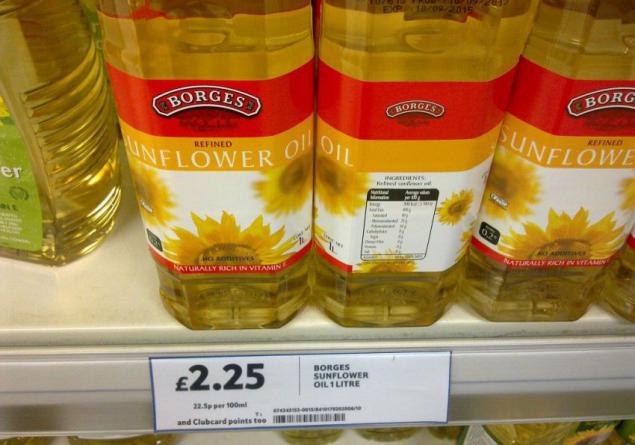 Tuna in brine for 49 pence (30 rubles).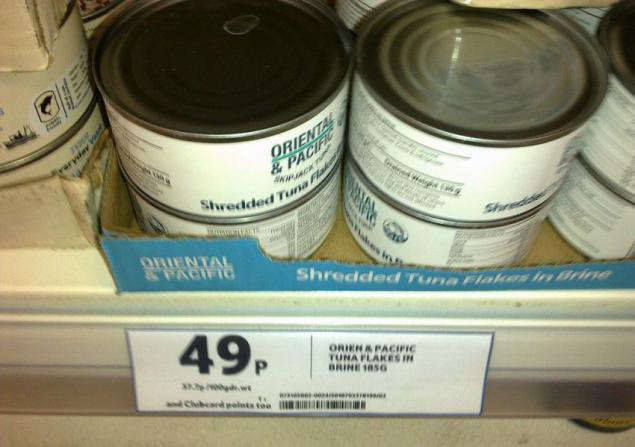 Local vesch- soup cans. It is worth 89 pence (54 rubles), there may be, but not a fountain. What prepares mom or wife certainly does not compare. By the way here to the guys that are sold to banks-such as new potatoes as a side dish, hot dogs cooked in the pot. Sausage is impossible to eat like a local stew. But the ham in the pot excellent.
What I most ponravilos- Evian two liters of 84 pence (50 rubles) We have sold at that price Bonaqua, which is essentially just purified water from the tap.
Coca-Cola is 1.85 (111 rubles) for 1.75l.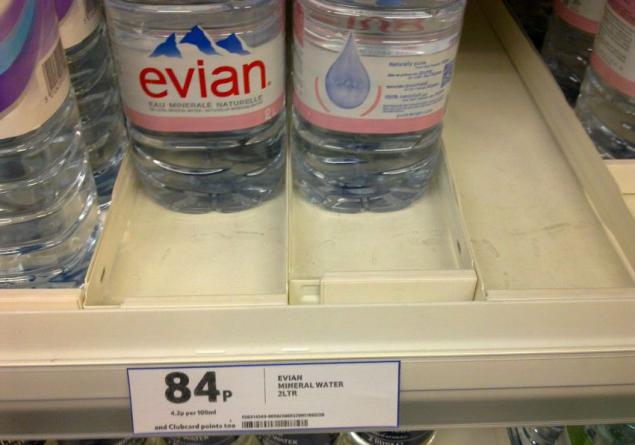 Ordinary British water without gas for 61 pence (36 rubles) per half liter.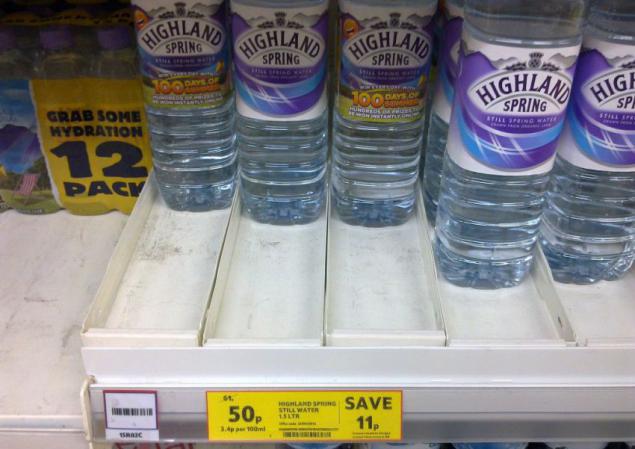 The average price of 5.64 cheese (338 rubles) per kilogram. Cheese is good, but Belarus does not hold a little bit.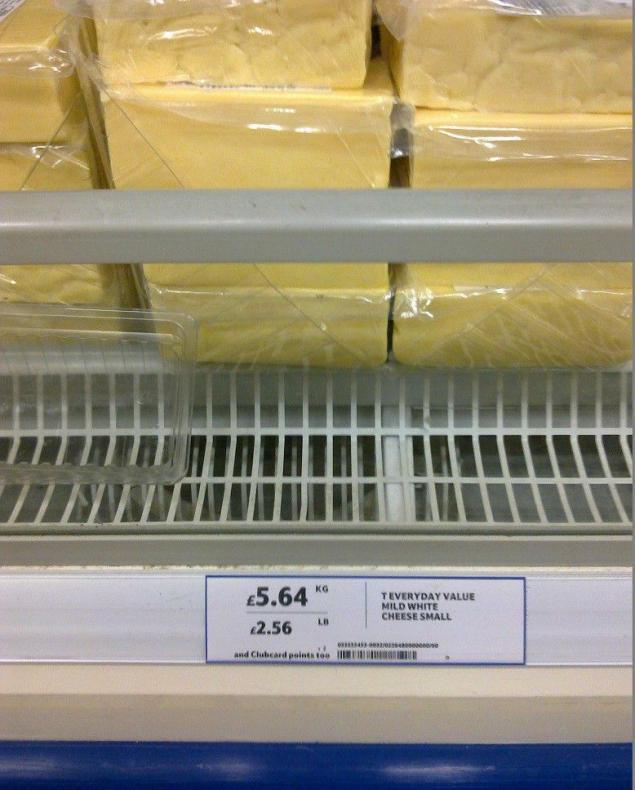 Cheese "Philadelphia", the normal price of 1.85 (110 rubles) per 200 grams. Very tasty.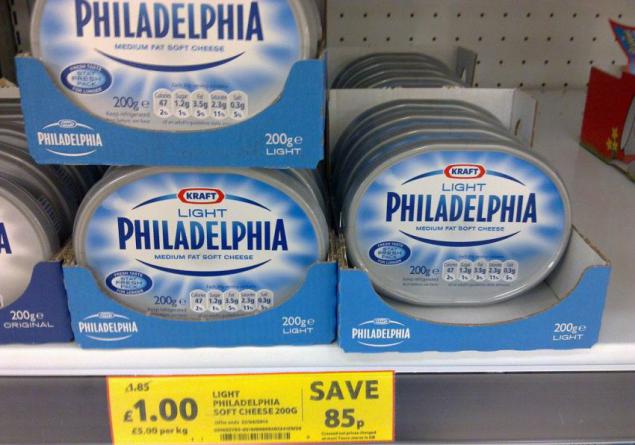 Tea, 2.79 (168 rubles) for 50 bags. You can drink even though I do not like tea bags. By the way here no one has ever heard of such a good tea Ahmad tea which is positioned as the English have.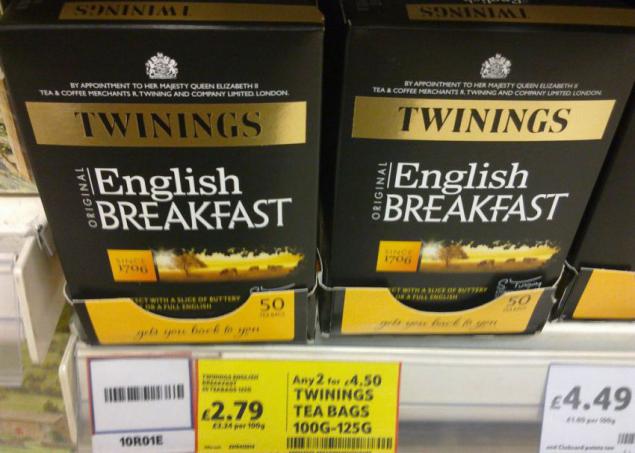 I also like the cheaper Tetley- tea every day for 1 pound (60 rubles) and 40 bags. despite the cheapness is not shit, it is undrinkable.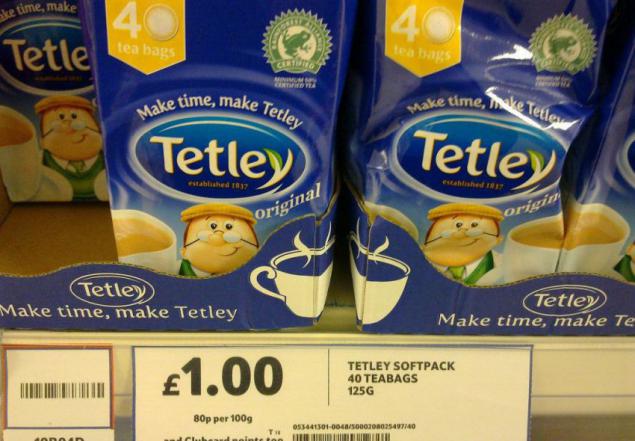 Ariel for 17 pounds (1020 rubles) for 6.8 kilograms. By the way products are Procter & Gamble then practically replaced all the rest is of no Persilov powders, no Japanese diapers, only «Pampers» Only hardcore.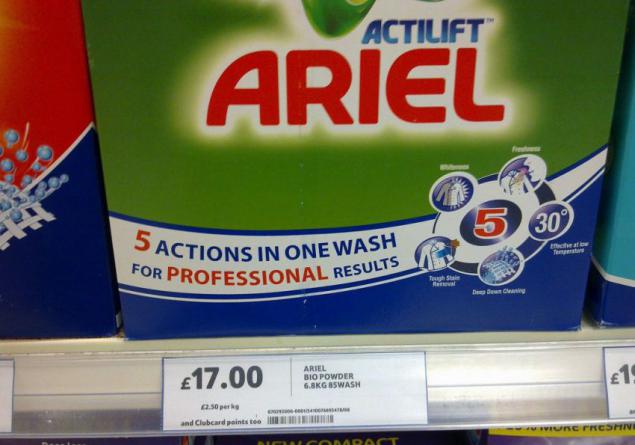 Basmati rice for 1.09 (66 rubles) per pound. Pasta Italian production worth about 1 pound for polkilogrammovuyu pack.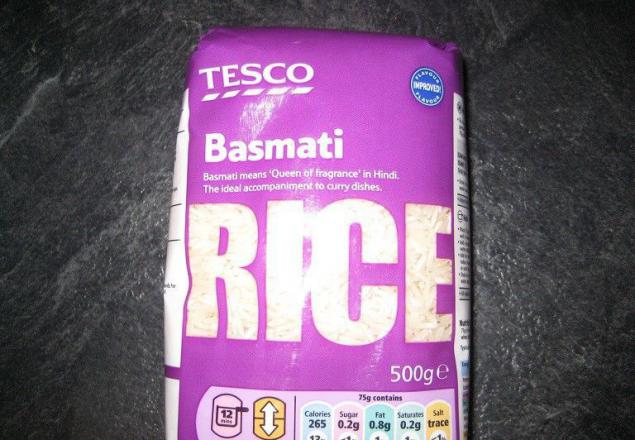 Milk. 89 pence (54 rubles) for two pints or 1.136 liters. Milk is very tasty, perhaps the most delicious milk factory I saw.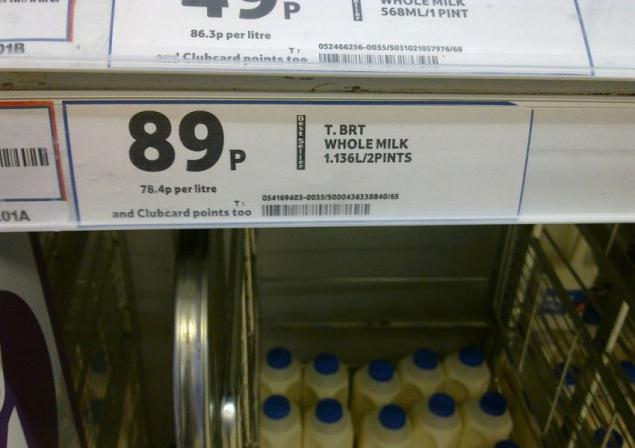 Yoghurt with taste of rhubarb. All other tastes are the same. By the way there you will not find drinking yoghurt. In Denmark, Sweden and the United Kingdom do not. Rather, you can buy yogurt in Tetra Pak, but it will be very thick, do not drink on the go.
Fuel. The price in pence. More for a solarium, a minority of the 95 gasoline. That is 1,329 pounds per liter solarium or 80 rubles a liter of petrol and 1,269 or 76 rubles. Despite it all, including pensioners in small towns go by car. Prices for new cars are approximately equal to our own, can sometimes be a little higher. But the cars quickly becoming cheaper. 10-year-old Volvo wagon can take funny for 3000 pounds. And as I explained to the local is not particularly related to the taxes and insurance just such a machine is considered to be as old as the mammoth shit.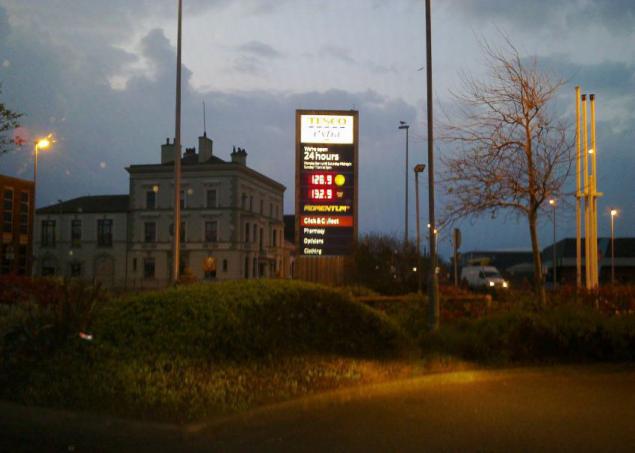 By the way Castrol synthetics, which is produced in the UK there is 12.99 pounds (780 rubles) per liter.
Zarplaty- simple engineer gets 24,000 a year net, that is, about 120 000 rubles per month. Head proekta- to 80,000, or more than 360 000 rubles per month.
Communal costs £ 400 for a house of 100 squares. Heating in all his own, self-contained, gas. Turn as needed.
Problems with parking places there, they thought in the construction of houses.
A trip by bus, which runs every 20 minutes on weekdays scheduled to the minute, within the town (distance 10 kilometers) will cost 1.45 (90 rubles) Day subscription for unlimited trip- 3 pounds.
Beer in the bar £ 3 for a pint of Fosters, that thread poest- 6- £ 10, serving good eats.
If your dog shit, and you do not removed, prepare one thousand pounds (60 000). This stops not all dog shit that does not say no, but very little, is rarely seen, in any case, the lawn looks like a lawn, and not an exhibition of dog poop.
The penalty for unpaid parking 70 pounds, but if you pay in two weeks, then 35.
Cigarettes are fucking 6.30 (380 rubles) for a pack of Pall Mall, but they are markedly different from ours better. Nevertheless British smokers smoke not pack a day and in two to three times smaller.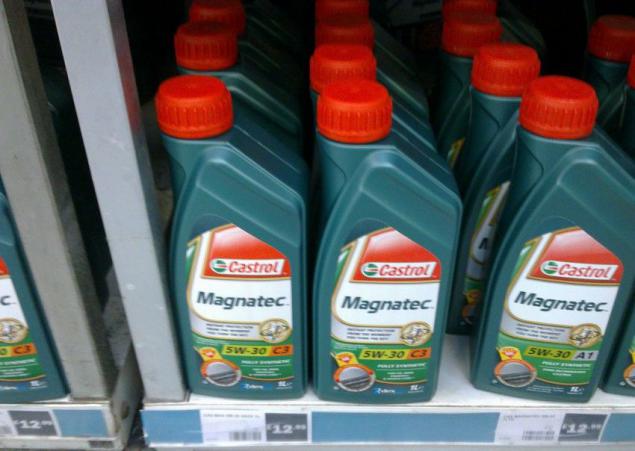 Source: dreamtry
--img30--
Source: