On the red carpet and noisy activities are almost always perfect. Stylists big-name stars are struggling presenting our attention such a beautiful, brilliant and perfectly dressed celebrities. But the real icon of style should not only be able to wear a chic dress for the evening sky-high price, but also look great in everyday life.
I suggest to watch the rich and famous at the airports, only coming down the ladder of its own aircraft. Effectively even look very tired and with luggage in hand - this is the aerobatics, which not many people are capable of! And the best star travel-trends can take note, because in front of - the holiday season, travel and long journeys.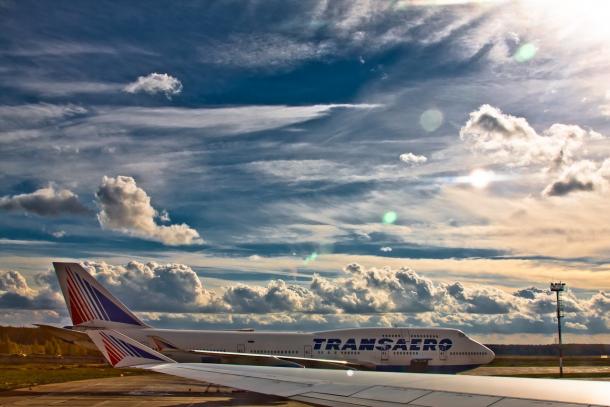 Paparazzi often lie in wait, Kim Kardashian at the airport, hoping to make a couple of provocative shots. But they are unlikely to succeed - this girl does not give up heels and showy makeup even while traveling. In their daily costumes socialite combines the comfort and elegance: short pants, skinny, summer sandals spike heel, combined with light tops and jackets.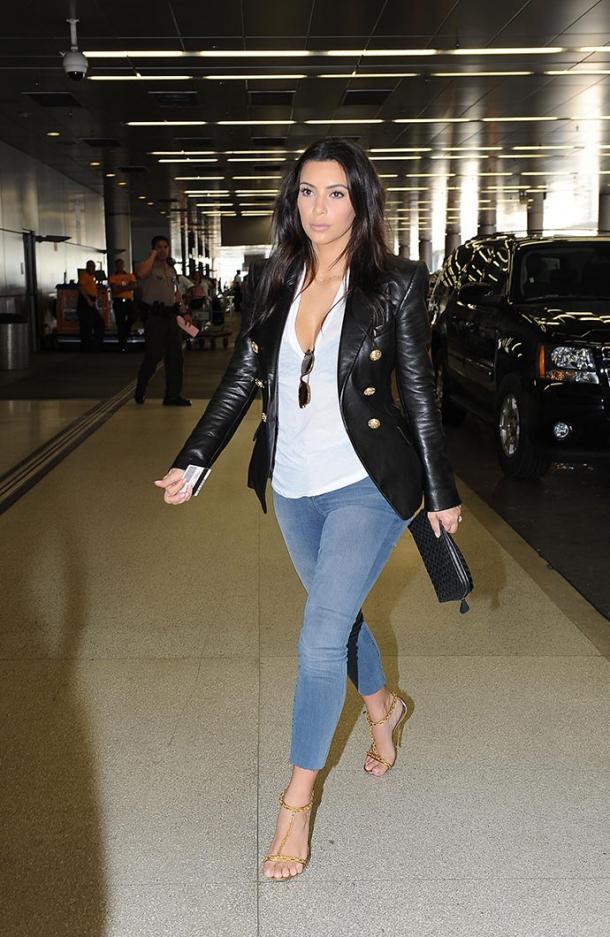 Similar trends on long trips shared by her sister Khloe Kardashian.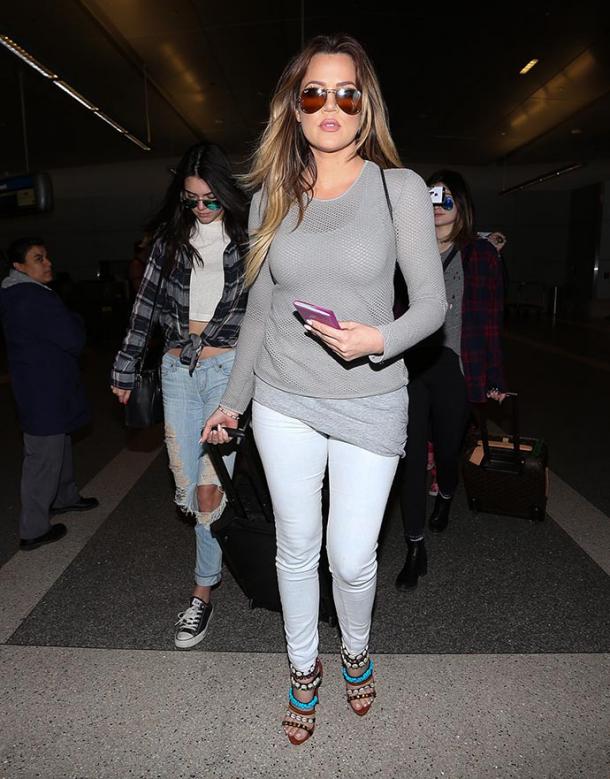 Not to abandon the uncomfortable heels and feminine dresses in travel and rising star Margot Robbie. She chooses trendy jeans flared, classic trench and up-striped top.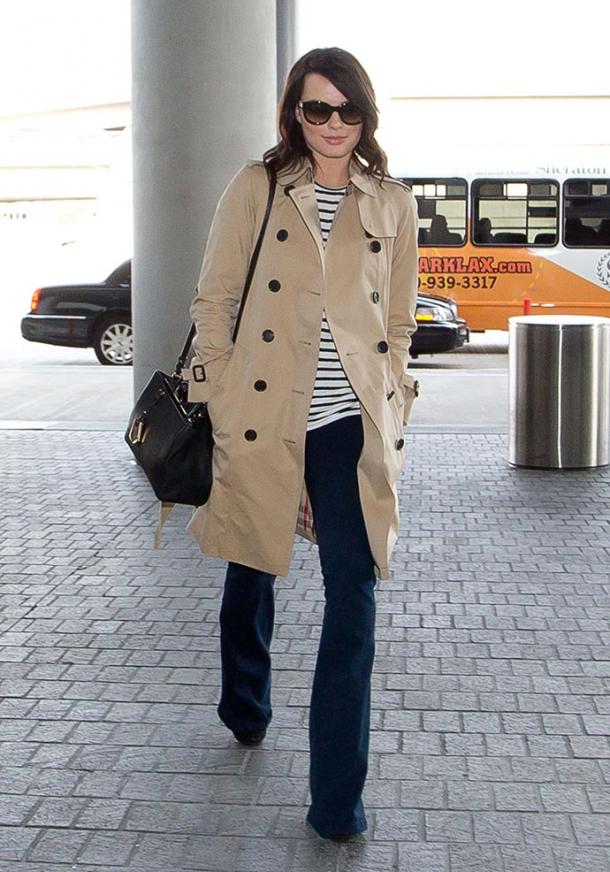 But the top model Alessandra Ambrosio appreciate traveling comfort and choose extremely comfortable and cozy clothes. At the Los Angeles airport Alessandra looked very stylish sweater in a spacious, leather jacket, tight trousers and biker boots.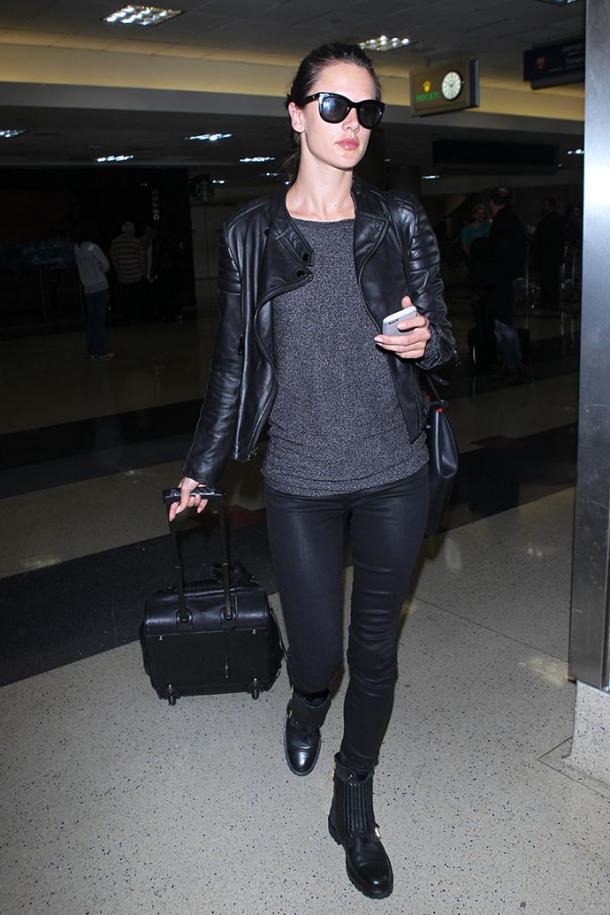 Tilda Swinton remains true trends in men's clothing in all situations. Her favorite style of man-like than ever relevant during long journeys and exhausting travel.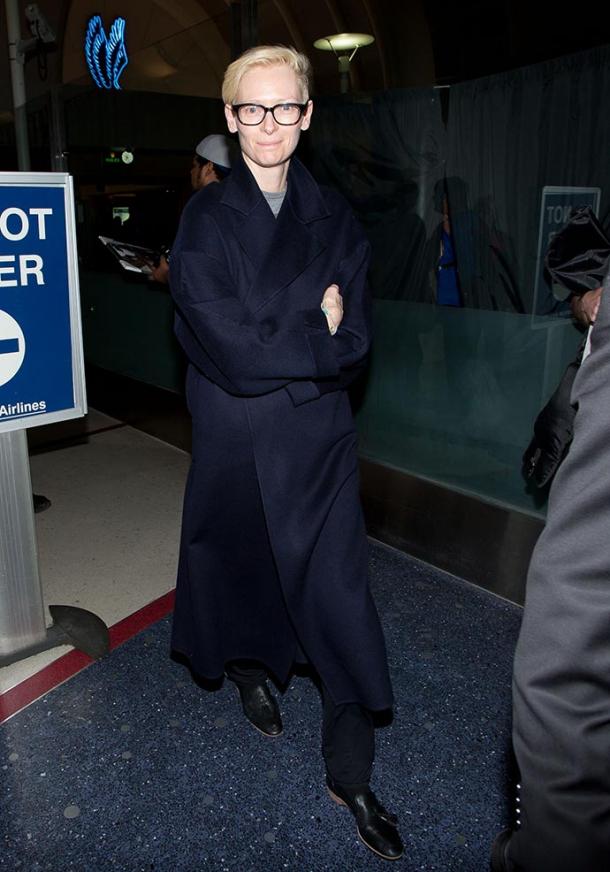 Lily Aldridge appears frequently at airports in convenient tight jeans, tops and spacious, comfortable boots without heels. And the lack of makeup and fatigue after a long road top model hides behind big sunglasses trendy form.
Truly elegant in his travels manages to look the model Rosie Huntington-Whiteley. The costumes for the popular trips blond combines comfort and style: classic fashion hat, comfortable Slipper, skinny jeans and a spacious top with a cut - looks very impressive!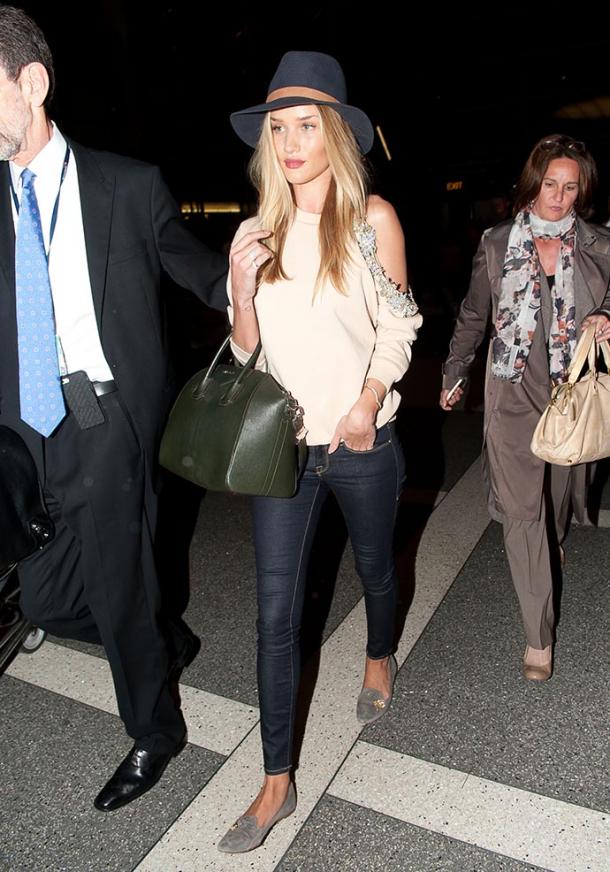 But the singer Fergie stays true to its extravagant style and in everyday life, and during long journeys. She goes to the long trip to the silk trousers, feathered, long scarves and boats at the hairpin.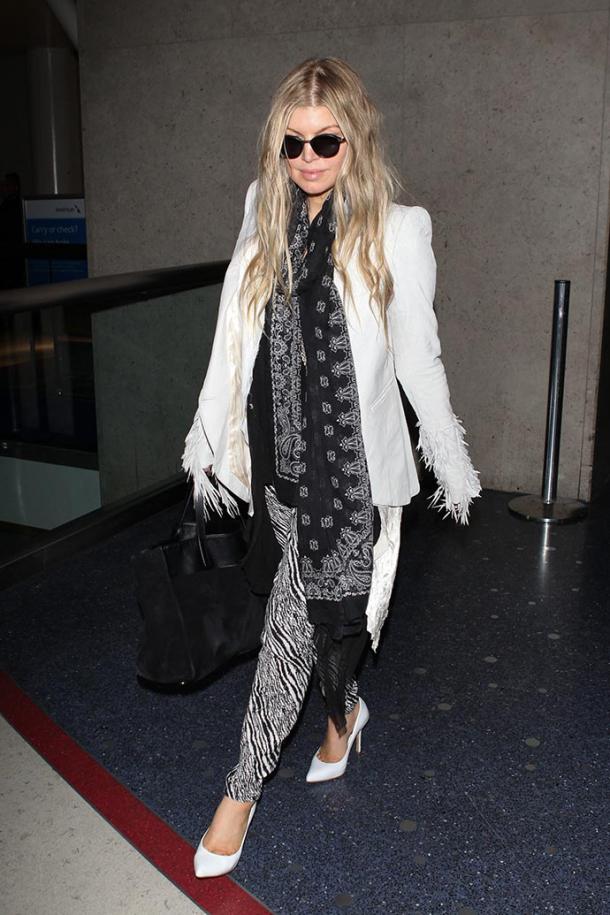 Emma Watson appeared at the airport in a comfortable cashmere top, skirt style Preppy oskfordah and comfortable low-heeled shoes.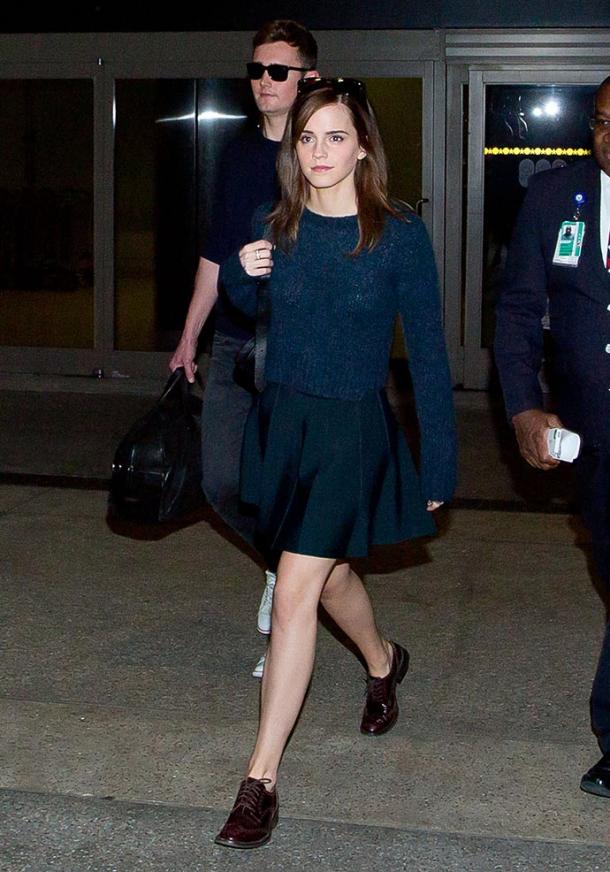 During his trip to Paris with children Kate Hudson gave up bright makeup and fancy dresses, opted for comfortable jeans, boots and a cozy hoodie on a stable heel.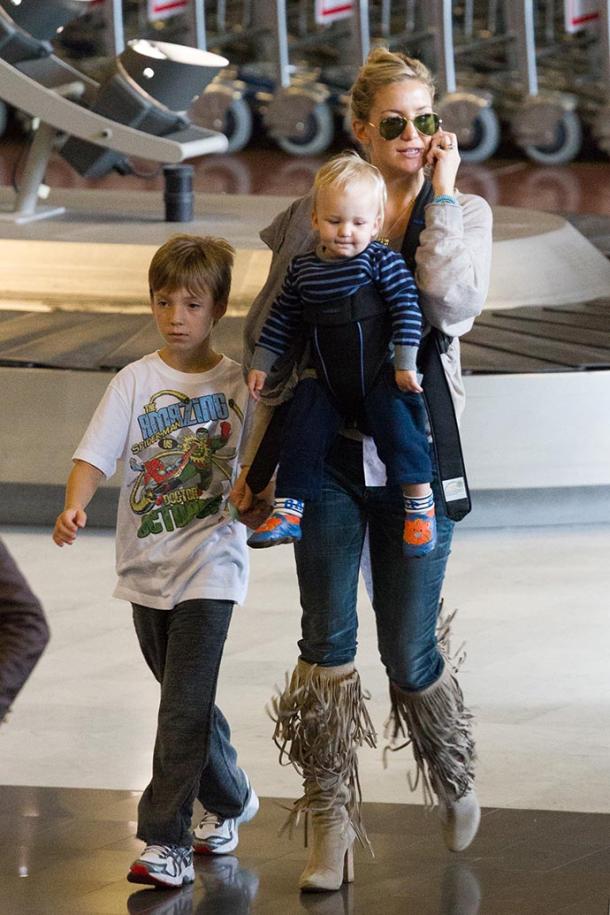 Interesting and style of dress in the street Eva Longoria. It seemed at the airport LAX simple yet elegant white suit. Dramatic details in tone - beige leather sandals and roomy bag.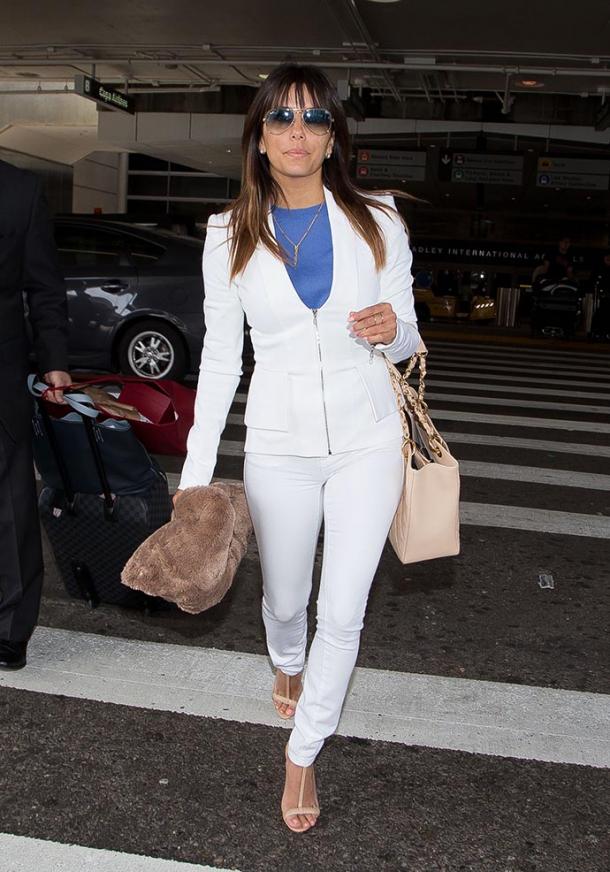 Choosing Diane Kruger - practical and comfortable mix of wide striped sweaters, jeans, suede botinochek on a low heel. Bright detail - large scarlet-rimmed glasses.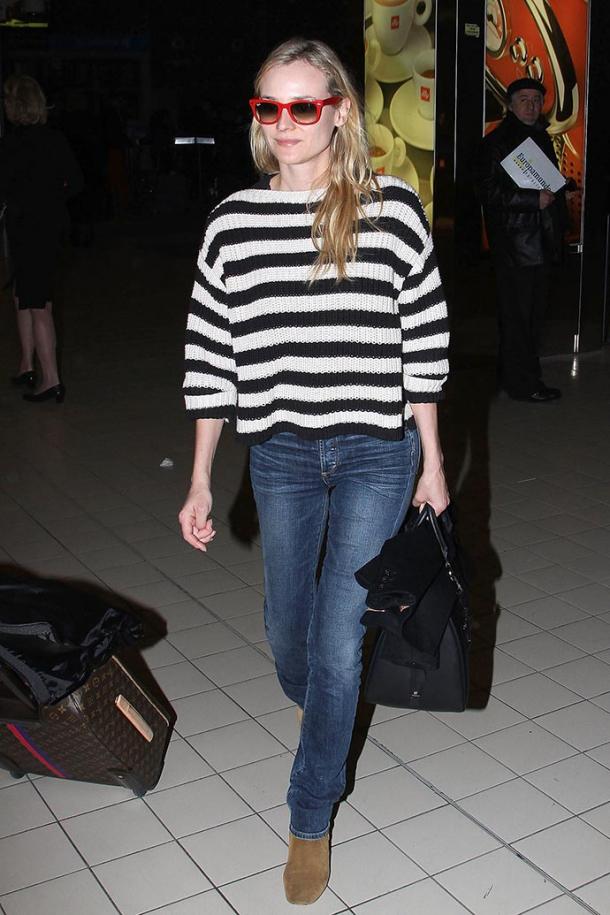 Paris Hilton prefers to travel comfortable and loose clothing that does not hinder movements.