We offer you a great selection of the best photos from National Geographic in January - a total of 31, the number of days of the month.
Please note that most of the photos are available in high resolution
and can be used as wallpaper for your desktop.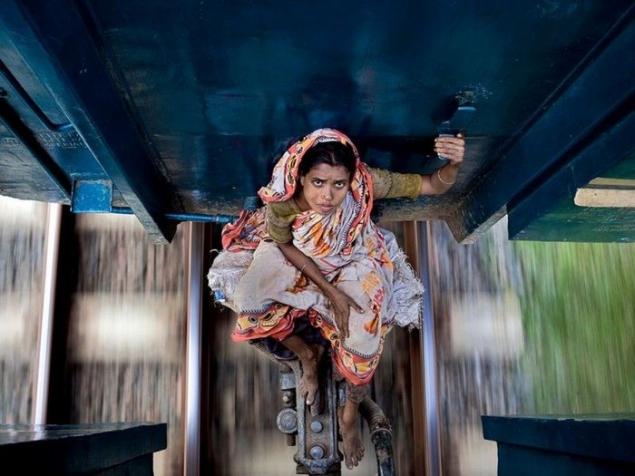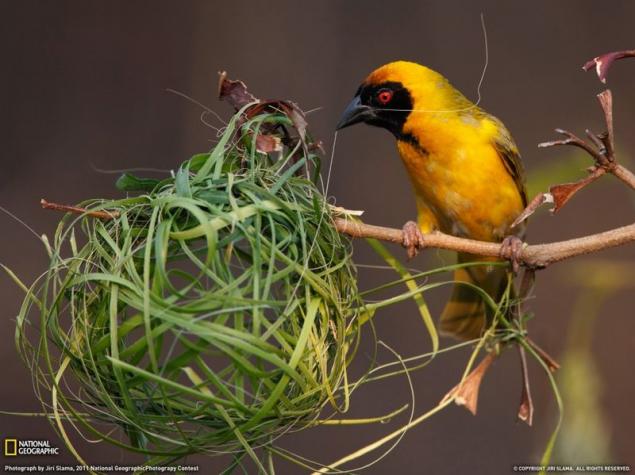 1. I have the priceless opportunity to see how these amazing builders are building their own "home" from the very beginning to end - from the base of the leaves until the last few sprigs. And all this in order to please the lady of the heart. (Jiri Slama)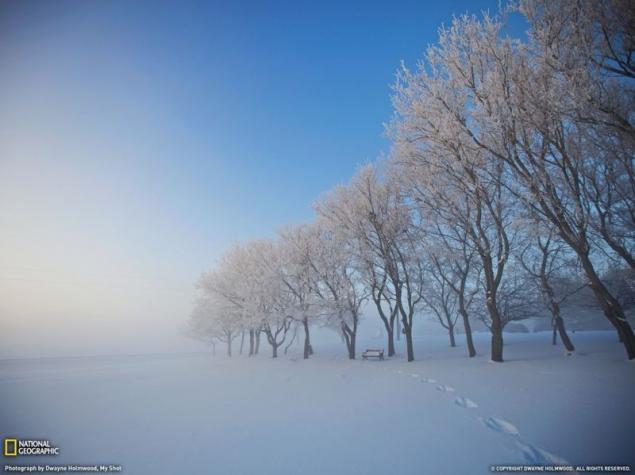 2. Beautiful frosty landscape at sunset in Alberta. (Dwayne Holmwood)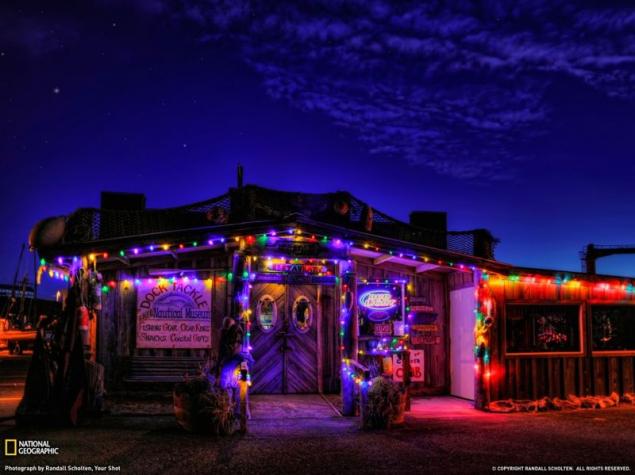 3. Located in the commercial dock Port Orford, Oregon, a small cozy restaurant, a seafood restaurant, decorated for the holiday. Life in this fishing village as if stuck in the past when life was less hectic, and when we have noticed and appreciated the simple pleasures of life. (Randall Scholten)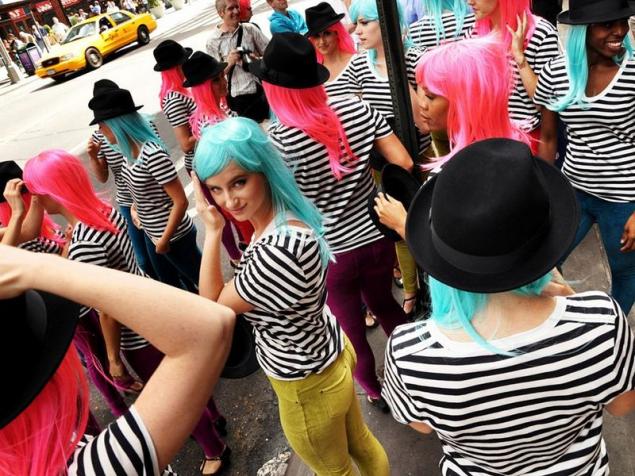 4. Only at home, looking at the photo on the computer, I saw that this girl looks directly at the camera. (Juan Pablo Velasco)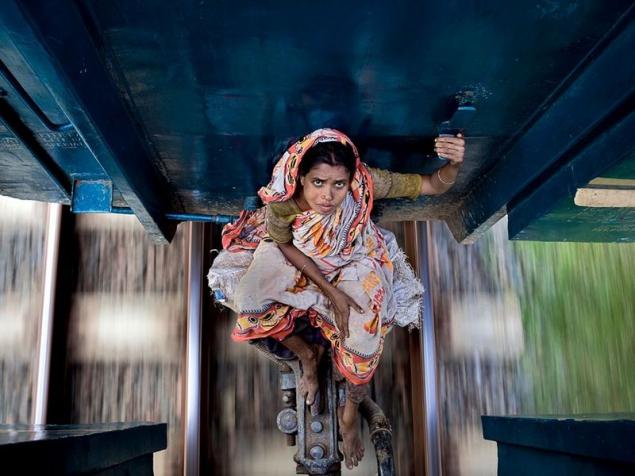 5. A woman riding between cars, heading north from Dhaka, Bangladesh. Her luggage is under the car. Was Ramadan, which culminates in a three-day feast of Eid al-Fitr. Tens of thousands of people go to their villages from the cities to celebrate this holiday with the family. Trains are overcrowded, and many who could not buy a ticket (because they were not, or they simply could not afford it), are forced to travel on the roofs of trains or, like this woman, between the cars. (Amy Helene Johansson)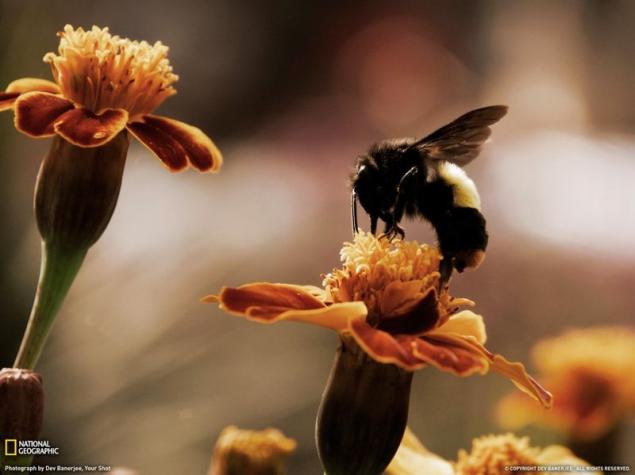 6. I've been trying to catch in the frame this bee. After several attempts, I do finally succeeded. Here it is, nature - always changing and plentiful. And a lifetime and one camera is not enough to properly grasp its beauty. (Dev Banerjee)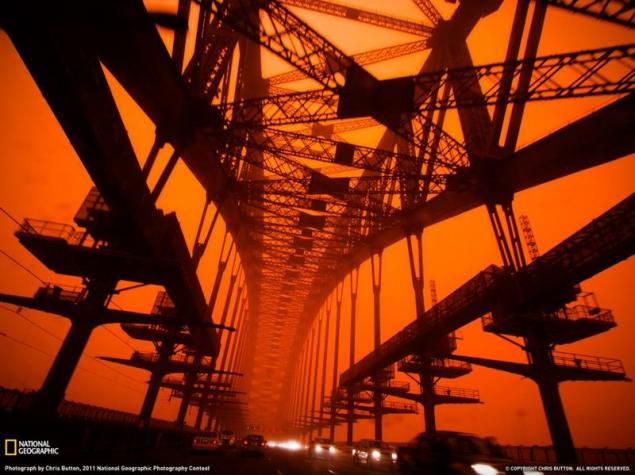 7. Driving along the Sydney Harbour Bridge during a dust storm. (Chris Button)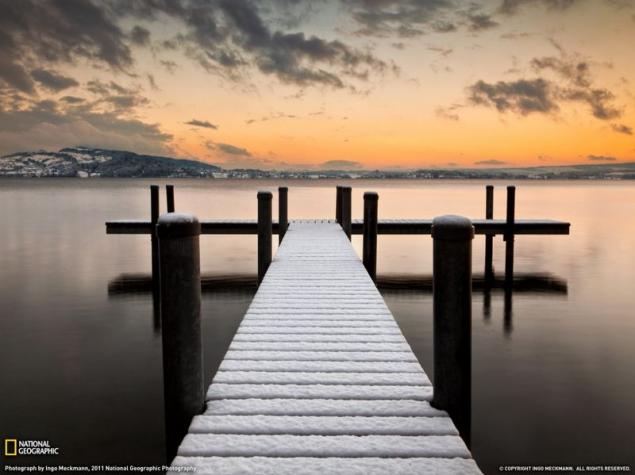 8. Snow-covered pier on Lake Zug in central Switzerland right before sunrise. (Ingo Meckmann)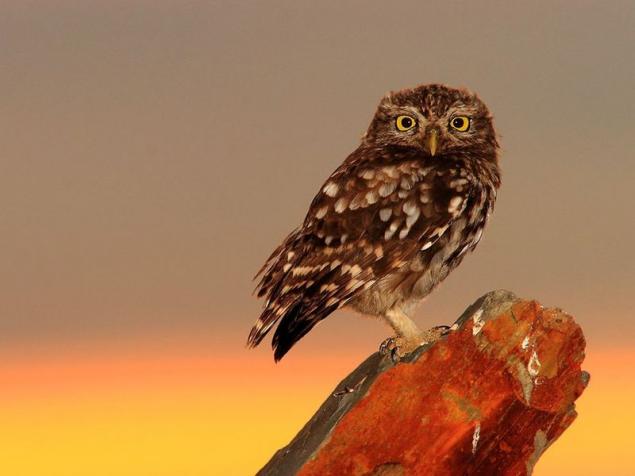 9. Little Owl at sunset summer warm day in Spain. (Andres Lopez)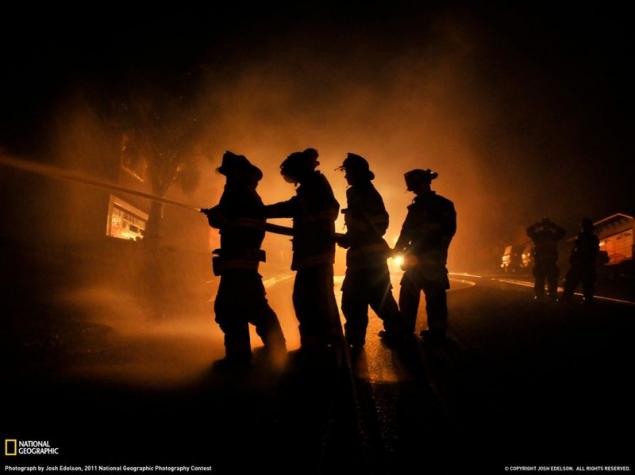 10. Firefighters try to extinguish a fire after the explosion of natural gas near San Francisco in September 2010. The fire destroyed 37 homes and killed seven people. (Josh Edelson)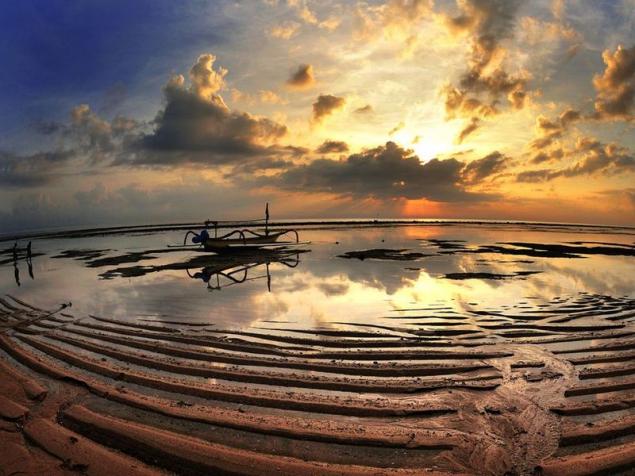 11. Beautiful sunrise over the beach of Sanur in Bali. (Tan Kiki Rustandar)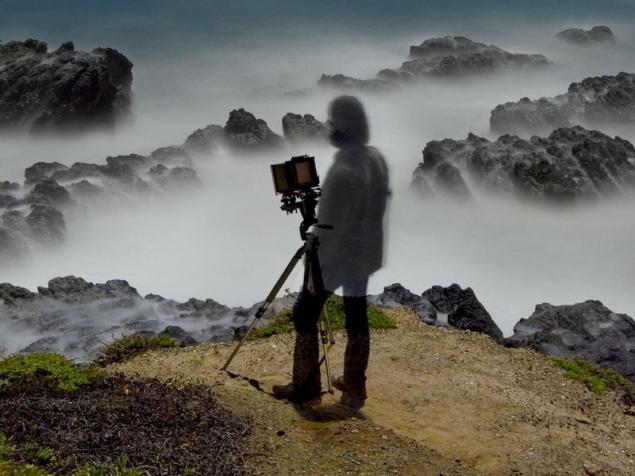 12. At Mount Mugu near Malibu, California. Self-portrait. For me - the raging waves are more like mountain peaks than coastal waters. (Garret Suhrie)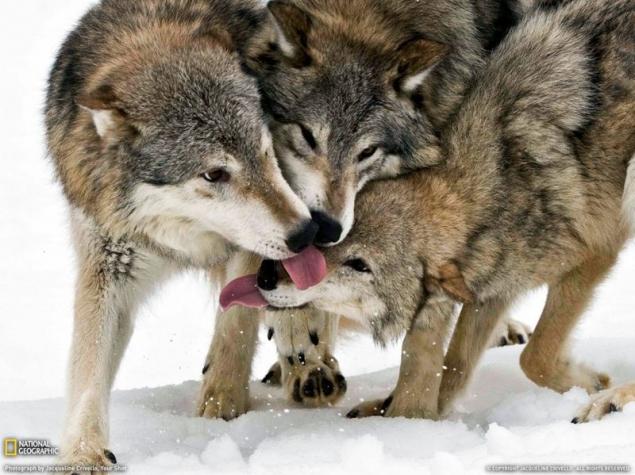 13. An unknown person for the behavior of forest wolves disclosed in this picture: almost human love and affection on the verge of respect. This is usually hidden from human eyes. At the heart becomes warm, and a feeling that this is not fearless animal and pet who wants to hug and cuddle.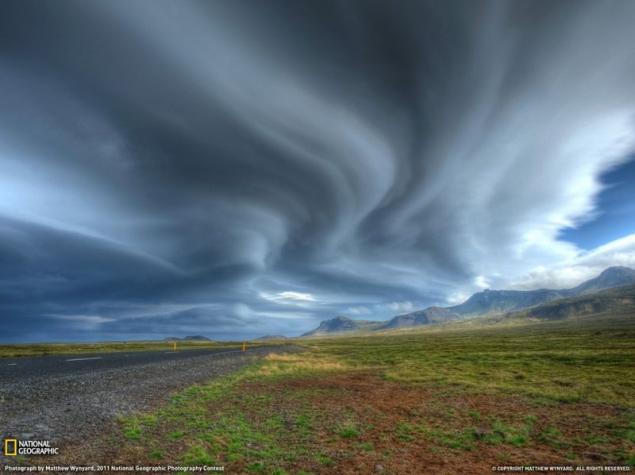 14. During our magical trip to Iceland was often rain. After we crossed the peninsula Snæfellsnes, everything has changed, and there were these hrustalevidnye clouds. Having made this image, I saw a rainbow, which held half an hour. Very surreal day. (Matthew Wynyard)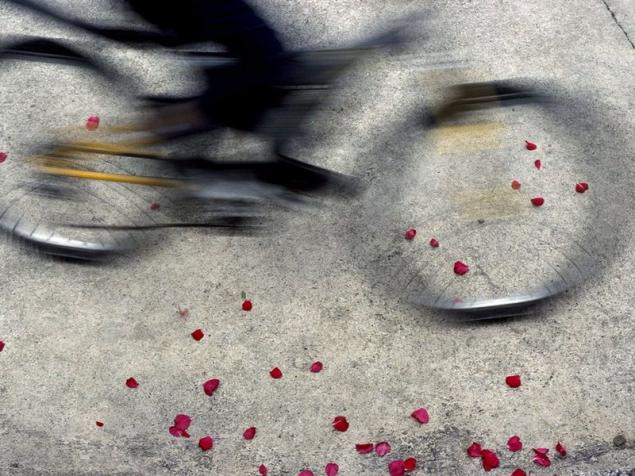 15. Picture taken in the memorial gardens of the Irish Civil War in Dublin. In the times of the war (1922-1923 gg.) Killed more than 38,000 Irish. (Steven Nestor)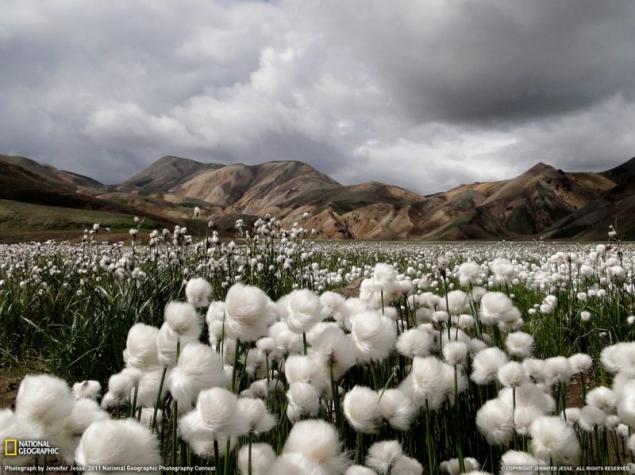 16. This photo was taken in July 2010 near Iceland called Landmannalaugar. People come here to see the colorful rhyolite mountains. During our trip we saw a little bit of cotton along the road, but I did not expect that we will soon see the whole cotton field. This image reflects the atmosphere of Iceland. One has only to think that the landscape you can not be surprised, some miracle right there. (Jennifer Jesse)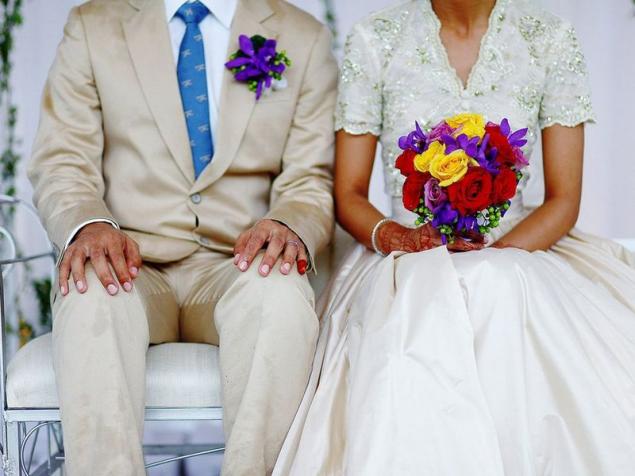 17. I wanted to make this picture to show you the fine details and colors of the wedding dress the bride and groom. Their mood has not fallen despite the fact that on their wedding day without stopping pouring rain. (Naqib Albar)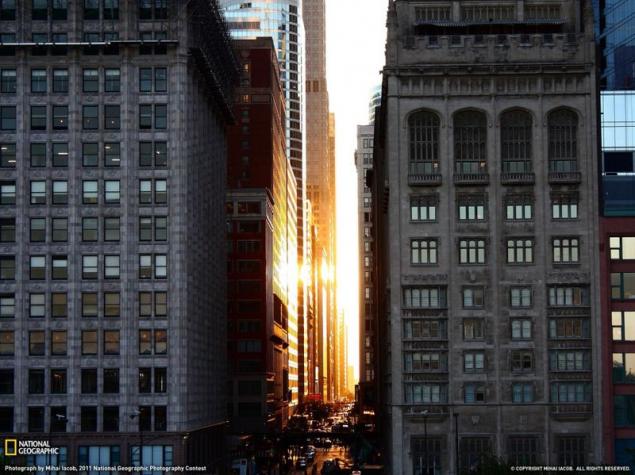 18. I was in the right place at the right time. This street Nichols Bridzhvey that leads to the modern wing of Art Institute of Chicago with spectacular views of the city center. Was the sunset. I like architecture, rich urban life and light - all perfectly easy in one frame. (Mihai Iacob)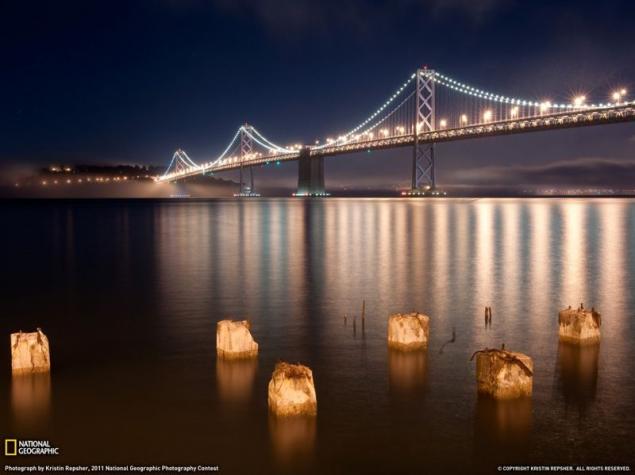 19. I'm not even going to do that photo - I happened to be in this place after my original destination (Golden Gate Bridge Bridge) was completely absorbed in the fog. I am very glad that I managed to get across the Embarcadero, because the Bay Bridge is simply amazing! (Kristin Repsher)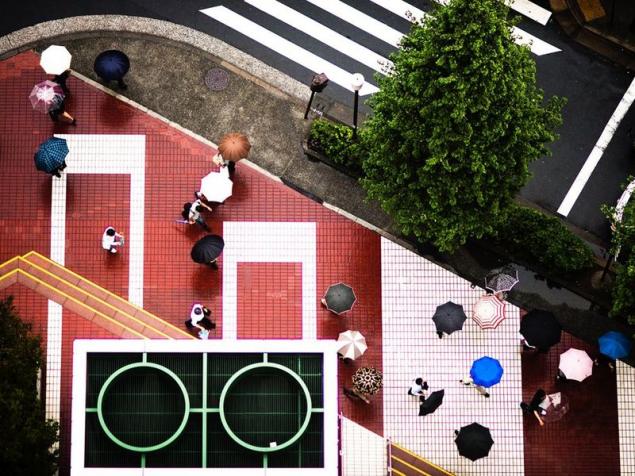 20. Cloudy day at lunch in Ginza, Tokyo. (Navid Baraty)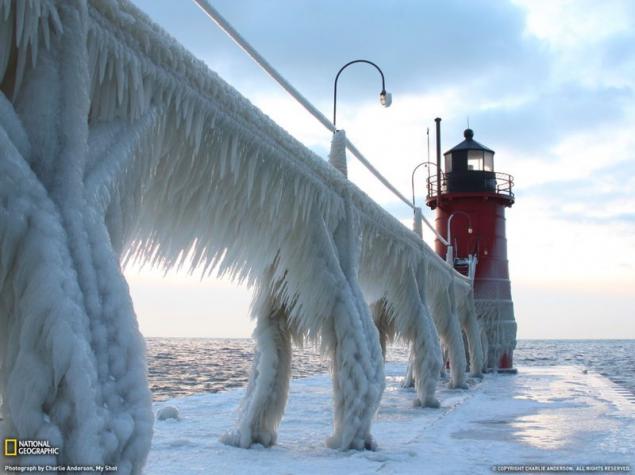 21. The photo was taken after the first snowstorm in December in South Haven, Michigan. (Charlie Anderson)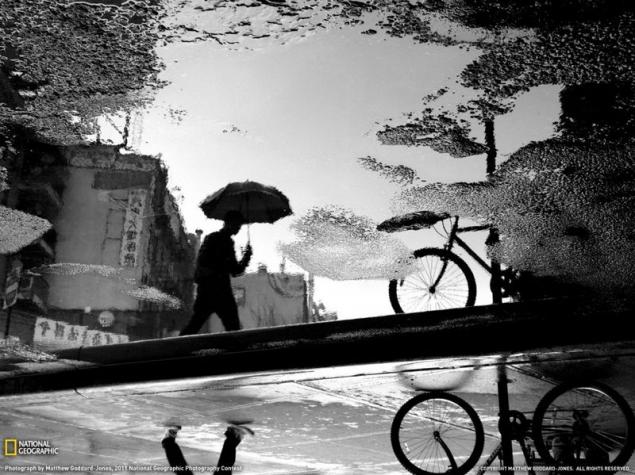 22. Reflections on the road after a cloudy day in New York's Chinatown. (Matthew Goddard-Jones)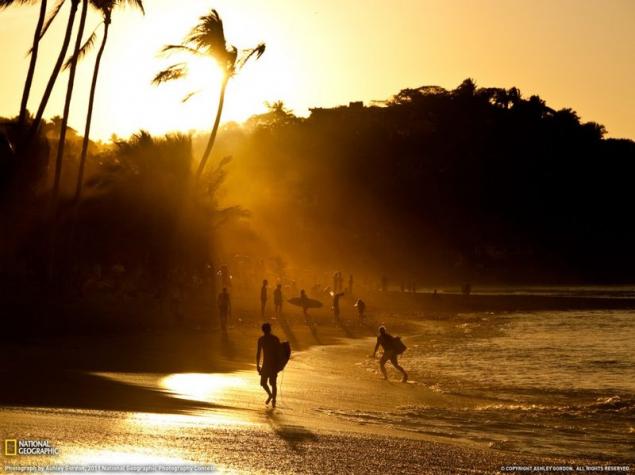 23. In January, when most of the Northern Hemisphere is shrouded in snow and frost, a small Bohemian town - a paradise for surfers - Sayulita that in Mexico - a place where there is bright colors and heat. Locals and guests enjoy the rare natural beauty here - sun, waves, salt and sunsets. Sigh in my dreams? That's it. Rarely "winter photo" can be so attractive. (Ashley Gordon)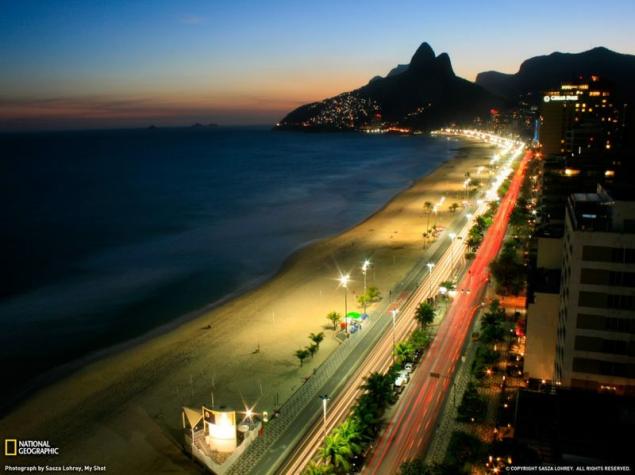 24. Beach Ipanema Beach in Rio de Janeiro, at night. (Sasza Lohrey)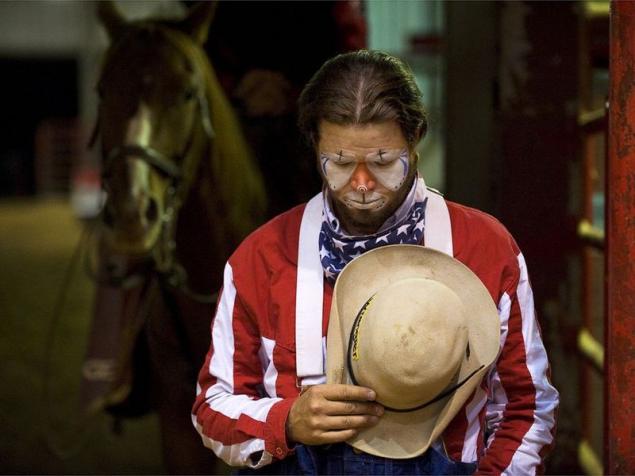 25. Clown Kochi Parker prays before the tenth annual professional rodeo in Glen Rose, Texas. PARFA - professional rodeo organization founded and composed of military pensioners, the disabled, veterans, and cardholders Ministry of defense. (Bennie Davis)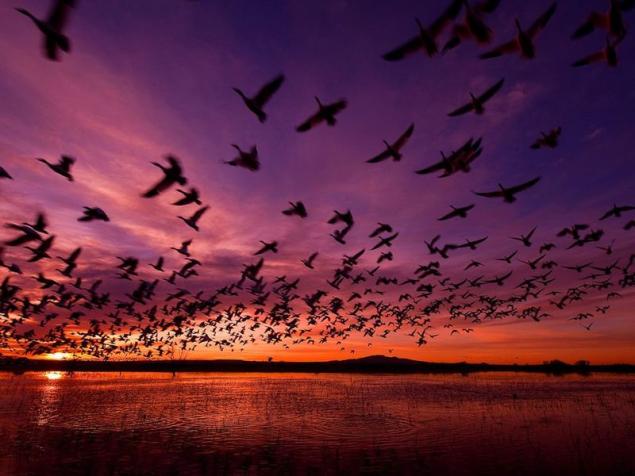 26. This photo was taken in December 2010, during my first trip to the National Park Bosque del Apache in New Mexico. It took me four days to wait in the cold for an hour before dawn. On the fourth day, all happened simultaneously. Delightful dawn correct wind direction, and these wild geese tossed into the sky in front of my lens. (Troy Lim)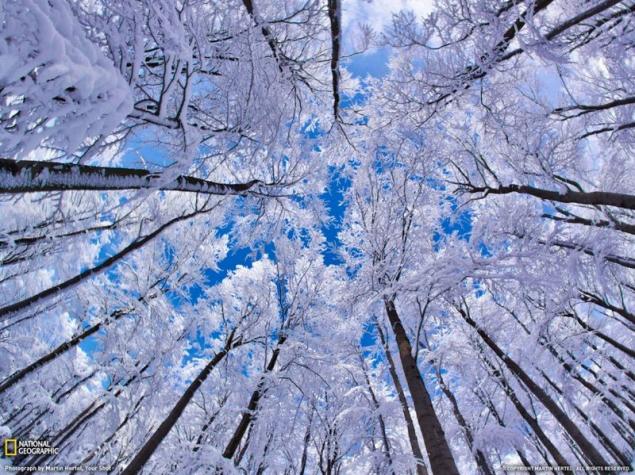 27. Birch forest in winter in the Fichtelgebirge, Bavaria. (Martin Hertel)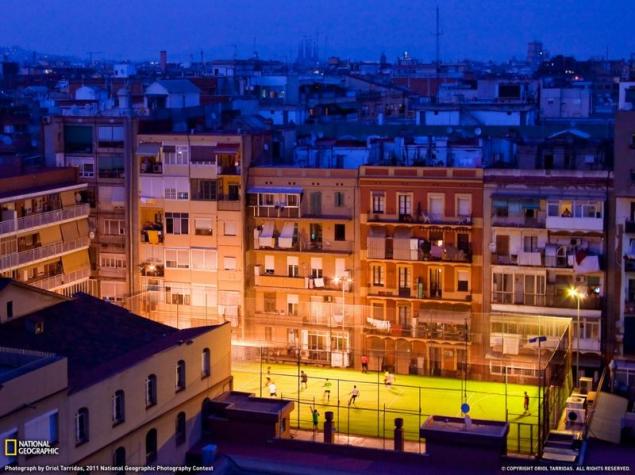 28. In anticipation of the 2010 FIFA World Cup, which was won by the Spanish team, I happened to see these amateur players on the field, miraculously appeared among these houses in Barcelona. (Oriol Tarridas)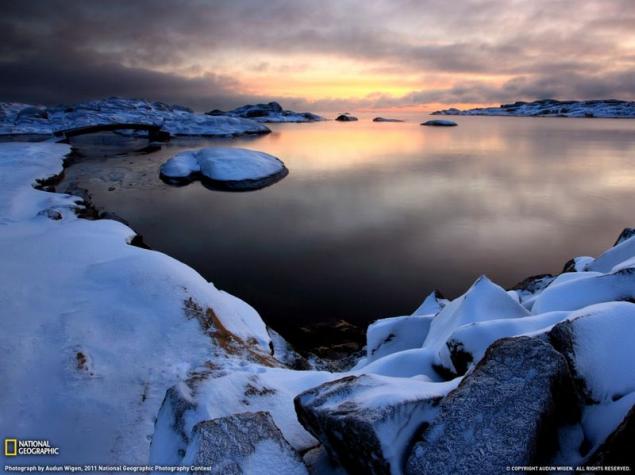 29. This photo was taken at a place called "doomsday" in Tjøme, Norway. The temperature was -21 degrees Celsius. (Audun Wigen)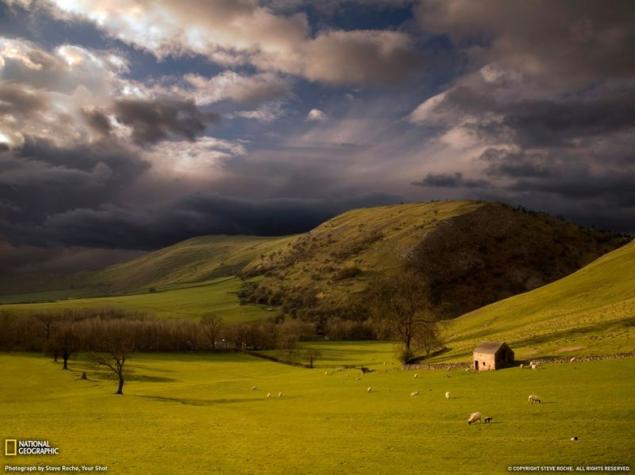 30. Excellent light before the summer storm in the Peak District, England. (Steve Roche)
via bigpicture.ru