Continuing to one of our regular columns, today I want to tell you the story of one of the employees of the pawnshop, which will share the subtleties of his profession with you. Read more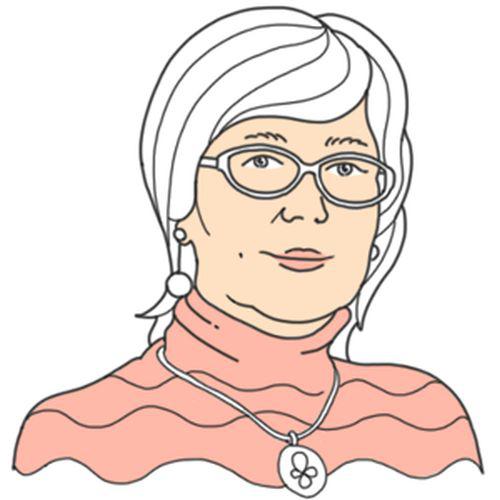 Interview
Before that I worked in the trade. I like to communicate with people, but
to conduct on his feet for 12 hours a day, pretty hard,
so I decided to quit. Former Director advised send
resume in a pawnshop, she worked there one who praised his work.
The interview was strange. First asked to fill out a standard questionnaire,
then give a problem: five on logic and two on the knowledge economy.
To assess the results, called "talk." Talk to you soon three people.
One of them - a psychologist - for some reason, asked about my attitude
drug addicts and moronic grandmothers. After an hour of agony I was given the task:
Mystery shopper as I had to walk on pawnshops
competitors, making deposits, and then fold the post supervisor reports
with the conclusions of the work there the staff.
Two days later, I was invited for an internship. It lasts three days: this
time enough to understand whether or not to go to work.
Education
Future employees of large network pawnshops are trained in
special centers, a kind of specialized "institutions."
When a student is divided into two groups: the generalists who
You should evaluate gold and fine technique, and technology - all appraisers,
except jewelry. Training of technicians, in which, incidentally,
take only the men, it takes less time - only three weeks.
During all this time we have not had a single day off if no lessons
in the center, you go to practice in a pawnshop.
Exploring the vast number of subjects: the rules of lending, 1C,
legal standards, financial monitoring,
safety rules, estimation of gold and equipment.
For me, the most interesting object was to evaluate the gold. The role of teachers
perform the best employees of the pawnshop.
Periodically conduct tests, including psychological - with questions about
an armed attack on the grandmother and animal cruelty.
If you fill up (for example, you find that you do not sympathize with animals) -
It means a sociopath and a job you do not take.
For the first two weeks of study, it is important to decide whether you will approach this exercise,
since after this period the students sign an employment contract
for half a year. If to resign within six months,
the company will be obliged to pay the cost of education -
6000 hryvnia ($ 750).
Employees
The pawnshops operate a family without young children, or those who are over 40 and who
Limit your time at home.
Minus at several such work: uncomfortable irregular schedule, rare
weekend, often change jobs at any time can cause.
In the holiday season we have a month can not be output. Of course, it is good
paid, but it is unlikely such conditions have a family of people.
It is likely to work alone.
Of all who come, are less than half. Most people initially
do not realize the responsibility, do not realize that they can because
inadvertently make mistakes, for which they will have to pay out of
pocket. The vast majority work out six months,
not to pay for tuition, and dismissed. For those who remain, then very
hard to refuse a decent salary and a warm place.
In the worst case we get from 3500 hryvnia ($ 440), sometimes reaches up to 10 000 hryvnia ($ 1,250),
We are working on a "small bet and interest».
In the pawnshop can run from one to three people, plus security. It depends on turnover,
often working two - spool and techniques.
Robberies
Large pawn hardly anyone dares to rob: premises
armored, there is security.
But there is a clear instruction on my part which should be
to do everything so that nothing happened. If robbers come in disguise,
with guns, like in American movies, I must press an alarm button,
close the blinds on the window, pan for gold, so it does not have thrown the grenade,
and leave the workplace to close the safe door (there is not even a grenade strikes).
Next, you need to call the police and report,
it's really a robbery that you do not accidentally pressed the knee.
More need to call management, they will gather a delegation
"Rescuers." All that you need to get done in a matter of seconds. Call
and the need to ensure that you in no way to blame.
An important point: even if the thieves someone killed or taken hostage,
you have no right to open the safe door.
If you do a miracle and stay alive, you could be charged
aiding and plant.
Rules of Conduct
By and large, we are forbidden to all: you can only sit and work.
You can not read, eat, solve crossword puzzles or surf the Internet,
You can not use the technique for their own purposes. Of course, all this can not be
a surveillance camera, but every pawn shop is a "dead zone»,
where you can do anything. You can not be rude to customers, but customers
They are different, and some need to talk so,
so they cautiously went to the pawnshop. We were not allowed to use
collateral, but it happens,
that the pledge bring different consoles and say "Play" - here we
and organize championships.
Check ornaments
Jewelry validated reagents taken from the Assay Office.
We make a small piece of text in an inconspicuous place to wear and drip agent.
But scammers also progressing. You need to carefully check - for different
products of different techniques.
If this chain is 100 grams, it is necessary to cut deep, so that 70 grams
may be any copper.
There have been cases when officers two years to repay the money. With diamonds
even harder if you do not get enough sleep, or walked to work,
easily can something not to notice, and one carat stone diameter of 6, 5 mm,
we give out about 10 000 hryvnia ($ 1250).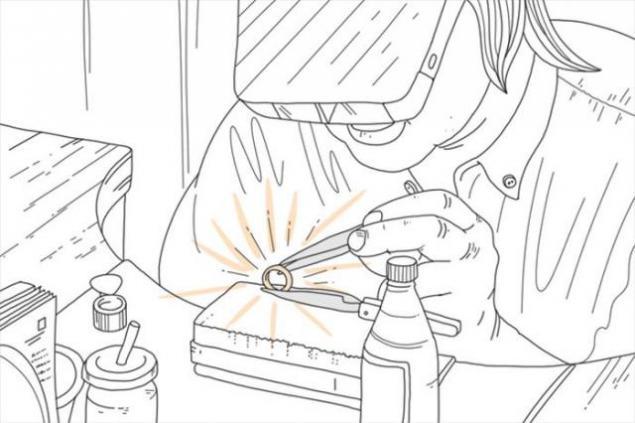 More must be understood that most of the Kiev stores sell
low-quality stones.
They are less carats and are in a terrible state. For example,
a couple of days ago, I issued to the client 6000 hryvnia per ring,
in which one stone was 0 7 5 carat with purity and defect 7.
This is a very small amount of money, the store is a ring worth about 20 000 UAH.
Watch must be very careful, because diamonds are different:
artificial, cultured (moissanites) treatment.
With the latter need to be especially careful. Treatment - a stone
a crack, which is filled with air. Without this you will not see a magnifying glass,
finally have a chance to buy a ring with a stone in 20 000 hryvnia, which at
actually costs ten times less.
Cracked stones and pereogranivat need to break into two or three smaller,
that is unprofitable producers.
See it is necessary not only to products but also to the customers: suspicious
People give themselves require no check.
After the error officers usually are afraid to work and retire.
Customers
The precarious economic situation - the ideal time for pawnshops.
Customers are very different: from students to retirees.
It all depends on the location of the pawnshop, if it or Troyeshchyna Borschagivka,
the main contingent - addicts with small products.
If this is the center of the city, and the public, and the product will be a class above.
As a rule, people do business and experiencing difficulties.
There are clients who work in embassies and ministries.
They bring jewelry Bulgari, Damiani, Cartier, Dior.
Often found Brand Baraka - this massive exclusive decoration.
The chain can weigh from 85 to 200 grams,
for this we give 15 000-60 000 hryvnia. Such items often are buying back.
Of course, the rates have also appropriate.
For example, the sum of interest for the use made of 400 hryvnia per day,
you need to take out a loan at a pawn shop for 70 000 hryvnia.
We're a credit institution that does not buy anything, but only gives
loans secured by property. The client agrees to pay back the loan
with interest over a fixed period: everything as in the bank, only the term
lending less and interest - above.
50% of customers, to put it mildly, not very adequate. There are scandals,
but where without it. And they think you need their problems.
We have to listen to the sons, daughter-in-zyatyah and division of inheritance.
I smile and say, sorry, that all will be adjusted.
They are pleased that they gave not only money, but also listened to.
Some customers feel you are virtues and chocolates,
Mandarin, cosmetics or clothing.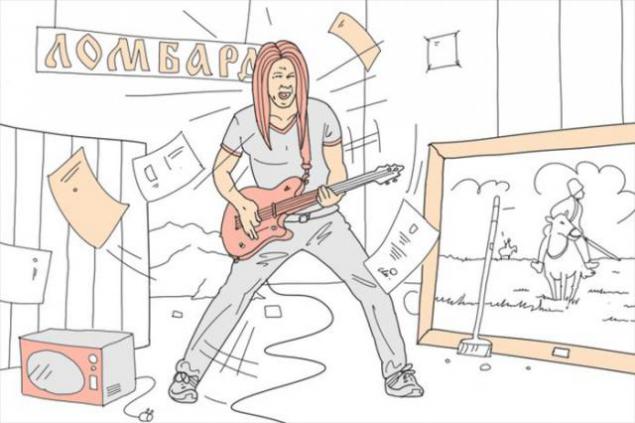 Pawn
Bring samovars, watches, coins, paintings, icons and relics, brought the sketch Repin.
Most of these products, we do not accept.
One tried to pass fake Scythian gold - phallus weighing more than 500 grams.
There was a case when a man came to lay
electric guitar and gave a rock concert right in the pawn shop, and then another hour talking,
that we are all descendants of Hyperboreans and the Titans.
He was very upset when we did not take his guitar.
From