Says the author: As something from a trip to the 34th mountain brigade I brought dry rations IRP-7, presented by one of the officers.
Today, finally got around to sample the taste.
We have: an individual diet (PRI), option 7.
I remind you that this is only one of the proposed options for soldering, other equipment may be different.
Especially photograph next to the box of matches, to be able to estimate the dimensions.
Made of "Leningrad" (Krasnodar Territory. Is a diversified structural production of the Defense Ministry of the Russian Federation), whose principal production - JSC "Gryazinsky Food Factory" (Lipetsk region)
2. 53,639,445
Now rations are issued in such cartons covered with foil inside. I do not like such an option, as box less resistant to damage than previously used plastic. For example, in this embodiment, the handle very quickly overstrained, but for her, I actively and not pulled. If you pull out of the tightly packed haversack or backpack - it will come off. Also, after opening it became clear that despite the external integrity of the box somehow been damaged bag of sugar and a packet of jam, causing part of the cans and packages had to scour from the above mentioned products. To top it all one of the spoons, included was almost broken in half. Or so I was not lucky, or really afraid of squeezing box.
Upon opening a pack
3. 7,746,864
Inside the box is removed, in which the contents of a tightly packed rations
4. 72,332,146
Instructions for use
5. 22,842,949
6.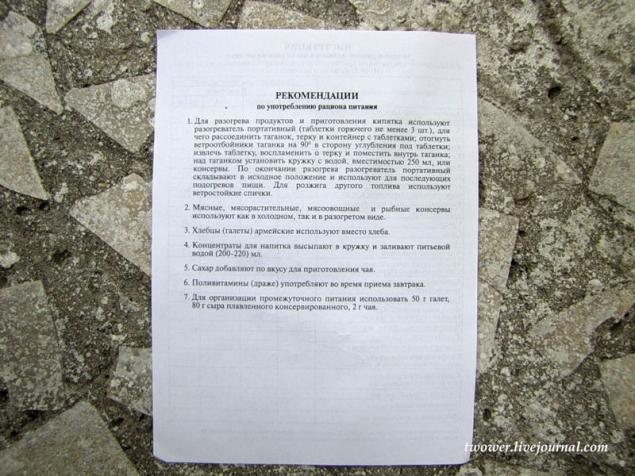 Meat with green peas and carrots
7. 56,424,264
Beef stew
8. 58,856,021
Buckwheat porridge with beef
9. 91,741,346
Herring in oil
10.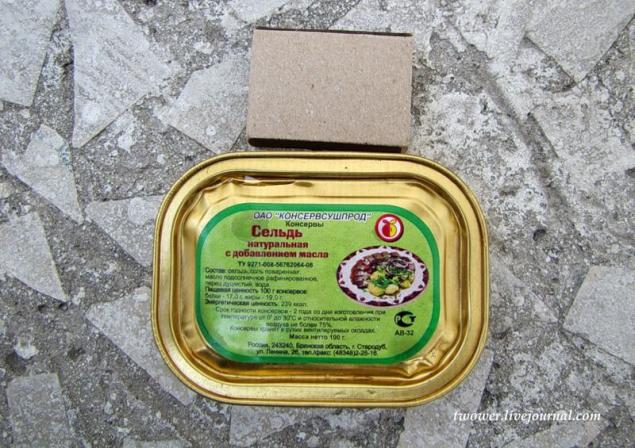 Vegetable caviar
11.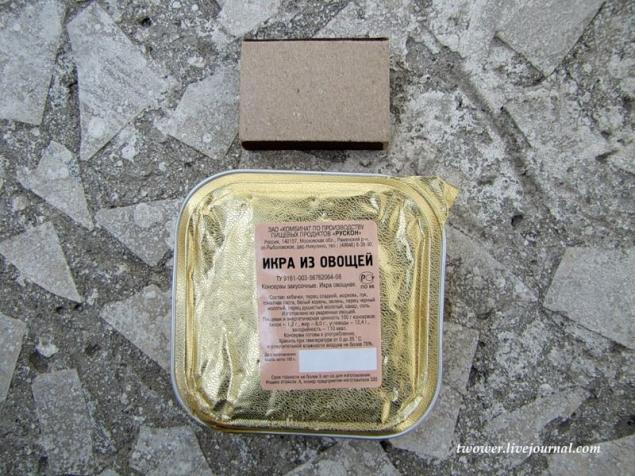 Processed cheese
12.