Yes, this "baby" can feed an entire family in a year of famine. Huge pumpkin, zucchini, mushrooms and cucumbers continue to surprise even the most experienced gardeners.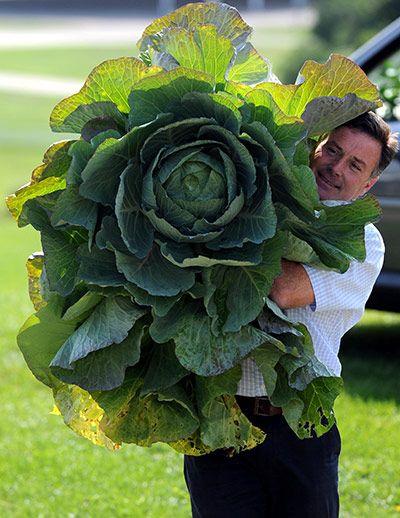 1. The Director of the autumn flower show Martin Fish with a huge cabbage on the 100th anniversary of the exhibition. ((John Giles / PA) 45,983,247
2. Joe Midway with 392-pound pumpkin grown by Ken Rayyanom, won the competition for the biggest pumpkin. (Cameron Richardson / Newspix / Rex / Rex Features) 87,359,050
3. The Legend of the world's growing huge vegetables Bernard Lavery with its harvest in 1995. (Chip Hires / Gamma-Rapho / Getty Images)

4. "Gherkin" length of 106 cm, grown in Uittlsete Claire Pierce. (Albanpix Ltd / Rex Features) 32,197,098
5. Nissan Tamir from Omer, Israel shows them radish grown, each weighing 10 kg. (Azulai / Israel Sun / Rex Features) 51,730,916
6. Antonio Marton with tomato weighing in at 450 grams and a diameter of 38 cm. This giant has grown from a seed that Antonio sent his family from Naples. (Solent News / Rex Features) 56,271,468
7. Michael Kingston 5, 7-pound leeks grown Joe Atherton on competition "Veg-Monster" in Shepton Mallet, Somerset, in 1999. (Tim Ockenden / PA)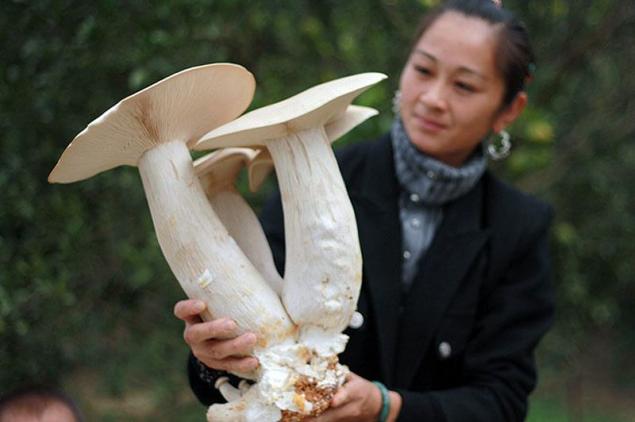 8. It is though not a vegetable, but still impressive, huge mushrooms grown in China. (Quirky China News / Rex Features) 55,774,191
9. Again, not a vegetable, and 1, 5-pound white truffle - a real treasure. It went under the hammer for 160 pounds. (MN Chan / Getty Images AsiaPac) 10,908,783
10. Bob Aynstoun 2, 27-pound carrots from his garden in 1973. (JRV Johnson / Hulton Archive / Getty Images)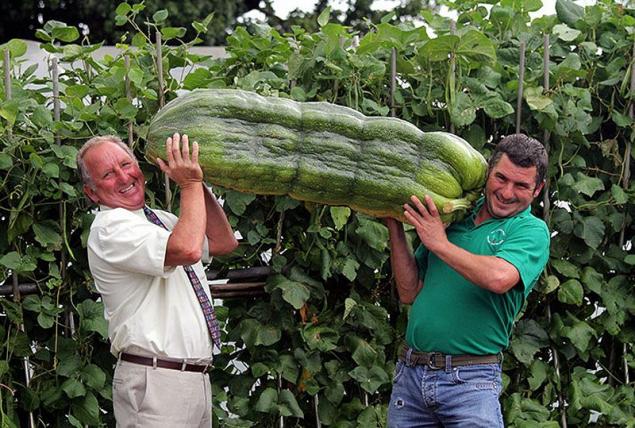 11. Gardener Phillip Vauels with his son Andrew and 51-pound zucchini in Llangerri, South Wales. (Rex Features) 47,934,626
12. A professional gardener Peter Glazebrook from the UK with a bow, pobivshim previous world record by 1 kg 100 grams. (Christopher Furlong / Getty Images)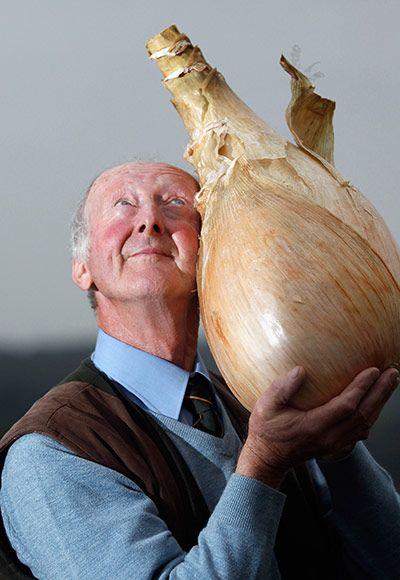 13. The weight of the "onions" - 8, 15 kilograms.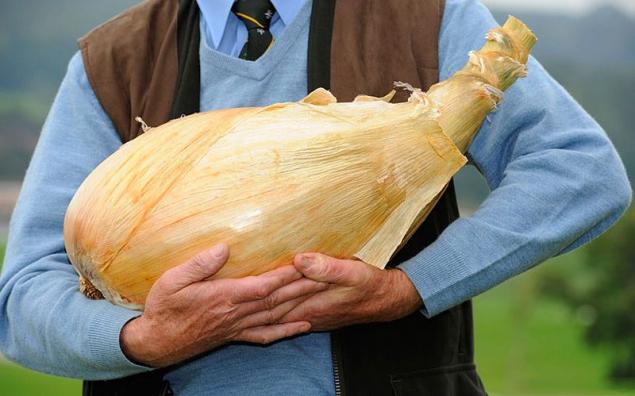 14. During his bow Peter Glazebrook received 1,500 euros. It is worth noting that they have been installed world record for the giant potatoes, beets and parsnips.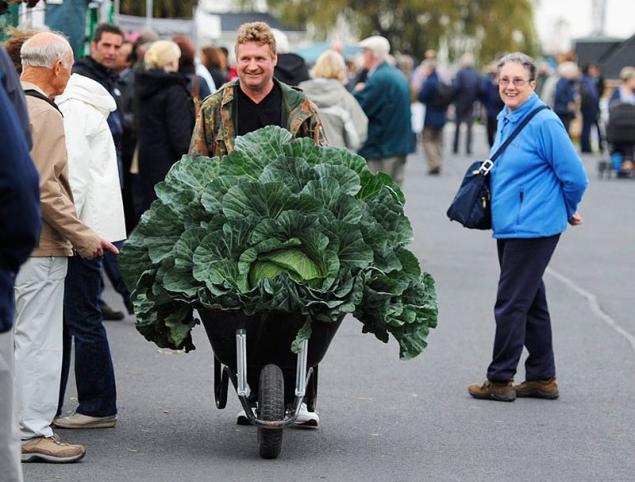 15. Farmer Derek Neumann carries a giant cabbage at an exhibition of flowers and vegetables, which is held annually in the UK, in the town of Herrougeyt.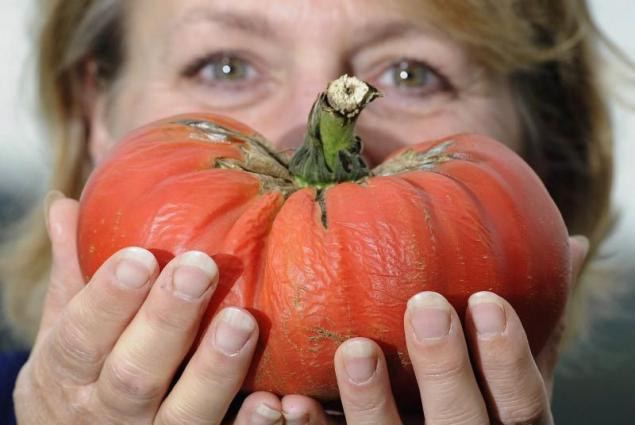 16. This year the exhibition of flowers and vegetables in the city Herrougeyt, which is located in the north of the UK, celebrated its centenary. At the same time vegetables such size seen there the first time.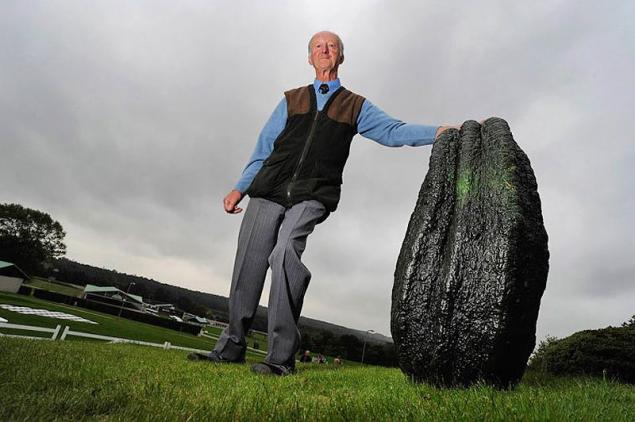 17. Pete Glazebrook with a giant zucchini.
18. The giant zucchini on the shoulder of the farmer.
19. Farmer grower Joe Atherton holding aloft a giant cucumber.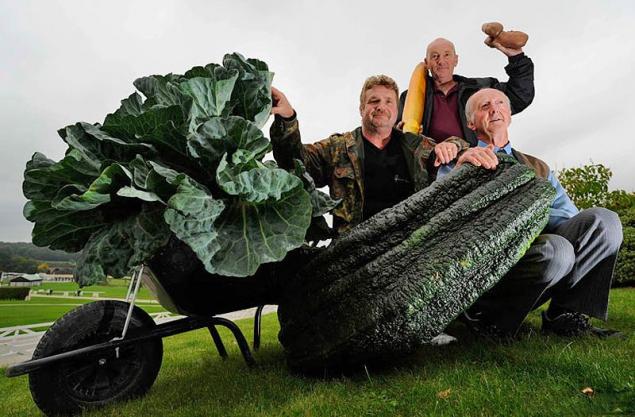 20. Proud exhibitors farm festival in the town Herrougeyt.
Source: takayavew.ru