Coconut Island in the Pacific waters of Costa Rica - the largest uninhabited island in the world, it resides only a small group of rangers who take care of the order in the reserve as an above water and under water. A few meters from the village cleared begin impassable cliffs covered with jungle, there are many human foot where no one had gone. View from the sea to the island is very impressive - steep rock walls covered with lush vegetation from which flow down dozens of towering waterfalls. Something similar in terms of waterfalls I have seen only in New Zealand Fiordland.
Part 1.
A flock of hammerhead sharks at Alcyone, the depth of 33 meters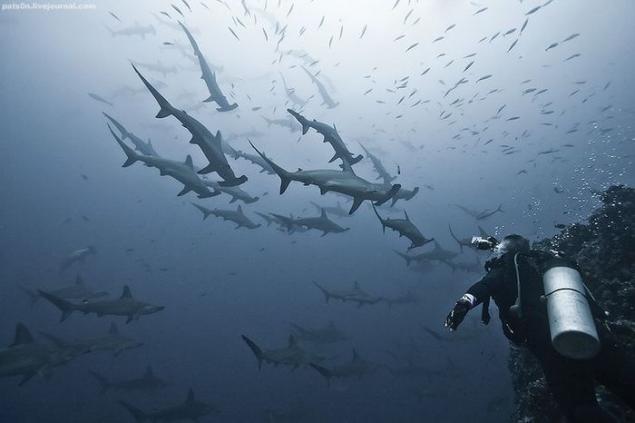 Despite the distance - at Coconut can only be reached by boat from the Costa Rican port of Puntarenas, it takes 35-40 hours depending on the weather - this island is very well known. It is believed that it was it buried treasure Peru exported conquistadors and later got into the hands of pirates - one of the most "delicious" unfound treasure in history. "Treasure Island" Stevenson - it is about coconut. On the fictitious island in the Pacific waters of Costa Rica, copied from Coco action unfolds the book and film "Jurassic Park." There is a theory that it was a real haven Coconut Robinson Crusoe. By all this glory team of Jacques Cousteau explored the waters around the island added fame as one of the greatest underwater reserves, known primarily for the huge number of hammerhead sharks.
Now the island is one of the national parks of Costa Rica, access to it is limited, and all three vessels are authorized to conduct the dive safaris in its waters. I must say that the quality of diving is highly dependent on the season, and the best seasons typically places on those ships have come to an end nearly a year.
On the island itself is allowed to disembark for a short walk lasting about two hours, and even then not every day. This is enough for a walk along the beach to look at the life of the Rangers and then to plunge into a couple of waterfalls.
Curious hammer on the point of Dirty Rock, depth of 32 meters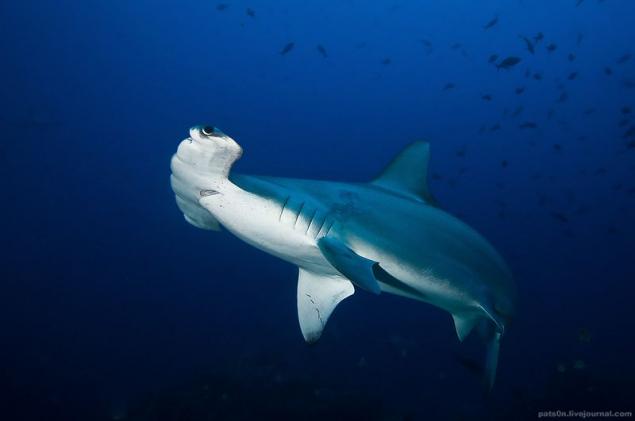 Bay Beach Chatam Bay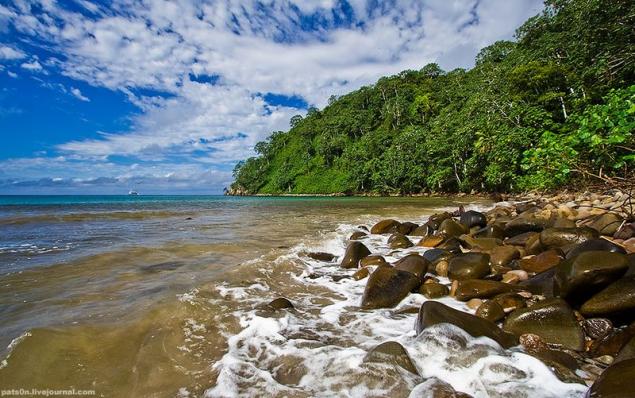 Night hunting Whitetip Sharks in shallow water at the rock Manuelita, the depth of 12 meters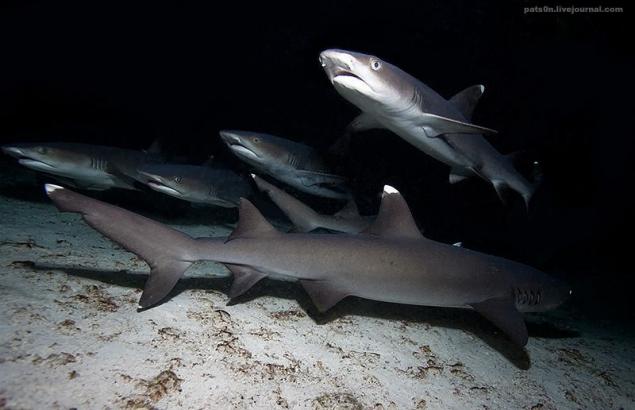 Moorish Idols at the point Punta Maria, the depth of 33 meters