FN 2000
TTH:
Caliber: 5.56x45 mm NATO
Type of automation: Gas operated, rotating bolt
Length: 694 mm
Barrel length: 400 mm
Weight: 3.6 kg empty in the standard configuration; 4.6 kg with 40mm grenade launcher
Shop: 30 rounds (any stores standard NATO / STANAG)
The picture FN 2000 grenade launcher and a computerized optical sight. (Ranging from ballistic calculator and other ...)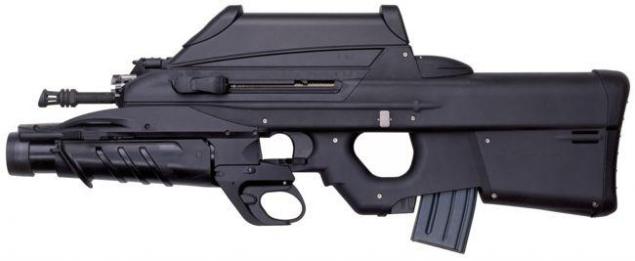 Description
At the same time work on the weapon of personal self-defense under the pistol cartridge company FN in the mid-1990s to replace its outdated 7, 62-mm assault rifles FN FAL and the relatively new 5, 56-mm assault rifles FN CAL and FNC has started exploring a new perspective individual combat weapon for shooting at a distance of 500 m. The result of these studies was the 5, 56/40-mm modular FN P 2000 characterized bold ergonomic solution. 2000 P modular system was first introduced in 2001. These weapons are designed for a staff of 5, 56h45 NATO cartridge is easy to handle, its design allows for quick and easy partial disassembly.
It is built according to the traditional scheme with gas-driven automation and barrel locking rotating bolt; Modes of fire - single and automatic. FN F2000 housing made of a resin in the arrangement "bullpap". The main "highlight" of the structure FN F2000 is a Patented circuit extraction to shoot the front liners - after removing the liner from the chamber, it is not thrown out at once, and passes through a special tube along the weapon almost to the muzzle and already there falls out. Thereby solved one of the main problems of automata constructed by the scheme Bullpup - ruled out the possibility of getting to shoot shells face an arrow while shooting with the left shoulder, while for the FN F2000 is not required, in contrast to the AUG and FAMAS, produce weapons any action associated with the assembly-disassembly. In combination with a two-way guard / translator fire mode is located under the trigger guard, this design provides a complete "two-way" system. The charging handle is on the left side of the weapon. Computerized sight, 40-mm grenade
grenade launcher.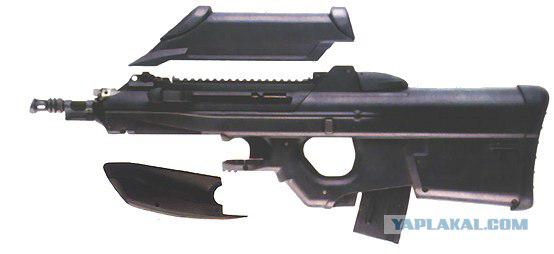 Forend F2000 is lekgosemnym. Instead, it can be installed: foregrip with integrated laser designator; forend with integrated lamp; 40mm grenade launcher development Fabrique Nationale; On the upper surface of the housing F2000 is a guide rail for installation of sighting devices.
Standard F2000 is equipped with a telescopic sight with an increase 6.0H and a wide field of view, however, it can be quickly replaced by any other sight (including night), having sootestvuyuschie mounting.
Instead sight on F2000 can be installed special komyuterizovanny module fire control includes a laser rangefinder and ballistic computer. Based on the data of the target range, the calculator puts the reticle sight for the firing of most machine and grenade launcher (if installed). Thus, F2000 turns into a sensible, more flexible, and above all, cheaper alternative embodiment of the American system OICW.
Posted in [mergetime] 1227358374 [/ mergetime]
ALL!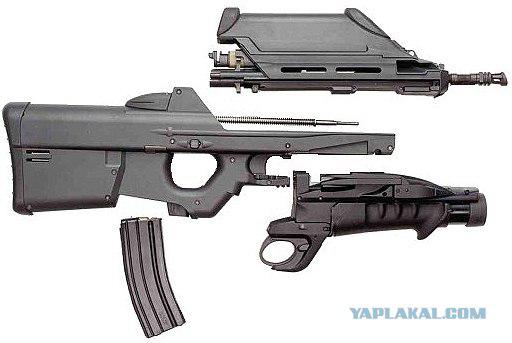 Source: