New Year - a holiday favorite for any child.
Yeah, maybe someone will say that today the New Year is already perceived very differently by modern children than 15-20 years ago, they have completely different characters and values. And that bag of candy gifts Santa Claus - yesterday compared with donated by iPad, which you can brag to their classmates at school.
But not here ... These guys feast themselves, without waiting for it to adults. Sami invent the script, costumes and rehearsing scenes. To show them to each other. Surprise your caregivers and visitors.
And they are happy Santa Claus and a simple set of a large bag of sweets. Even 15-year-old.
Children greeted aquatek_filips
45 photos
2. Sevastopol Orphanage №1 for orphans and children left without parental care has been operating since 1988. It has created a unique for Ukraine own educational system family type in a children's home, approved and registered at the center of pedagogical innovations the Academy of Sciences of Ukraine.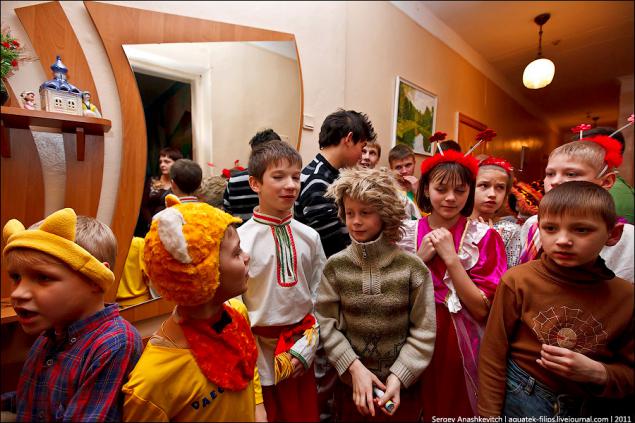 3. Create a regional model here orphanage operates a mixed type, and provides for the maintenance of children aged 4 years to adulthood, maintaining family ties between children from the same family, the creation of a special educational system, as close to the family. According to the director Lyudmila Mishchenko, this model allows us to develop customized, creative possibilities of each child to prepare him for an independent life.
Welcome home ...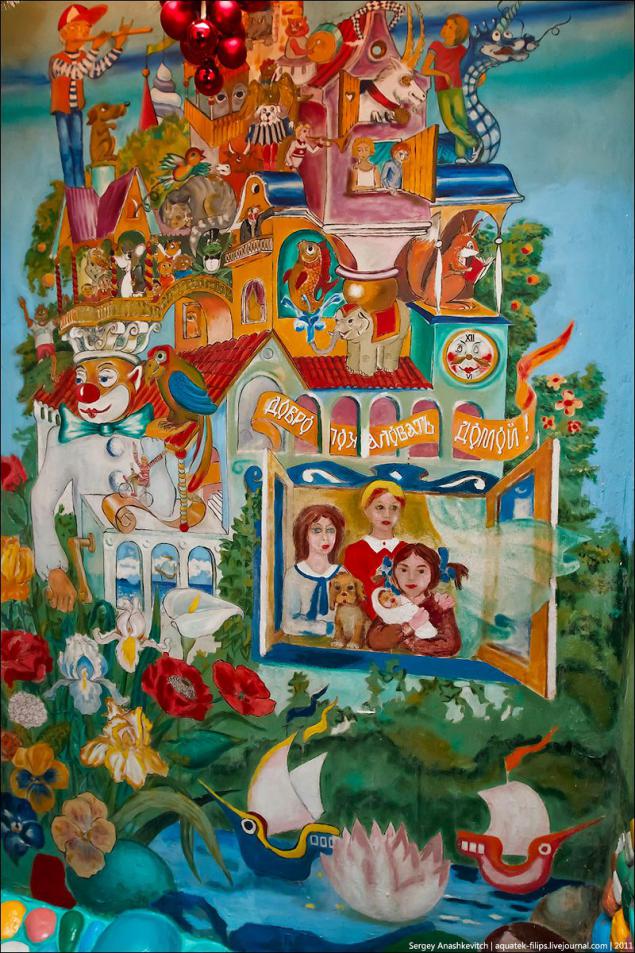 4. Before the New Year frequent surprises. So this time, I was unexpectedly invited to these children on the New Year's holiday. In their common home. This evening I saw five performances staged by children of various tales. Yes, yes - I'm not mistaken - it is five. By number of rooms, has turned into the evening in the small theater stage.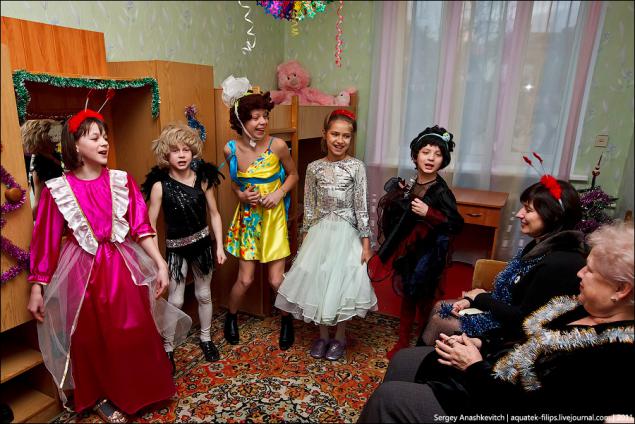 5. This was the traditional New Year's Competition rooms in which they not only decorated but was converted into a children's theater. The children themselves were selected costumes, rehearsed dialogues and scenes set.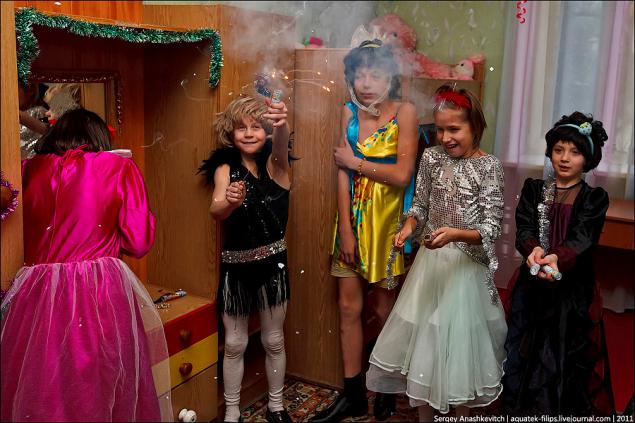 6. I have already said in this house brought children of different ages. The room is older boys posing a different, though also based on the story. But they interpreted it in their own way, even more than surprised to see teachers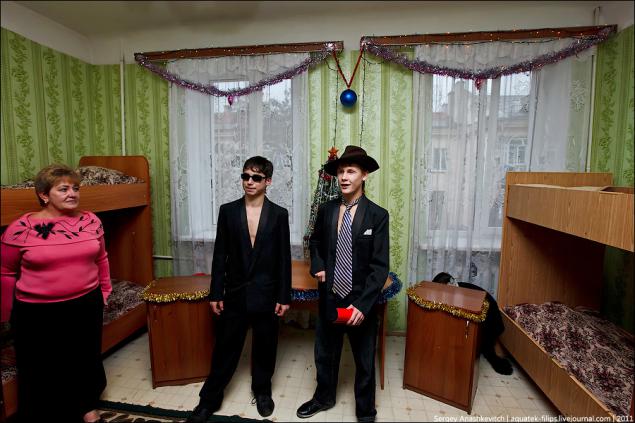 7. As it turned out, it was a new version of the tale of Little Red Riding Hood
8. At some point, even the head teacher and teachers were involved in the plot ...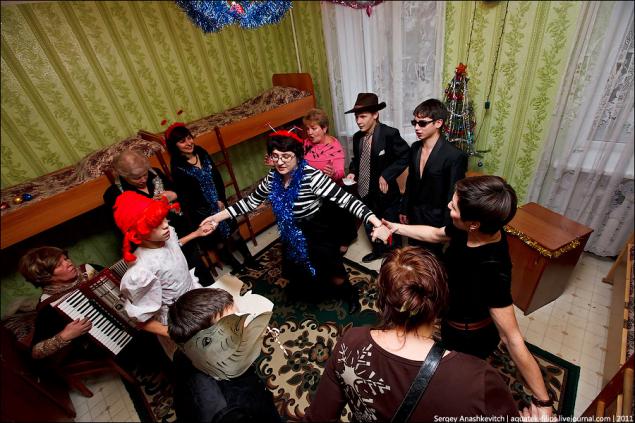 9. In another way to portray a green tree guys could not ...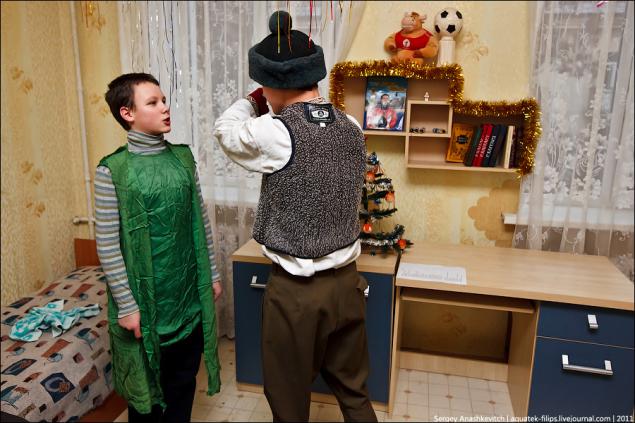 10. But Santa Claus was very even this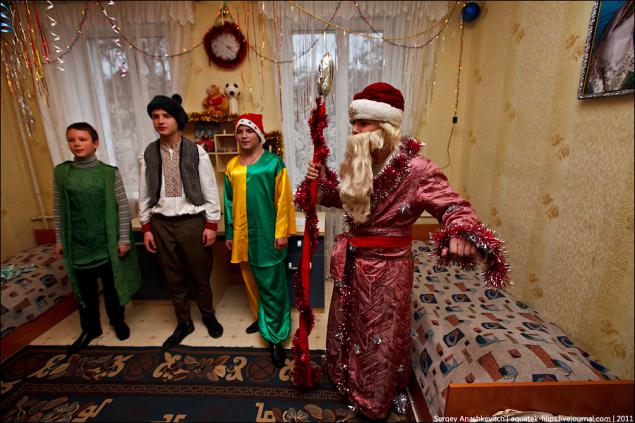 13. In this room we were shown the most enchanting performance. Children tried as if the act is not in front of their teachers and several guests, and in front of the selection committee GITIS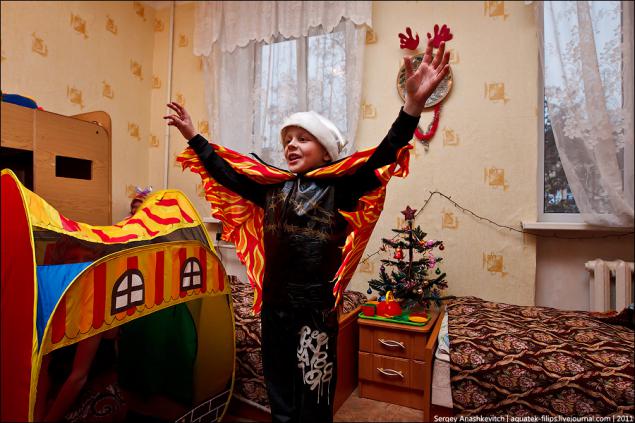 14. ... dialogue!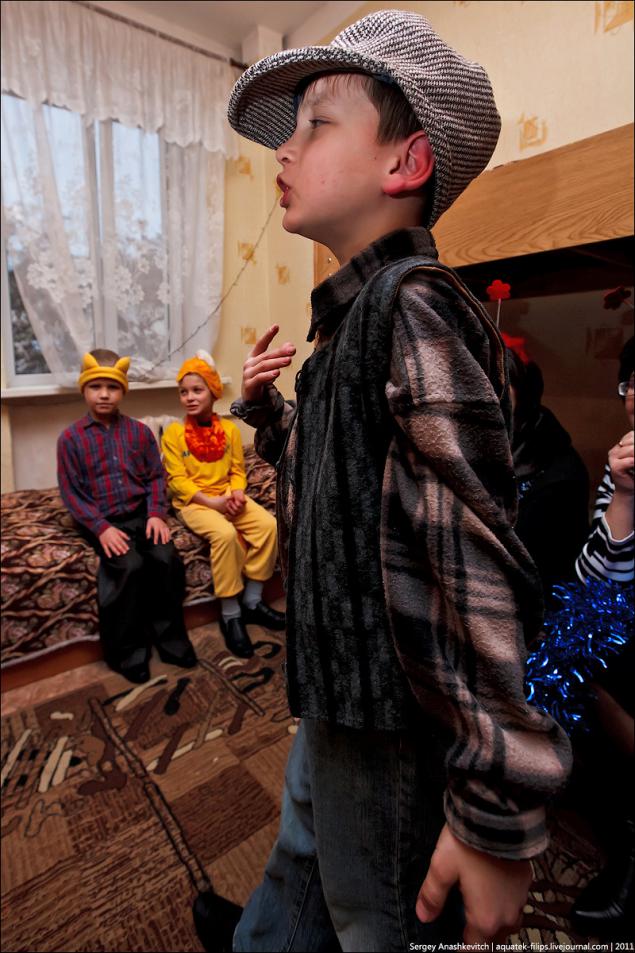 15. ... the images !!!
16. ... dancing !!!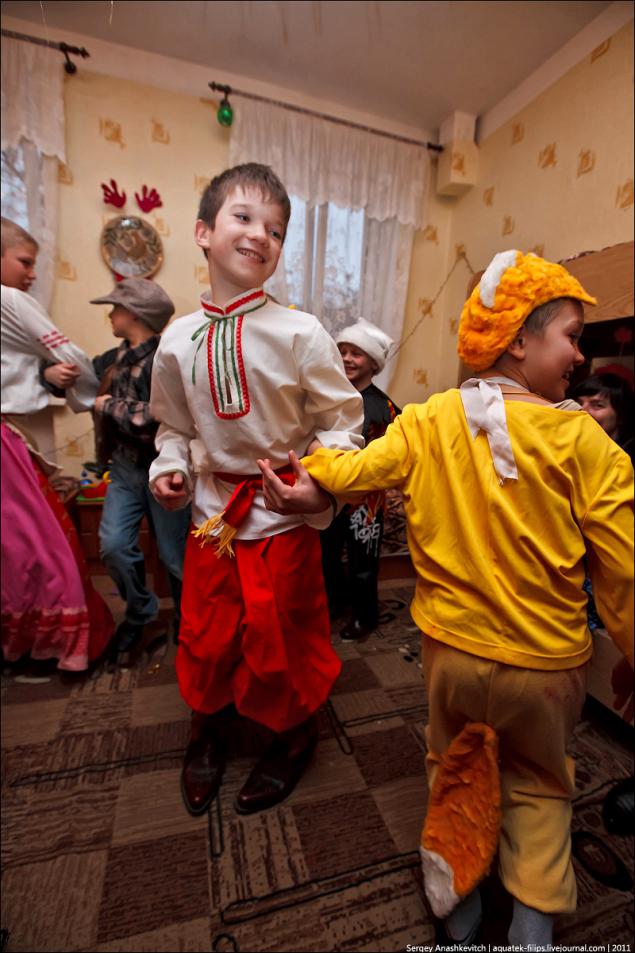 17. And finally - salute firecrackers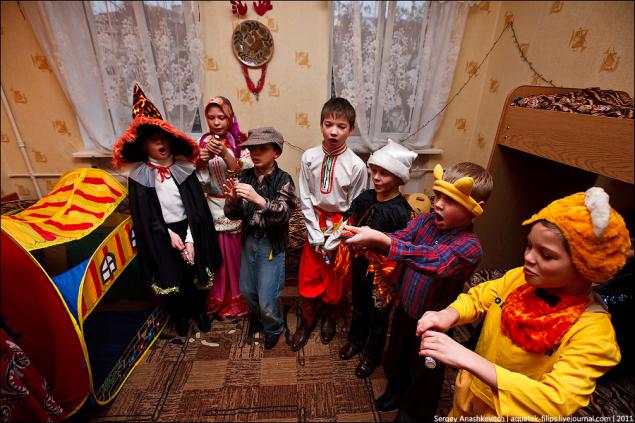 18. Children are children. All of them is always interesting.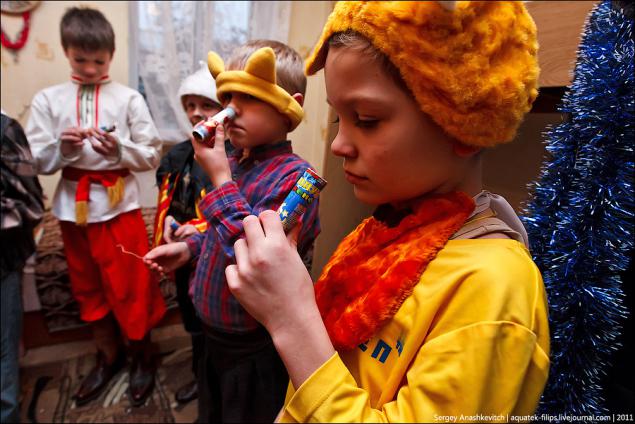 19. This guy was involved in performances of several rooms. His suit in the latest production impressed everyone ... and deserved traces of lipstick on their cheeks, which can be interpreted as recognition of effort ...
20.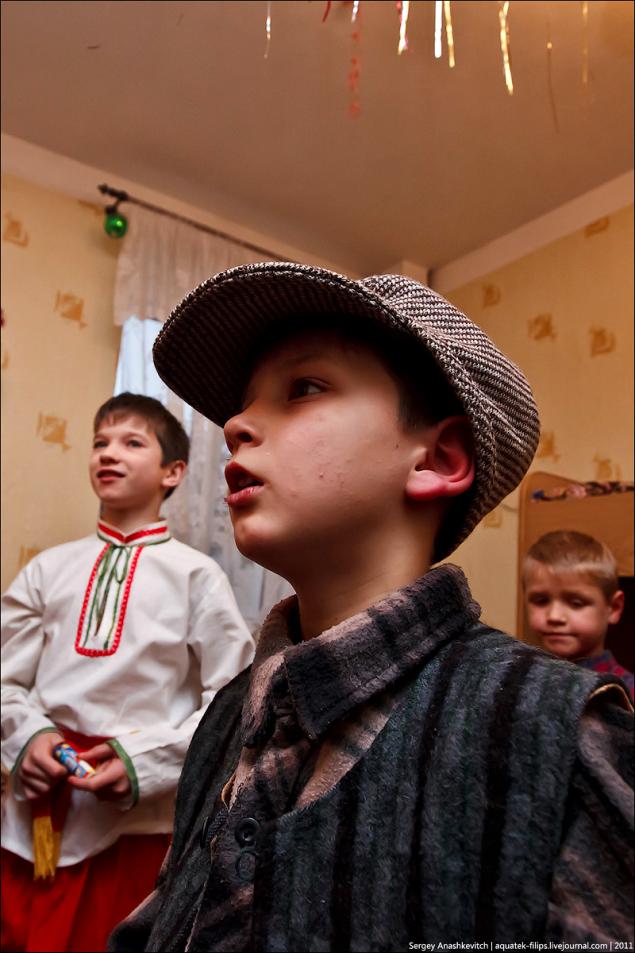 21. Most older kids showed to the world the Snake Gorynycha. He called sincere laughter and children managed to hook the audience ...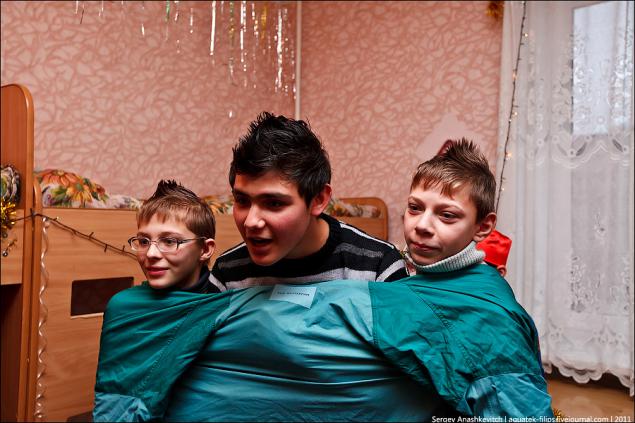 22. ... among whom were not only guests with educators, but also other residents of the house, showed their performances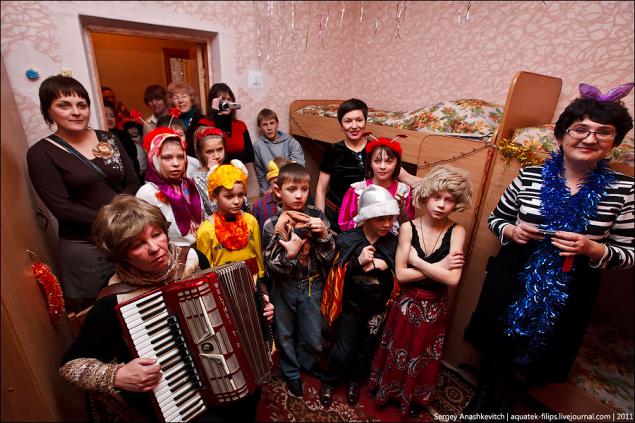 23. The point at which you know, here are the children.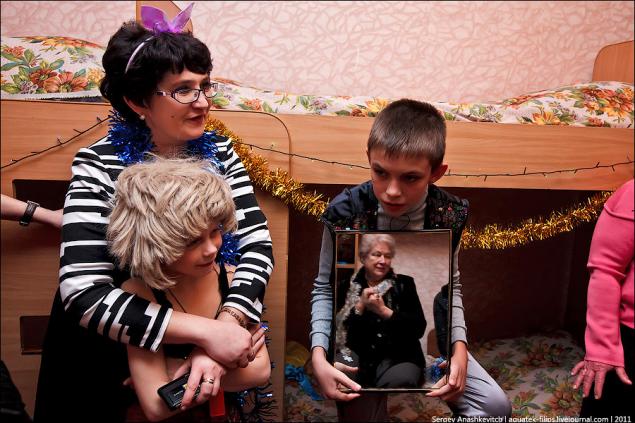 24. After these improvisations, all students poured into the hallway, where he began a mini-salute firecrackers. Ahead of them was still waiting for a common "Christmas party". Although the window was already getting dark, and was approaching the New Year ...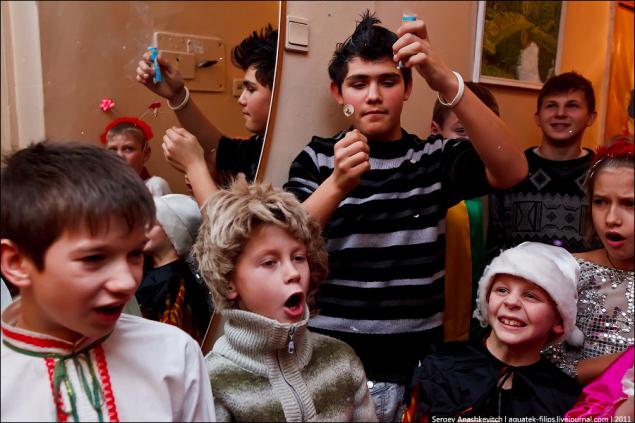 25. A few minutes before the start. Children themselves can not wait to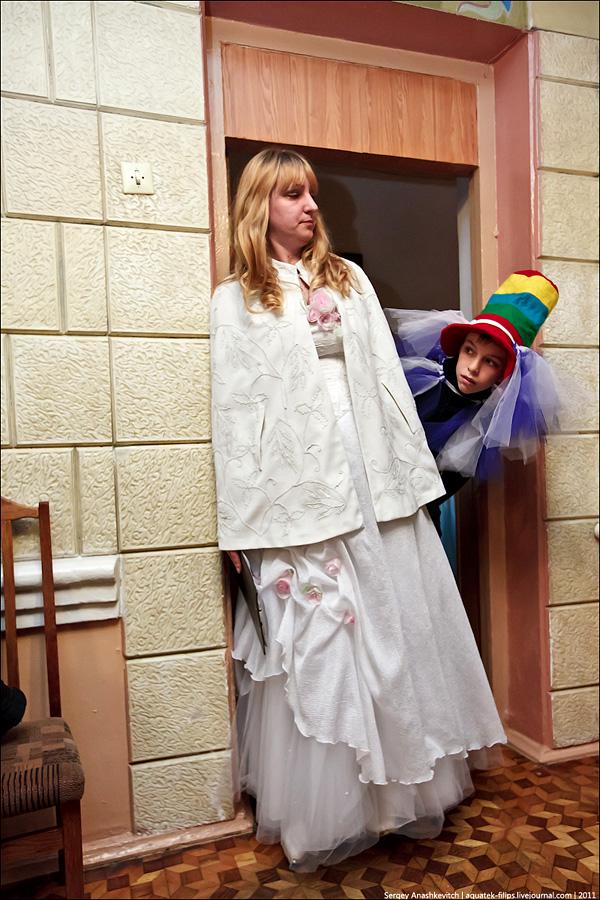 26. Costumes and views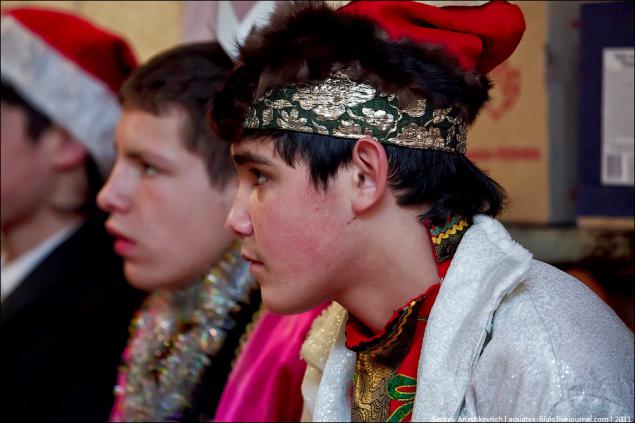 27.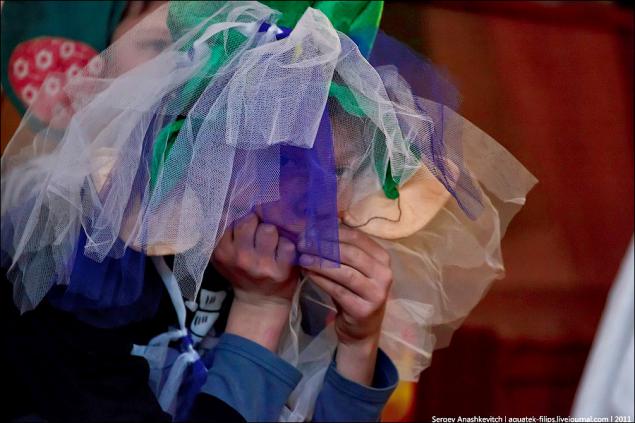 28.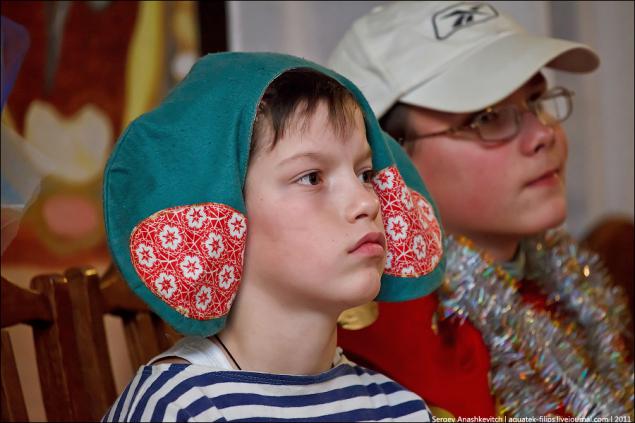 29.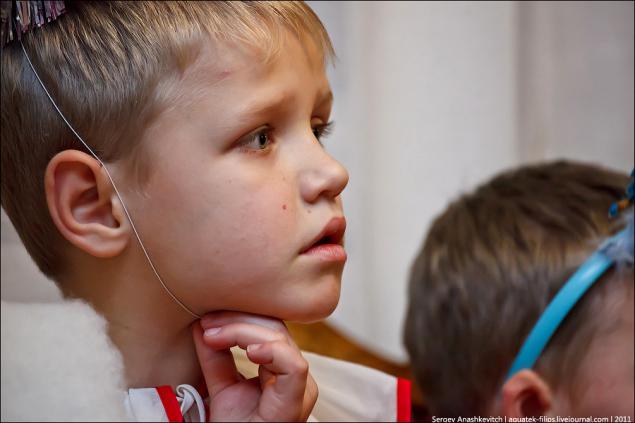 30.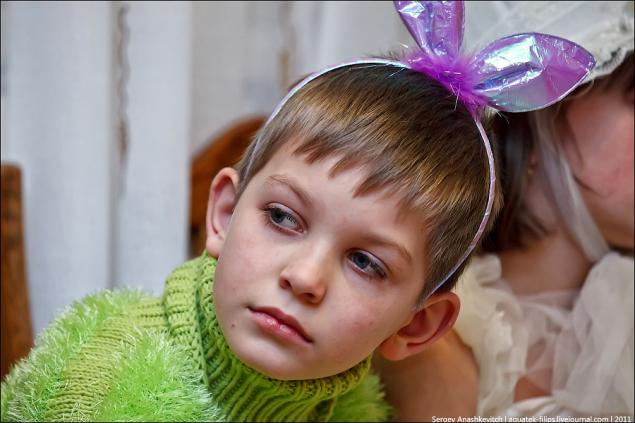 31.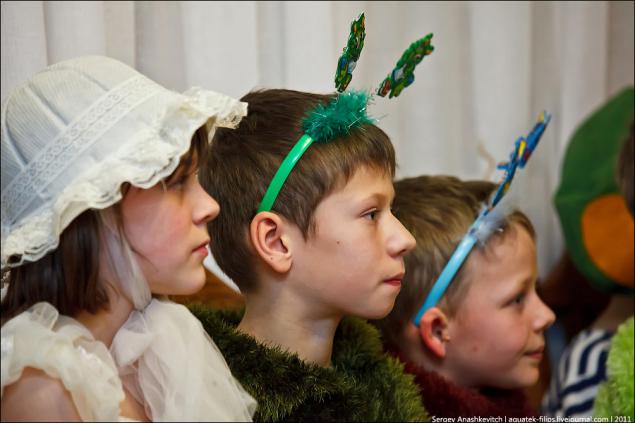 32.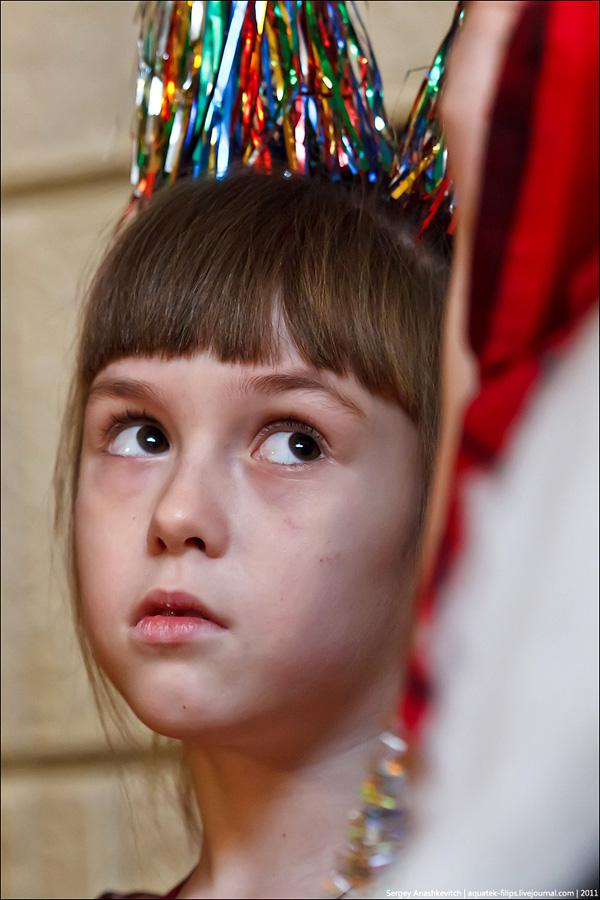 33.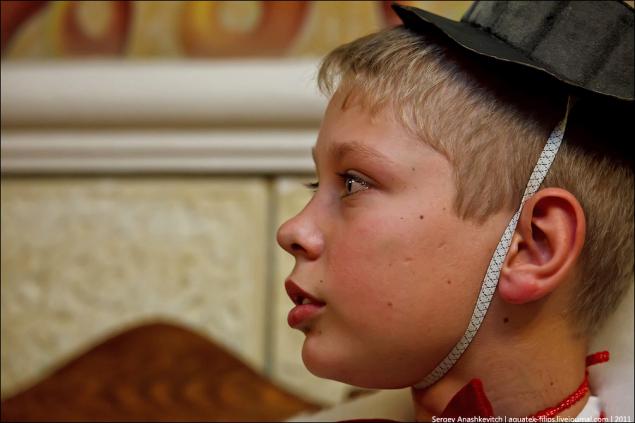 34. But here came the last guest, and mornings began. (Children's home №1 has long been taking care of the department on work with minors of the local police department, helping children with gifts and necessary, as well as conducting educational work with adolescents)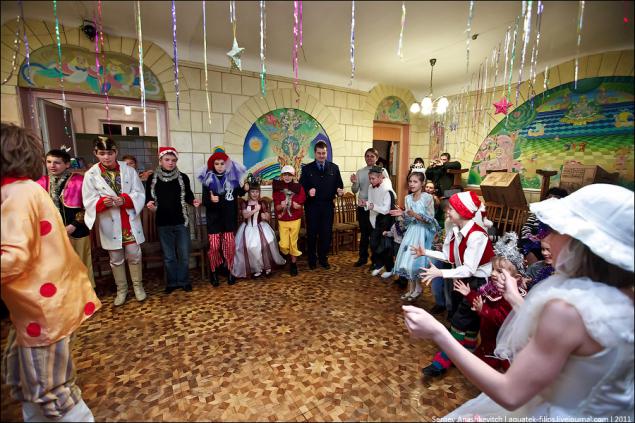 35. Rogue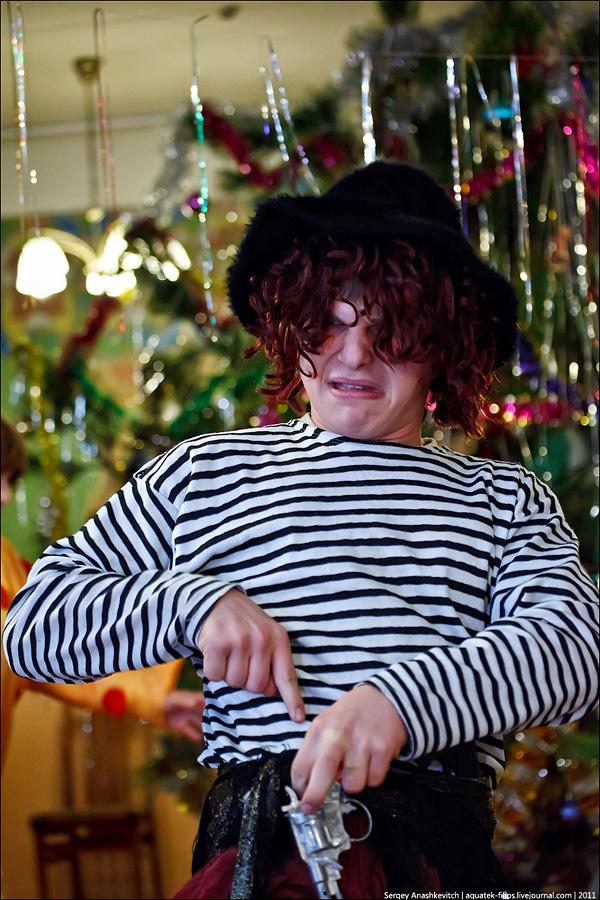 36. Cat from a children's fairy tale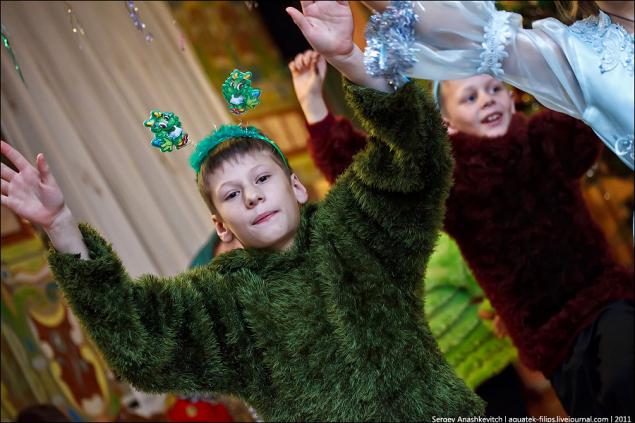 37. Dance Pinocchio friends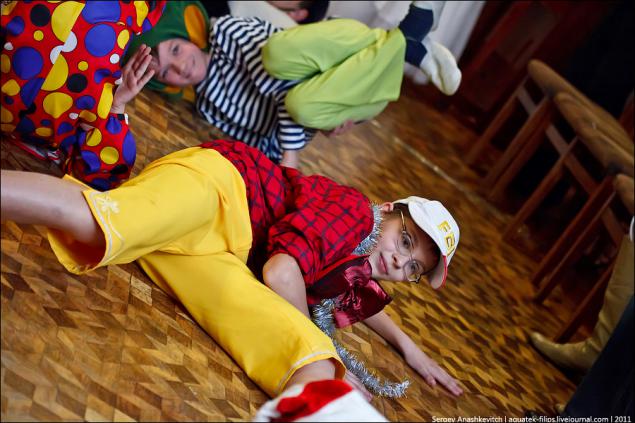 38. And, of course, Pinocchio himself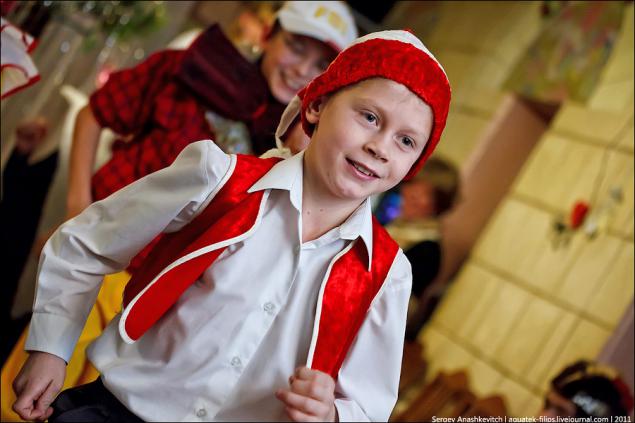 39. Baba Yaga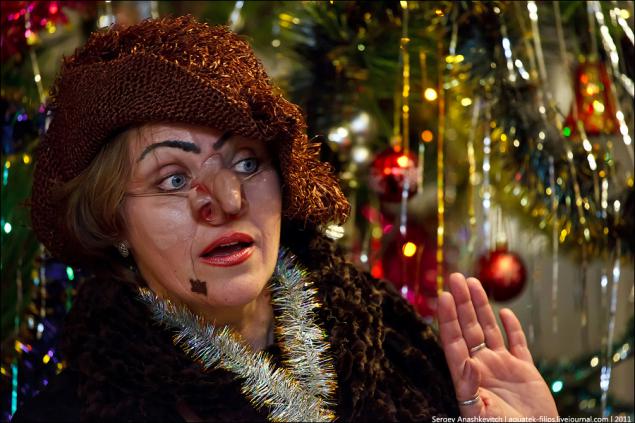 40. Little Princess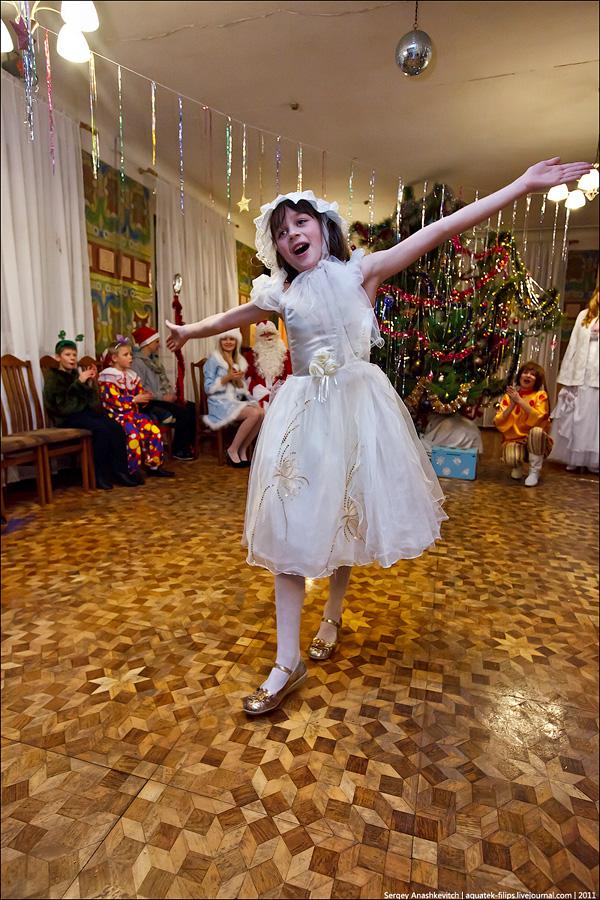 41. In anticipation of gifts from Santa Claus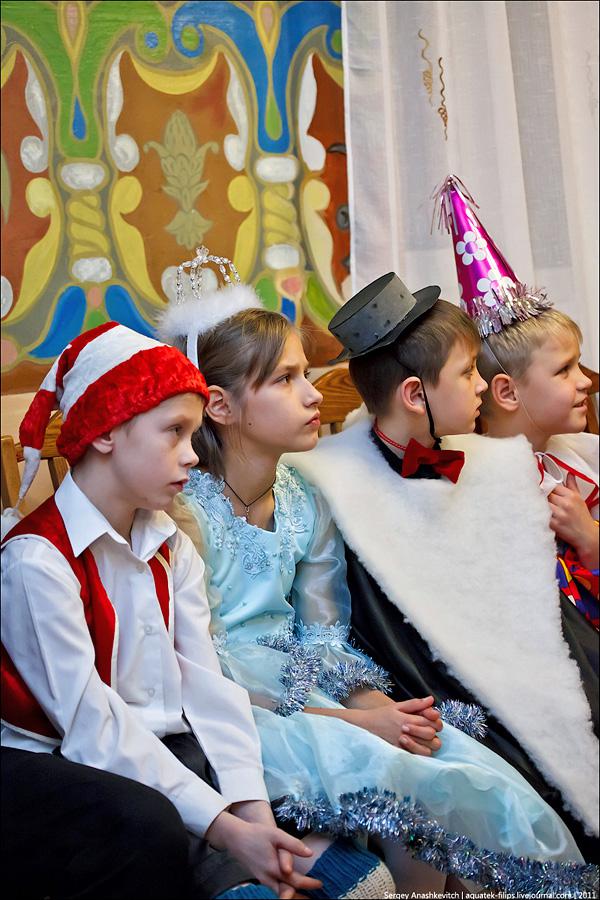 42. And the sincere joy of a small set of candies, extracted from the bottomless bag fabulous ...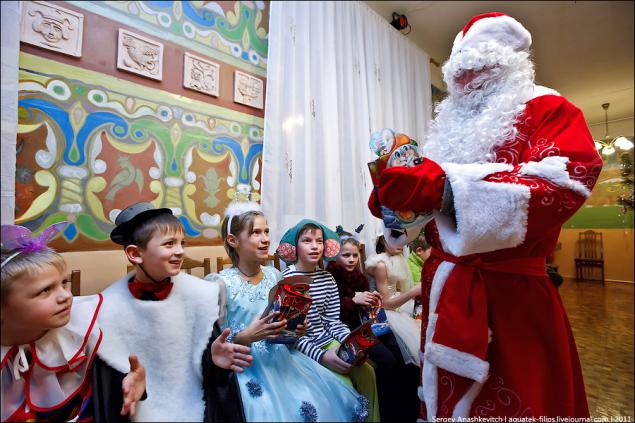 43.Zavershaya my story, I would like to quote some of the students, they were given in their postcards home for his birthday.
Expensive House!
I congratulate you on your birthday!
I want to say thank you for having given me this house, love, care and affection. I am very grateful to all the staff and teachers because they help me with everything !!! .. Thank you, my sweet home, for what you have!
Ivan K.
My dear house!
In this house I recently, but I'm used to it and attached with all my heart.
Nick S., 11 years old.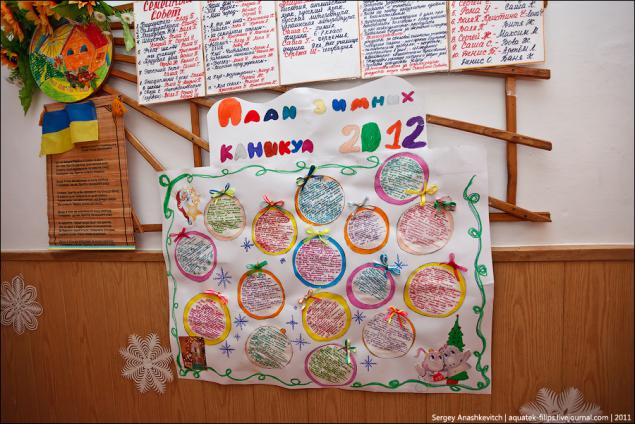 44.Moy cozy house!
In our house, I love my playroom because there are many fresh flowers, soft toys, board games. I was surrounded by warmth, affection, love.
Roma F.
Our house - it is a miracle!
I'm in this house for 4 years.
I'm very comfortable here. My best friends - a whole younger group. I really like to play outdoor games, especially football. I like to go to the pool. I love this game, where a lot of toys, flowers, colorful books. I want to thank all teachers for the heat that they give.
Dennis O.
My favorite home
In this house I recently. I really like it here. Especially to go on trips. I love this house, I love the holidays, games, watch TV. I have a boss - it's Kate O. she is kind, caring, and I have many friends. Vera V. Inna Eduardovna very good teachers. Many thanks to this House for all !!!
Ilya F.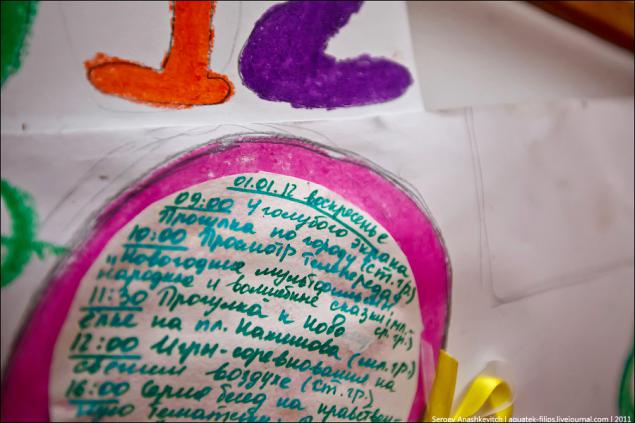 45.YA lived here for 4 years. When I came home I took it with a smile. I was immediately taken in the older group. Children's team liked me. There I immediately found friends. Mentor senior group Irina start immediately to help me adapt to the house. I told her I want to say thank you for it. And I want to say thank you to Regina Alexandrovna, thanks to her, I entered the high school of Commerce and culinary №34. I study in the second year already. But in general, I would like to say thank you all for having helped me to overcome all difficulties.
Dima M. 17 years.
This cozy and warm house, I only six months.
The guys took me very good. And when summer came, we went to the camp "Mountain" and rested there for three months. There I participated in many events and even traveled to the campaigns, and I really really enjoyed it.
And I had a lot of friends and I'm very happy.
We drove by a group of 10 people in a faraway place called Transcarpathia.
This trip is very memorable to me, as there was very interesting, beautiful and informative.
In this house, I lived 3 years. During this time, I finished Grade 9, was admitted to Teachers College, studying in the second year, acquiring a wonderful profession, "preschool teacher»
I am very grateful to all the staff of our house for warmth and love. Also, I'm responsible for this plot as a "patronage" is what our kids. I try to make each of our house was a baby brother or sister (boss) that they shared with happiness, fun, joy and sorrow. I love this house and be grateful for all !!!
Katia O.
This wonderful children's home I am almost a year. I live here. I moved to the world for the better. I began to bloom, and here opened my talents, my abilities, and it's all thanks to all the staff and children of the orphanage.
Olga L.
Oh, House, you are my one,
I love you my soul, as a saint,
As the sun from dawn to dusk.
My whole life was illuminated by you.
You are my high-rise building and Hata
Metal and fire departments hire.
You're my success and fame,
And the formidable shield, punishing enemies.
You are for me the holy right to freedom
And without you, I just do.
Tanya A.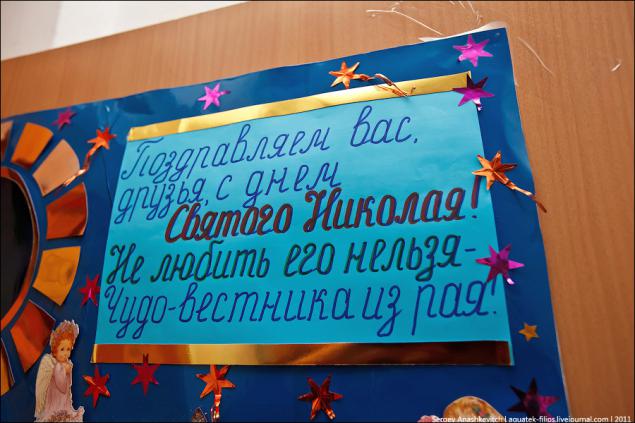 Source: