Risking their lives, the driver mixers rescued people at the bus stop on the uncontrolled KAMAZ. PHOTO
In the area of ​​Alupka on the highway Yalta - Sevastopol near the petrol station at the stop "Kennel" faced two heavy concrete mixers - KamAZ and «Mercedes».
Eyewitnesses reported causes of road accidents: during refueling KamAZ owned company "Budimex" car fell through the parking brake and start going down the road. The driver at that time was in the operating room gas station.
Uncontrolled cement mixer rushed to the mound at a bus stop.
Towards KamAZ drove a cement mixer "Mercedes" owned by the same company. The driver of "Mercedes" after seeing a car that is moving on the highway without a driver, kept his head and framed by uncontrollable colossus, which went directly to the people standing at a bus stop, his car. Shot hit head-on, according cit.ua. Dangerous car was stopped a few meters before the stop. The driver of "Mercedes" with harmless life injuries was hospitalized.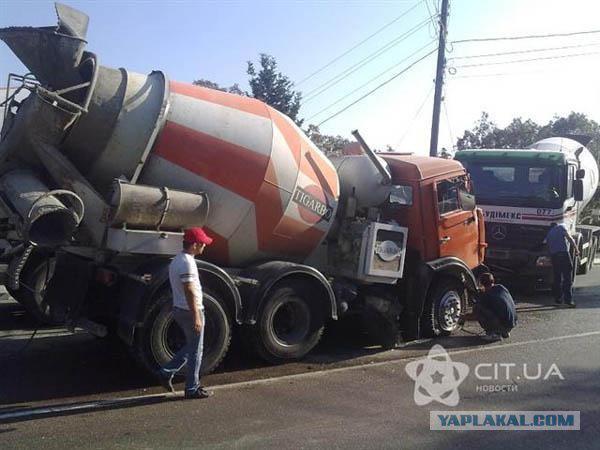 The driver of the oncoming "Mercedes" was not taken aback and stopped KamAZ, risking their lives
It should be noted that the route Yalta-Sevastopol quite lively and surprising that two heavy-duty trucks are not hooked up other machines.
Source:
censor.net.ua/photo_news/220775/ris...ogo_kamaza_foto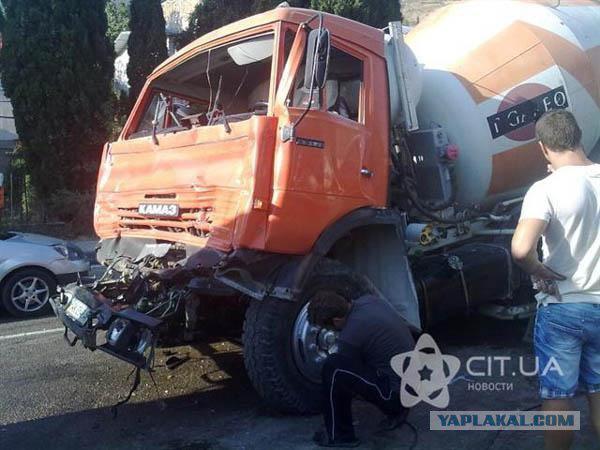 Source: