Hence
Billionaires - too different. Someone needs to yachts, airplanes, football clubs, Faberge eggs. The owner of the bank Roman Avdeev addition to his four children adopted 19 orphans. The billionaire, who the magazine "Forbes" took 69th place, estimated his fortune at 1, 3 bln. Dollars, its main wealth considers a large family. As it developed, and what to do with orphans in the country - told the "RG" very many children banker.
Roman Ivanovich, if you were not a wealthy man, would have adopted many orphans?
Roman Avdeev: The honest answer to this question is difficult. Of course, my financial condition helps me a lot. We, too, are faced with serious health problems in children, and are forced to deal with them abroad. As you know, is not free. We have the opportunity to hire teachers, babysitters. But I know the family is not wealthy, who take the child. My friends adopt an orphan from birth trauma - the same age as their own child. I take off my hat to them. I have enough will power to take a disabled child - I do not know. You can upload anything, but value are not words, but deeds.
What prompted you to take the first child?
Roman Avdeev: I come from the Soviet Union. And what is promoted, for me is not an empty phrase. When I see the street grandmother who sells anything, because she needed the money, I was embarrassed that I had a lot of them. And to the children who have dropped out - a shame. I tried to help the orphanages, and came to the conclusion that it is useless. Well, it will be replaced with plastic windows, make repairs - Children from this neither hot nor cold. This is for checking. If you want to do something for the child - do. The ability to take the orphan is not at all. But more importantly - the willingness. When I realized that the family is ready for such a step, we adopted twins. And then - easier. Who has three older live alone, but in the summer we adopted three kids, so that we are 20 children.
In the view of many, the wife of the billionaire should spend time in a beauty salon, and you have - just Sophia Tolstaya ...
Roman Avdeev: It has taken me 12 children. We started to adopt orphans from a previous wife, who, unfortunately, died. Frankly, I'm not going to marry with such a burden. Women are generally more difficult than men to take to the family of someone else's child. This is a strong emotional load. Elena took all we had a daughter, and five we adopted. She also teaches English at the institute, even though I buzz in her ear, to give up the work.
It's hard to imagine such a large family day ...
Roman Avdeev: Today I got up at five in the morning, went to the gym. No one has seen - to be engaged at this time no fools. In the evening, I come back - the children will be sleeping. With me so often happens.
We have two in the fourth grade, which independently stand up to the school, another four first-graders - helping them to get together and have breakfast. All are studying in ordinary public school in Odintsovo. There half an hour away from home - drove the driver.
After lunch, go to class podgotovishki. Before that, they went to kindergarten - also common, are now preparing them for school. Read-write - is one thing, but psychologically it is difficult to sit through 40 minutes of a lesson. Therefore load sports: in the house - pool, courtyard - rink. Too bad that the major classes are taught at home, because it is not enough to communicate with their peers. I try to socialize them, and not isolated from life.
Of course we also have au pairs, and the cook, and the drivers ... In one house does not fit all, in the area of ​​- four. Every child - your own room, your personal space. In the summer leave in the Lipetsk region - there is also built several houses.
Costs are comparable to such a family, such as the contents of a yacht or an airplane?
Roman Avdeev: I have never had a boat, and I'm not going to buy it, so do not compare. All major family expenses - to nurses, teachers, tutors, coaches. Besides Russian teachers with children involved foreigners. All our children are taught, the two languages ​​- English and Russian. This is important - two cultures, different perceptions of the world. Then they are easy to learn and a third and fourth language.
Went to study abroad?
Roman Avdeev Sent, twelve years.
With the formation of more or less clear, but what is education? Remote access?
Roman Avdeev: To this question I usually answer that the child does not need to spend much time. It should be given when necessary. Family - is the environment where the child feels safe. We create an environment to him. Get together on family councils, we discuss what it was a week. Without doctrine. It is important to start the mechanism that makes us human. Here's how to teach your baby to walk? Supporting the handles - not to fall. This bruises, bruises are inevitable. But do not give him a go - even greater evil.
Are you a strict father?
Roman Avdeev: I play the role of Baba Yaga. When you need someone to talk seriously, I do. It happens, and punish. On New Year went to France to ski. Girls 'framed' brother, for which he had been deprived of all the sweet vacation. But we talked - they understand why it happened. And I do not like Yabed - nipped in the bud.
You probably often ask: Are not you afraid of genetics? "Abandoned" children come from drug addicts, alcoholics ...
Roman Avdeev: I think that questions of morality genetics has no influence. It lays education, traditions and culture. Here the role of parents is great. The formula is simple: my children need to know what is good and what is bad. But I will not impose anything: when they grow up, have made their choice.
Do you know the most common wishes of potential Russian adoptive parents? That it was "a girl of three years of Slavic appearance." Do you have a preference?
Roman Avdeev: About nationality we do not even talk. But age has a value for us. We try to take the abandoned babies up to a year. Just to put in more than a child. This period - from zero to three years - is very important for its formation.
Whether the secret of adoption?
Roman Avdeev: Need. Let the family decides to talk to the child that he was adopted or not. After all, the history of various ...
And you tell the truth to your children?
Roman Avdeev: I do not hide, and it is impossible with so many children. There was a case when I was a child asked whether it home? I say we have a family, I - godfather dad, Lena - godmother. He ran away, as if nothing had happened. And then I experienced.
When will be the biological mother or father, you are empty?
Roman Avdeev: Who is unlikely. But when the children grow up and if they want to find a parent, I will help them.
You like Bill Gates wrote in his blog that the children are not going to leave a legacy. It's so?
Roman Avdeev: Who does not repeat the Chinese proverb that it is necessary to give a fishing rod instead of fish, and give all the same fish ... Of course, I'll help children, but for them to do is not going to. When seniors are growing up, I buy the first car. They used to say that the best first car - a Zhiguli. Now I stand on the position that it could be anything, but no more than 400 thousand rubles. Of course, offended. I, too, as a child it was a shame that someone was better than a toy, and we lived modestly enough. But that's OK: in general, and the growing soul. So we socialize.
Have you ever wanted a big family?
Roman Avdeev: I did not put the question. This is my destiny, and I'm pleased with it. For me, the family - not a burden, but a part of life, from which I enjoy.
In connection with the new law around orphans serious passions. Do you think it necessary to give Russian children for adoption abroad?
Roman Avdeev: If our country did not have such a large number of orphans in the orphanages of almost 800 million, and the adoptive parents were standing in the queue, it certainly would do without foreigners. But in the context of the current situation, in my opinion, should be given.
All children have to live in families. Orphanage - a dead-end. I traveled a lot on them, familiar with the situation. It's not that people are bad, or there is not enough money, the system itself - sweatshop, it can not grow adaptive members of society. And it's no secret.
Who heard different suggestions on how to reduce the number of orphans in the country. For example, a lump of 100 thousand rubles for a disabled child, to simplify the procedure of adoption ... Do you think this will effect? ​​
Roman Avdeev: I have two hands "for" financial incentives. But this alone does not solve anything. And sometimes it leads to the worst. If you remember, in one of the subjects of the federation have established a decent payment for foster families, but in a crisis they cut, and people began to return the children back to the orphanage. It's kind of trauma for orphans!
But financial incentives - not necessarily the direct payments. These children should be guaranteed free education (such - so that they can go to college), and free medical care, including all necessary operations, and if the child - disabled and the prosthesis.
The state itself, without the participation of the citizens, can not cope with orphanhood. It should form the environment where these problems will be solved punctually. Its mission includes the promotion of family values. Sounds Soviet-style, but it's true. At least for the sake of self-government should promote and support the family. And we have even in advertising, if operated by way of the family, it is always a father, mother and one child.
Is it so complicated adoption procedure today?
Roman Avdeev: This is one of the commonplaces of "Legends", which is necessary to collect an incredible amount of securities. Of course, you want help, you're not a drug addict, not in prison, and did not fatally ill. I do not know which of them can be ignored? I easily draw all the children and went through all the courts. I was willing to pay, but even a hint of it never came. However, in the passport office it was a funny incident. I came to the decision of the court to prescribe the child, and I say: "Do not prescribe, you want to get an apartment from the state».
Orphanage - a long time?
Roman Avdeev: I'm afraid so. The problem in society should be put in another way: do not reduce the number of children in orphanages, and do everything that they did not get there. I was invited to the TV show, where there were young parents - themselves former orphans who have seized four children, because they live in poverty. Bodies of guardianship easier to remove children from dysfunctional families, than to help her. Well this is not normal. Then let's go to India, take away all the children from the slums.
As for state-owned children's homes, they have to integrate that and there was a pool, and all kinds of facilities, clubs and societies. And students need to go to an ordinary school - along with home. While their parents probably will resist. In words, we are all for the orphans, "but not in our school».
Help
Roman Avdeev 45 years. Born in Odintsovo. He studied, as he says, fitfully: MEI started with, then - University business and information technologies, Technical University. From the first co-operators: at 22, then began to produce scarce decoders PAL-SECAM, which are sold at the Tushino radio market. After 5 years, I have acquired a small bank with a dozen employees, now it is - one of the largest in the country. Among the sporting passions - yoga, skiing, boating, biking.
Photos from the family archive of Roman Avdeev: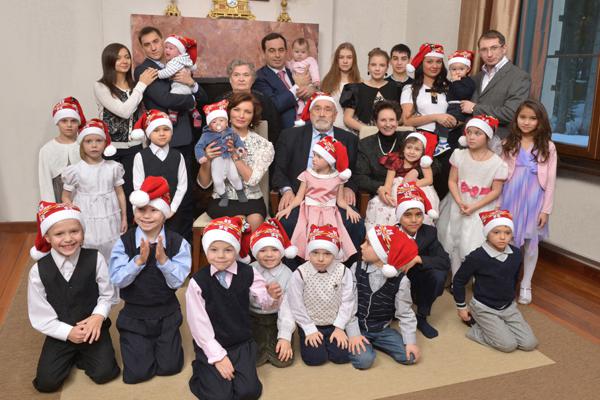 Source: