Will 40 ph and a bit of text.
After my post about the wedding in the United States many people asked about the car, we were taken there in a rental. This post, I decided to devote to it and its use. Fans road romance, as well as wishing to explore the area Vegas - welcome!)
So. Vegas. All the time there is boring and not kosher. For a number of chic PILE National Forest, which is worth a visit. Let's start in order ...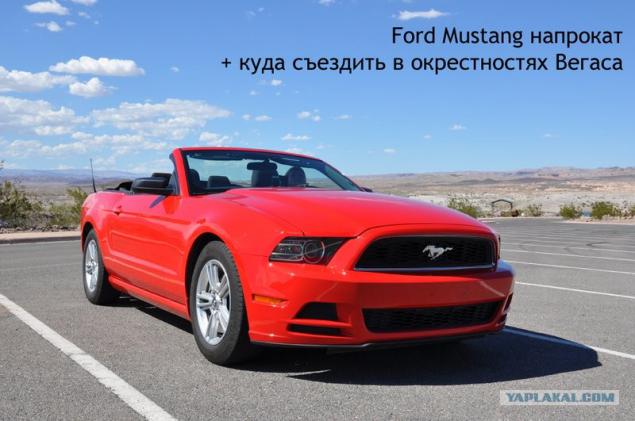 I have our national driver's license looks like. "Pink" as they say. That is there is no mark in the English language, that it is generally for the document.
02.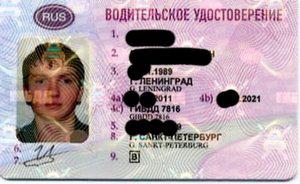 Therefore, for fear that I will not allow the car rental abroad I make an international driver's license.
03.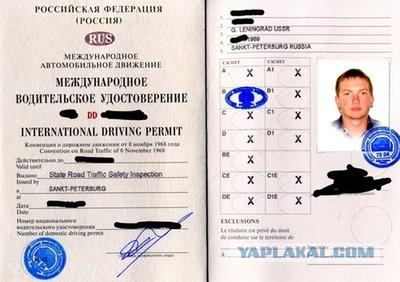 In Vegas, we rushed to look for an agency that will give us a cheaper car. First we went to the hotel Hard Rock. There we were offered a Toyota Corolla, I believe, $ 300 per day !!! Of course, we rejected: we could move like something truly American: SUV muskulkar, minivan ... anything!
04.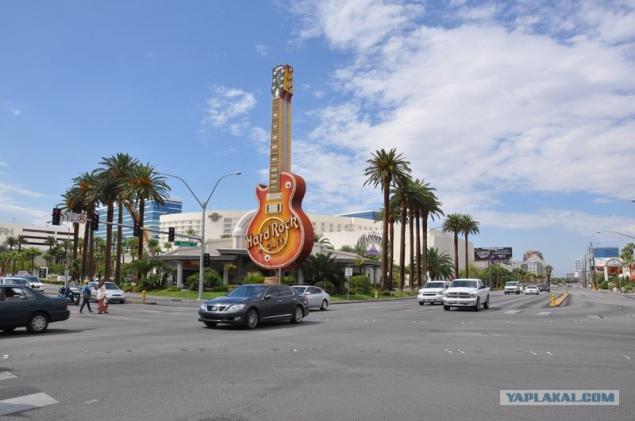 As a result, we found the office «Dollar». In fact it is the most inexpensive, we found in Vegas. In the season of Ford Mustang for three days cost us $ 500 (includes insurance and GPS). Of course, if you shoot in advance and booked on the internet, will be cheaper - but we do not have guessed. Take into account that they block about $ 300 on your card, just in case (come back). Is the office here:
05.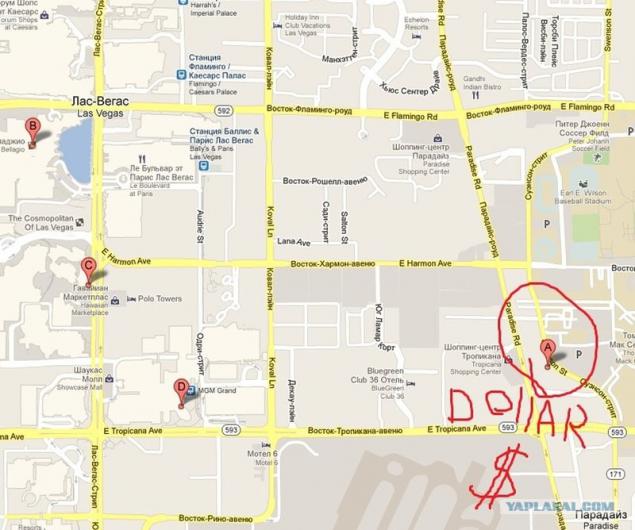 Incidentally, in place when we come to draw on the rental car, I did not ask anything but ordinary "rights" and credit. The problem is that we wanted to take a DIFFERENT car for 3 days. And alternate them. It should be as it was: Ford Mustang & gt; & gt; & gt; Dodge Challenger & gt; & gt; & gt; Jeep Wrangler.
06.

But the employee's office have failed. He promised to book the desired cars for us, but did not fulfill his promise. As a result, in the three days we stayed with a red Ford Mustand. And on gram not regret ...
07.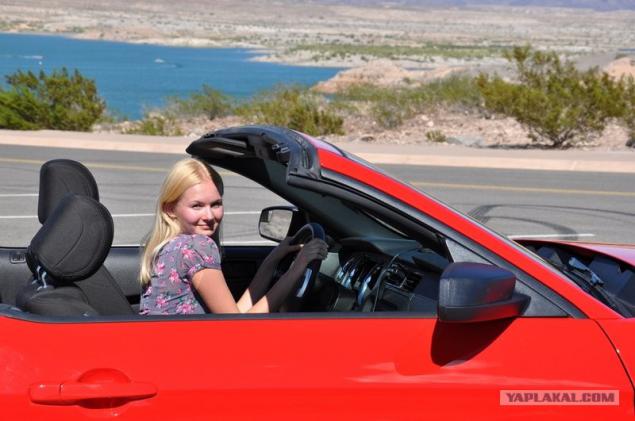 After setting up a GPS-navigator in Russian, "Distributors" said, "now that I'm here do not understand." Instead, he drove us to your bookmarks lake, to which all the "lasvegastsy" go to rest!
08.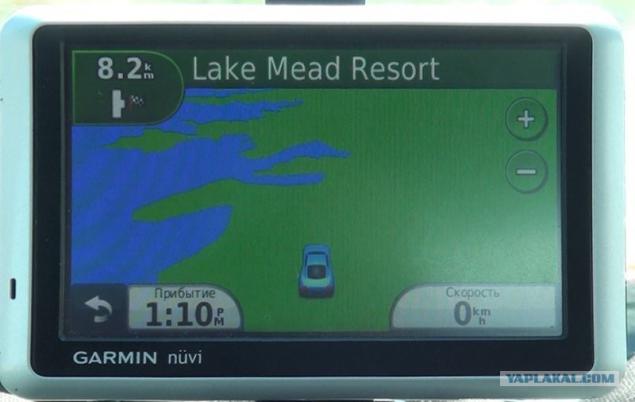 Located here:
09.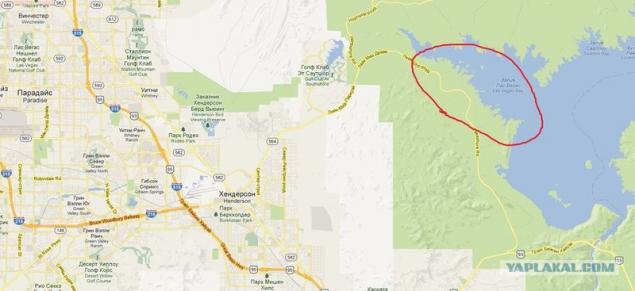 And we went to him first thing. It is called «Leak Mead». Species there is certainly elegant ...
10.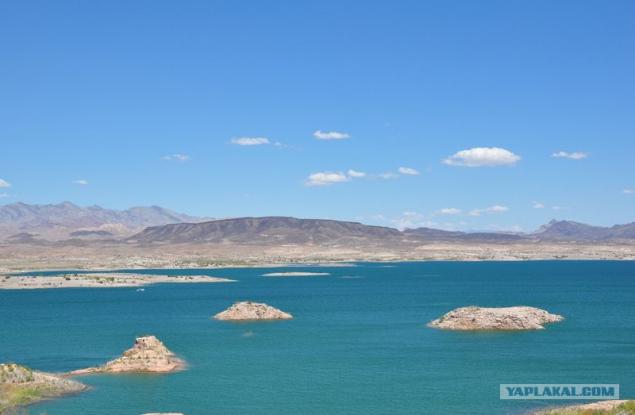 We had a small photo session itself from the car and the car in the background we have. And all this against the backdrop of the lake;)
11.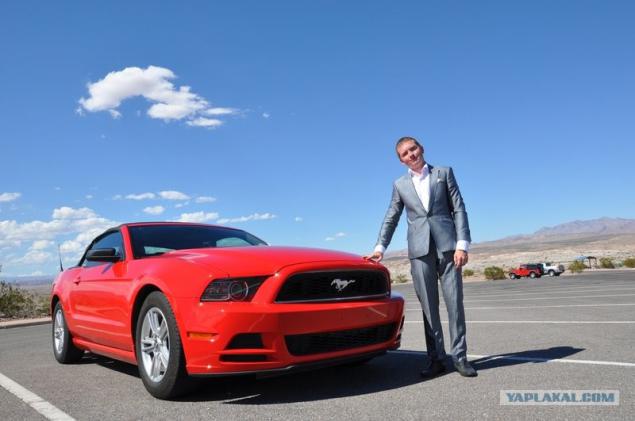 And another.
12.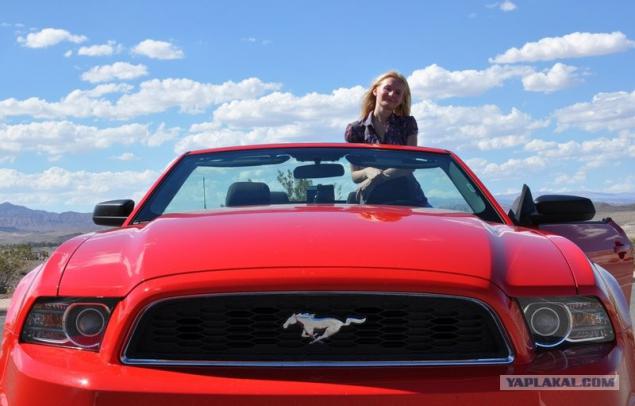 After the photo session, we found an interesting place on the lake. In the parking lot next to it were mostly giant jeeps, real "Americans».
13.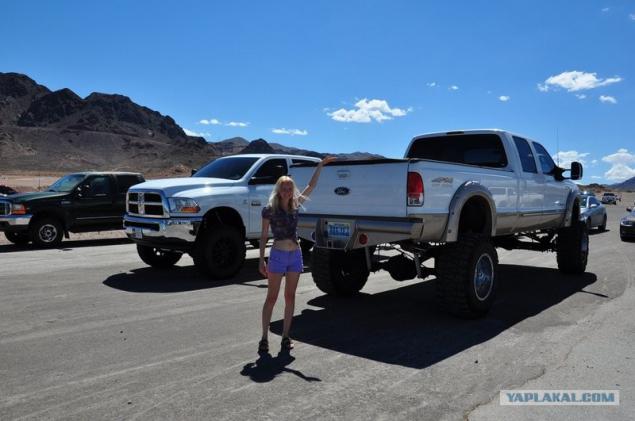 It turned out that they were here so fun: drive the machine to the trailer into the water, the boat is lowered, vodnomototsikl-ukogochtoest and enjoy)
14.
On the same day, we went back in an interesting position. Map for clarity:
15.
We were hoping to meet sunset in the mountains ...
16.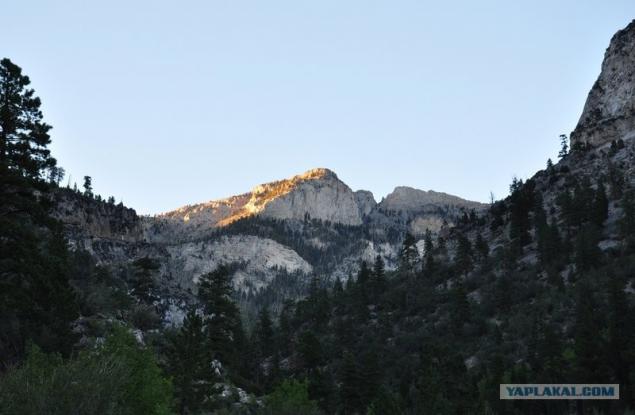 ... But a little too late: the sun fled, not waiting for us.
17.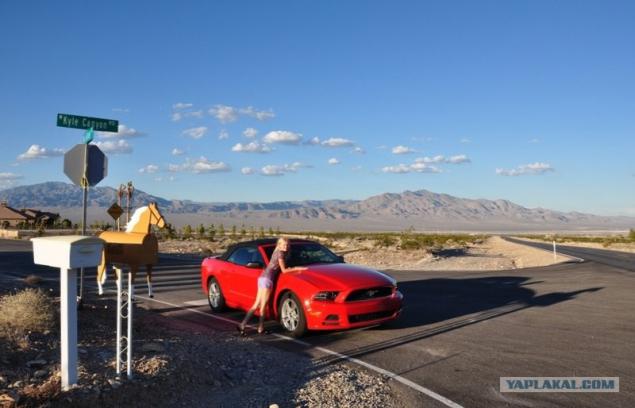 This photo was under this angle. There is strong slopes.
18.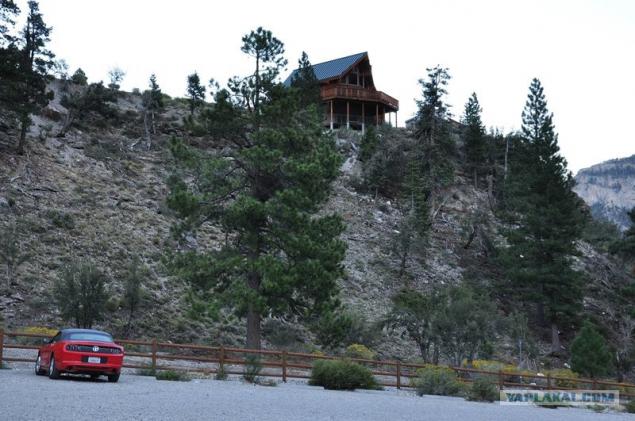 The next day they decided to look under the hood of the car. Especially do not understand this, but I had to look;))
19.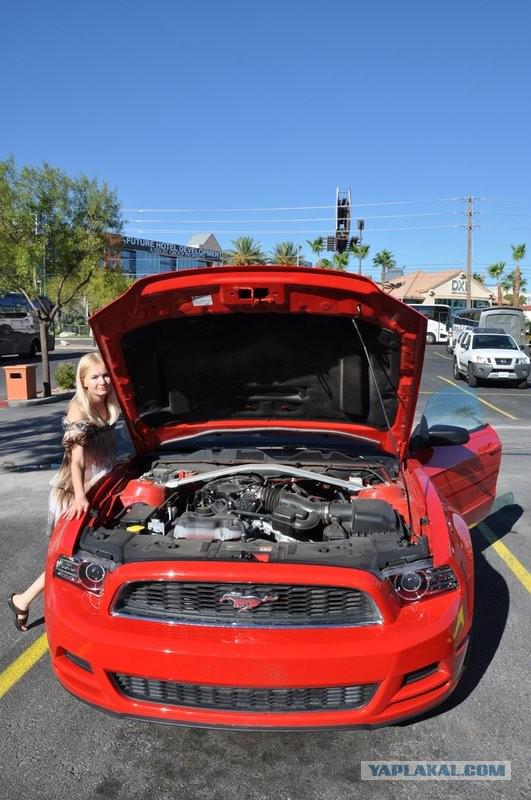 And they went in daleeeeeekoe trip to the Grand Canyon. On the way we stopped at the famous Hoover Dam.
20.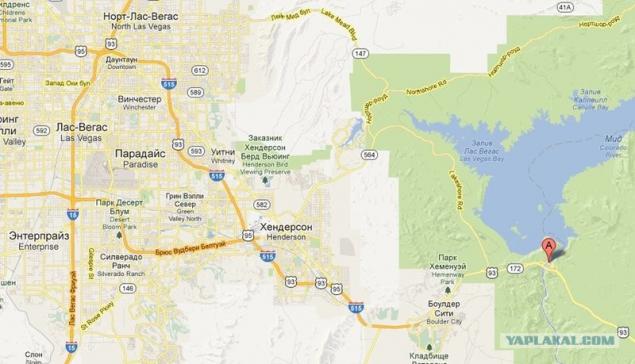 It was very hot, and the road still to be large. Therefore, the tour was not taken - so went over ...
21.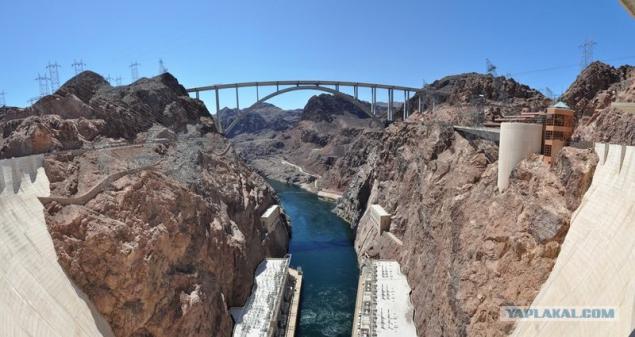 GTA San Andreas everyone remembers?
22.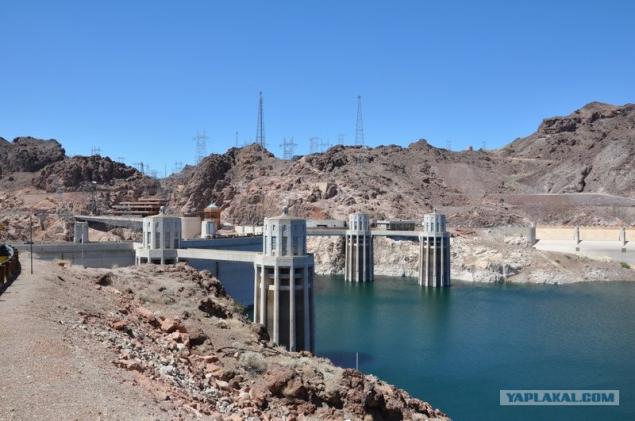 Finally, we went to the side of the Grand Canyon ...
23.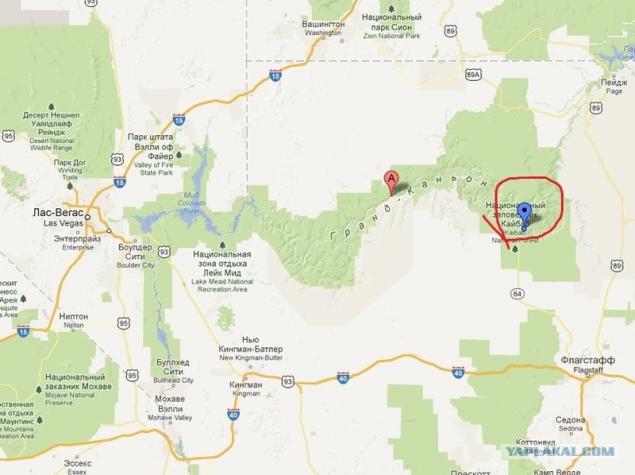 I had to go well. If we take away from Vegas, in one direction about 450km. But the roads ... THERE ANY WAY! Go - a pleasure. I put the cruise control at speeds exceeding the limit of 10 miles per hour - and sit
"Steering wheel" keep ...
24.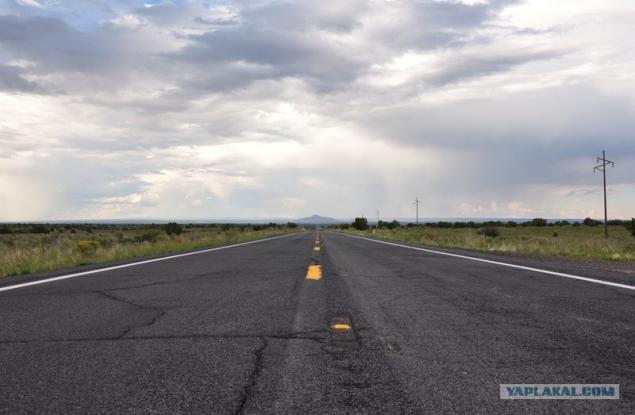 Along the way, the landscape outside has changed several times. But the juiciest footage obtained when clouds came running.
25.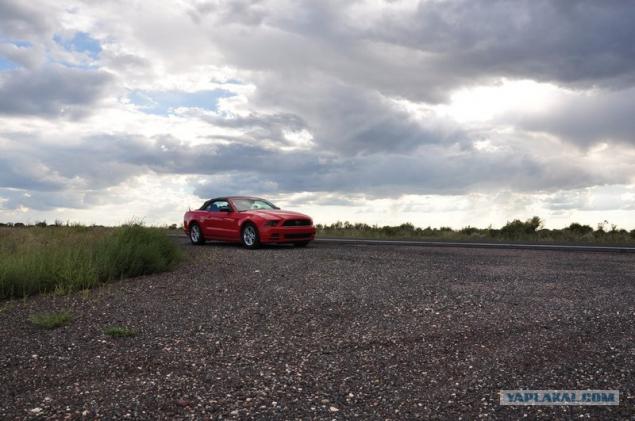 As a result, we only 6 pm were in place. The feeling there is such that neither the words nor even more so my optics do not pass ...
26.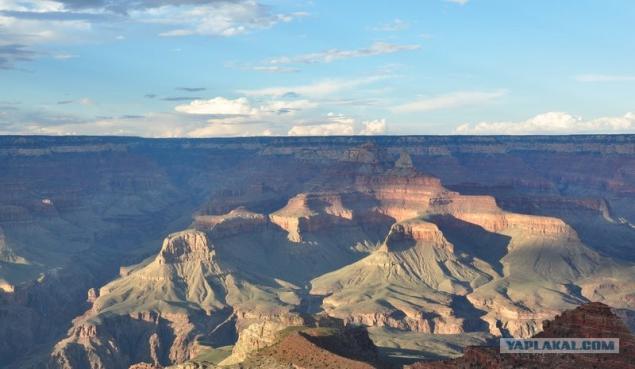 When you stand, and the abyss beneath you down ... This chic!
27.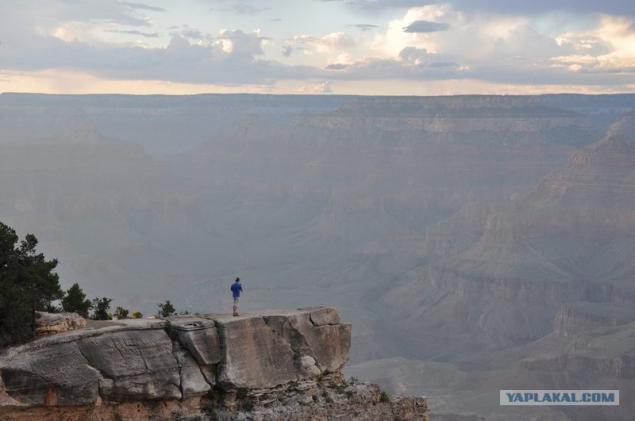 But we We spent there only 2 hours. After all, we still had a way back ... But all I advise: book a hotel there, to places you need to visit at least one overnight stay. We are here not guessed.
28.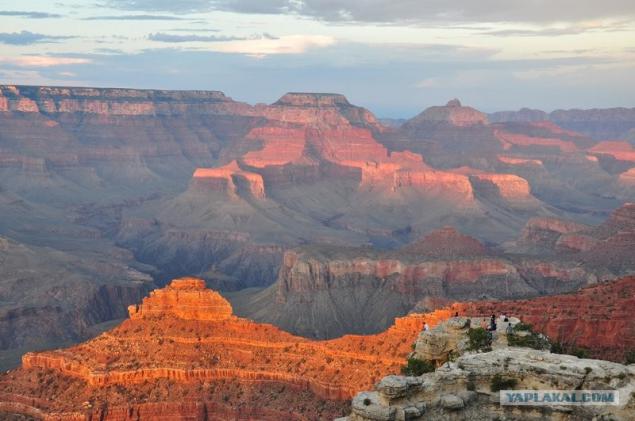 On the way back to those wonderful American roads played a cruel joke. I am, walk up, drive back on the road 450km soothing my body refused. And somewhere in 2 hours uniform drive, I began to actively go to sleep. Fortunately, at each refueling has free showers and inexpensive energy. But the stock of cheerfulness enough only until the next refueling)
29.
It safely and to sleep off, we went to another national park. Death Valley.
30.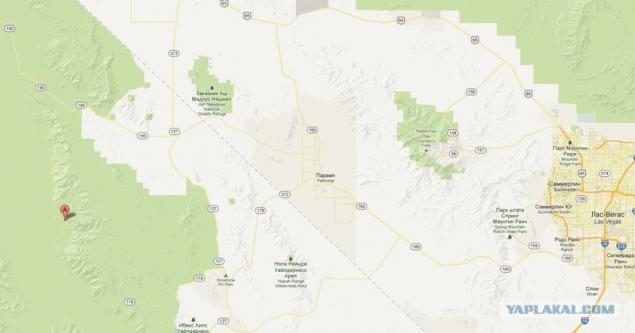 The views here are certainly not less impressive ...
31.

More.
32.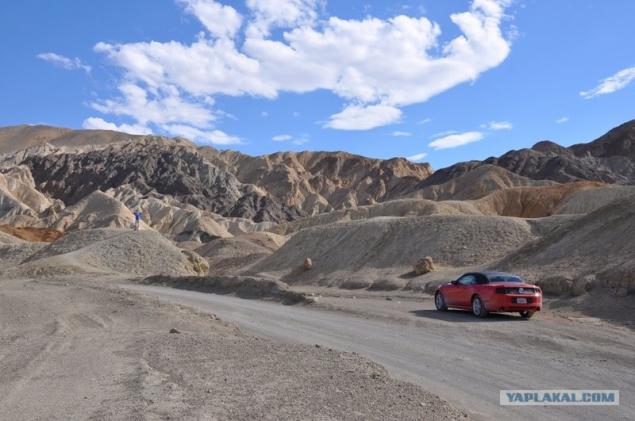 And yet ... I must say, to the creeping stones we arrived - just not enough time for everything.
33.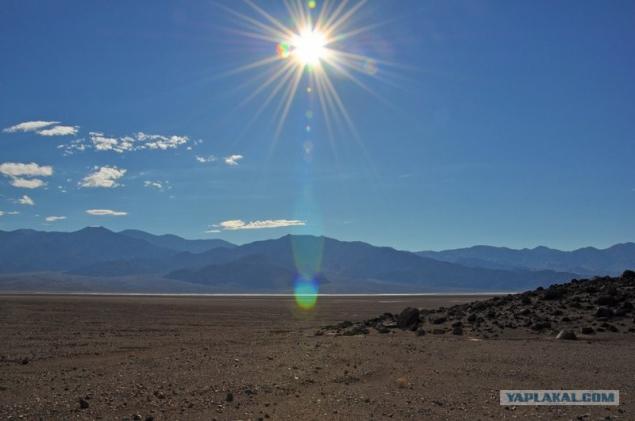 But the most impressive here - it's hot. No. HEAT! We ran out of the car for 5-10 minutes maximum. Then ran back - for air conditioning! We had a box of water in the trunk. She almost boiled ... White at risk on the rock you see? This shows the risk of sea level.
34.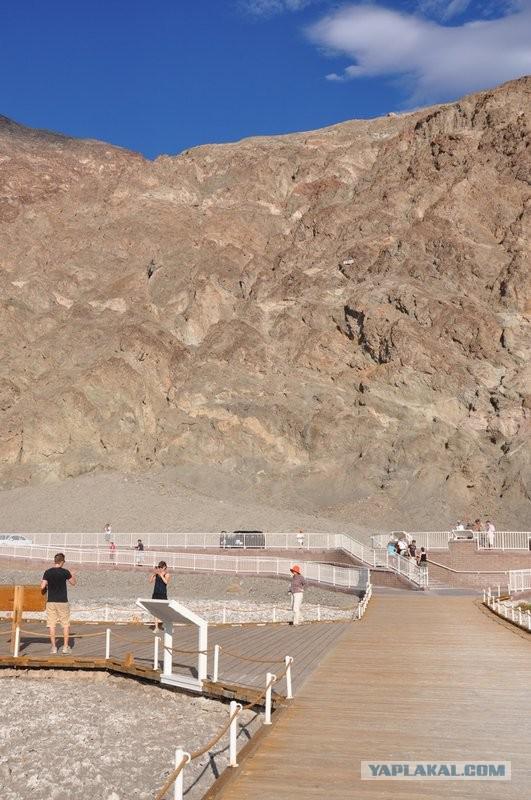 And this we fote at the lowest point in the United States (minus 85, 5 meters above sea level). So. The temperature at this point in the day when we were there (August 28, 2012 17:25) of plus 55 degrees Celsius! This ass, I'll tell you. The wind blows, yeah. Only he is like an oven fries only ...
35.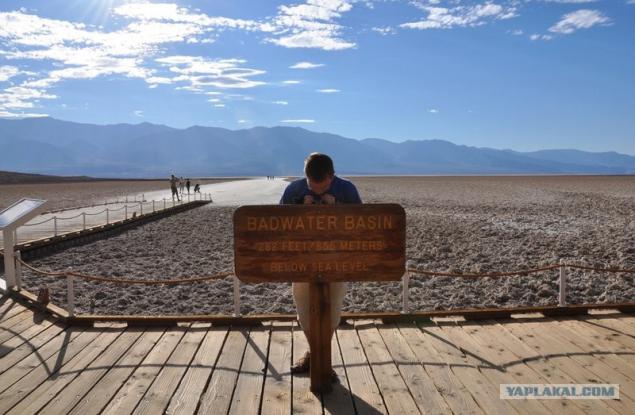 I'll be back to the topic of road. In Death Valley are generally terrible for our minds: I want to push the trigger, and sweep the floor.
36.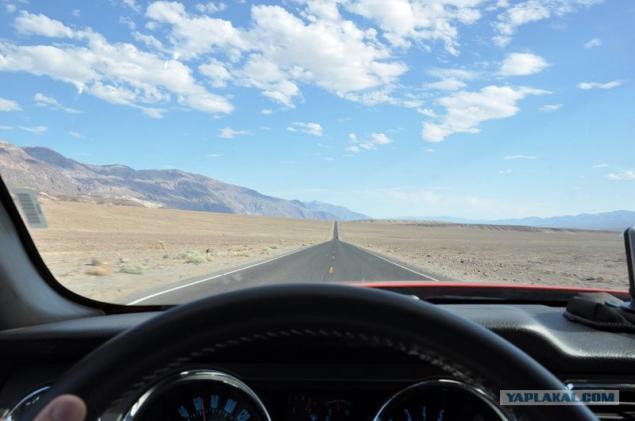 I did so, clocked up to 120 miles per hour. But in time he remembered about the size of local fines ($ 1,000 or more for excess), I decided to slow down just in case (the machine is easily picked up speed, have survived and more). After 5 minutes, stopping at the curb in order to be photographed, the police noticed the lights in three kilometers from us. Here in the photo just peered into the distance.
37.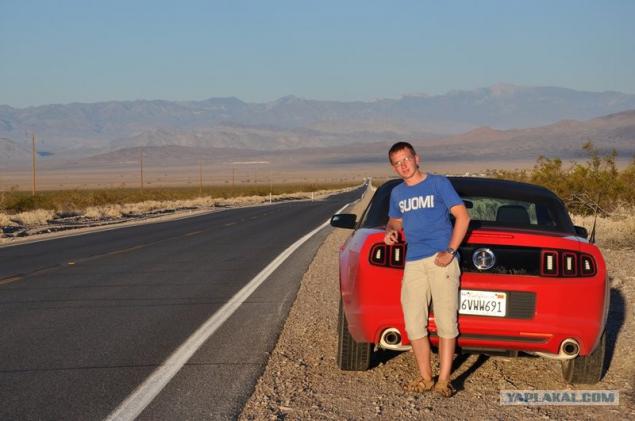 Thank the gods, not for us, they chase)) And for others who exceeded. I no longer risked;))) That's something like that, and we have been 3 days in a society with a Ford Mustang.
38.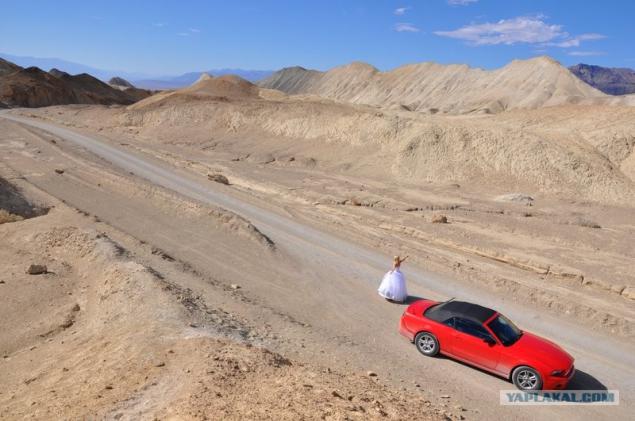 Until the pile krivovastenkuyu photo spread inside the car. Made just before taking the car to the office)
39.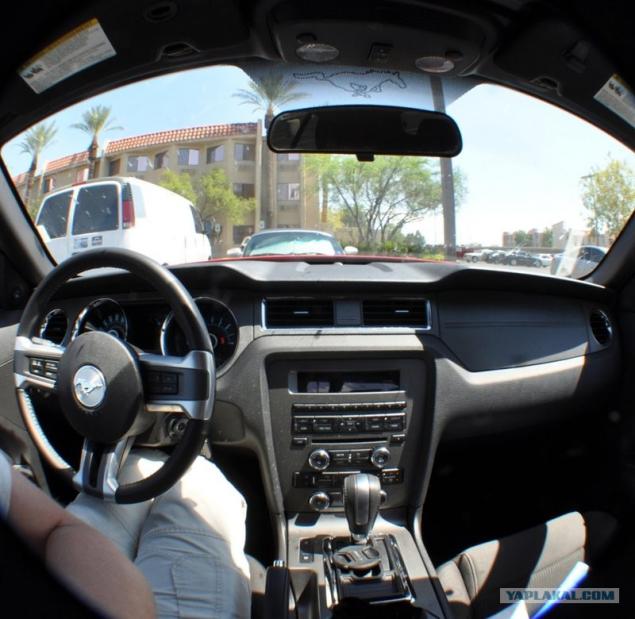 For more photos from our trip look at me VKontakte, as well as the project "Focus - WORLD!».
All of success! Do not forget to visit, as well as mood and share tips with other seekers of good impressions!
40.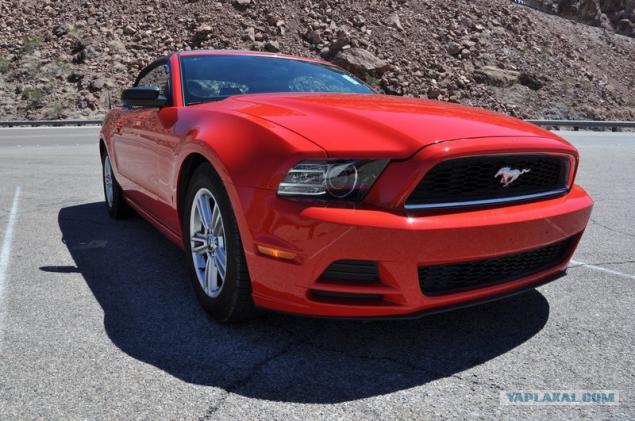 Source: