Text is not much, but not so very little, try to split into several units, mix fotami.
A leisurely look at individual city in Cambodia after months of living in it. Perhaps a little chaotically, but forgive :)
It will be about 90 photos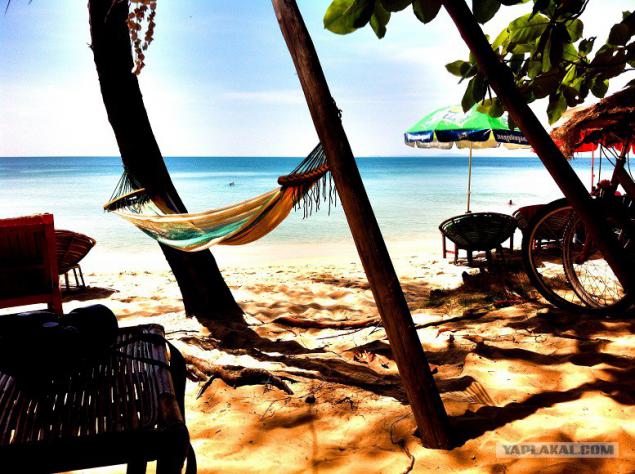 Cambodia !!! Damn, we're back in Cambodia !!! For the second month in a country from which not want to leave for a long time.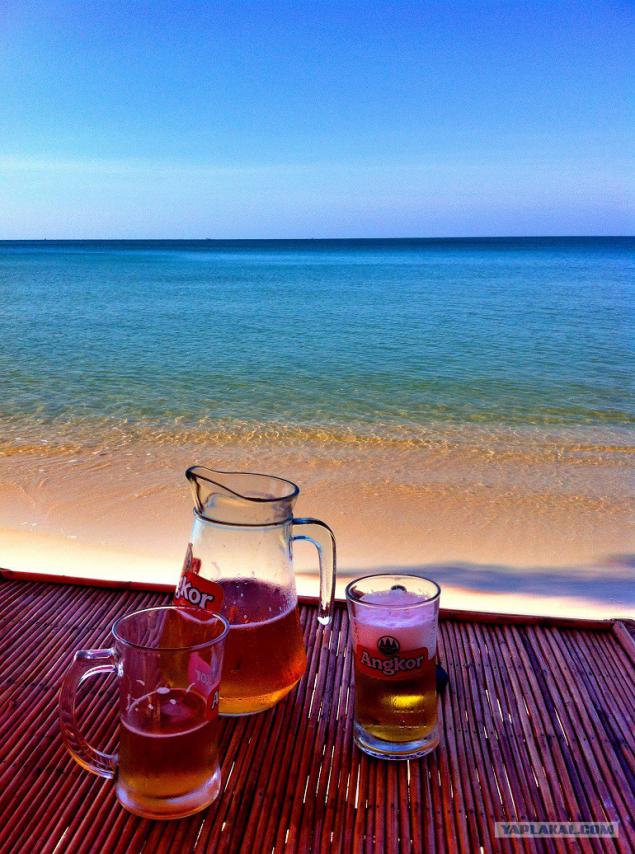 And now in order.
Fly away from the chilly winter and sickening gray daily routine in the present summer the sea, palm trees and solntsem- this idea came a couple of years ago. As with most "zimovschikov- dreamers" were the first thing thought of Goa. It seems there have been, I liked, like and live cheaply there, and there is an ocean and palm trees and people horoshie- dream and only !!!
But man is weak ... ... and last year more than talk did not get. That one, then the second, pyatoe- tenth ... and the material did not seem ready to provide and morally not ready. But we got a year to prepare for the upcoming winter in and tried to use that time to the maximum.
The idea to fly to Goa, after some hesitation rejected. Because I want to warm the belly and soul to amuse a little longer, At least 6 -7 months. But in Goa, I'm sure many would be unable to be piled provesti- before in Russia, or to sbuhalis. Che in one place for so long, you can do nothing !? With crazy after the end of the term thou shalt! Thailand was not considered initially - mental Thais look to the south of Bangkok in the afternoon with a lantern need to look at the farang, as walking ATM machines, in the north of the people better, but there is no beach, but a long time without it in any way. (Do not want to offend the "ill" Ty, especially our personal opinion, to each his own).
Began to consider the option "wintering combined" - to visit several countries in six months. Tired here - rushed to another country. At that we decided to do. In the fall of 2012 we decided to conduct a "reconnaissance in force" the Vietnam Cambodia 17 days - in the winds had already were- liked the first time in Cambodia, but enjoyed much more: the tourists a little bit - the average age of 30- 35 years, local malye- like children and smiling friendly, wonderful sea, white sand squeaks under your feet like a frosty snow in childhood fairy tale !!! Geographical location just indescribable, all the earth during the day domchat possible: in the east Vietnam, Laos to the north, the north-west through Laos, Myanmar (then one day the truth will not be enough, but really close), in which case, if it is absolutely melancholy, Malaysia and the Philippines also quite ryadom- 100-200 dollars and 3 hours fly.
So we decided to start our winter in Cambo, but then again a little and began to beat her with Indonezii- really delicious managed to grab the tickets, and after Indonesia to Vietnam and then in Cambodia. And this, of course, also have changed at the last moment-but more on that below.
The most morally challenging, through which it had proyti- resign both from work. But, at the end of the day, working in order to live, not live in order to work - right?
Further training in Russia has been reduced to a choice of good medstrahovki- found Asia for 10,000 rubles for two at 7 months- nuances when buying were- it cost more than 13,000 (by the way, have had to use it here). Then a few dollar bankers cards of different banks. That's kind of the whole preparation. And then digging in the forums of the countries - they are now a lot of the good, there is even useful.
In the last couple of days before departure had popsihovat considerably. Our most well-known bank has blocked one of the cards that came to light quite by accident, we are about it, of course, no one thought it necessary to inform. Check solved all ostalnye- it turned out that the card of another, less well-known bank, though alive, but the password for your personal account issued by the staff of the bank is not appropriate (as it is at all possible?). I had a few hours before departure to ride to the bank for a new password. The piquancy of the situation is that the card and the account opened in Moscow on pre internal passport while a couple of days before departure we were also in Moscow, and all the internal documents left in Kovrov - what we are in Asia. The position of the staff came in and kakoy- the "decisive questions to the" authorization of a new password zagranu. The most well-known bank in the position of not even go there this pytalsya- blasphemy, get blocked and get blocked, & quot; ... the failure of some occurred, solve the problem within two weeks ... & quot; Pied ... ry!
Posted in [mergetime] 1387346971 [/ mergetime]
In short, groaning and creaking like we still decided all local issues and the nerves flew to Indonesia and lived there for less than a month. If someone interesting-description is here:
forum43/topic68422...%E5%E0%ED%EE%E2 After Indonesia decided the brakes a couple of weeks in Viet in Mui Ne or Phu Quoc, but heard enough about & quot; sharply increased the number of crimes against foreign tourists & quot; (ufff, barely formulated) and slightly zamandrazhirovali. The control head has made the girl in Saigon, three hours after our landing, seeing such a bold me fotikom the ready: & quot; Mista, Mista, know the camera. Motorbayk Mafia & quot; and made round, as far as possible to devochki- Asian eyes, apparently to emphasize the importance of prevention.
Saigon rear view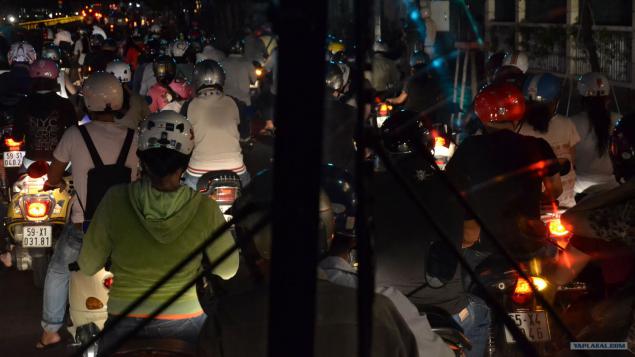 Another photo from Saigon.
Uncle Ho on red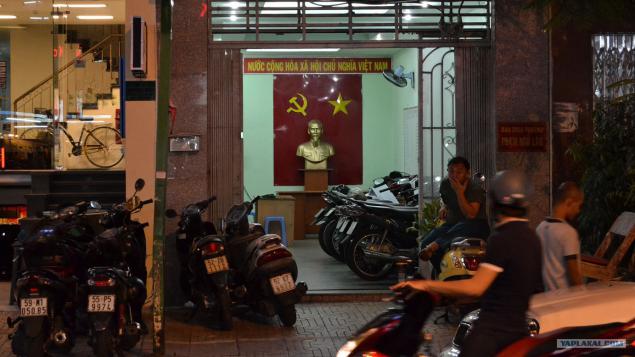 All uy- to ... to ... uy, immediately bought tickets for the next morning in Phnom Penh.
Map of travel from Saigon to the scale of Sihanouk. At the top left of Pattaya. All ryadyshkom- is
Asia
The ferry across the Mekong. To the left a group of tour seems zemlyakov- kakaya- it. Matrix peremat the entire river. Why so swear ??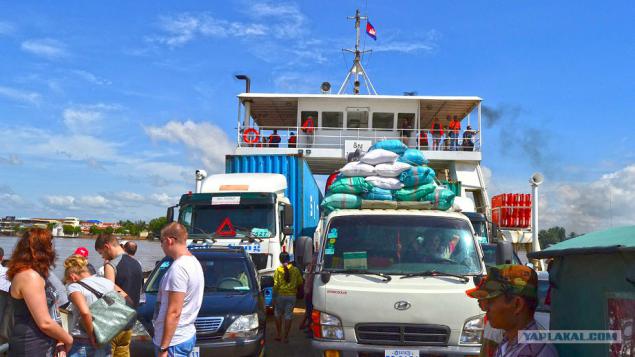 In Phnom Penh we were already in the afternoon. Let's go about their business in an alley we saw this miracle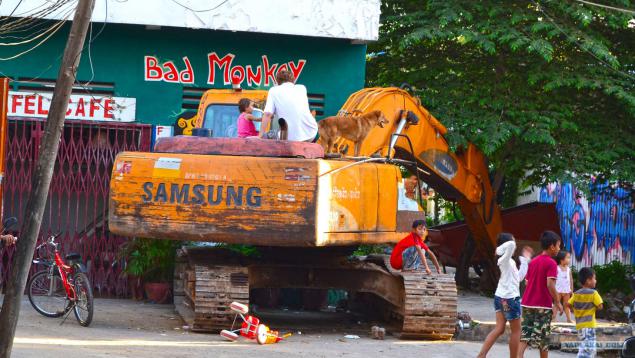 First pokazalos- joke. No, honestly. Now I've seen a lot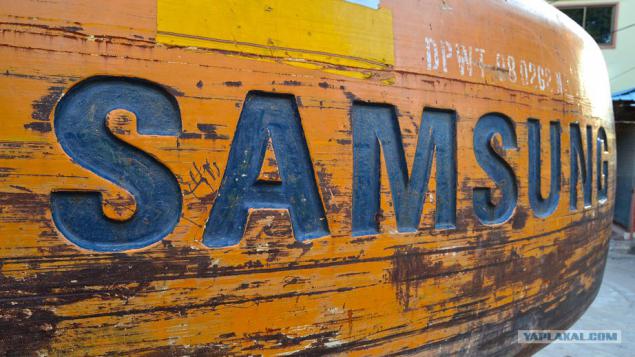 Morning in the foam. Bags teeth and a bus to Sihanoukville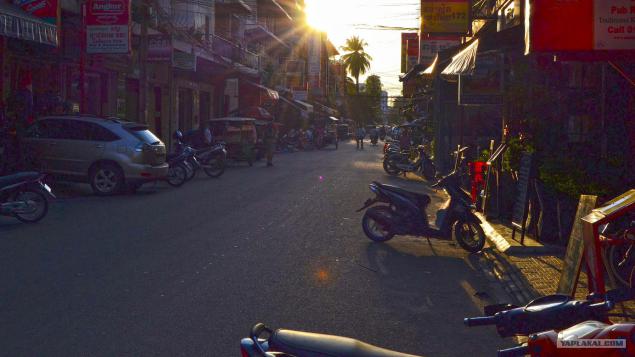 Who we live on this ulitse- to the waters of the Gulf of Siam 300 meters in a straight line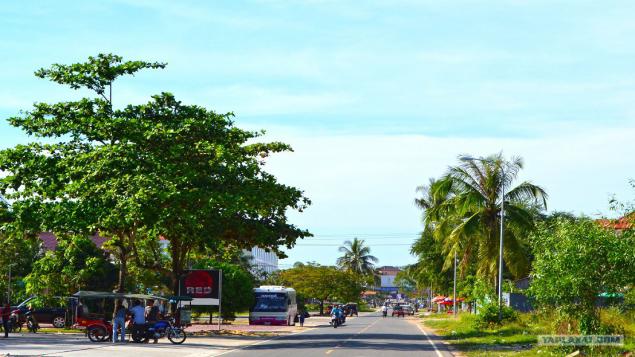 This Lvy- when Sihanouk say Lions have their view of it.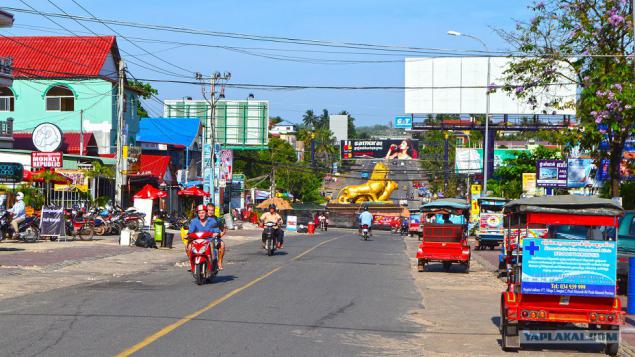 Here, in the city of 6 or 7 beaches, but swimming has to go out of town. That is the reason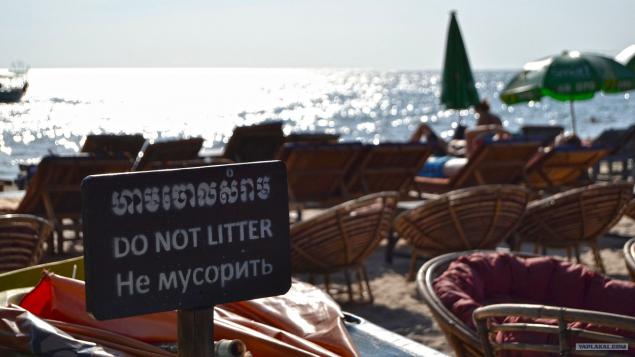 But at night there's great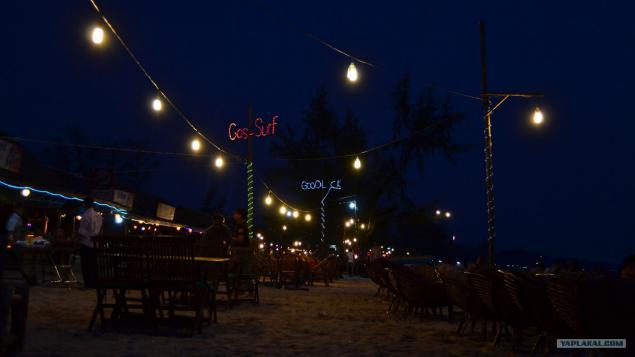 Compared to last year people in Sihanoukville handy for two or three times more, but still not yet napryazhno. Prices are kept at last year's level, but the pace is not so in the next year will climb up it to the grandmother did not go. Pricing is attractive:
meal: fillet of marlin / Barracuda / c garnish and tuna salad, soup amok local coconut milk, fried garlic bread, a couple of beers and a glass of soka- $ 10 and this is a tip. Tipping is not required, if that, but very welcome. Portions are very decent size. Tastes differ, but personally I like the Khmer food.
Beer razlivnoe- 0, 5 1 dollar for a glass or jar 0, 330 liters
alcohol - prices in dyutikah normal strangeness inexpensive one word, try the local viskar - 90 cents for 0, 7 liters !!! Vylakal- morning as a cucumber. This is despite the fact that I drink spirits rarely.
It is, so to say, prices are fixed, in cafes and big price tags magazinah-.
Next unregulated prices:
TUK tuk fares on gorodu- $ 2 or 1 on a moped (Tat unloaded on 5 and above, such amounts can not be carried out). From the very point of the city to the extreme, I think, is more expensive, but they do not ezdili- just can not say.
nedorogie- fruit on the market an average of 1 to 2 dollars per kilo. May request a little more.
polismeysteram bribe for a ride on a rented bike $ 1-2. 3 Deadly Sins: Riding without a helmet, driving without a license, driving buhim / stoned. Ask for more than 2 x dollars, of course. About bribes judge hearsay because velosipidedist, cops do not see me
rent a moped - 4, 5 -7 dollars for large 1 1, $ 5 a day. We actually bought veliki- 90 bucks for both of them. Status is not a fountain, but go and that is good.
Gourmet dressing, I do not need the benefit :)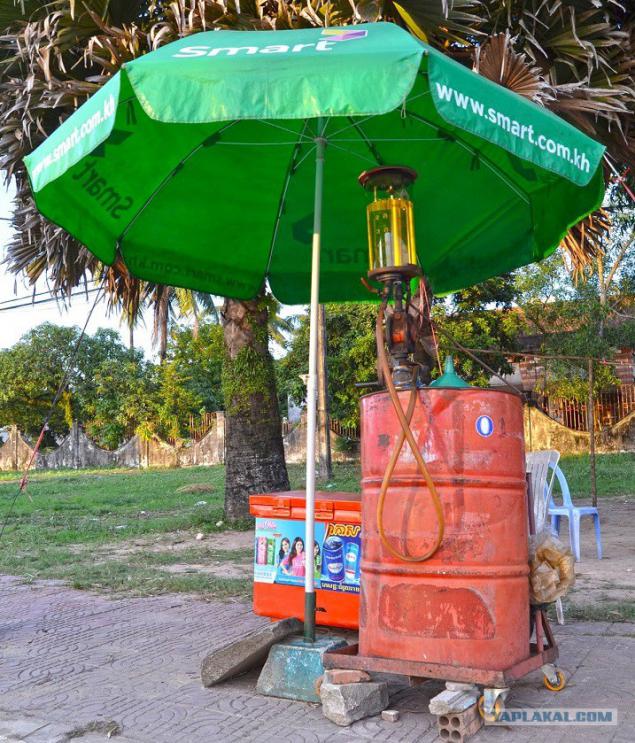 Not very typical urban image.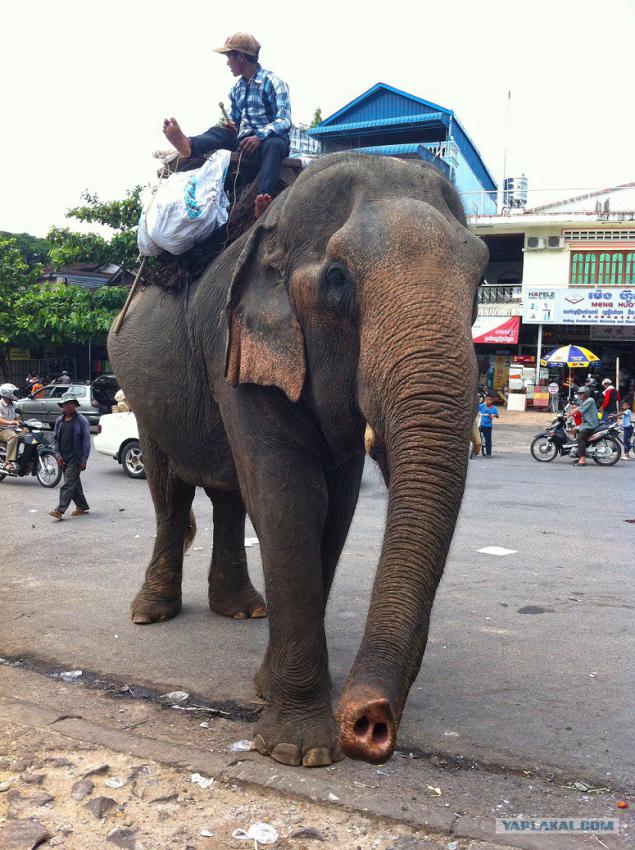 Elephant-offender. But here is turning a blind eye.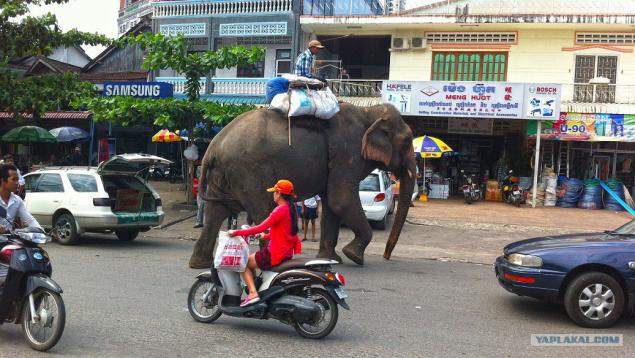 The elephant was caught near the market. But the market itself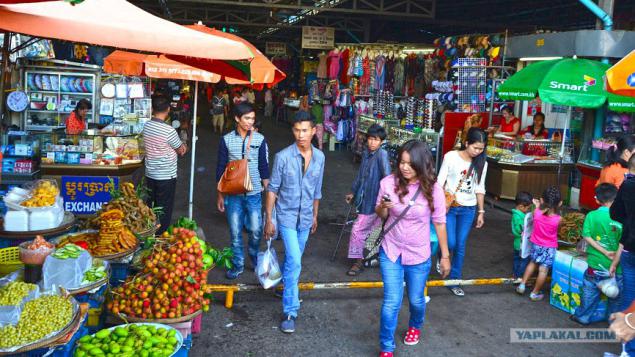 City primorskiy- therefore freshest seafood darkness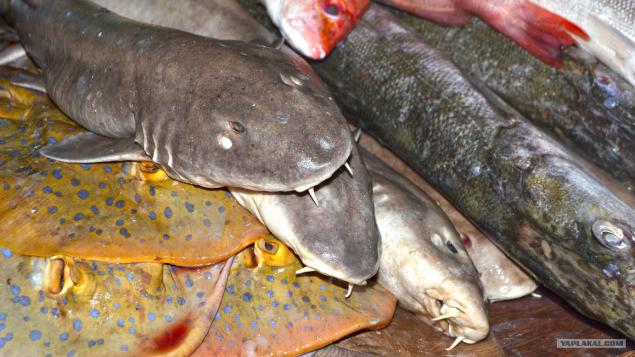 Rakuhi two good-sized fist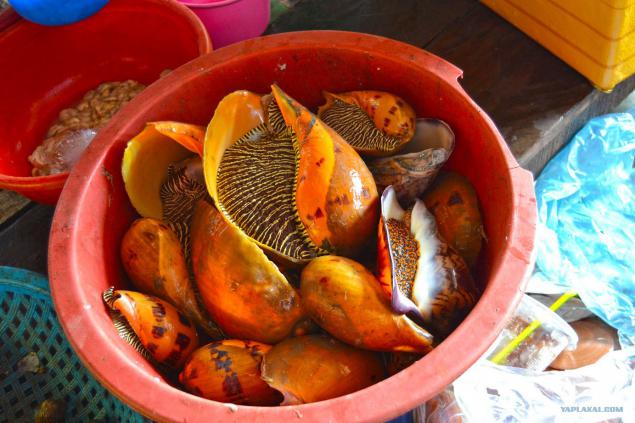 He squeezed between two aunts in their pajamas (in Asia this is a normal everyday clothing aunts)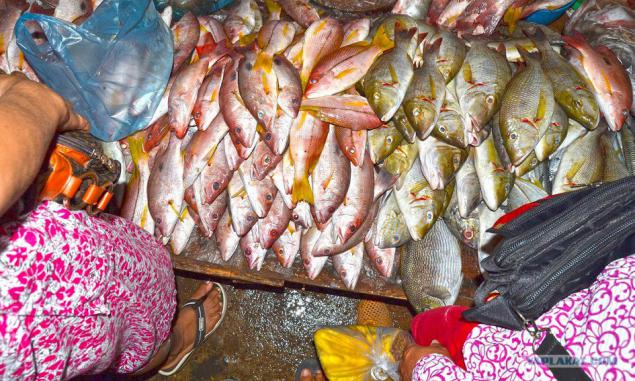 Such is the fish market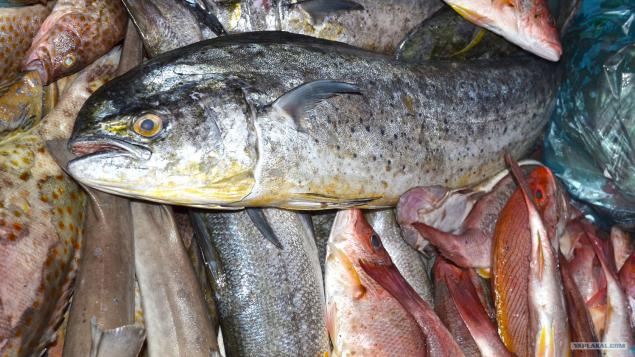 and such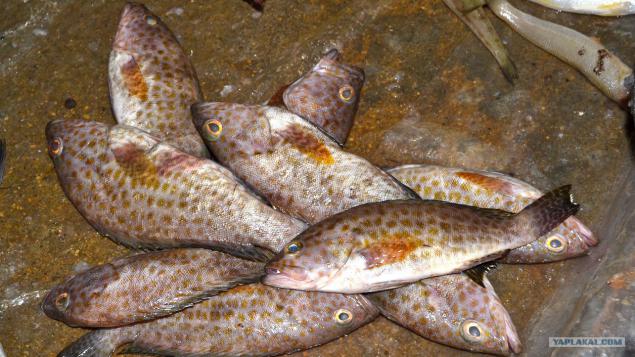 Marine Scout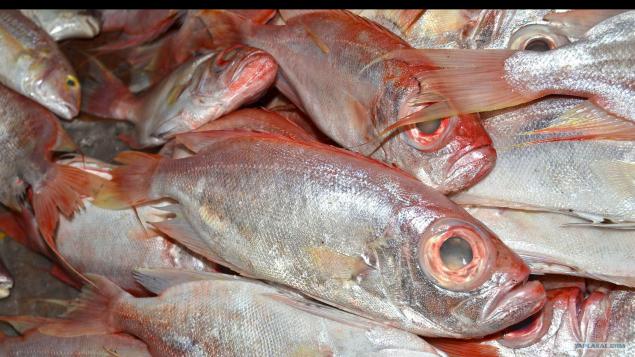 If the fresh sea fish, the river is still a live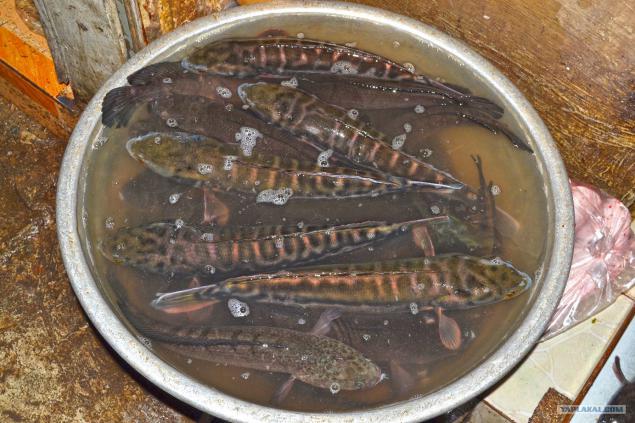 And, of course, crab, this region famous for crabs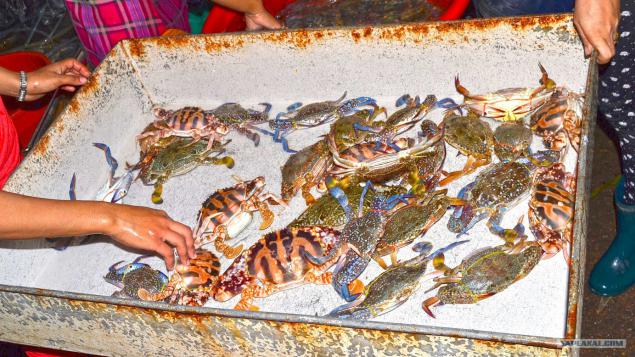 When someone says that in Cambodia lobsters on dollaru- is not true. That is why this filth is called the local lobster, followed by tourists. Are $ 10 per 25 shtuk- edible, but quickly malnourished. By the way, please tell me, who knows what they are called - would be smart to go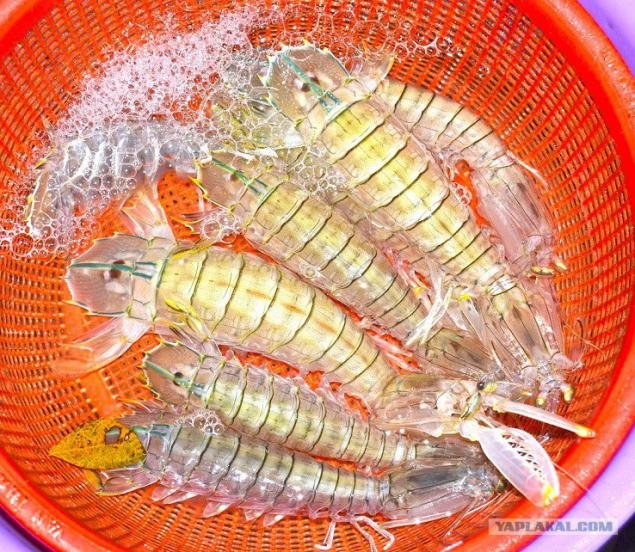 On the market a lot of fruit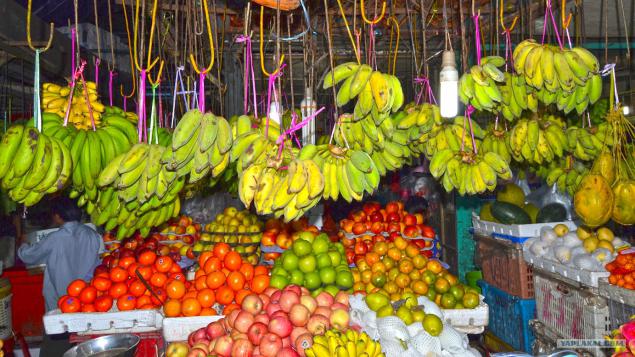 Tangerines are one of the most expensive with the apples (those that generally imported)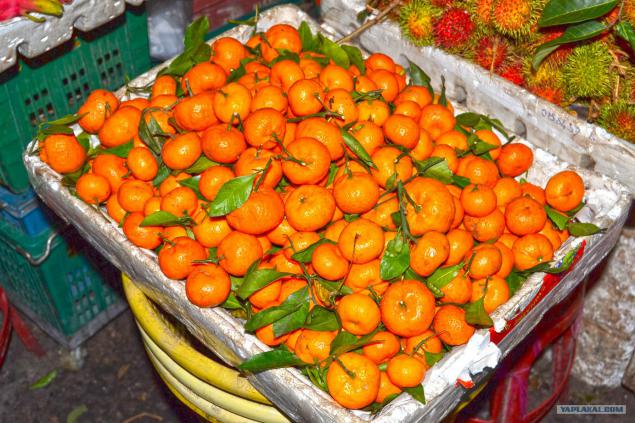 vkusnyahi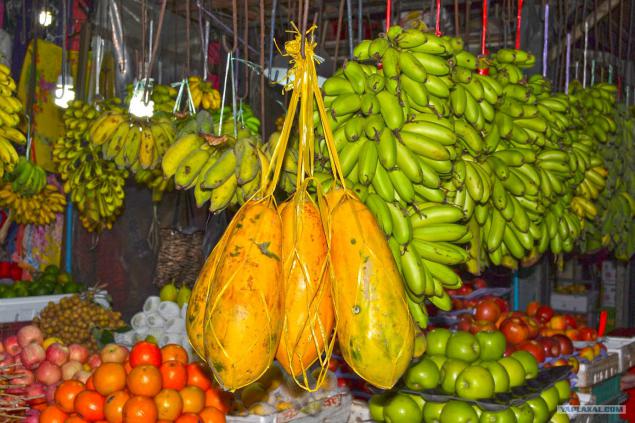 chestnuts like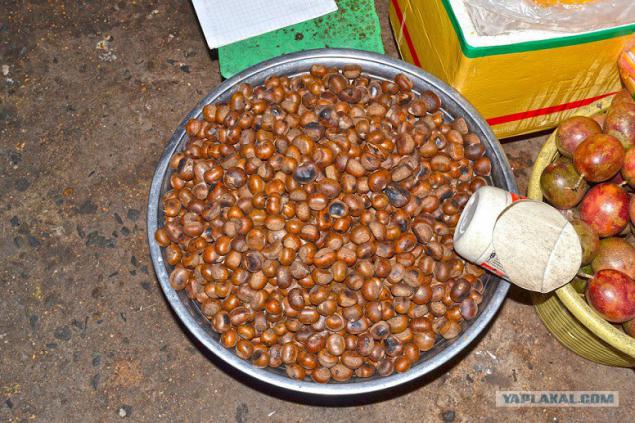 a lot of different fruits unknown
...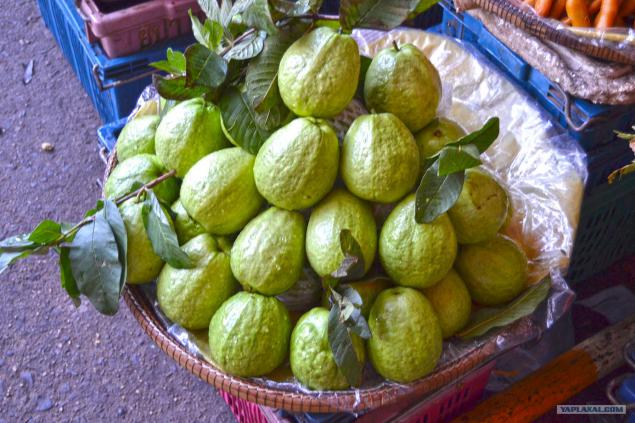 ...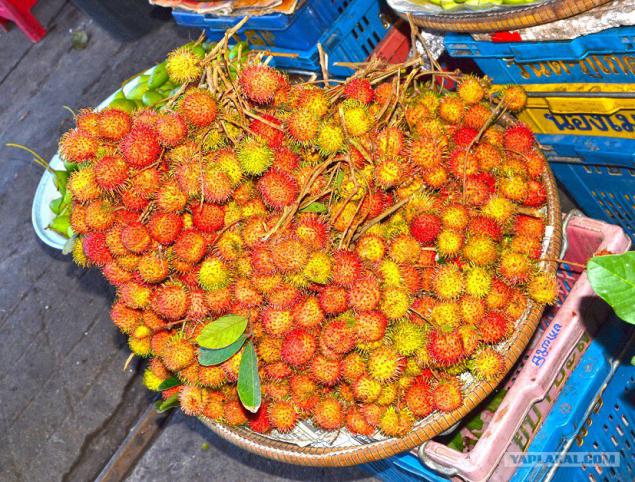 ...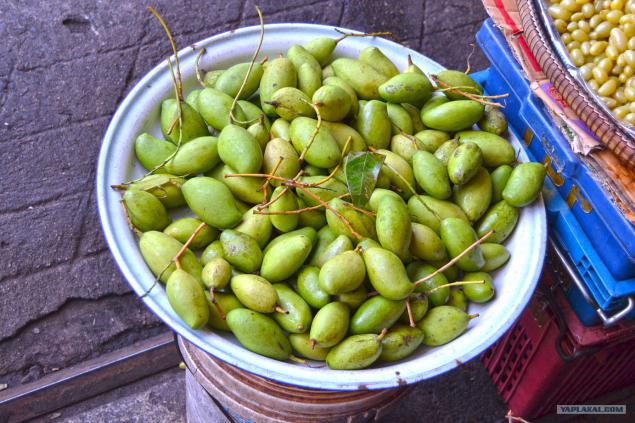 Not that all of these so unknown, but the sign len- Stoch fingers until I shall add :)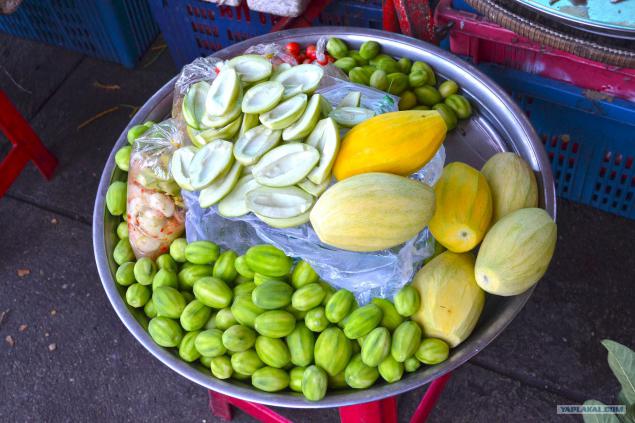 Continue:
housing price of $ 1 / day in hostels, hearsay, (I have not seen such, and did not seek to be honest) to how many I do not know, in short, expensive hotels can be found, if it is good to try.
There are gold seredina- Guesthouses (Mini Hotels). Without kondeya- from $ 10 to kondeem - 20, it's pretty decent room.
If long as mice that the best solution is a removable apartments. Despite the grandiose name-it's just a sort of state the number killed close to the Egyptian srednyakovoy four, in this case, a two-storey with total area of ​​50 meters with a large balcony. Lack one- have to sign a contract for a sufficiently long period of 3- 6 months and pay a deposit in the amount of the monthly cost. We were able to sign a 2 - we do not need. Pros: relatively low cost (300 to 500 dollars a month), the lack of tourists constantly changing, some of which may be inadequate able to spoil the mood, few people in the territory: we have only 4 rooms with private entrances, all but we live for six months) . Peace and quiet! Beauty!
And this is our home pitomtsy- Stas, smiling Gekko gecko normal size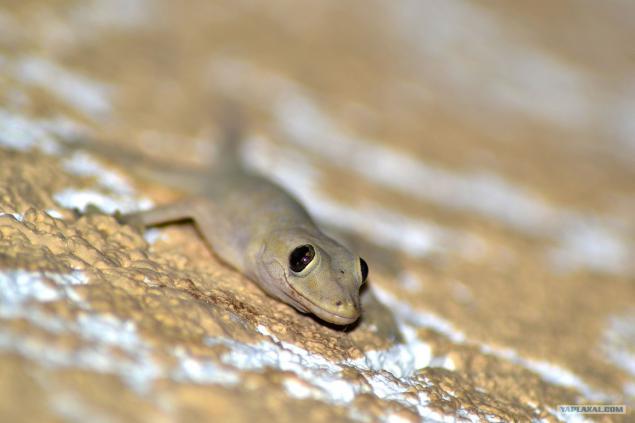 It Gosh, horse 30 centimeters long as it is kept only the walls? Once collapsed, by the way, porzhali- offended.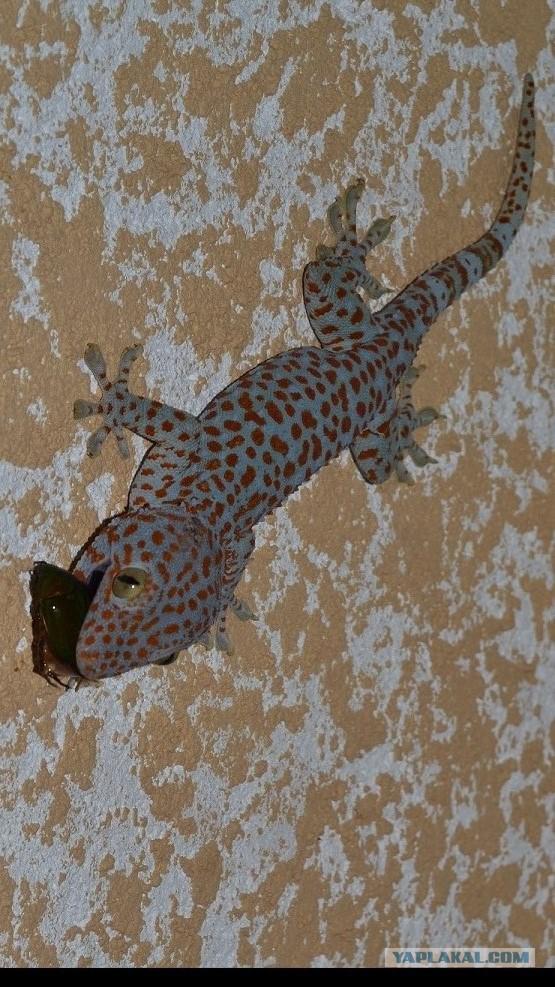 Geckos cloud: there is still Sveta, Lariska, Vanya, then appeared Egorka and all sorts, are not names at all nabereshsya- climb anonymous.
And it is not pitomets- toad Tanya. As pribludy on the 2nd floor, HZ. Gone.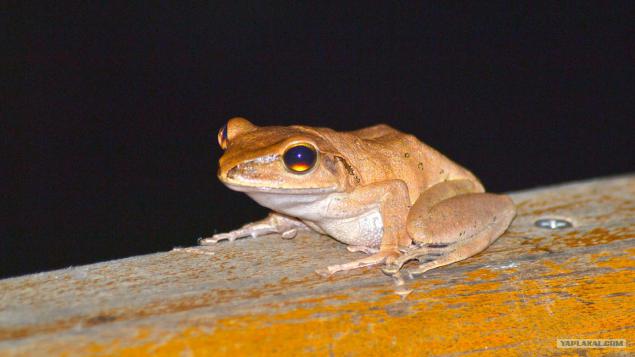 As already written, in the city kupaemsya- we go out of town. Beach Otres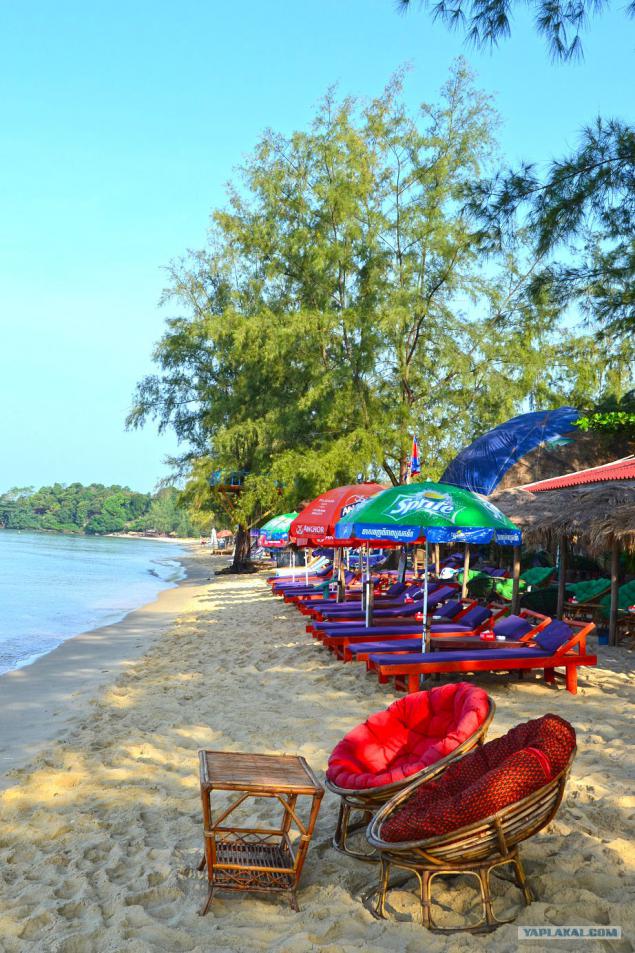 Surprisingly comfortable seat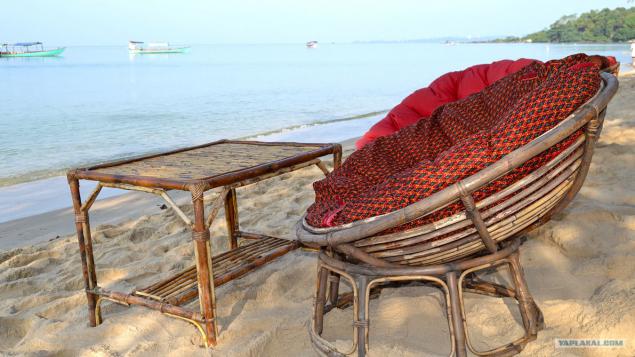 You sit, drink beer and and there are boats in front of the nose chase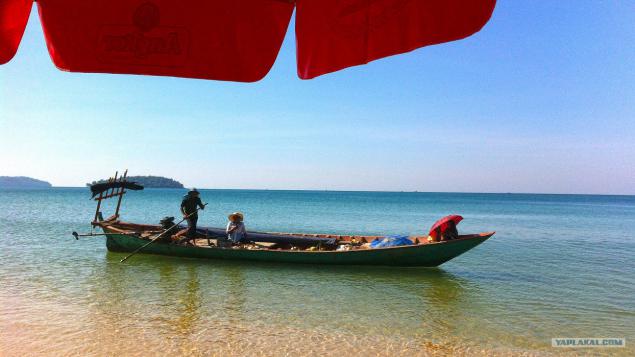 For the sake of the sea and the sun went here- here it
The inhabitant of the Gulf of Thailand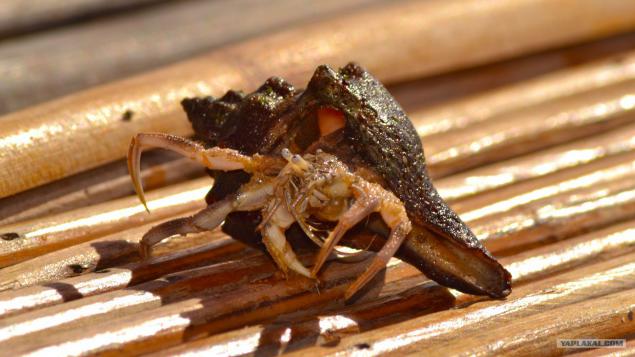 and it stesnyashki :)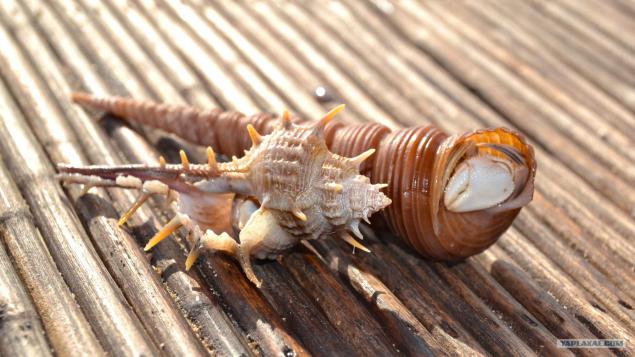 On Otres housing looks like. These birdhouses do not know how many there are, but a couple of days to the sound of the surf zasypat- priceless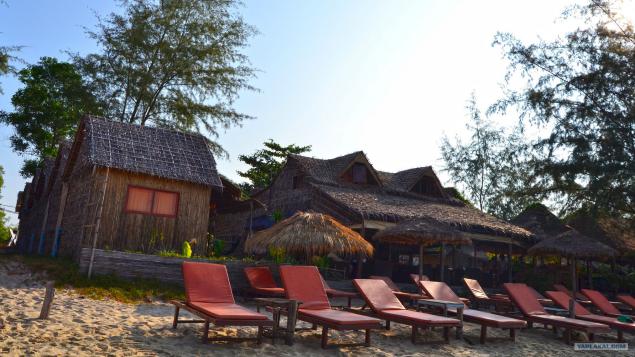 These are like 25 brothers Slovenians Head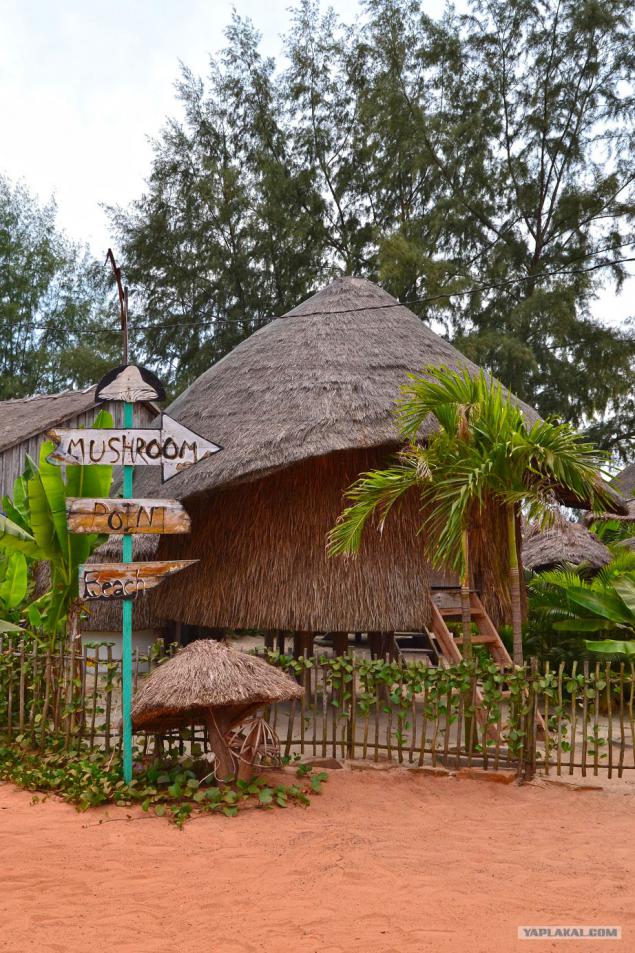 Not in the sense that the brothers, and that Nam slovenias brothers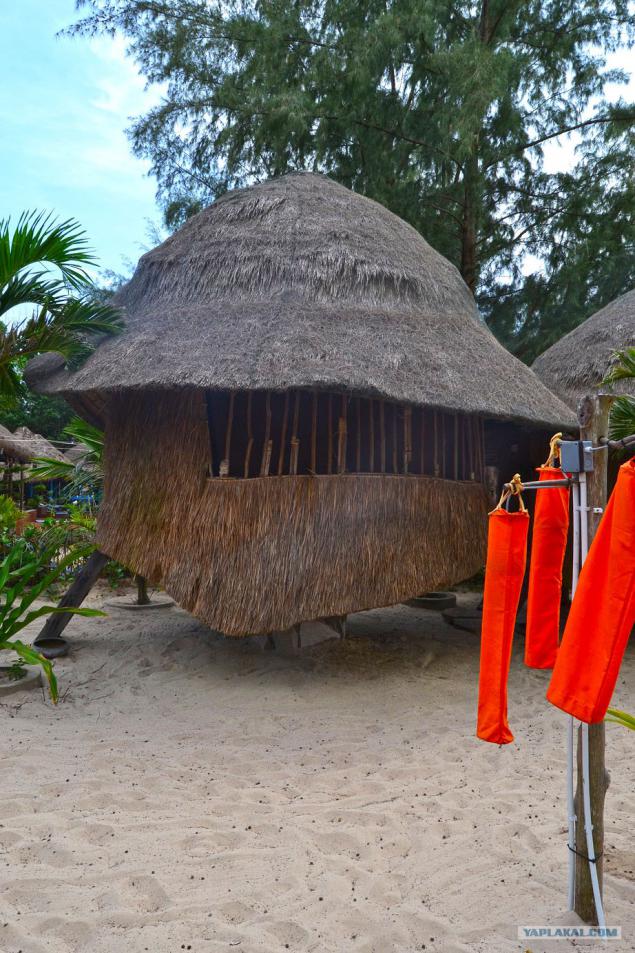 on the shore so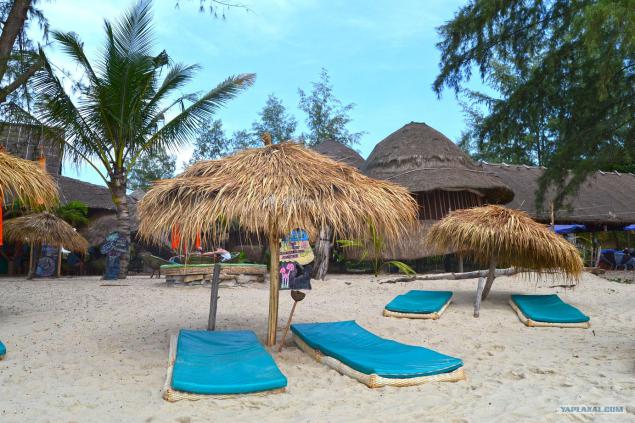 a bit of local color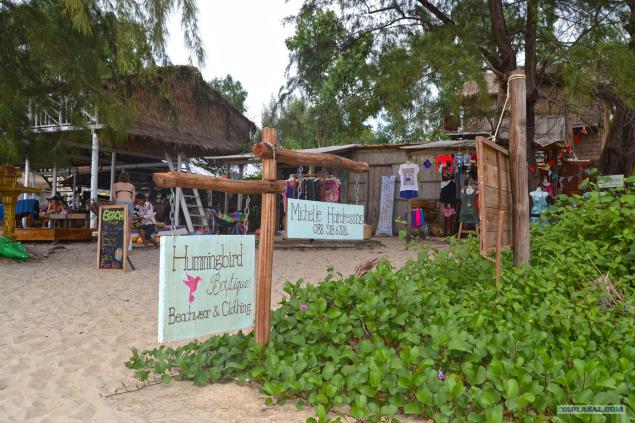 Well this is how much time they spent at sea?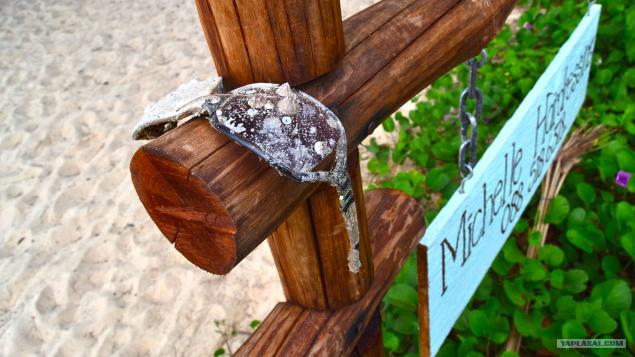 Not in every country on the beaches of these ads? :)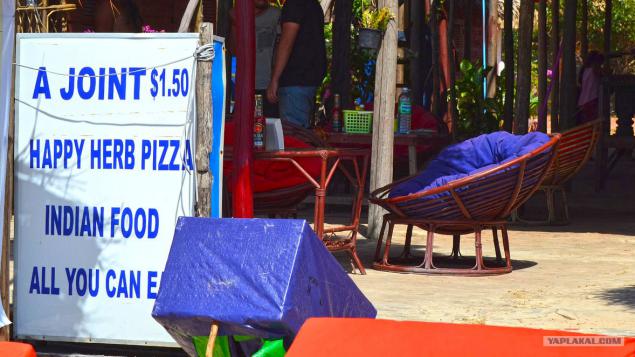 bathers monks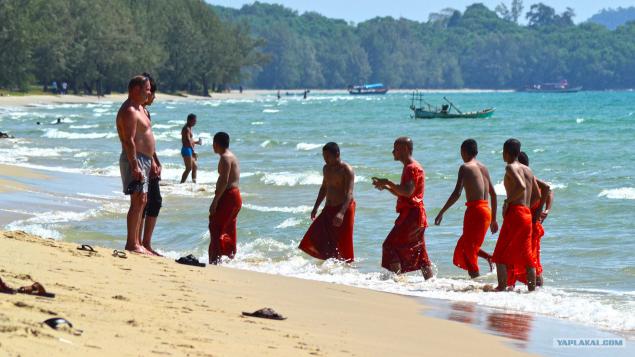 dried melting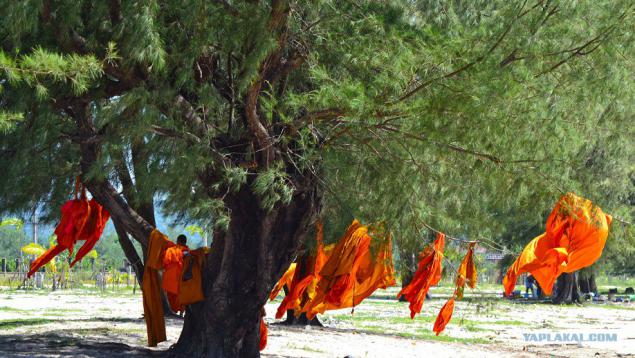 central and only street on Otres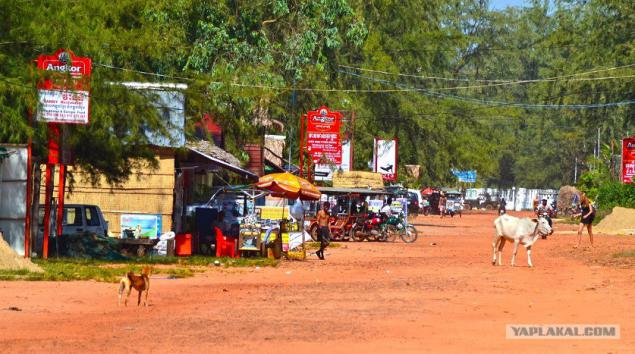 razvlechenie- not cheap $ 50 per hour. I'm not on his bike :)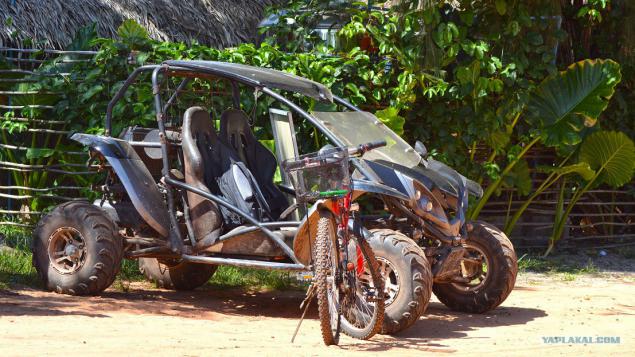 In about a travel agency, we gave their passports for visa extension. They gave us a passport just pulling out of his pocket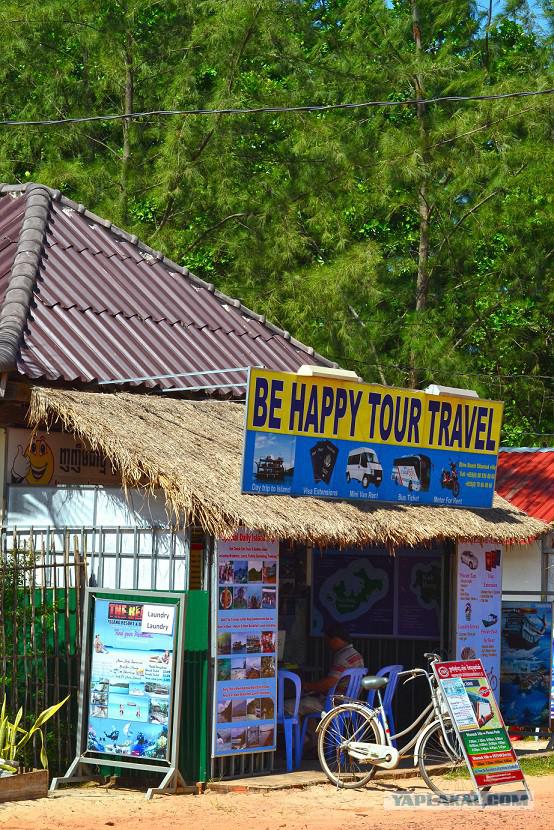 bus schedule, some communities many people know, is not it?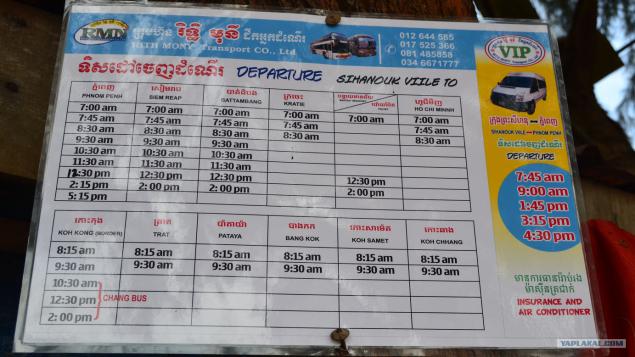 the indigenous inhabitants of the beach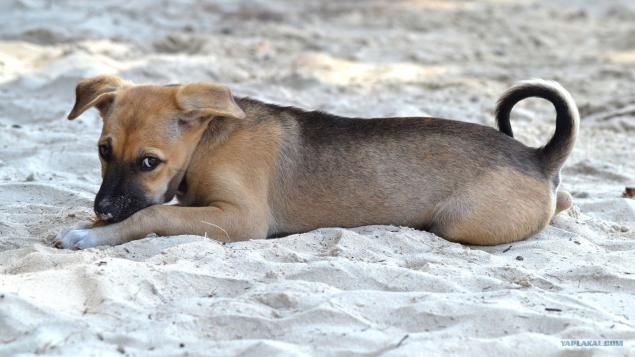 Another inhabitant. Tired of doing nothing :)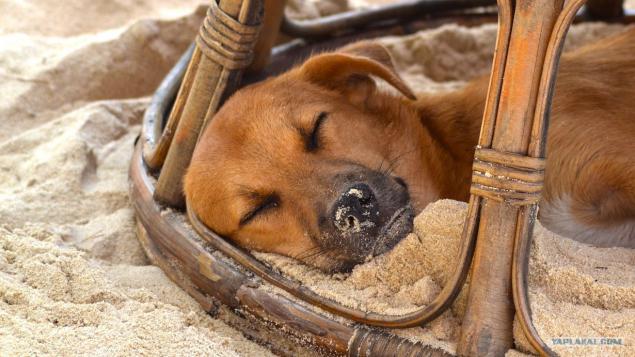 As always with the onset of winter begin something to dig and dig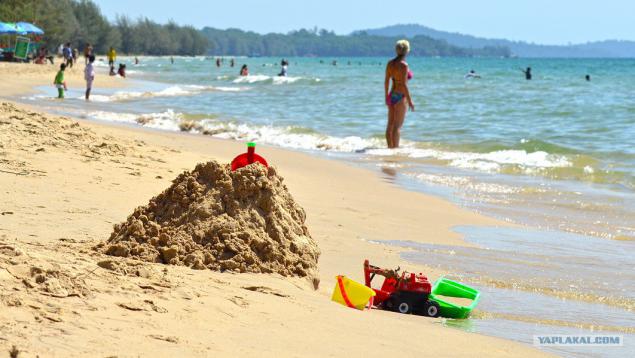 on the road to the beach met this here machine. Then they rent out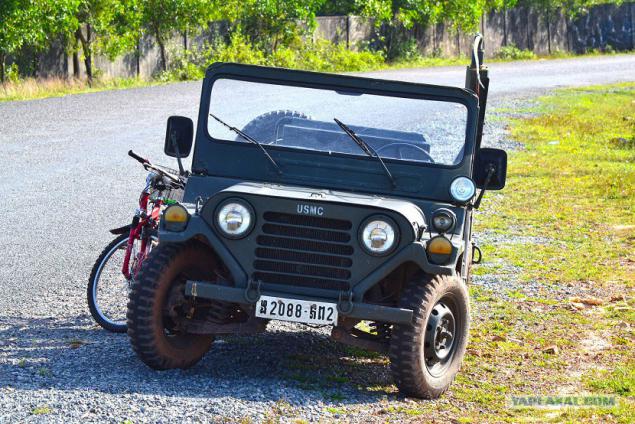 Fans wave the bat can go on modest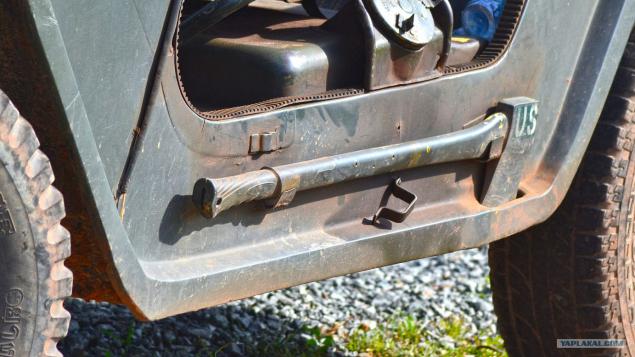 more on the way this can be seen here Wuhan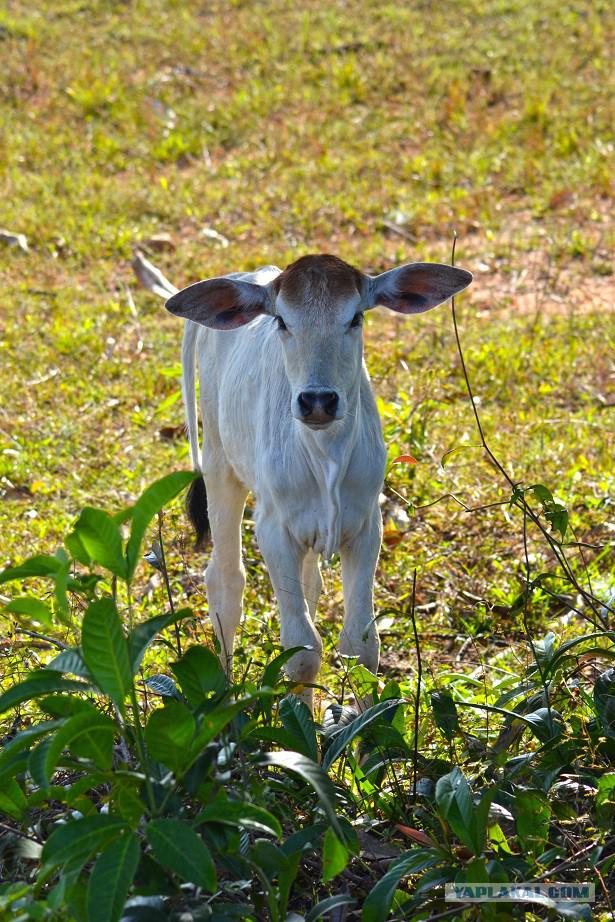 or here is reliably masked creation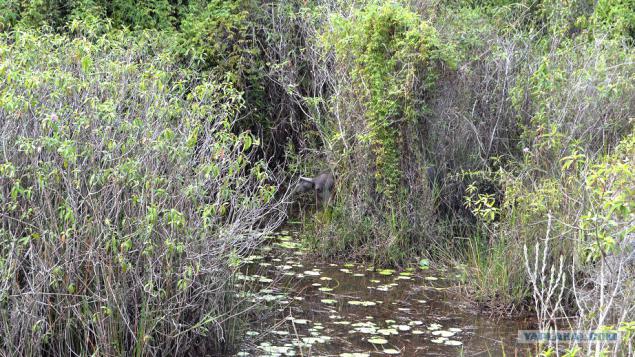 Like everywhere else in the world, Russian in Sihanoukville darkness. A very large per capita local diaspora. The most famous native of the USSR-Nikolai Doroshenko. This local "owner of factories, newspapers, steamships." A member of the ruling party, the owner and co-owner of several islands, the owner of the facilities in Sihanoukville, etc. etc. Many people of smaller caliber. Many lives of the usual "black Ludu" of Russia and the Union republics. Although local salaries in 100- 150 bucks how they manage to survive here, xs. Like that in fact survive.
The good news is that Tagil has not been noticed yet.
And this is my official diler- aunt sells small cooked on uglyah- kalmarikov I got hooked on them :)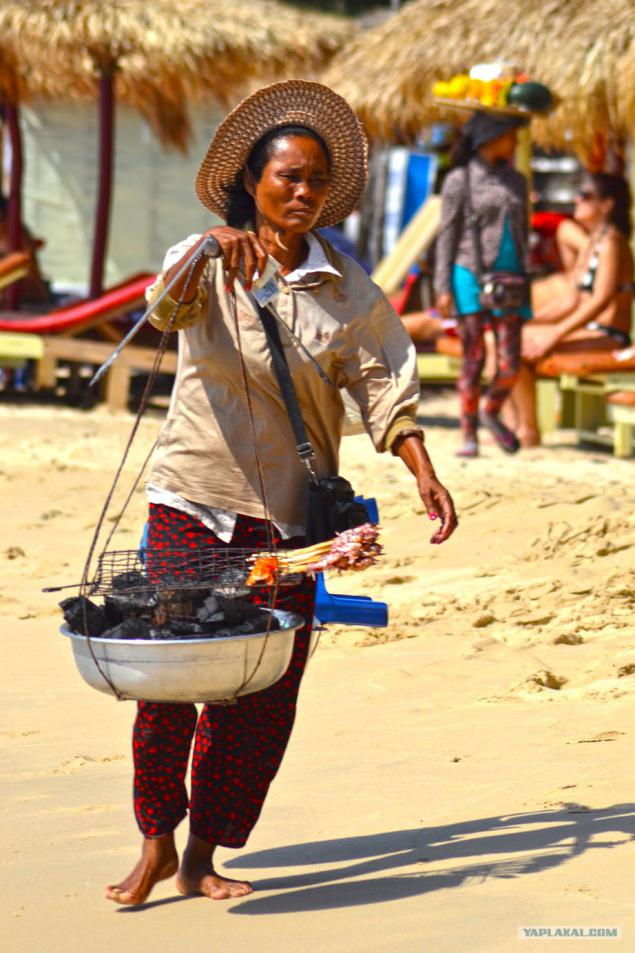 they look and are a dollar per 5 pieces. Photos from another beach, though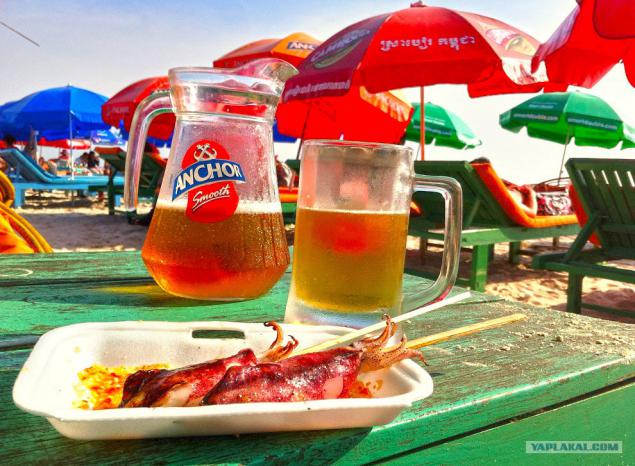 last year more izmenilos- there are any rental kayaki- nekayaki do not know what it's called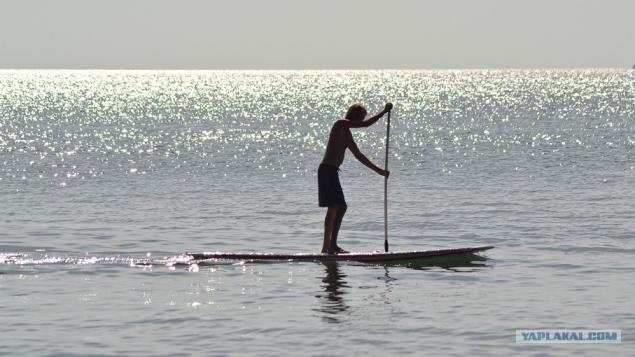 windsurfing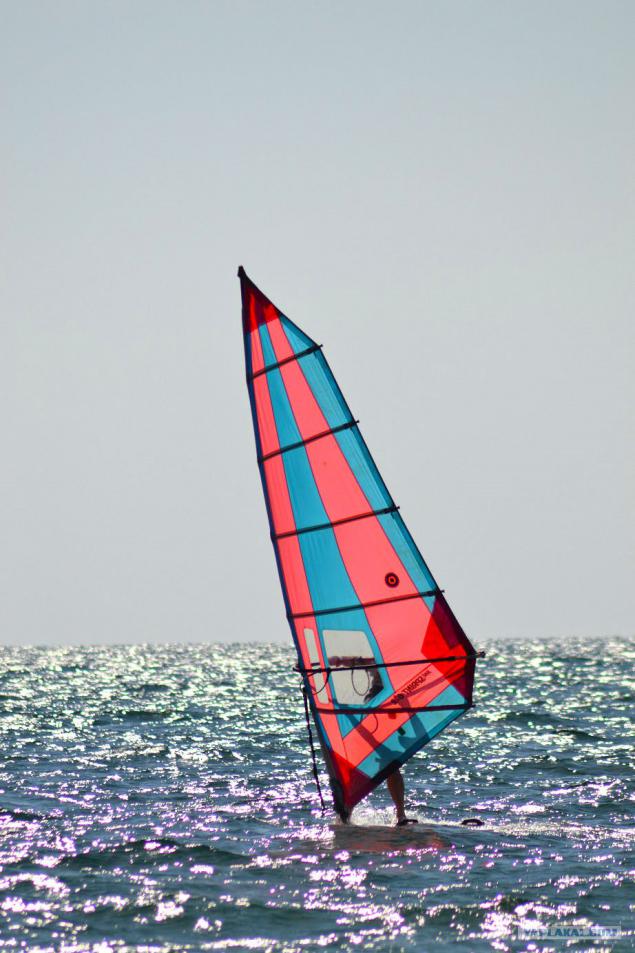 that year was one kiter, now there are quite a lot, but got only one shot :)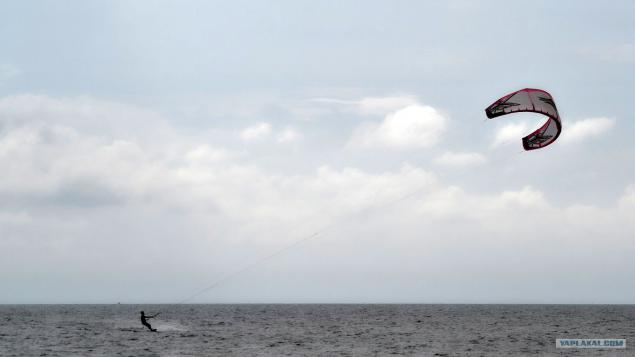 gidrodeltaplan 50 ue / flight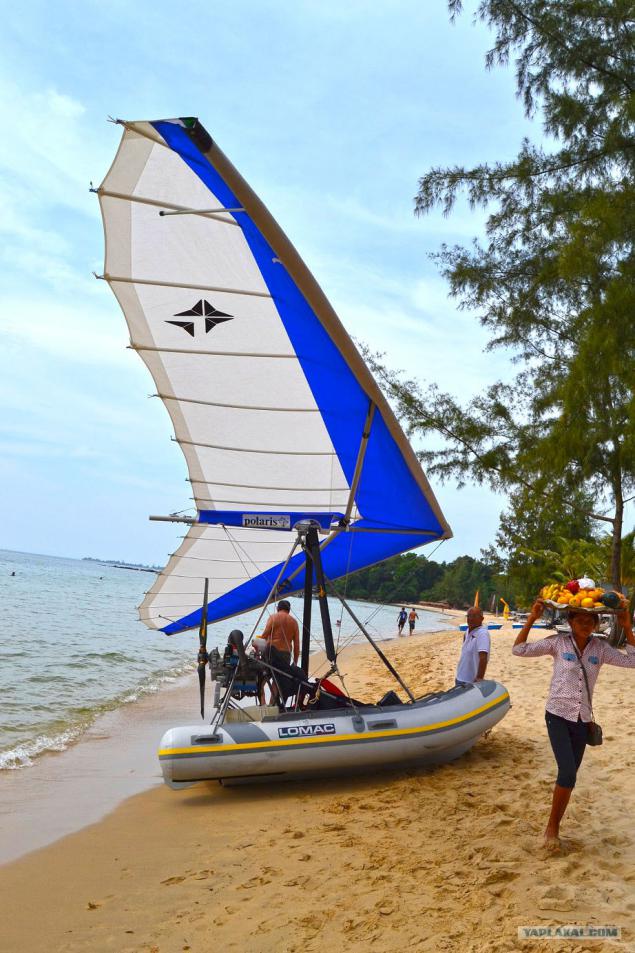 Otake from her for 100 ye like. The guy accent worse than mine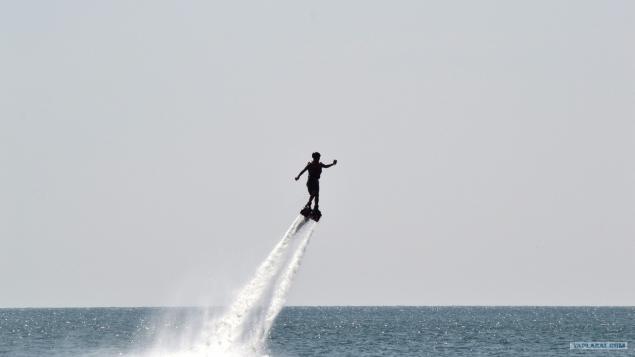 even a helicopter here the first time I saw. I cruised along the beach.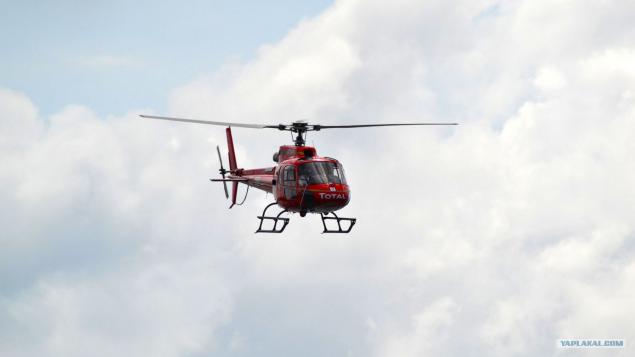 Otres night. I love this place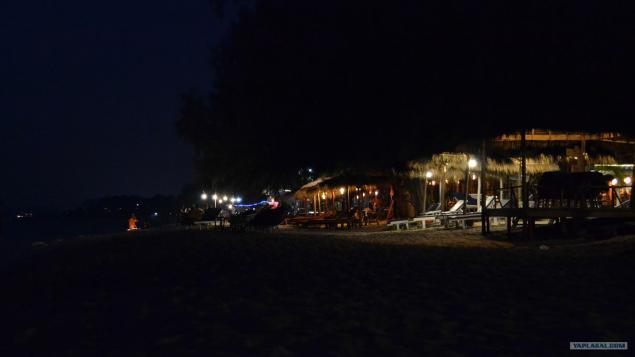 they play football? Well hot because
Posted in [mergetime] 1387352290 [/ mergetime]
The atmosphere is very positive in Cambodia and relaksnaya. There really is not anything I want to do-in a week, even in the water to climb laziness. I would like to just lie and present that will always be so good. The atmosphere was always asking themselves mestnye- relaxed, positive rukozhopy. Are any activities directed against tourists is simply impossible to imagine. And it is quite unusual, considering that there is a civil war going on recently. It does not fit in my head that these people violently destroying each other and cut a few years half of the population of the country.
As the authorities were able to curb kriminal- not know. After the war, at the hands of the population of weapons there are not less than in Chechnya, if not more. How many valiant men left after the war. But the fact remains faktom- in neighboring Viet Tae and likely to get many times more.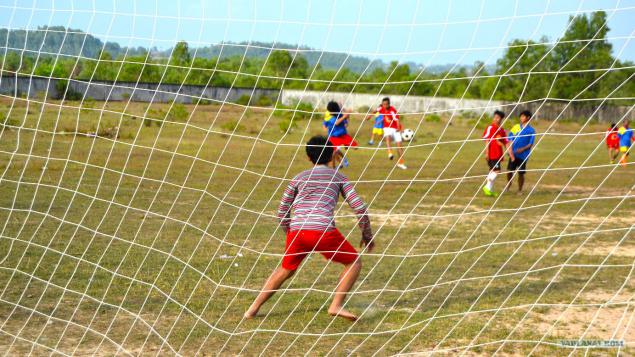 It was a front side of the coin, so to speak. There obratnaya- for my wife, it is not essential, but if someone suddenly decide to ehat- here it is, for the overall development.
After a series of wars in Cambodia since the mid-60 to 89-year (withdrawal of Vietnamese troops from Cambodia) economy is virtually non-existent. Most of the population lives very rich, in other words, very poor. Wages in the capital and major cities with about $ 100. Widespread poverty is even more pronounced in contrast to "Hammer", "Lexus" and other cars not cheap "masters of life." Wealthy people can only be seen on the big mashinah- a matter of prestige. With rampant poverty rates are not the lowest: electricity-20-30 cents / kWh, fresh water-like 50 cents / cubic meter, benzin- euro / liter.
As a consequence bednosti- dirt. In principle, the dirt - is a hallmark of the whole of Asia. On her completely stop paying attention to the second- third day.
Another consequence bednosti- beggars, a lot of them and against them is not easy to develop immunity, because it is not the usual beach vendors, who simply ignore - are asking for either children or amputees. When dayu- when not. They are really sorry, but I give all the money, too, I can not ...
Outside the cities and even in the urban housing are also not uncommon, there is a much tougher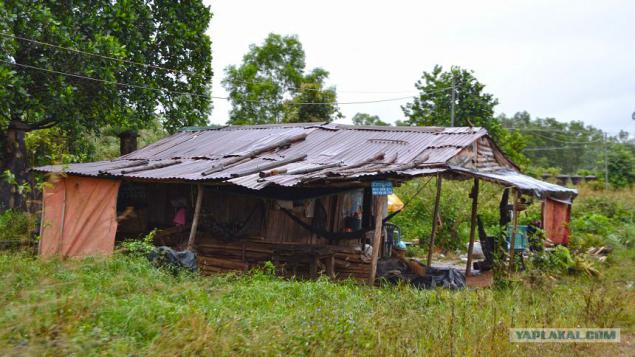 And now the most terrible trouble Cambodia - active landmines. They are more than in Afghanistan or any other country in the world. Approximately 5,000,000 ACTIVE landmines. These bitches do not usually kill and maim. War is no longer, and mines collected on their crops and will gather unknown how much longer. For tourists no- no danger to all the territories which reached out civilization cleared long ago, there is nothing to worry about. Local tear that his business forced to go deep into the jungle or to any distant plains, to which we are simply not physically able to get.
Another hypothetical opasnost- snake. But this is a minor issue overall Asia, the probability of encountering a poisonous snake from a beach a tourist is the same as to win a million in a lottery. They suffer the same room, in the same places where roughly torn by mines.
This picture is the only one of the network and well, what can I see them only in the form of the logo on the shirt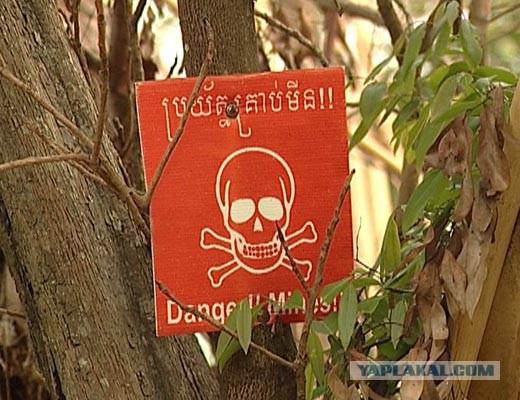 All right, enough of the bad.
lilies that color had not seen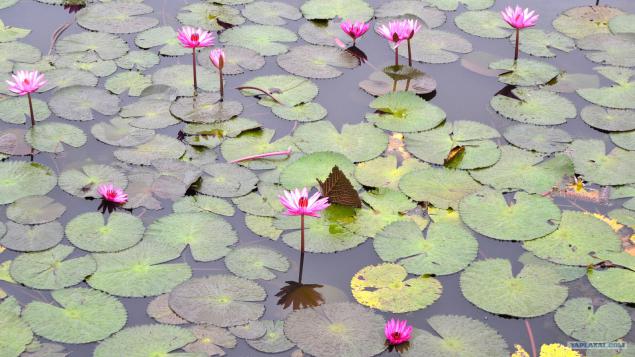 Khmer-rural landscape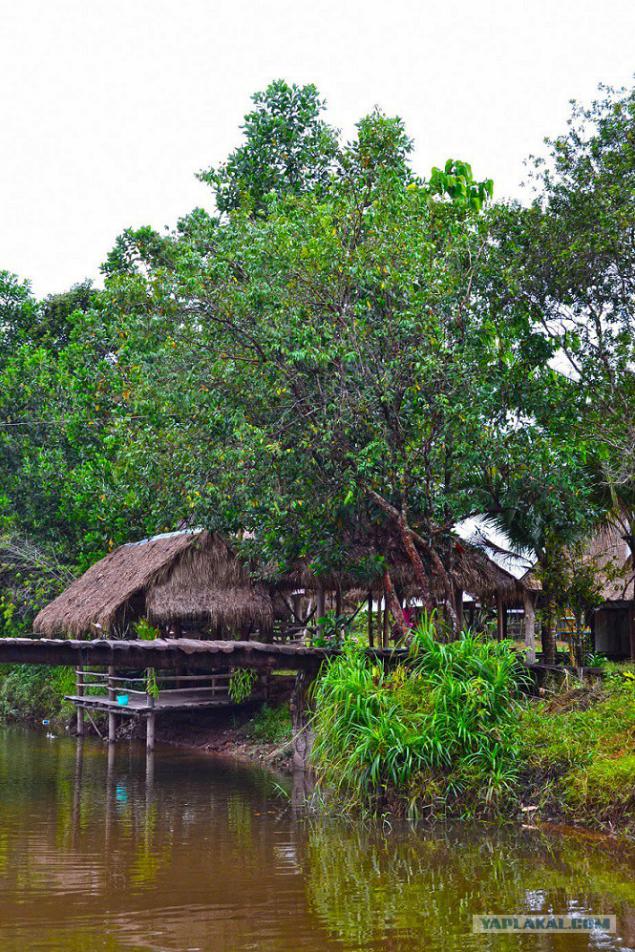 Bridge over river. Hammock under a canopy for those who are tired to go apparently :)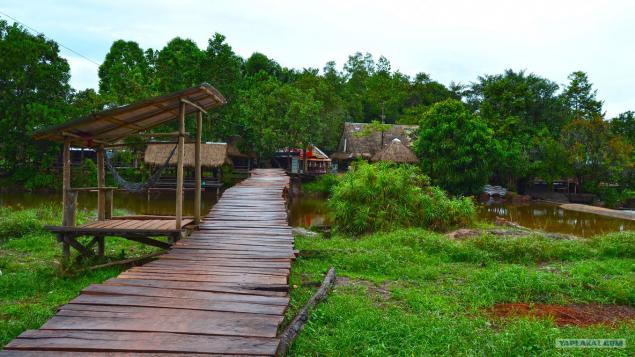 waterfall with an unpronounceable name. but it is here one by Sihanouk, you can not go wrong. No need to go to the waterfall in the rain, slippery, waterfall, though not great, but you can go wrong and be killed vlegkuyu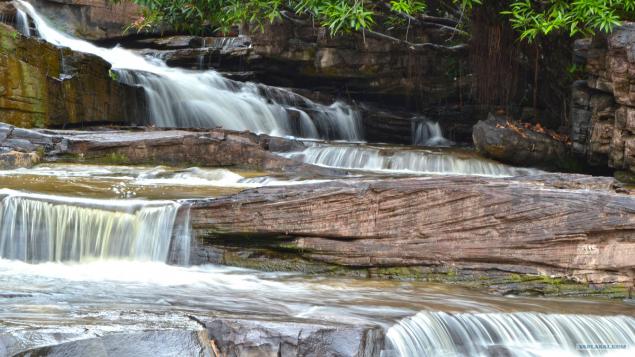 small branch of the same waterfall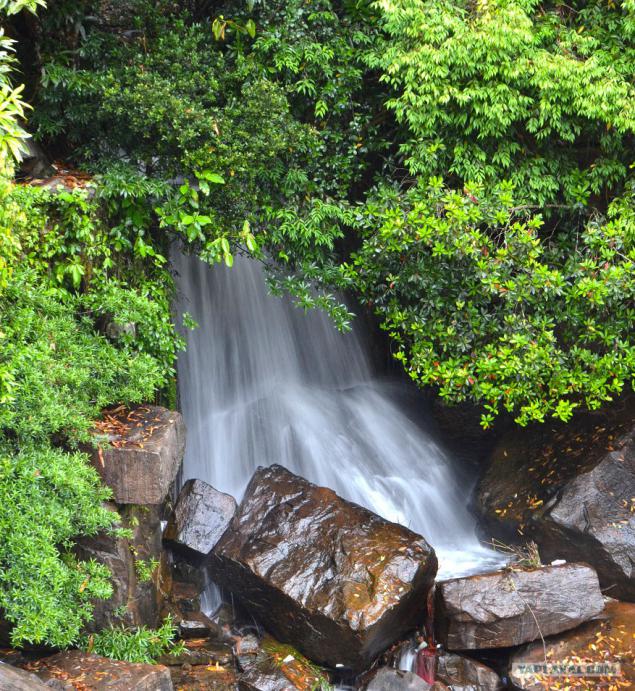 Well, what is the Southeast Asia without the monkeys.
Source: