- Sit down, my son, today I'll tell you a story, which I told my mom when I was little, and that was long before the revolution.
In the village of Novotroitsk in the area, which is now the brick factory, the couple lived Nikitin - Basil and Varya. They had three children. The family was not rich, interrupted as they could: Bob rotten, Varya from morning till night to deal with children sector, which was a pig, some chickens and a small piece of land, sometimes she also moonlighted as the rich villagers. Basil was a short, thin, little Varya was higher, but stocky, with broad shoulders.
They lived, in general, not bad, but they had one problem, Bob, when earning a few pennies, they drank away, and when he got home, scandals and beat his wife. After these beatings Varia covered her face with a handkerchief as she could, but neighbors still noticed the bruises on her face, knew everything and was advised not to tolerate more and complain Ataman, but she just kept silent and asked not to tell anyone about it.
Once they have gathered in the city of Stavropol to the fair, in order to exchange or sell a bit of bacon, eggs and potatoes, and used the money to buy the children clothes.
Relatives Vari they took skinny horse britzka folded in her food and at night, leaving the main eldest daughter, left the house ...
At the fair, they successfully sold their goods and buy children things and sweets. From the proceeds left a few pennies, and when they passed the restaurant, Bob told his wife to wait for him while he drank glass after a successful trade.
While waiting for her husband, Varya saw the crowd, which was heard by the noise and screams. Going up, she asked the men what's going on that one said, "What is that ... Again Mitya peasants on kulashkah bone breaks» ...
Men shook Varya saw standing inside a circle with his sleeves rolled up a big guy with a big black beard, which dragged bloodied next challenger for the win.
 - Well, who else wants? Who will win me, will receive a prize - five rubles! - I cried Mitya, laughing crowd ...
 - To live tired!? - I shouted at him ... Well, that is not real men? Nobody needs money? ..
The crowd roared, but wanting to get into the circle was not ...
 - Can I try! - Loudly said Varia.
The crowd fell silent at first, then there was a loud laughter ...
 - Go, woman, home, your husband and children waiting safe and sound - with a grin said Mitya ...
 - Do you suppose women are scared? - I cried Varya.
The crowd fell silent again, everything began to look at Mitya, who was not myself ...
 - Shot Glass me! - He shouted.
After drinking vodka and zanyuhanny sleeve, he said: "Get out!". Varka, leaving the bag, went in a circle, and rolling up his sleeves dress, stood in front of Mitya. A few minutes later, they stood looking at each other's eyes. Then Mitka deliberately, playfully, with a smile, slowly raise your hand to strike ... From the crowd, almost no one noticed that Varya, a little swinging, swinging, fist struck a powerful blow to the ear Mitki, which he first sat down, and then, uttering incomprehensible wheezing sounds senseless, sideways, slowly I fell to the ground.
The crowd gasped and fell silent ...
Looking for a way to bring a sense of Mitya, and waiting for their five rubles, Varya turned around and saw the crowd stunned husband, who looked at her with a white face and frightened eyes ...
In the steppe I heard the creaking of the chaise. Bob was holding the reins. Varya sat back on him. All the way they were silent ...
When the distance the lights of the village, Bob said:
 - Ary, fifteen years we have lived with you all these years, I mercilessly beat you, and you never complained to me, looked at my hand and could kill or maim one stroke, why did you not do it?
After thinking a bit, and after a pause, she replied:
 - What are you, Bob, you say, how could I, you're my husband ...
Above the steppe was quiet, sometimes just heard the creaking of the chaise ...
 - These are, son of the case. At some point the neighbors began to notice that Basil and Varya began to live peacefully and amicably. Drunk Basil never seen again.
Yu Meshcheryakov
Ps: The story is not mine, but the topic has thrown because a similar story, and my grandmother told me. Her aunt was blood and milk. We called these "big bones" - high, thick and strong. And while still beautiful. And it has managed to marry the young and skinny, but fussy and evil. So, when he beat her, he had to put a chair in front of her, to reach out to the person.
I am always amazed that the story - it was obtained, and the "meter with a cap" thrashed her with a stool. ETOGES how much she loved him !!! I do not break it with his stool.
And now that his fists are scratched a woman, just I imagine myself in front of her on a little stool ... and let go.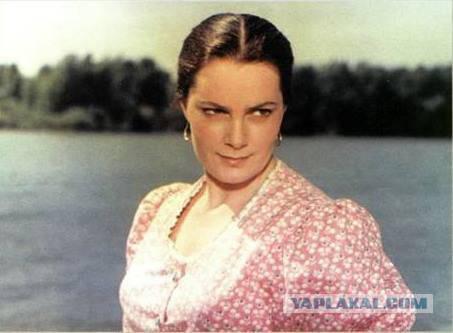 Source: