03/23/2014 News of the Week. Kadyrov: "Yarosh will unichtozhen.U he has two ways, first, he shall be destroyed or justice, wherever he was.» & Quot; Muzychko all this riff-raff, all the devils, they fled as soon as the cleanup. & Quot; Kadyrov promised to go through all the terrorists who participated and urge Russia to blow.
The leader of Chechnya, Ramzan Kadyrov vowed to kill the leader of the Ukrainian public movement "Right Sector" Dmitry Yarosh. This Kadyrov wrote on his Instagram.
"Doku Umarov, with our help, went to where no one has ever returned. We write to the ticket and Jarosz, "- said Kadyrov.
According to him, today called Jaros Doku Umarov to organize terrorist attacks in Russia.
"Today it became known that the leader of Ukrainian nationalists from the right sector Dmitry Yarosh asks Doku Umarov to organize terrorist attacks in Russia. We clearly saw America and Europe who believe the opposition and political force. Yarosh public calls for terror, but it helps countries that allegedly against terror. US Umarov acknowledged one of the main terrorist of our time, and Jaros for them a good guy. Ukrainian nationalists would oppose Russia also Crimean Tatars. I personally talked with their leaders. They do not intend to take up arms against Russia. And the words of Dmitry Yarosh that fought in Chechnya, we will not leave without attention, "- said Kadyrov. [Next]
On Saturday, on the page of the movement "Right Sector" in the social network "VKontakte" Yarosh published an appeal to Doku Umarov, in which the leader of the "Right Sector" Umarov's calls to support Ukrainians in their struggle against Russia.
Earlier, Russian Deputy Prime Minister Dmitry Rogozin, speaking of Yarosh, wrote in his Twitter account: "In all we Bandera there SMERSH».
Watch with a 48:16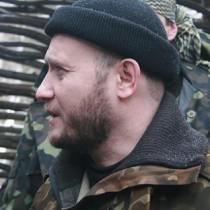 Source: