25-year-old resident of Minsk Anna Sushkevich dreamed about horses since childhood, but no one among relatives horse farm was not engaged. So many years later she founded a private stable "Horse named Mission of Hope" and began practicing hippotherapy with sick children. On January 1, officials ordered her to pay two million Belarusian rubles in tax every month. And they do not mind that the girl working at a loss. In the hope of helping the public, Anna turned to reporters famous Belarusian editions.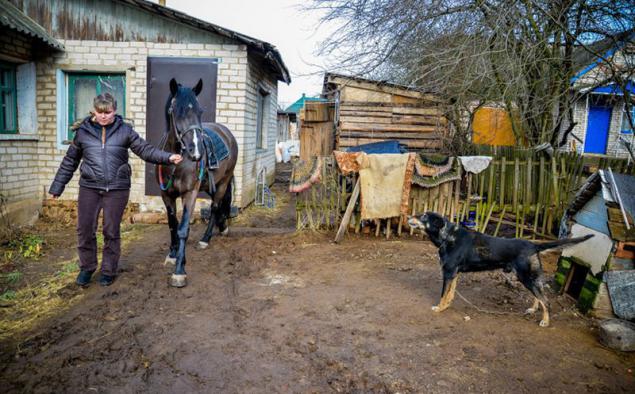 Long demonstrate a modest farm correspondents did not have: a small paddock for two horses, even a little - for the two ponies, yes dog on a chain. Despite the overall picture of the sad, the favorite mistress - a five-year and four-year mission Matryoshka - look very well groomed. In older black mare fashionable hairstyle on the rump as the sun and the clover, in a playful redhead Mission - in the form of the wings of Pegasus.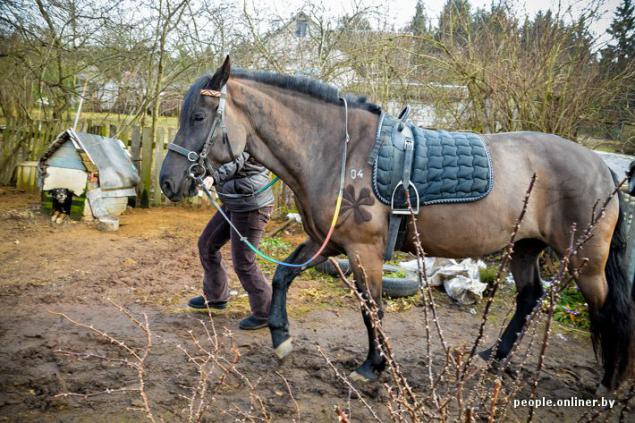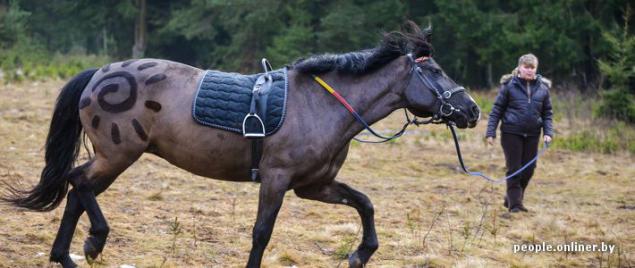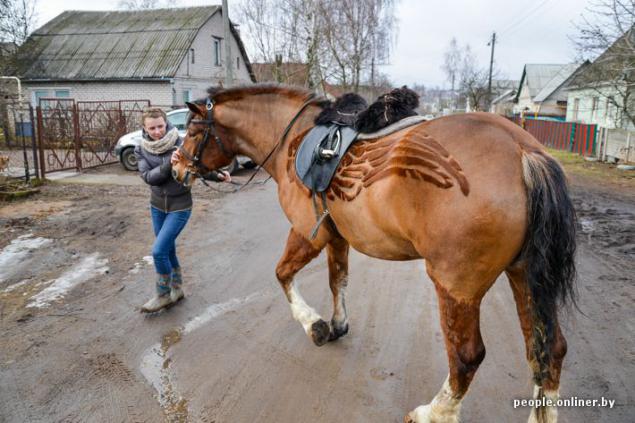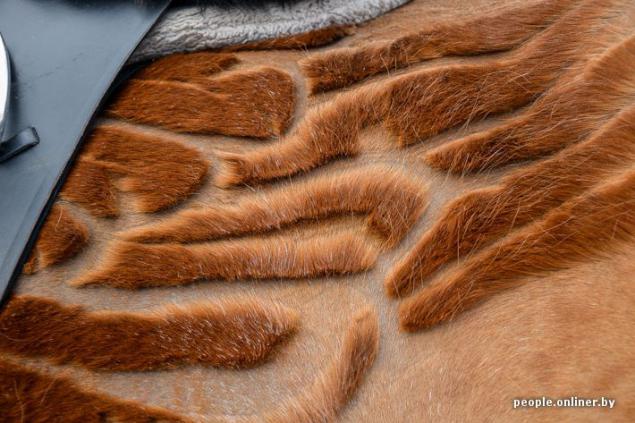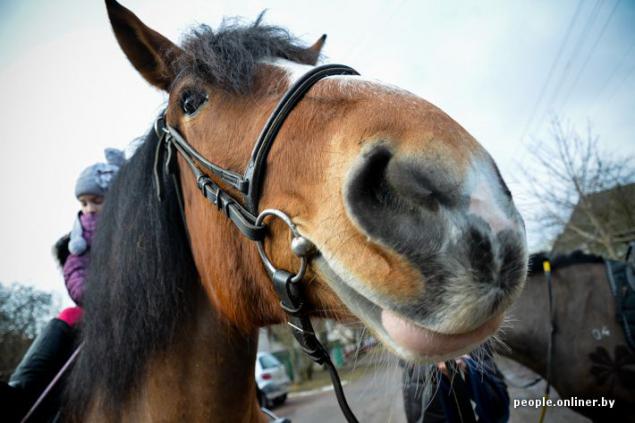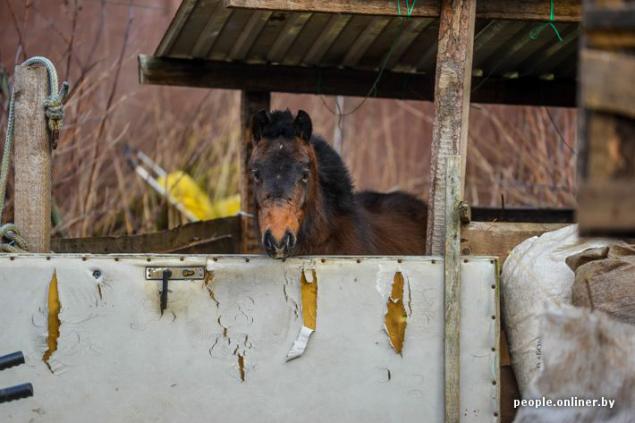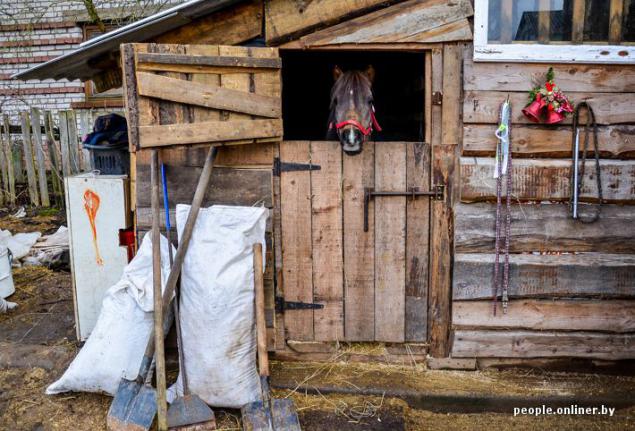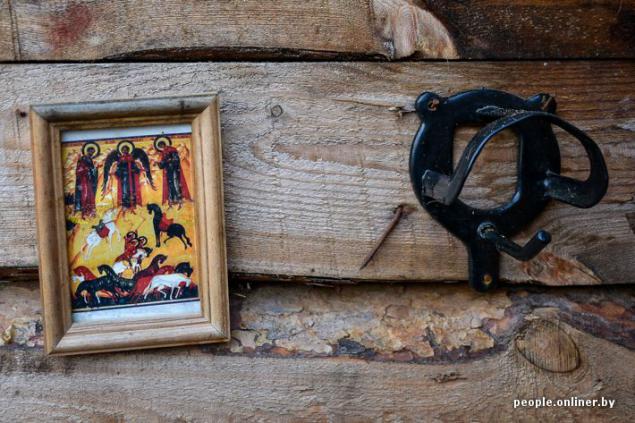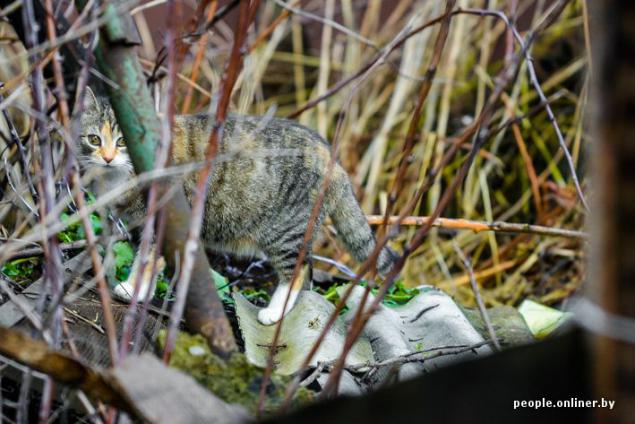 "Horses were my all since childhood: toys, pictures, movies, riding ... But, when grown, had all quit and do something else, it is vitally important, such as the history department and study, - says Anna Sushkevich fluently. - But one day I was called by the chairman of the Belarusian Association of riding and hippotherapy Valentin Vinogradov and said she needed an instructor. Then I did not work with the disabled, and generally refers to hippotherapy skeptical. But still agreed ».
In the end, it turned out that in his specialty, a history teacher at the school, Anna Sushkevich not worked a day. Instead, she chose a different craft. Starting with a few clients - children with serious diagnoses "autism", "cerebral palsy", "stroke", "psychomotor retardation", she gradually found a lot of families with special children, for which hippotherapy sessions have become a real salvation.
"Children are very much a variety of diagnoses. This such a disaster! But the worst thing that the government is indifferent. The people believed that hippotherapy - this is a cool business and we earn easy money on the disabled. In fact, the situation is as follows: hour rental in Minsk on average costs 200 000, I have the same price remained at 60,000, that is three times cheaper. Less place I just can not, because you have to keep horses. Throw it all as some advise, I will not. How can I quit what people need so much? Well, how? Thus it is necessary to somehow get out, organize celebrations, competitions, because children's activities, which I do - it's just tears. Them, but a couple of events per year, even go nowhere. All my parents par. But it is necessary to go to the city bus with a disabled child, people are starting to show finger as a fool. Do Belarusians no ethics no, no respect? The problem of culture in our society is enormous. At any disease people say "fool" or "moron." Very sad, "- says Anna.
During our conversation, quiet Matryoshka stares at correspondents, curiously sniffing guests. Refreshments begging. According to the owner, not every horse can deal with hippotherapy. There need long-term training. But even the most trained horse is able to work with sick children no more than four hours a day, otherwise the animal will fall too great moral burden. Yes, says Anna, the psyche is extremely sensitive horses. In addition, these animals are able to take on human disease. Medical know many cases when the horse "taken" in children oncology.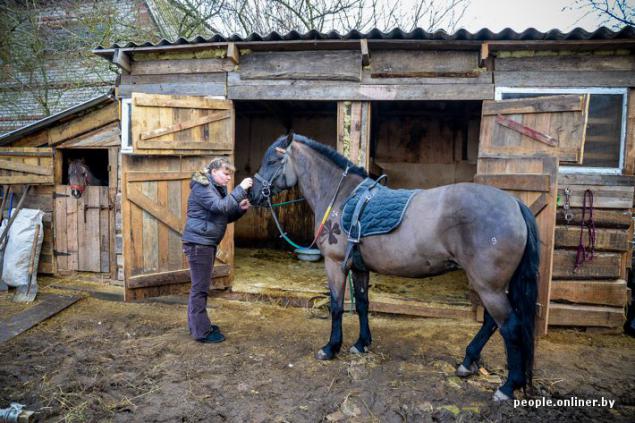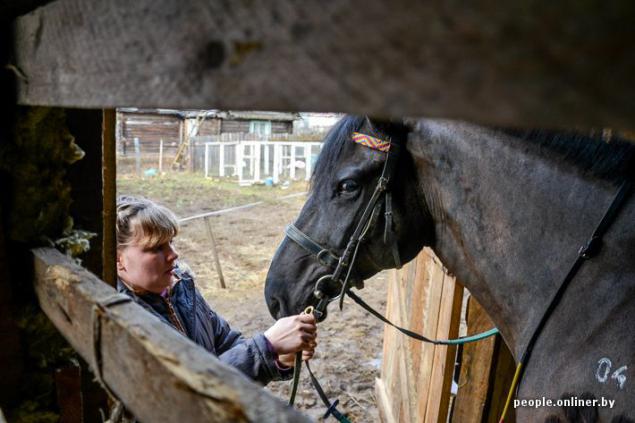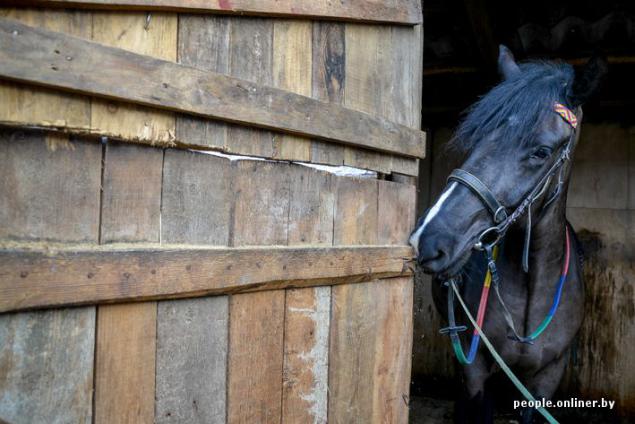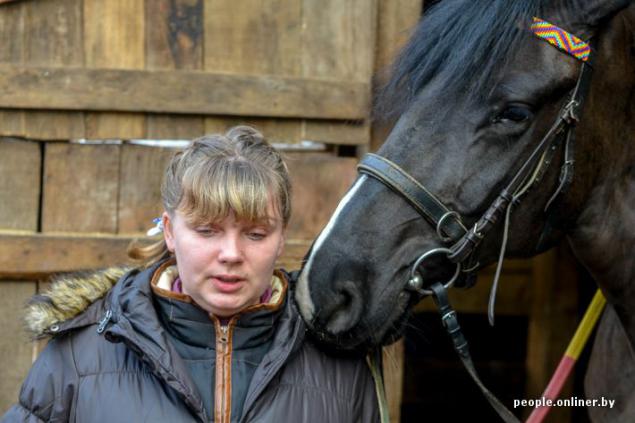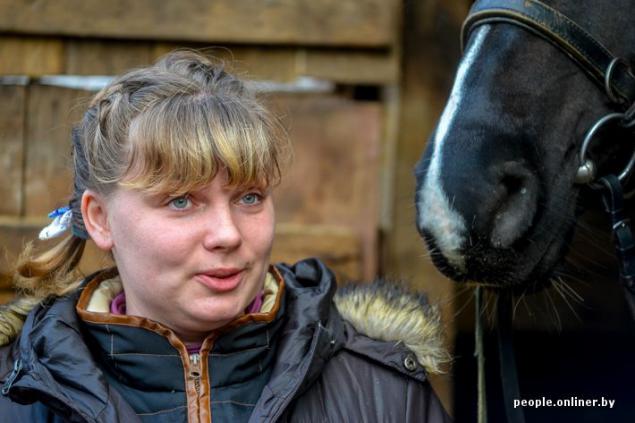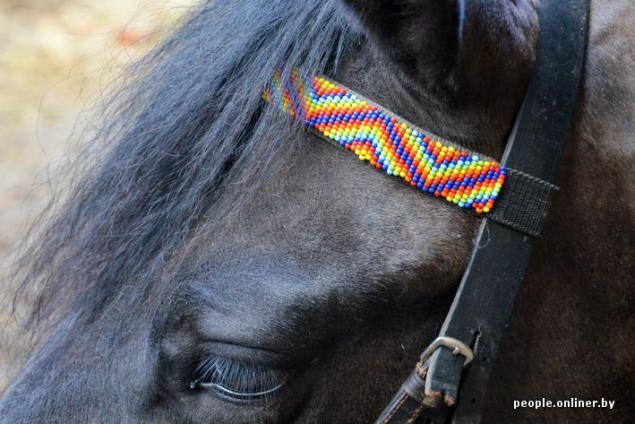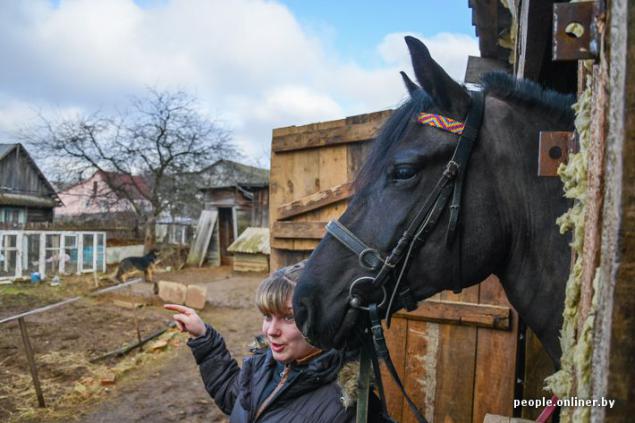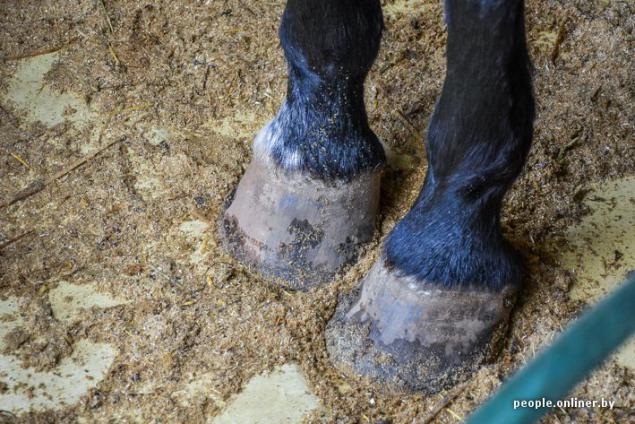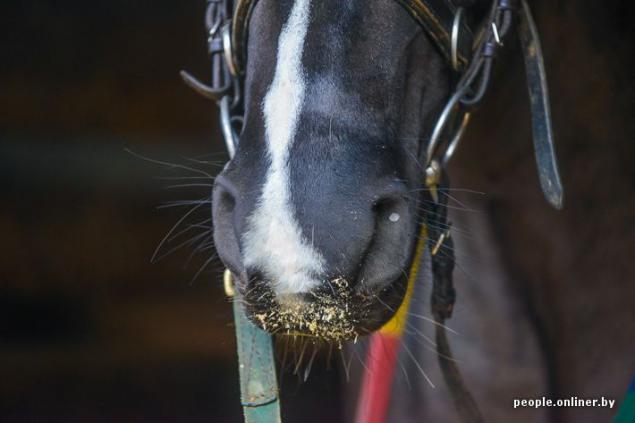 Anna believes that the problem of society is that people are used to getting a lot, including the state, and nobody wants to give. "And to survive in all of this at all unrealistic. Knocking on someone explain ... Since January 1, entered service tax "riding". And the tax nobody cares that you're working with people with disabilities. Do you want to - children riding, you want - uncles, aunts or not at all, put the horses in the stable. But two million, be kind, every month Pay. It's all very sad, "- sighs girl. And immediately contradicts itself: the world is still not without good people. There were friends who gave two ponies, to the delight of children. Neighbors Anna agreed to shelter his horses on the yard, when the owners of a house that Anna took off with her husband, threatened to expose Sushkevich won (horse stall them too annoyed). Anna's sister, 20-year-old student of faculty of foreign languages ​​Katya - loyal assistant and friend in a difficult horse's case.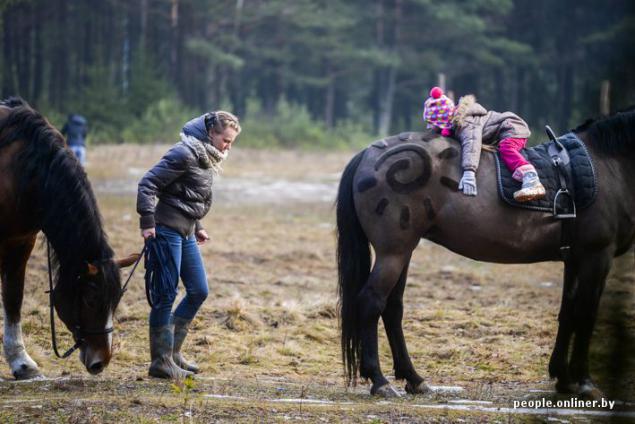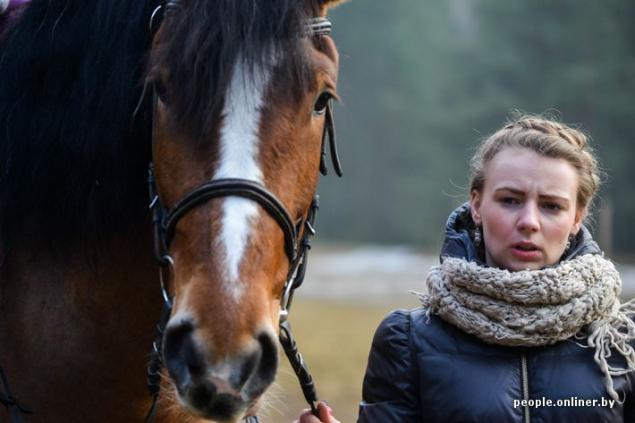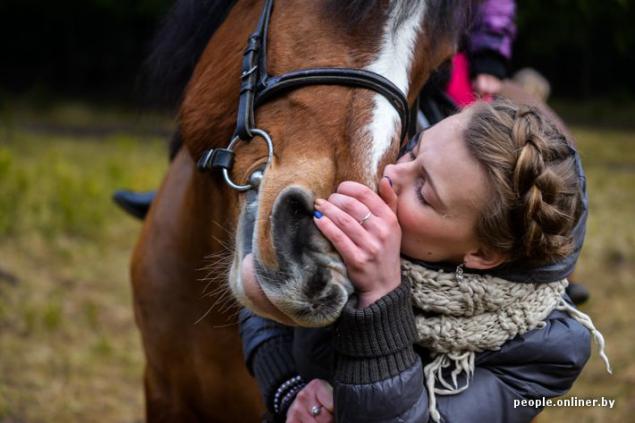 "Why am I doing hippotherapy, although it does not bring material benefit? - Asks Kate. - You know, it's hard to explain. It is necessary to experience to understand. "
"I would like to after the publication of the people thought about special children, I realized that this also is - encourages Anya. - After all, no one is immune from cerebral palsy. You can not imagine how the parents killed it all ».
The girl said that, unfortunately, in a difficult financial situation, which is now formed the "Horses on behalf of the Mission of Hope", nowhere to turn. "For the president to go useless. Money for hippotherapy in the country is not, we have the same world hockey championship. I understand that our society is consistent with his time, but would like some mercy ... At the beginning of the year, when introduced a new tax on riding, I had a desire all to hell throw horses to sell and tell her husband everything will live a normal life like everyone! But this is impossible, this is the meaning of life. Horses - he was still a drug "- laughs Anna.
The girl looks forward to many caustic comments from the users, they say, why should voluntarily resign ourselves to such pain, lack of income. But to think so, I'm sure Anna, can only people who do not know the feeling of being wanted, and the moral importance of the impact of its work.
Inhabitant Tatiana three years constantly carries his six-year daughter Varya Anna Sushkevich. The girl dysplasia joints. This means that one joint and underdeveloped because this shortening occurs legs. "In three years we have planted Varya on a horse - and since then it has become her true love. But we did it not just for the pleasure of her daughter, we have indications for hippotherapy, - says Tatiana. - How does this work? Children do different exercises while sitting in the saddle. Hot horse's back (41 degrees Celsius), moving all the muscles of the animal have a massaging effect. A step the horse works as a heart rhythm in man ».
While we were talking, Mission and Matryoshka enjoy freedom. When the lesson ends with the children, Anna gives horses the opportunity to blow off steam - pogartsevat at full speed. It is gratifying to see this picture: forest, meadow, playful neighing, strong and confident movement of animals, children admiring glances ... Apparently, this is what is called the meaning of life.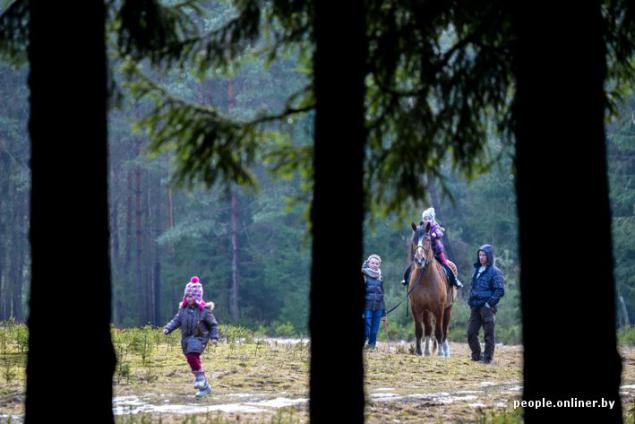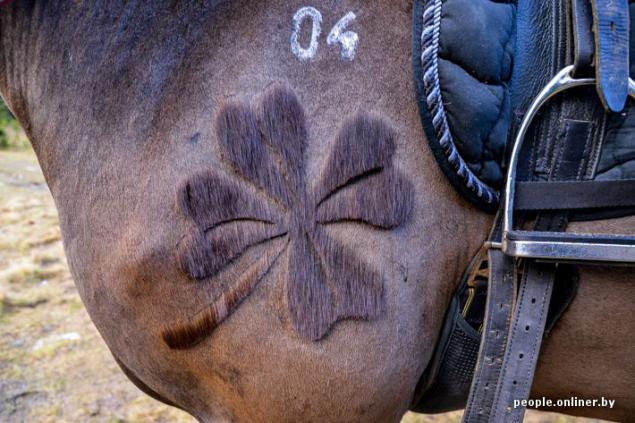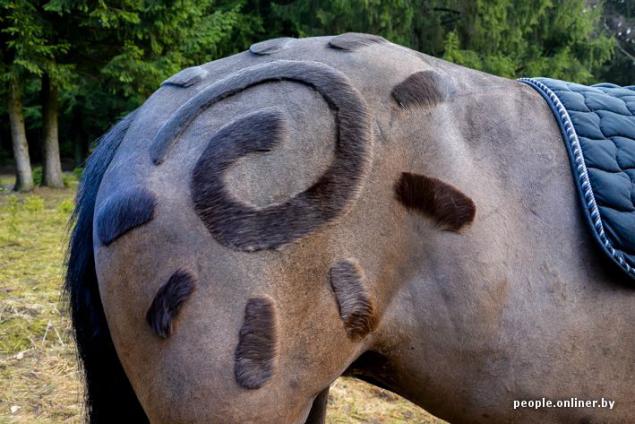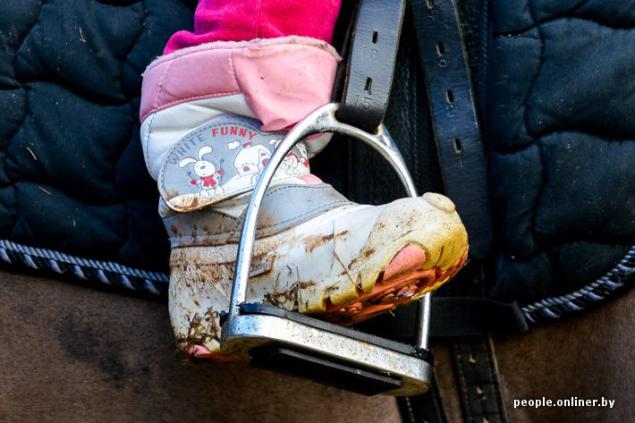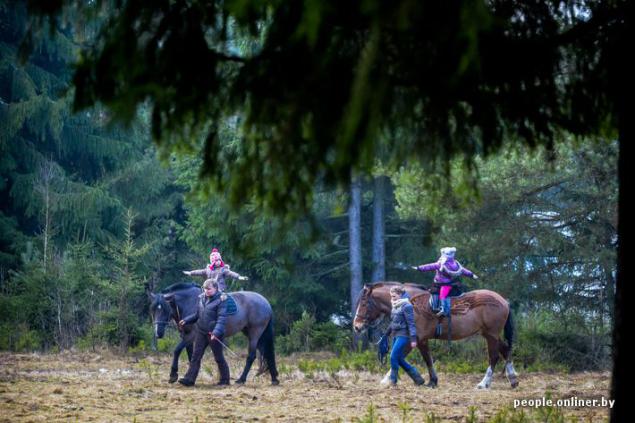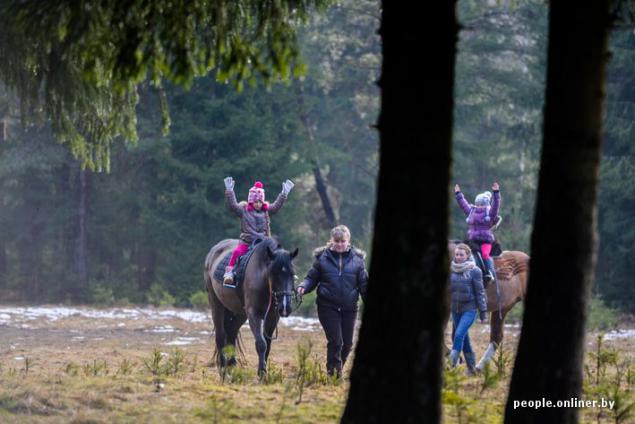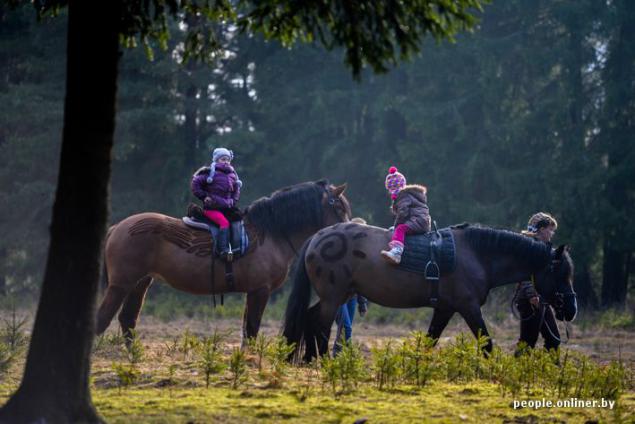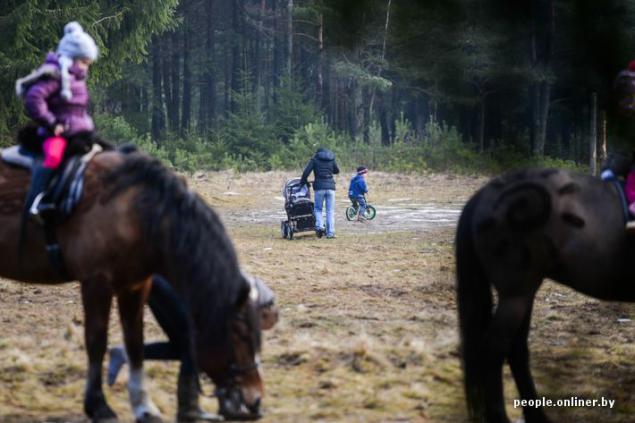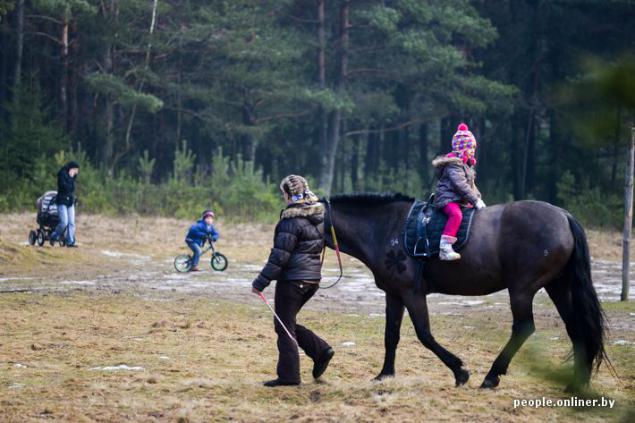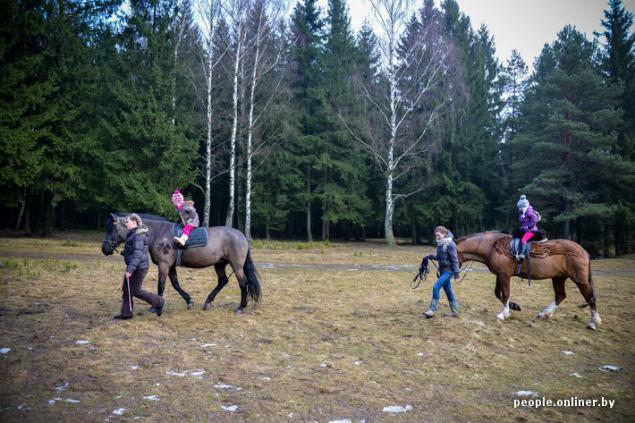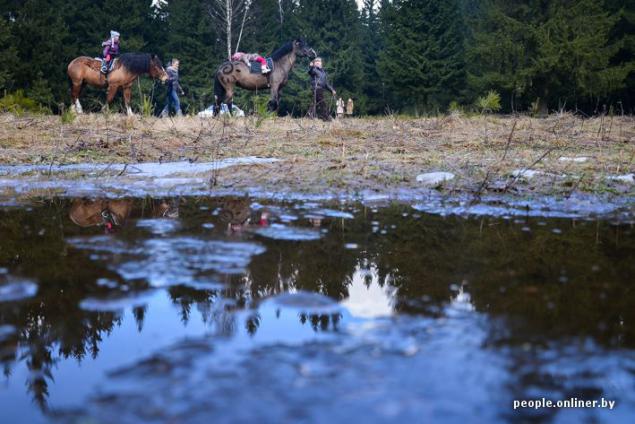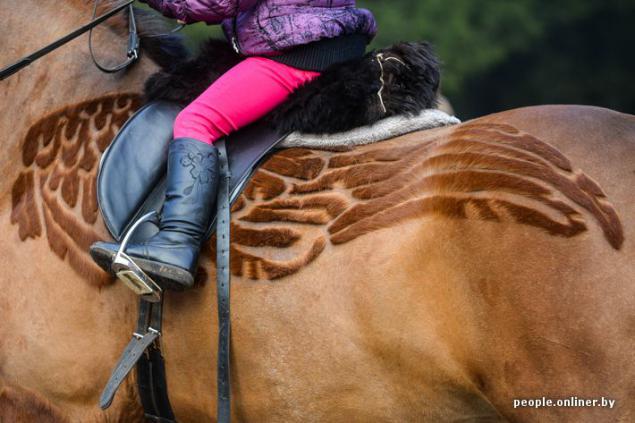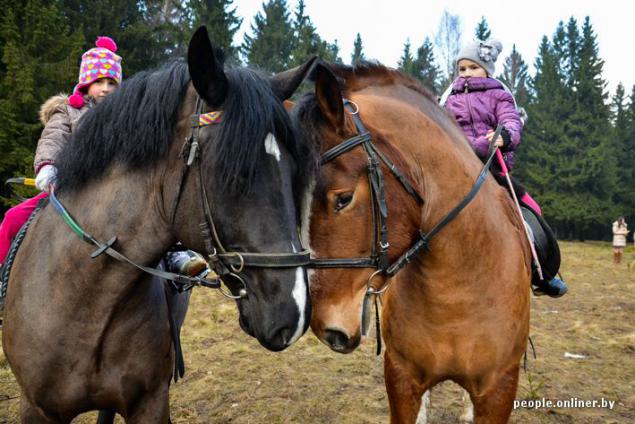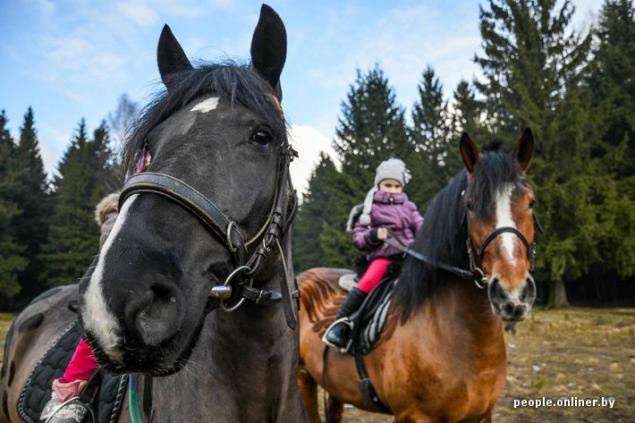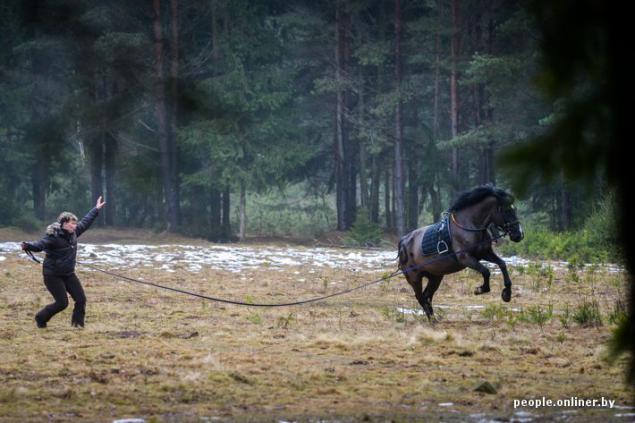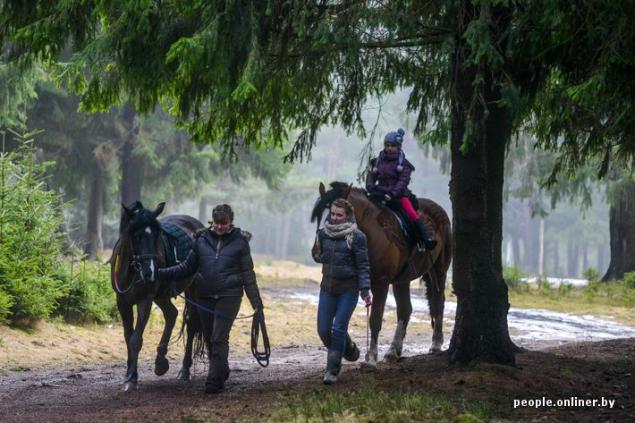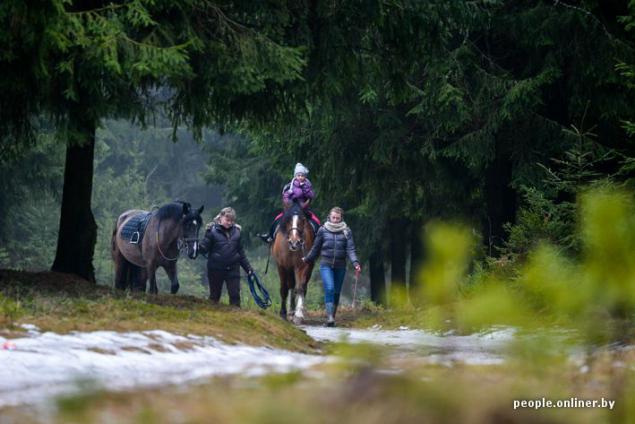 Source: people.onliner.by