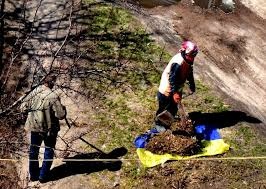 While Ukraine is divided into pro-and anti-Urgantovskuyu Urgantovskuyu groups and very active, sometimes with the transition to the individual, to defend the point of view of social networking and outside (sometimes skladyvaetya impression that he would be more or less newsworthy, but always enough saliva) already out of the Ukraine received an alert about another act of vandalism and abuse. At this time almost on the most sacred - on our flag.
And the hand of Moscow has absolutely nothing to do with (although you never know. Muscovites - they are quirky people. It could hold and sequence) as criminal disrespectful to State symbols allowed Chernigov janitress. Which store the garbage on the panel, suspiciously reminiscent of the Ukrainian flag. Prosecutors, knowing that sin to ask forced a man who appreciates the price action on the fact of fulfillment (about, "Oh, that I knew hiba?"), Trying to portray the matter so that the flag and some were not. Spornennko, but quite understand the position. It's there if we recognize that the flag was still there will have to bring proceedings already on all the local housing office. For the supply of equipment. Yes, along the way, there is for that. And who is a hemorrhoid on level ground is needed?
Well, the very hero of the occasion for the commission in the case of confirmation of guilt (which is unlikely), or threatens to three years in prison or a fine eight hundred fifty hryvnia. Cool price. It's stupid if the forehead estimate, it turns 283, 33 hryvnia per year term. It is clear that there are nuances, but we have fun quotation for freedom.