There are several tourist myths in relation to the border between the two Koreas.
The first states that the border runs along the 38th parallel, the second - it is necessary to look at the border village of Panmunjeom 50km north of Seoul.
In fact, do not necessarily go to the fake tourist "attraction" at Seoul and pay a lot of money, as most tourists, the border can be seen in many places, it stretches nearly three hundred kilometers.
With regard to the 38th parallel, it is not quite true.
At the end of the Korean War in 1953 the parties have made the exchange of territories: North Korea received a part of the western sector of south of the 38th parallel, and the southerners have received part of the eastern sector of the north of the 38th parallel.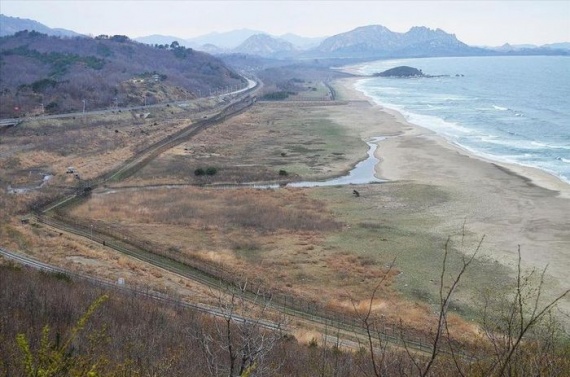 Take a look at the map, where the 38th parallel, and it becomes evident that it has a political rather than geographical significance. We decided to see the border at the northernmost point of South Korea, in a place with the name slozhnoproiznosimym Hyeonnae-myeon.
Absolutely not meet visitors you do not succeed, because the DMZ (demilitarized zone), it is by definition a closed area; Israel is not like where to go and touch the border fence. Locked area starts about 5 kilometers from the DMZ and the there are only five points, which will allow you to physically move closer to the fence and look at the DPRK. In all other cases you will be able to see perhaps that is very far away in the winding through the mountains fence and attempt to approach them will be immediately stopped vigilant Korean soldiers.
Given the fact that you'll remember me somewhere "profukannyh" international driver's license (in the sense of a paper liner), then take the car rental Korea failed. To some extent, this was compensated by a visit to puncture the border with China, Taiwan Kinmen Island, but actually it does not change. Therefore, to spend the night near the border, in the tiny town of Canson, 20 kilometers from the border with North Korea, I am in the early morning moved towards the border as such. There every hour goes the local bus, which is stopping in every village eventually reaches the check point, after which begins a closed military zone. As we approach the border of the bus empties eventually you remain his only passenger -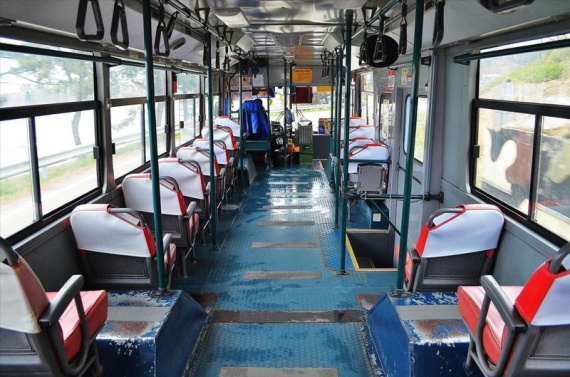 That's the end of the road, where the bus turns around and goes back. And fans of the borders have about a half kilometer walk along the roadside -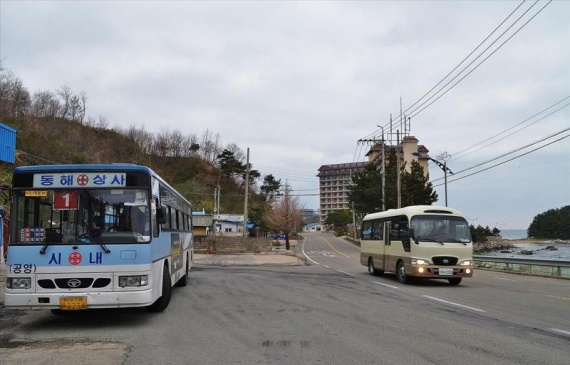 The fence on the right along the coast for almost 100 (!) Kilometers. The fact is that in 1996, just south, near the port city of Donghae ran aground North Korean submarine. Unwilling to surrender, the captain ordered to disembark and to break with the battle for the land back to North Korea, to which about 100 km in a straight line through the mountains and forests. During this raid insane fanatical communists, killing about two dozen innocent people relaxing on the beach, and the soldiers of the South Korean army, arrived on the scene of the alarm. Eventually, all the "northerners" were destroyed. Since then, South Korea had built a fence on the tens and hundreds of kilometers, sealed beaches. It looks a bit depressing, but such local realities. More can be read on Wikipedia article «Gangneung submarine infiltration incident» -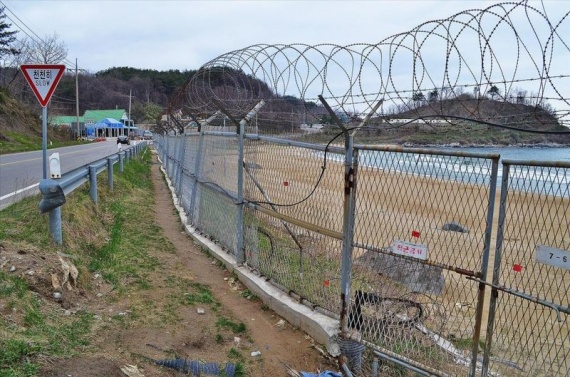 Past and then carried by military vehicles -