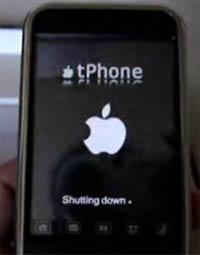 "Masters copypaste» has released their "version" of the famous epplovskogo iPhone. Dubbed simple and uncomplicated - tPhone. Even made a mirror image of the logo logo Apple.
An interesting detail: the back of the brazenly written «iPhone».
Under the hood: 2mpix camera, the ability to support 2 sim-cards (both can not be used, but there is a very easy to switch between them), 64MB of internal memory, a slot for microSD cards (Card 256MB included), connect to the computer via USB (USB cable in included), stereo speakers.
Judging by the fact that the author of the video uses a stylus, Multitouch function and optimization for your fingers are not provided. The interface is also not identical to the original. I suppose that in this unit is a Windows Mobile, or Linux, have ended up with average device poshiba.
Agree to forge very soundly!
But alas, the Republic of China is not for sale ...