The cast of gold, decorated with diamonds, hung with tiny bottles of brandy and other trees, the cost of which is capable of impressing.
The owners of London's Claridge's, there is a tradition: every year they turn to famous designers with a request to make an exclusive Christmas tree, which will delight the eyes of guests. To create a festive atmosphere at Claridge's had a hand in John Galliano, Alber Elbaz, Callie Ellis. It is not known how much it costs the hotel collaboration with fashion guru, but it is clear that we are talking about tens of thousands of pounds. However, there are cases in history when the Christmas tree and spent far more impressive sums. Before you 9 trees, whose cost would be amazed, even Santa Claus.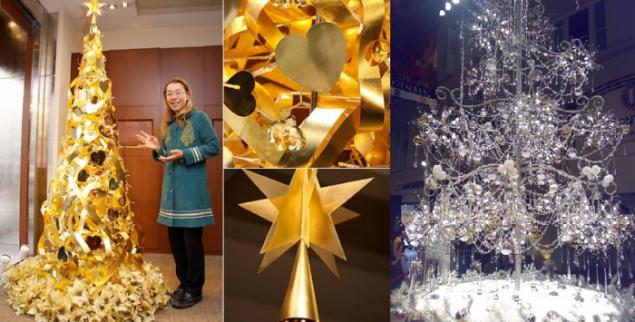 1. Christmas tree in precious stones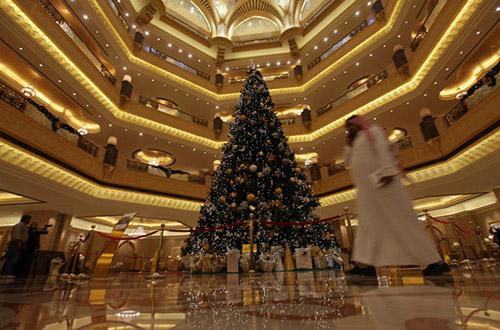 Cost: $ 11 million
The most expensive in the history of the Christmas tree has been installed in the luxury Emirates Palace hotel in Abu Dhabi in 2010. The cost of the wood does not exceed a few thousand dollars, but in the case of Christmas toys was already by millions: when you create them used pearls, gold, diamonds, sapphires, emeralds. On a Christmas tree hung not only precious beads, and jewelry: watches, bracelets, necklaces. Such a grandiose celebration of Christmas in a Muslim country seems unreasonable, but the administration Emirates Palace is not guided by national customs, and demands of the rich guests. So, the hotel has a vending machine that sells gold bullion, and the rate includes use of a private jet.
2. Golden Tree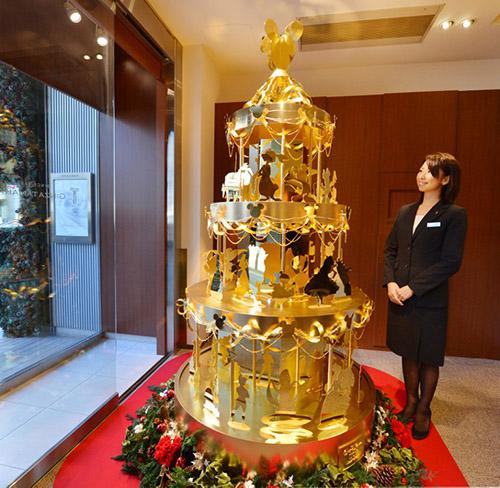 Cost: $ 4, 2 million
Japanese jeweler Ginza Tanaka is not the first surprise the audience with Christmas themed masterpieces. For example, in 2007, he cast the 20-pound golden Santa Claus, and a year later there was a golden tree at the cost of more than $ 1, 5 million. This year, Tanaka surpassed himself. At the beginning of December, it appeared the company store Christmas tree, the creation of which took about 40 kg of the precious metal. On the surface, it looks more like a not a tree, and a multi-tiered carousel. Instead of horses - 50 figurines of Disney characters: Cinderella, The Little Mermaid, Pinocchio. And, of course, Mickey Mouse: to this character Tanaka indifferent for a long time and have had a few years ago to make it a golden copy.
3. Flower Tree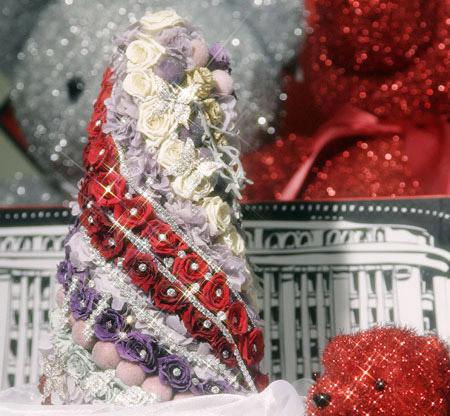 Cost: $ 1, 8 million
To the cost of the Christmas tree has reached astronomical sums, she herself does not necessarily differ gigantic growth. In 2007, in one of the shopping centers Takashimaya Japanese network went on sale a tiny Christmas tree, buy you could afford only a millionaire. Its design has been developed with the participation of French floral boutique Claude Quincaud. Tree consisted of several hundred tiny dried roses. On the petals of each of them as a dew diamonds were imported from Australia and South Africa - a total of about 400 pieces with a total weight of 100 carats. A nice addition served Teddy Bear with a diamond pendant. However, wanting to buy a souvenir this Christmas and was not found.
4. Diamond Tree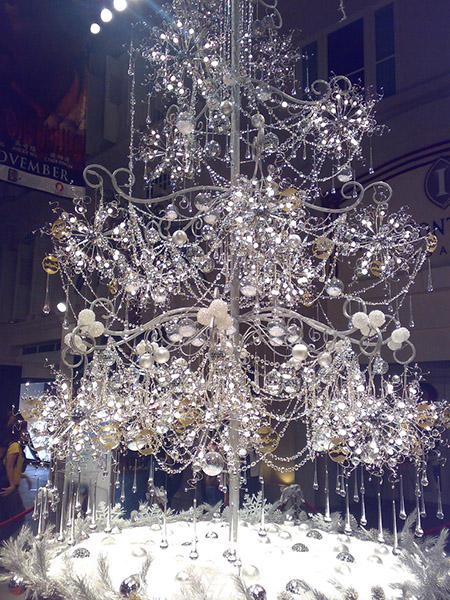 Cost: $ 1, 005 million
Hang on the Christmas tree toys - the last century: it is much better to look polished. Apparently, such considerations proceeded representatives Singaporean jewelry house Soo Kee, decided to create a Christmas tree at the cost of over a million dollars. For its decoration has been used 21,798 diamonds weighing 913 carats. On the graceful branches hoisted 3762 crystal beads. We develop all this splendor for almost five hundred bulbs. The height of the tree reaches six meters, weight - three tons. Installed in a large shopping mall, tree was under the clock security, but who want to encroach on diamond jewelry and was not found.
5. Capitol tree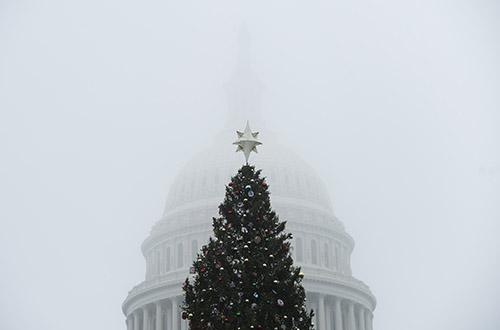 Cost: about $ 1 million
The main Christmas tree USA unofficially considered one that shines lights on the Rockefeller Plaza in New York City. For the right of superiority it could argue spruce the place where - at the Washington Capitol. Grown in nursery tree sometimes has to drive to the building of Congress across the country, the height of trees can exceed 20 m, and for decoration giantess require thousands of light bulbs that need to be firmly secured to the thorny branches. Not surprisingly, its transportation, installation and design cost the state treasury in a round sum. On the other hand, the tree brings so much joy to people, that it is not a pity to spend a million dollars: a ceremony of the lighting of fires in itself becomes a holiday.
6. The Tree of Swarovski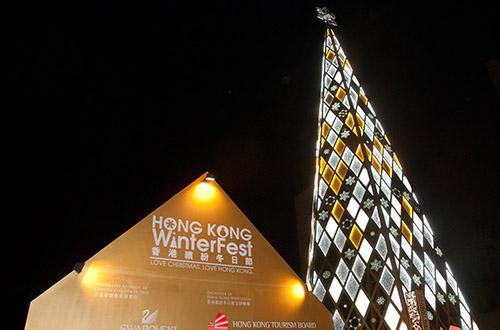 Cost: about $ 500,000
In order to justify the title of chief specialist for rhinestones, Swarovski has every year entertains fans of its products copyright Christmas trees, which are iridescent. Most notable of them was collected in 2010 in the heart of Hong Kong. Christmas tree is a cone tridtsatimetrovoy height. On its face it was dealt pattern folded in more than 20 million gold and silver crystals Swarovski, specially brought from Austria. In the light of the day "tree" it did not look too impressive, but in the evening and at night when the lights worked, tree makes a great impression: tourists admitted that from a distance it might well have been mistaken for a Hong Kong skyscraper.
7. Charity Tree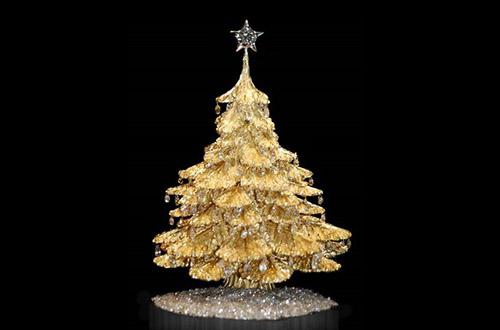 Cost: $ 500,000
Unlike their eastern counterparts, the American jeweler Stephen Quick decided to create a Christmas tree, which was to bring not only aesthetically pleasing, but also practical use. Made of 18-carat gold covered tree loose diamonds, played the role of crunchy snow. At the top of the platinum star sported a diamond weighing 4, 52 carats. A couple of weeks tree languished in a shop window, and then was put up for auction eBay. All the money collected from the sales went to the foundation of the American Cancer Society. Quick Steve took care of those to whom such an expensive purchase was not affordable: developed low silver plated and gold-plated small copy of the Christmas tree for $ 20 and $ 25, respectively.
8. Christmas tree from Tiffany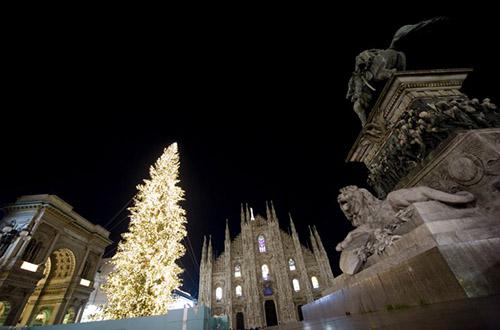 Price:? 350,000
In December, residents of Milan prefer to go outside the city and even the country, but if you believe the results of opinion polls, in 2010, many of them to change habits and stayed home. His decision Milanese motivated in particular by the fact that in the Piazza del Duomo, a new attraction - the Christmas tree donated by the fashion capital of the jewelry company Tiffany & Co. At the base of a tree, decorated with tens of thousands of lanterns, there are shops, decorated in the style of the famous pale turquoise boxes. Part of the profit from the sales was given to charity. Despite this, the rector of the Cathedral of Milan expressed his dissatisfaction with the fact that the commercial organization intervenes in the tradition of the Christian feast of light.
9. Tree tipsy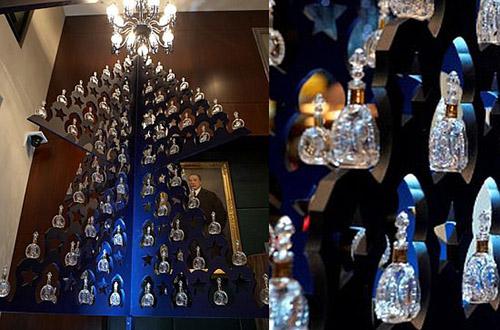 Price: £ 35,000
Guide fashionable London Sofitel's not for a moment forget that alcoholic libations during the December holidays are no less important than the presentation of gifts. In 2010, in the lobby there was an unusual Christmas tree is a structure of dark gray metal. Instead of balls and candles on it glittered small bottles of cognac Louis XIII. Made by hand, they were masters of the company Baccarat, which is perhaps the world's leading manufacturer of crystal products. Christmas tree crowned exclusive chandelier smoky blue. Guests had the opportunity to order Christmas spa program worth £ 2900, which, in addition to procedures entered and a gift - an exquisite decoration of Baccarat.