In this article we will talk about the beautiful lake, which is a fancy name "Lake Five Flower". This unearthly beauty is located in China, in the center of Jiuzhaigou.
This lake is famous for its color, which, by the way, from time to time change, it can be yellow and dark green reach, but most of the time the water has a diamond-blue color.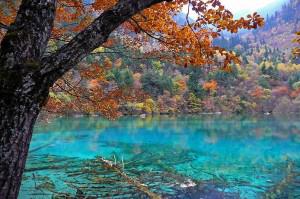 It is worth mentioning that this place is connected incredible amount of puzzles and mysteries. For example, it is interesting that a lot of lakes, which are located nearby, periodically shallow and dry, but in the Lake five Tsvetkov water level is always constant. Moreover, in the winter the lake freezes, and all adjacent covered with a thick crust of ice. That is why the locals are thrilled to these places and even feel fear.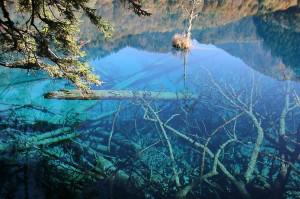 The study of this place has been a professor Fan Xiao. The above Scientists have for many years with his team is actively investigating these mysterious places. One version nezamerzanin Lake This fact is explained by the fact that in his day there are hot springs, as evidenced by the emerging air bubbles. But during the numerous dives to the bottom of Lake Five Tsvetkov these sources have not been identified, and the reason for that is the bottom of the lake, which is completely covered with long trunks of fallen trees. However, more recently, after years of research has finally been found underwater cave and tunnel, which connects the other lakes to Lake Five Tsvetkov.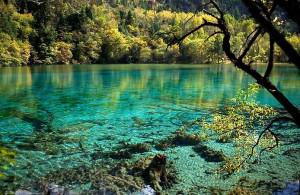 Chip of this beautiful and unusual lake is the purity of its water. Thus, by immersion in five Tsvetkov can see more than 40 meters.
Five Tsvetkov - amazing lake, it is a miracle of nature, by the way, the secret of great beauty, which so far no one has opened.