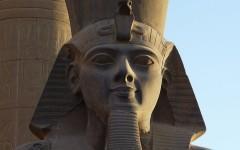 In Egypt, the expedition from the University of Brussels and Liege discovered pyramid older than 3000 years, reports Agence France-Presse, quoting Minister of Antiquities of Egypt, Mohammed Ibrahim.  
Having studied the prints on the adobe bricks, the researchers concluded that the pyramid was built during the reign of Ramses II, and is buried in it Vizier of Upper and Lower Egypt, who was called Hai.
Scientists believe that the original height of the pyramid is 15 meters, but in the VII-VIII centuries it was dismantled and used by Coptic Christians as a sanctuary.
With regard buried in her vizier Hai, at the present time, scientists know that he held the post for five years, and although there are references to it in various documents, the place of his burial was still not known.