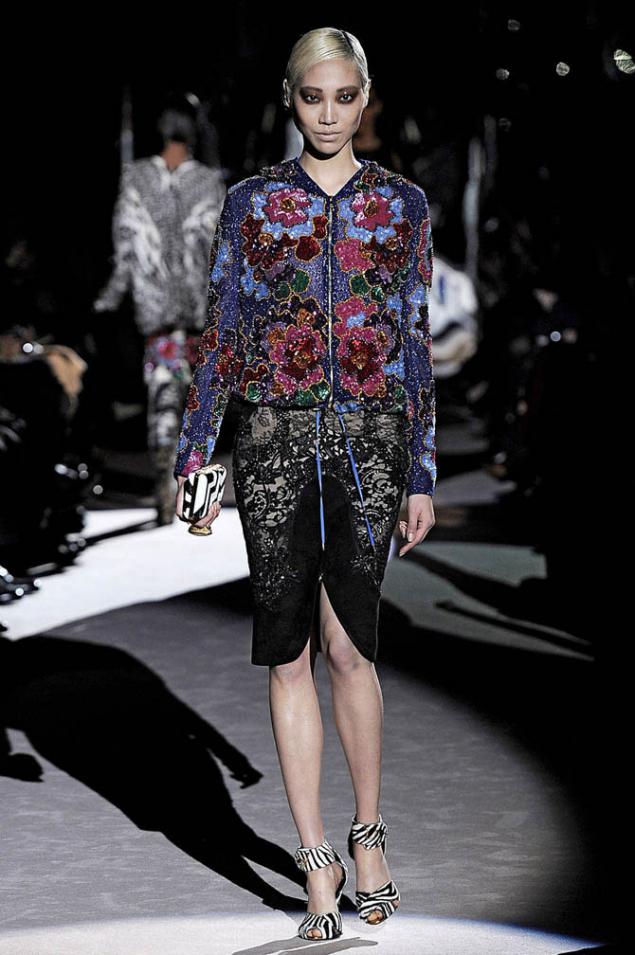 Rumors that Tom Ford returns to participate in the fashion week, confirmed in early January. Designer previously show all collections only to a limited number of guests and closing the door in front of photographers, gave a show "on 500-1000 people," pre-booked at a Lancaster House - former home of the English aristocracy, which close to the Clarence House, the residence of Westminster members of the British royal family.
As they say eyewitnesses, the holiday was felt in the air - while collecting guests during and after the fashion show. Holiday collection has turned itself - so richly, brightly, combining in one outfit several colors, dress trendy college students and party-goers in London's East End.
"It is easy to imagine that the young people going crazy for flowers embroidered high boots and my drawing lightning bomber style 80 from Tom Ford," - writes the journalist Sarah Mower Vogue US. But then osekaetsya: "Although those who live on a pittance student is unlikely to represent the multiethnic market, which is aimed at winning Mr. Ford. Its fast-growing business involves a large number of boutiques and customers on all continents - and what the customers expect from Tom Ford's, must be beautiful, bold and glamorous. It is they get - in the form of a pink patchwork coats or coats of skins pony. " Or, add translucent lace jumpsuit with embroidery and a long train, evening dresses with pictures in comic style Ka-Pow and leather stamp with fringe.
At the same time balancing on the verge of bigotry and bad taste it turned out, as always, easily and naturally. How to write to WWD, «subtlety initially no one expected." Waited madness, sacrifice, fur coats to the floor and dresses embroidered with gold thread. Got full - impressions last long. Until next fashion week in London - on the site where Tom Ford and creates there.